Africa as a continent is as vast and as diverse as your imagination can reach. Their colorful culture is expressed in many forms, including arts and crafts, music, language, cuisine, and folklore.  Values also play an important role. Visiting one country isn't enough to give you a good enough view of what's waiting for you: friendly people, delicious food, lively music, and rich stories.
If you've never traveled to Africa, it's never too late to start. Whether you're going for business or leisure, try to visit several places if circumstances allow it.
For those who have always dreamed of a safari adventure, Botswana is a great place to begin. Kenya on the other hand, would be fantastic for couples or families who want an idyllic holiday by the beach. Looking for some peace and quiet instead? Head on over to São Tomé e Principe, Africa's smallest state located at the Gulf of Guinea.
Want to imbue some of the richness of African culture into your designs? You can start with these African fonts.
The Best African Fonts
1. Hakuna Font
Hakuna is an African font with a simple, cute, handmade aesthetic. Suitable for children's books and toys, quotes, logos, and more.
2. Afolkalips
From Arterfak Project, check out this display font that pays homage to wooden shapes and tribal ornaments to give your projects focus on traditional themes.
3. Rimba Andalas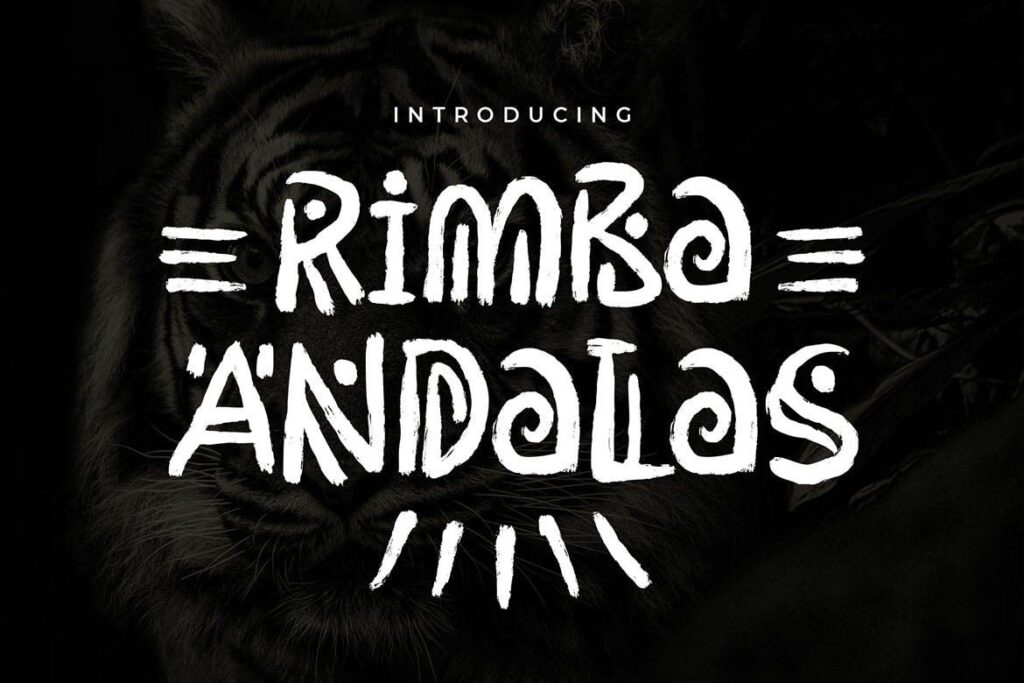 Rimba Andalas is a playful experimental font inspired by the shapes of tree branches and combined with rough strokes such as ancient symbols found inscribed in caves. It's perfect for the African theme, folk, tribal, children, adventures, and social movement.
4. Jelani Display Font
Chekart's Jelani is a unique font based on African motifs that looks more than presentable for logos, posters, branding, and other visual projects.
5. South African
This font from Mans Greback takes on a hand-painted approach that works great for titles, slogans, and other presentations.
6. Afrik
LomoHiber's Afrik takes inspiration from letterforms of the Proto-Saharan Ancient African writing system combined with African language scripts such as Mande and Vai.
7. Blackeye
Blackeye, from Genilson Santos, is a sans-serif font using the combined properties of contemporary and handwritten scripts.
8. African Elephant Trunk
This typeface from Dharma type takes inspiration from retro vinyl records during the early and middle 20th Century.
Download African Elephant Trunk
9. Funny African Style
For projects that need a loud message while keeping eye-catching patterns and thick, bold strokes, check this typeface made by Fractal Font Factory.
10. Zumba Tribal Font Family
Express that African flavor in your visual presentations using Katrinelly's decorative font featuring African-inspired designs and motifs merged with chunky letters.
Download Zumba Tribal Font Family
11. Vector Ethnic Font
OliaGraphics presents this font that takes heavy inspiration from ethnic/tribal scripts of old to give your visuals a vintage or classic feel.
12. Tabu Tribal Font Family
From struvictory.art, TABU is a display font that uses tribal patterns available in Decorative, Black and Symbol versions.
Download Tabu Tribal Font Family
13. Rabsy
Take you project customizations one step farther using not only a cartoony hand-made font, but also the African dingbat patterns found in DnK Project's RABSY typeface.
14. African Font
Take on a tribal approach with your projects using this hand-drawn African font plus afro ornaments made possible by this Wittmann product.
15. Neuerland
This is Wordshape's fusion of Rudolf Koch's traditional hand-cut display typeface and ligatures inspired by the forms of Herb Lubalin and Tom Carnase's Avant Garde.
16. Bison
If you're looking for a simple, loud, sturdy and, uncompromising font that balances hard lines and smooth curves, this Ellen Luff font family is just what you need.
17. Gabana (FREE)
With influences from early 80s typography, this display typeface by Supratik Saha has thick, bold letterforms and clean cuts. 'Gabana', which means 'a child with courage and determination', contains 15 styles and weights.
18. Tajamuka (FREE)
Loosely translated as 'enough is enough!', this handwritten font from Bayhaus was inspired by the 2016 uprising in Zimbabwe. Rough, powerful, and dynamic, it's perfect for signs, posters, magazine or book covers, and headlines.
19. Afrika Images G Sangoma Font (FREE)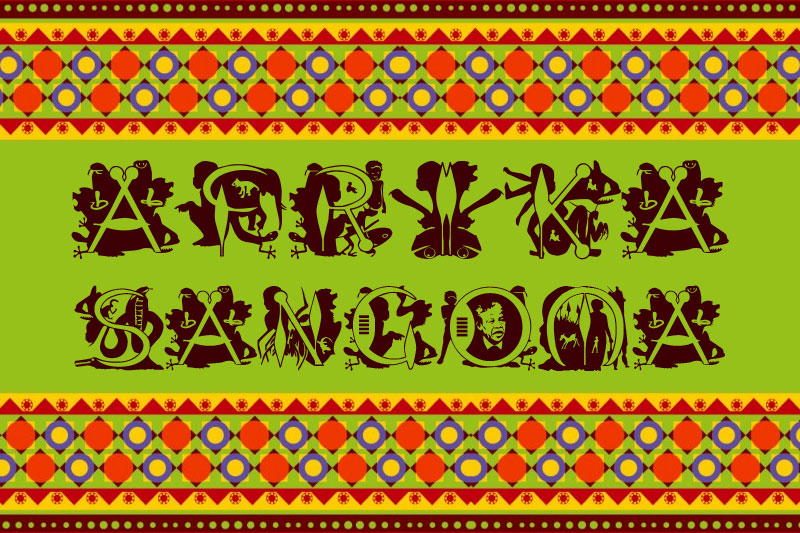 Fonts of Afrika brings to you this decorative headline typeface steeped in Afrikan myth and legend. Use this for projects requiring traditional touches such as brochures, book covers, game and movie titles, apparel, invitations, cards, and event banners. Uppercase letters look more distinctive than lowercase characters, so keep that in mind during the design.
Download Afrika Images G Sangoma Font
20. South Afirkas 2100 (FREE)
This typography by Zanatlija was inspired by the logo of the 2010 World Cup South Africa event. Complement the bold lettering with loud colors and playful patterns for a truly exotic vibe…
21. Ruderup (FREE)
Re-create movement and strength in this rough typeface by NihStudio. With jagged edges and an inline look, you will love its fierceness on t-shirts, prints, cards, badges, logos, and posters. Free for personal use only.