Last Updated on May 29, 2023
It's that time of the year again, when witches and goblins rule the night.
For those who love spooky stories and ghost hunting, Halloween is the one day when you get to enjoy these activities guilt-free. But aside from caramel apples and creepy tales, Halloween just won't be complete without the right decor.
Don't limit yourself to the traditional orange and black combo. Explore other alternatives, such as magical elements or minimalist concepts.
Spooky Halloween Fonts
To cap off the perfect design, discover new ideas in this collection of Halloween fonts that are sure to add a sinister flair to your works. If you're in need of beautiful Halloween Flyers/Invitations check out this article from Hipinvites: 33 Creative Halloween Invitations for a Spooktacular Feast!
1. Pokra
Pokra is a whimsical Halloween font perfect for creating fun and catchy designs. Use it for flyers, book covers, headlines, posters, stationary, web design, t-shirt designs, stickers, packaging branding, and much more. Take your creative ideas further with Pokra!
2. Upside Down
Meet Upside Down! It's a badass typeface that will surely grab people's attention and pique their curiosity. Whether you're making posters, flyers, logos, or social media graphics, Upside Down has got your back. The sharp angles and curves of this font can take your designs to a whole new level of awesomeness.
You can choose from regular or outline styles and even mix and match them for some extra flair. So why settle for boring when you can add adventure and mystery to your works with Upside Down? Try it today!
3. Silent Scream
Andreas Leonidou brings you this handwritten sans that comes in 2 styles (Regular and Italic) and supports Latin and Greek characters.
4. Thursday
Greetings, mortals! If you're looking to add some spooky sophistication to your designs, look no further than Thursday. It's the gothic serif typeface that's a perfect fit for any Goth fan. Each letter is crafted with delicate care, creating a dramatic aura that's great for conveying dark fantasy vibes or creepy feels.
Featuring beautiful serifs and tall lines, Thursday will look stunning in various projects, from invitations to the annual Addams Family reunion to book covers for Morticia's latest macabre memoir.
So, whether you're working on Gomez's business cards or helping Wednesday with her latest poetry collection, Thursday is the typeface that will add a touch of gothic elegance and intrigue to your designs. Happy haunting!
5. Freebooter 
Freebooter is a pirate inspired typeface from the 1500s. The imperfections of Freebooter will give your designs and authentic human touch. It comes with upper and lowercase letters along with all the special characters you would expect. Suitable for branding, apparel, social media, advertising, editorials, marketing. etc.
6. Castleton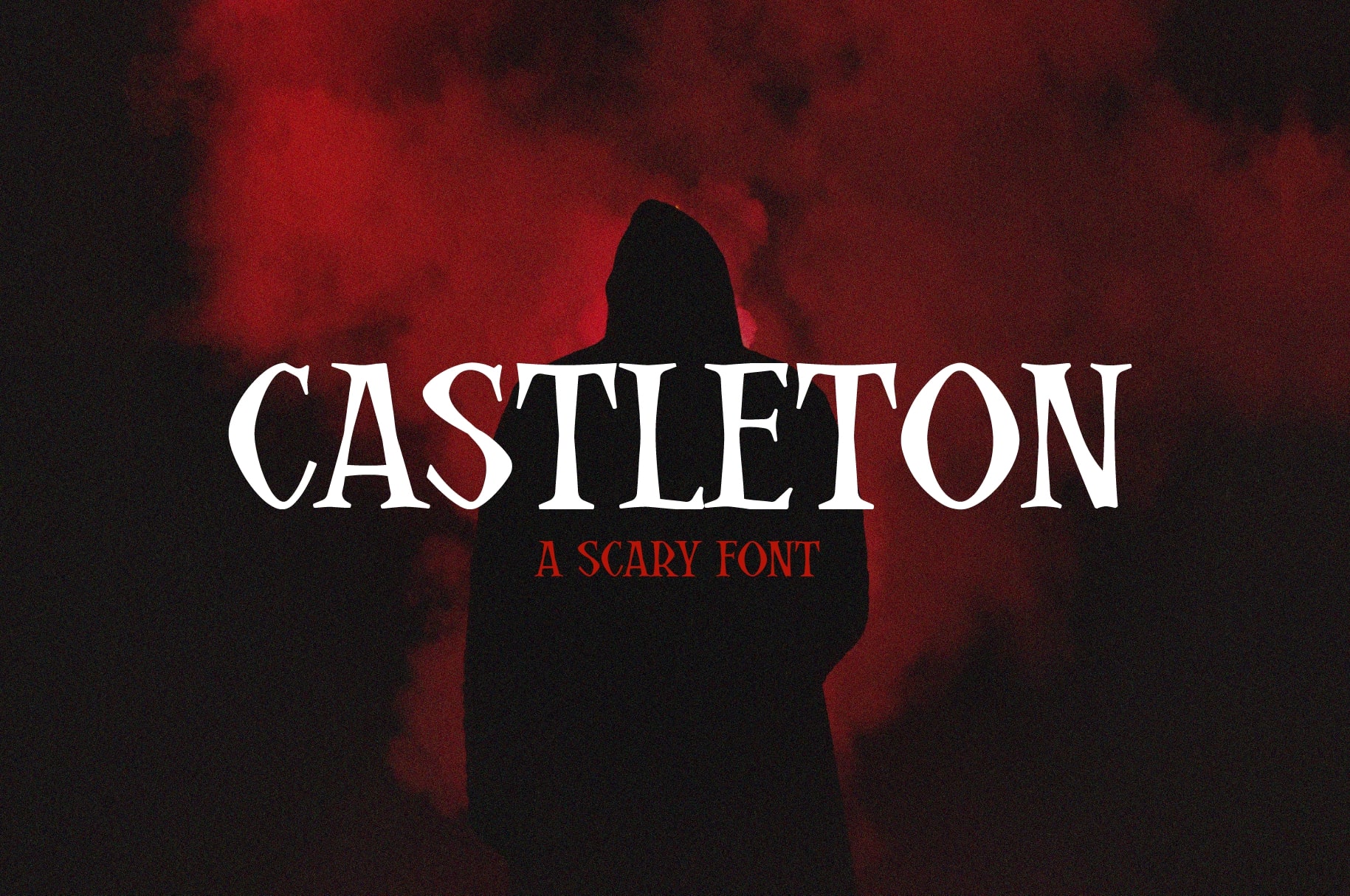 Castleton is a Halloween inspired typeface. This unique font is perfect for horror designs as well as fantasy based projects. You can use it for just about anything like posters, branding, apparel, stationary, stickers, packaging, movies, album covers, and more. Create eye-catching designs today with Castleton!
7. Jack Reacher Typeface
Have a grand ol' spooky time using this cool display font from Giemons. Recommended for making posters, party invitations, social media banners, magazine headlines, and more.
Download Jack Reacher Typeface
8. Mukadua Font Duo
Who says typefaces can't be happy and scary at the same time? This pack by Letterhend contains both serif and script to help you create fun but spine-tingling projects in a pinch!
9. Gallow Tree
Inspired by classic horror posters like Creature From The Black Lagoon and House Of Dracula, this creepy font by Simonok has around 370 glyphs and multi-language support to help you bring nightmares to life.
10. Pumpkin's Brush
This versatile gem from Inumocca not only looks amazing on spooky themes, but also works great on music, graffiti, travel, retail, and sports concepts.
11. Fright Night
This vintage horror font by Great Scott boasts of bold geometric shapes that make them versatile enough to be used outside of scary or horror themes. Available in 12 styles, you can use each on their own, or layer on top of one another for a completely distinct result!
12. Nightwish
Nightwish is a sharp script typeface. The font is a bit slanted as if it's handwritten. Its gothic/Old English aesthetic is ideal for apparel, greeting cards, product packaging, book covers, album covers, logos, social media, posters, and more. If your design requires an aggressive vibe, then Nightwish should definitely be on your radar.
13. Matthew Rough
Go from spooky to street in minutes with this grunge font by bloomxxvi. Featuring rough bold strokes, this sans serif will look great on posters, comic books, invites, and promotional materials.
14. Savath
Aiyari presents this classic horror font that comes in 6 deadly styles plus an array of lethal extras. Use at your own risk.
This sharp serif by D&K_project works well with timeless projects and basically anything that needs some uniquely captivating. Available in 4 styles, it's great for headlines or even body copy.
18. Vampliers
Inspired by lettering from classic sci-fi and horror film posters, this handmade decorative font from remedy667 will give you nostalgic feels despite the chills.
19. Instant Sinner
Add tremors to your Halloween invites, posters, cards, and more with this hand-drawn horror typeface by remedy667. With plenty of discretionary ligatures at your disposal, it's guaranteed to be an instant hit with viewers.
20. Themans
Keep it fun yet creepy in this typeface by kecikstudio. Influenced by mangled tree roots, it's the ideal blend of spooky yet playful thanks to its cartoonish vibe.
21. Wavelength Typeface
Wavelength was inspired by the "Rick and Morty" logo. This abstract display typeface grabs the reader's attention and keeps them there. It has an upper, lowercase display, numeral, and special characters.
It is most suited as a decorative display font for editorials, album covers, posters, logos, web or packaging design. If you're looking for a typeface that's weird, trippy, and unique then Wavelength is for you!
[fontsampler id=60]
22. Fright Night
If you're looking for a typeface that will grab the readers attention and build suspense, this font is for you. Fright Night is an emotional serif typeface with horror vibes. The font is clean, sharp, and unique. Fright Night is suitable for posters, movie titles, billboards, branding, business card, and much more.
[fontsampler id=47]
23. FEAR Font
Now they see it, now they don't. Disappear into the unknown in this font with a meticulous freehand design carefully handcrafted by ANCR_design.
24. TOMO Zomba PRO
Remember the old posters of classic horror movies? Now you can achieve the same effect thanks to TOMO Fonts and this retro-horror gem.
25. Manicuore
Based on Italian movie posters by the prolific movie poster artist Symeoni, PintassilgoPrints brings to you this all-caps masterpiece with free graphic elements that goes well with the typeface. It's a definite must-have in every designer's toolkit.
26. Sinister Black
Big, bold, and mysterious, this horror brush font by Skyhaven Fonts will look frighteningly good on posters, cards, logos, headlines, and labels.
27. Deathgrin
Looking for something truly horrifying? Look no further than this distressed evil font by Sam Parrett. Use on posters, comic books, t-shirt prints, or on anything that requires screaming for attention.
28. Gory Madness
Inspired by vintage movie posters from the 70s, by Mirco Zett brings gore and horror to your designs in this display typeface. It's the perfect typography to complete those posters, apparel prints, and branding projects that need just a touch of blood.
29. Hellwolf Typeface
Welcome the night in this offering from wubstudio. A font family featuring two styles – Regular and Hollow – plus several extras, it helps you create the best Halloween or horror-inspired cards, posters, headlines, and ads in minutes.
30. Carpathia Typeface
Von Type Co wants to indoctrinate you into the realm of witchcraft and sorcery through this spooky handmade font that comes in two unique styles. And with 50+ vector occult symbols, you'll be making lots of Halloween-themed projects for hours.
31. Insane Fear Font
Gleb Guralnyk proudly presents this decorative font available in 5 styles. Use each on their own, or layer them to add an extra level of creepiness to your works. Included is a bonus grim reaper illustration.
32. THE SONNYFIVE Typeface
Create killer content in minutes with a little help from this brush font from thesonnyfive. Specifically made for horror movie posters, it can also be used for logos, headlines, or branding projects.
Download THE SONNYFIVE Typeface
33. Moonhells Typeface
Weave a night of magic with this decorative font from wubstudio. Perfect for making flyers, posters, and cards, the set includes icon and flyer packs that go great with the typography.
34. Halloween Rock
Konstantine Studio brings to you this cute horror font that works just as well with other themes. With Multi-language support and web fonts, its playful curves and cut-out edges are more friendly than frightening.
35. Another Danger Font
Available in two styles – Regular and Slanted – this brush typeface from The Branded Quotes is both edgy and horrifying. Use with caution on grunge posters or punk prints; or use liberally during Halloween.
36. Vorhell Horror Font
Heybrinc Studio presents this distressed typeface that comes in two styles – Rough and Italic. With an extra Halloween graphics pack, you can easily create cartoonish artworks or timeless retro posters easily.
37. Dreadful
This layered typeface by Aiyari comes in 4 unique styles – Regular, Rust, Shadow, and Rot – you can mix and match to get your desired creepy results. Plus with graphics and flyer packs, you can create tons of vintage movie posters, invitations, cards, and more!
38. Upjohn Halloween Brush Horror Font
Say hello to your new favorite brush font from Konstantine Studio. It also comes with bonus packs that include 8 vintage textures, as well as watercolour alphabets made with detailed strokes to bring out your creepy creative side.
Download Upjohn Halloween Brush Horror Font
39. Horror
Express yourself through this decorative hand-drawn typeface from La Boite Graphique. Featuring horror ornaments to help you complete your desired outcome, you can also use this font for rock, zombie, festival, or gothic themes.
40. Vertigo Death
Keep it simple yet deadly in this decorative font brought to you by Mirco Zett. Inspired by heavy metal and extreme sports, its distressed style is beauty all its own.
41. GateKeeper AOE
The pointy lettering style of this typeface from Astigmatic will keep you on edge. Influenced by old horror movies and heavy metal bands, it also works great for tattoos, graffiti, or any concept that needs a dark, edgy vibe.
42. Hillingdon Font
Brewing potions? Then Darumo Shop has got the perfect typeface to make sure you don't mess up those elixirs. It also comes in 2 styles – Regular and Distressed – with bonus greeting card templates as well as foil textures.
43. Wild Zova Family
This hand-drawn brush font family from FeyType isn't just for dark themes or spooky concepts. With 4 styles and extra swashes, it's also ideal for retro, alternative, or avant-garde looks.
44. Lord Zero
Slash your way through the competition in this handmade gothic typeface from Sam Parrett. While it's in all-caps, there are a few alternate capitals in lower case form to give variety to your projects.
45. Isaiah 53
Derived from original ink sketches, Ramey Type Foundry offers this ink splatter typeface that will look cool on apocalypse themed works, as well as horror concepts.
46. Wani Sambat Halloween Font 
Spooky, stylish, and fun, this font is perfect for any Halloween-themed design. Not only that, WaniSambat is perfect for flyer design, t-shirts, invitations, banners, illustrations, posters, events, stickers, promo, logos, and even sale promotions!
Wani Sambat comes with Halloween-themed illustrations in EPS and OTF / TTF formats. With this, you can make Halloween designs easier and more varied. All fonts containing upper & lowercase characters, numerals, punctuation, multilingual support and dingbats Halloween illustration.
47. The Viperion Display Typeface 
The Viperon is a display typeface font with bold and unusual form. This font has a unique shape, very suitable for horror, thriller and spooky theme design. This font is also perfectly made to be applied to logos, as well as invitations, labels, magazines, books, novels, labels or any type of print or media advertising
48. Scary Things Sharp Creepy Serif
Scary Things is a sharp serif that gives off creepy vibes instantly. The serif design is clean and attractive and will make any poster or print advertisement stand out immediately. The design package caters for different languages, and it is highly versatile in that it is perfect for different forms of advertisement, as well as logos, t-shirts, and company or event branding. 
49. Stranglethorn 
Stranglethorn is a mystery, horror and Halloween font, this font looks scary, dark, readable, stylish, catchy and easy to use. It is great for any project design and would look perfect on a range of advertising designs, from posters to t-shirts, to business cards. 
As well as this, no specific software is required to use the font, and the designs are provided in OTF and TTF formats. 
50. Sorrow Horror Font 
A spooky and scary font that epitomises the horror genre and experience, this font is great for any print or digital advertising. 
Download Sorrow Horror Font right here!
51. Death Stinger Halloween Horror Font 
The perfect horror font, this design is slick, modern, and hella scary! Perfect for any type of advertising design, the font can be used for logos, poster quotes, movies, games, novels, book/cover titles, editorial designs, websites/blogs, cards, custom mugs, and any fantasy hand-lettered needs.
Download Death Stinger Horrow Font here
52. Escape Hand-drawn Decorative Halloween Font 
Are you looking for a bold and fun font for children's birthday parties and Halloween event? Well, then this font is perfect for you! The font is spooky, but also playful, so it can be used for a range of design concepts and ideas for all ages. 
Download the Escape Decorative Halloween Font here!
53. Vampire Zone 
An awesome horror-themed design, this spooky Vampire Zone font is perfect for any of your horror-related design needs. We love the curls on the end of the lettering, and the bouncy style of the font adds to its level of spookiness
Download Spooky Scary Halloween Font here!
54. Deep Horror Font 
Deep Horror Font is a scary font inspired by old horror movies. It comes in REGULAR and ITALIC versions. It is suitable for design, element design, weddings, events, t-shirts, logos, badges, stickers, and any form of spooky advertising that you deem appropriate. 
The font is designed to catch the attention of the passer-by, and the use of different ligatures and letter shapes makes the font appear gothic, unorganized, and spooky!
Download Deep Horror Font here!
55. Covenant
This brush font from Mehmet Reha Tugcu is perfect for re-creating gloomy, ominous, and super spooky scenes. Try and see for yourself.
56. Croak Typeface
Give your logos, movie titles, and Halloween banners an authentic worn look using this rough serif display font family. Available in 2 styles (Withered and Extra Withered) with multi-language support.
57. The Crow
Unleash your inner Edgar Allan Poe or Edward Gorey. Get that coveted vintage vibe with an eerie twist using these custom serifs by Cruzine that comes in 4 unforgettable styles.
58. Butter Haunted
Working on a thriller short film? Want to make a kid's Halloween shirt? Then welcome your next favorite horror font by Shirongampus.