The invention of electrical cables and wires changed the world. The word 'cable' used to refer to the multiple ropes that were used to anchor ships. With the age of electricity, the term was adopted to mean electric wiring. Today, cable could also mean communications as well as the system of delivery for television programming.
In essence, electrical cables bring to them a sense of the modern world. When people think of wires, they think of cityscapes lit up at night, of huge powerplants generating heat, and of buzzing electrical poles out in open fields. It means progress, power, and modernization.
So if you're thinking about what to add to your design projects to give them that air of authority and contemporary vibe, look no further than to these wire fonts.
Practical Wire Fonts
1. Vintage Wire
Vintage wire is a traditionally thin and direct wire font that has so much flavour to it that it would be a great idea to make sure it gets plenty of negative space. Ideal poster / display typography font.
2. Organa Caps
Organa Caps is a duo-line wire font that has diagonal lines on all front, and that very geometric game makes Organa Caps a mesmerizing and mysterious wire front worth giving a try.
3. Cords
Cords has an almost CPU-like vibe to it, and the thin lines surrounding the characters mixed with the rigid same-width strokes, makes Cords a killer sci-fi font.
4. Helix
Helix is a single line display typeface. Its eye catching design is bound to grab attention and turn heads. You can use Helix for editorials, posters, headlines, social media, packaging, and more. The font is fully kerned and is ready to be used out the box. If you're looking for an uncommon geometric typeface then Helix is for you!
5. ThirtyNine
Thirty Nine Stencil, while a stencil font has plenty of the same characteristics as a good wire font. The gaps inside each letter really complements the mono thick weight of the stroke of the font.
6. Organa
Make your designs new and fresh using this stylish and geometric typeface from TypeFaith Fonts that comes in three styles.
7. MazeLine Typeface
A labyrinthine display typeface from PutraCetol made of squares shaped from line arrangements that is great for t-shirt prints, logos, product packaging, title headers, and more.
8. FreeLine Font
Sentavio's stylish typeface has a fashionable yet formal look, making it great for titles, branding, posters, banners, and projects that cater to the fashion, technology, and business sectors.
9. Hydra – Experimental Font
Hydra is an experimental typeface that's quirky and hip at the same time. Its intricate letterforms will make your designs standout and grab attention right away. Hydra is ideas for fashion, branding, posters, apparel, packaging, web design, social media, and more. Take your designs to the next level today with Hydra.
10. PLY Font Family
This typeface from Sentavio resembling letters constructed from a single piece of wire comes in three fonts: regular, bold, and stylized.
11. Accelera
Your projects will sport a classy and elegant thin–line look by using this product from Rometheme Std.
12. Suburbia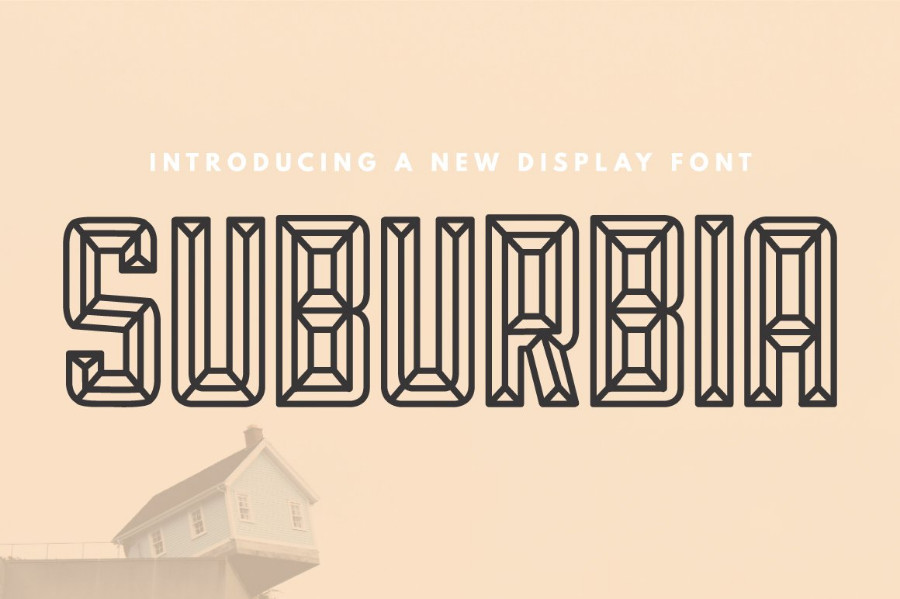 The Routine Creative introduces a handcrafted geometric font whose bevel details can go well with bold sans serif fonts.
13. English Alphabet Minimalistic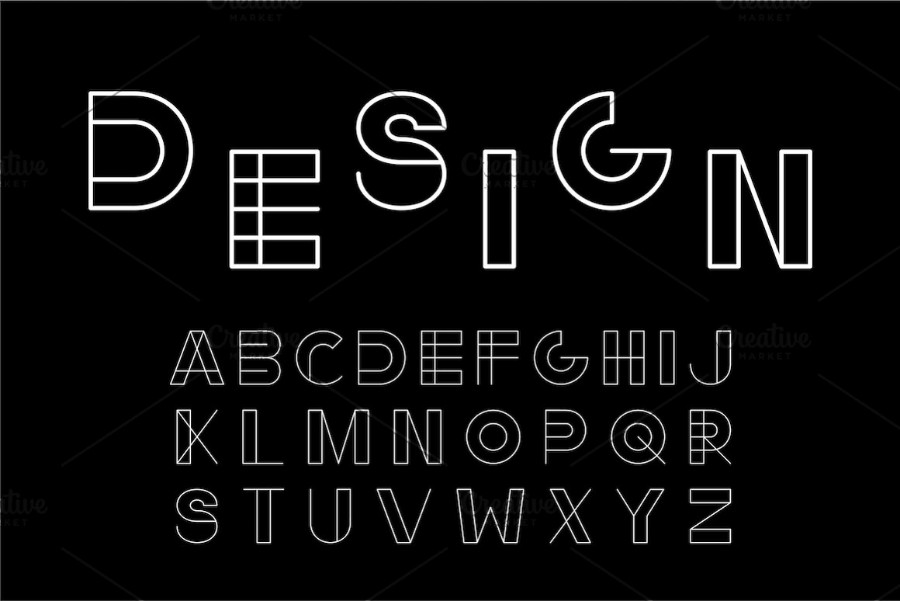 Check out this simple and easy-to-read font from ExpressShop that can go well with many modern designs and displays.
Download English Alphabet Minimalistic
14. Twins Font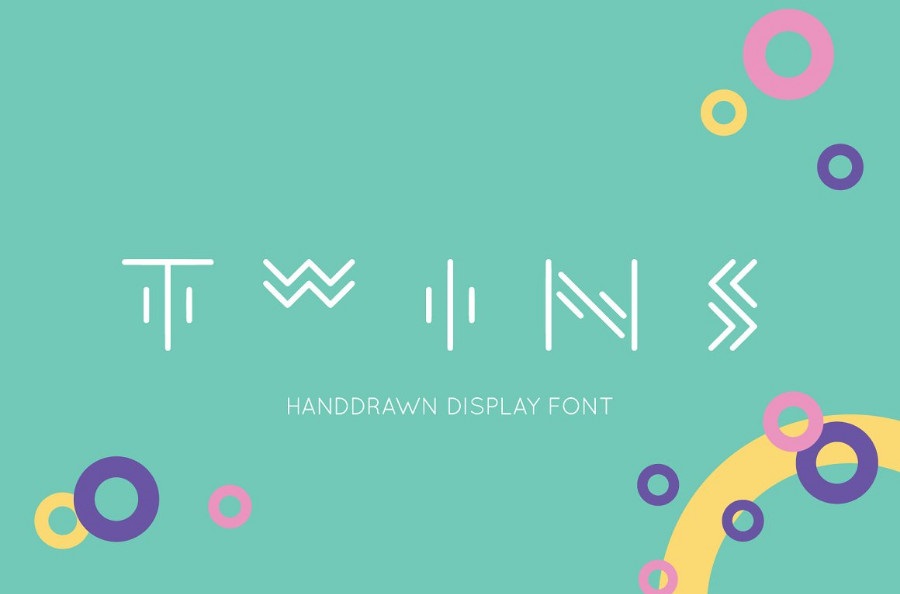 This abstract typeface from Creativemaker gives an additional degree of customization through editable strokes with the help programs like Adobe Illustrator.
15. KOY Font
Pedro Azedo brings us an uncommon design font where letters are made from a single line – ideal for logos, branding, posters and other big-lettered designs using few words.
16. Bend
For fast, simple, and easy designs without losing that elegant touch, you can count on this DonMarciano product to help you with your projects.
17. Kassian
For attention-grabbing headlines, titles, and logos, the flows, twists and turns of this Rich Nicklen typeface will promote a truly elegant and premium look.
18. Rails Display Font
This experimental, outline display typeface of parallel tracks designed by Superfried comes in four styles: display, display solid, broken, and broken solid.
19. English Vector Striped Alphabet
A trendy font from ExpressShop that uses stripes to form letters, making it great for funky or futuristic-themed projects.
Download English Vector Striped Alphabet
20. Labyrinth
Whether it's for a business card or a sci-fi concept, there are endless possibilities when you use this sophisticated display font from Brandspark Mini.
21. Bravo
This extra-loud bold halftone typeface from Anna Zakharchenko is what you need to leave a good and lasting impression on your flyers, logos, headlines, packaging, and so much more.
22. Bitless
This typeface from Krafti Lab is a call from retro and futuristic designs, which will look good on presentations that can get more out of a technological flair.
23. Circuitra Color Font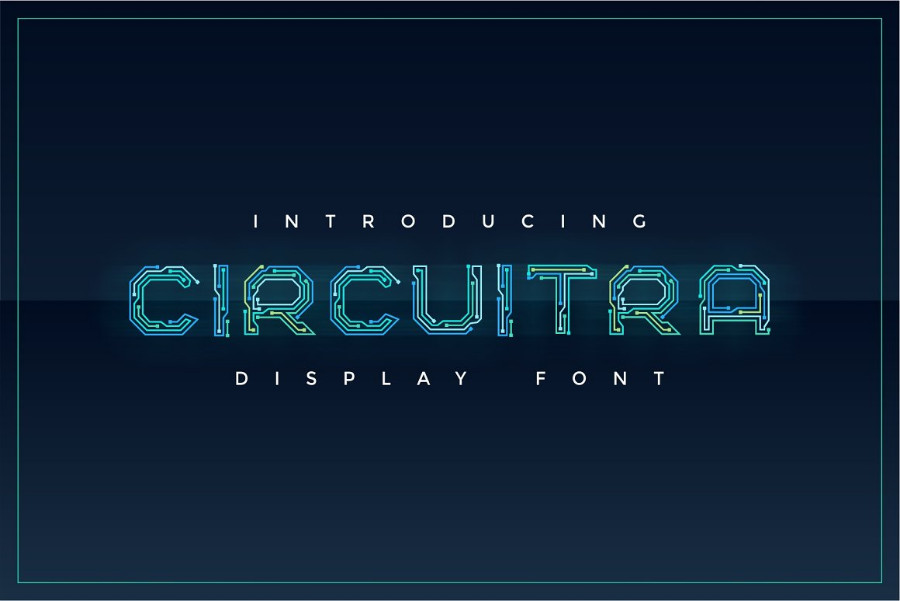 For people planning on projects with industrial or technological concepts, this display font inspired by circuit components on electronic objects will enhance that feel a step further.
24. Fiver Fonts Family
This modern decorative font family comes in as the name suggests, five variants: Regular, Alternate, Solid, Inline, and Outline
25. Linear Designer Creative Font
A line-based font that is great for trendy projects such as logos, posters, t-shirt designs, crafts, and other projects aiming for a minimalist but creative concept.
Download Linear Designer Creative Font
26. Parallel Lines Font
kaer_shop presents a typeface made with parallel lines from letters, to numbers, and even on punctuation marks.
27. Linee Font
Take advantage of this Typoerba product that adds a touch of Science Fiction or Techno theme to your projects, not to mention that it comes in regular and solid fonts.
28. Wire Font Vintage Label Typeface
If you're after an angular look with your fonts while keeping the vintage appeal, try this Anton Antipov creation with your projects.
Download Wire Font Vintage Label Typeface
29. Continuity
AnMark presents a typeface that gives a unique feel to your projects with its very interesting feature: all letters are written over a single line.
30. Haywire
Ekloff's energetic typeface comes in five weights that are sure to crank up the intensity of your projects, promoting a sense of adventurism in whatever is needed out of the visual.
31. Lineat Font
With swirls, curves, and overlapping lines, this typeface brings out a stylish and innovative aura that works great with fashion, technology and computer-related themes.
32. MM Agrafa
MM Agrafa is a gorgeous wire font with beautiful edges throughout the entire alphabet and one that works wonders if you're designing a fashion label or anything where initials might be a key component.