Last Updated on June 6, 2023
You've probably heard of the term 'Americana' from music playlists. While it is technically a genre of music (that's quite often confused with country), the word means more than guitars, small cowboy hats, and the rural aesthetic.
Americana encompasses the cultural and historical essence of the United States. It captures the diverse elements that define American identity, including traditions, symbols, customs, and values. From the rich tapestry of everyday life, it draws inspiration from history, folklore, music, art, literature, cuisine, fashion, and popular culture.
The term reflects the unique blend of influences from Native American legacy, European roots, African contributions, and the amalgamation of various immigrant cultures. Americana is cherished and celebrated through artistic expressions, musical compositions, literary works, festivals, and other cultural manifestations. It's a celebration of the vibrant and multifaceted spirit of the United States.
Oddly enough, a lot of people recognize Americana from old-fashioned handwritten style typefaces – something you might easily encounter nowadays on craft beer bottles or on hipster logos. If you're having a hard time trying to define this term, allow our collection of Americana fonts to shed some lovely light on the subject.
Timeless Americana Fonts
1. Firecracker
Experience a true blast-from-the-past with Firecracker, a font that embodies the vibrant and exhilarating era of the 1950s and 1960s. It's the best choice for magazines, newspapers, signage, branding, packaging, and other artworks. Featuring 2 styles: Regular and Oblique, it allows you to transport your audience back in time with modern flair.
2. Broadster
This decorative sans serif draws influences from classic 60s American advertising and automotive visuals. It exudes a formal yet expressive style, characterized by bold and contrasting strokes commonly seen in print, magazine, and sign advertisements of that era.
This versatile typeface is ideal for formal layouts, posters, newspaper and magazine ads, as well as vintage products, food and beverages, quotes, or as a stylish text overlay on any background image. With Broadster, you can effortlessly infuse your projects with retro charm anytime!
3. Buckaroo
Captivating and contemporary, this handmade font was inspired by the landscapes of the American Southwest and Mexico. It blends old western charm with a modern functionality. As a display font, it boasts a complete set of uppercase and lowercase letters, numbers, and special characters.
Buckaroo is best used for headlines, logos, badges, signage, packaging, posters, and t-shirts. The pack includes both TTF and OTF file versions, ensuring seamless compatibility for your creative endeavors.
4. Sovereign Heritage
Looking for a font that radiates timeless appeal? Then you're lucky to have stumbled upon Sovereign Heritage. As a decorative typeface, it's the epitome of elegance, making it ideal for formal occasions and works that demand sophistication.
With meticulously crafted details and elaborate curves, it evokes a sense of heritage and tradition. The Regular version offers clean and crisp lines for achieving a polished look, while the Rough version adds texture and character.
5. Roadhouse Blues
Introducing Roadhouse Blues: a relaxed handmade script that features swashes and alternative glyphs, adding a natural touch to its appearance.
With a hint of naivety, this font exudes innocence. Its decorative swashes are reminiscent of the early American style when everything was meticulously crafted by hand. This typeface is optimized for apps supporting OpenType.
Lowercase glyphs have 3 contextual alternatives, with each letter having a start, middle, and end letter that have subtle differences. Enabling contextual alternatives will have letters automatically changed as you type. Have fun!
6. Dollar Stencil
Let your projects do the talking using this all-caps stenciled serif font inspired by the banknote! It's recommended for headlines, titles, and any eye-catching design.
But it's still awesome when applied on short texts such as quotes, logos, and labels. You will get the standard upper and lowercase letters, numerals, and punctuations.
7. Northead
This vintage serif was inspired by beer labels and old-fashioned signage – which makes it ideal for beverage logos and assets. All-caps means it's all-good to be used on other products, such as branding, posters, editorials, book covers, flyers, apparel, and more.
8. Bruisers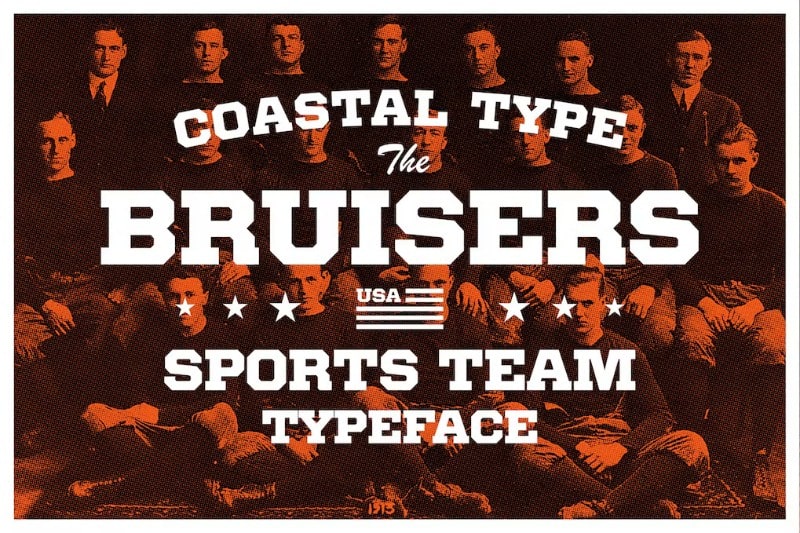 Call upon that sleeping school spirit with Bruisers, a dynamic slab serif! It draws influences from varsity, college, university sports, as well as the rich heritage of American sports teams.
Bold, spirited, and solid, try it on logos, sports teams' shirts, school banners, website homepages, social media quotes, athletic or academic posters, and headings.
9. Hadrey
Combining old American traditional styles with contemporary performance, this bold script says a lot in a flurry of lovely swashes. Complement its beautiful letters with any simple sans font. You will get Latin characters, symbols, stylistic set, and ligatures.
10. Floopy Chart
This delightful combination of script and sans serif fonts go together like PB and J. The best part? It's all about good vibes and retro aesthetics.
Inspired by American sports (particularly baseball and basketball), this font duo will work hard to create harmonious styles that exude nostalgia and energy. From music, sports, travel, to automotive, fashion, and editorial, there are few concepts where you can't use this multipurpose combo.
11. Bronco
Tall and delightful, this display typeface features Inline and Regular styles. Toggle with Caps Lock to alternate between these versions for a seamless experience. Pair this typeface with scripts for interesting results that feel vintage and familiar.
12. Sign 45
Give a stylish salute to the 1940s using this awesome sans serif. Featuring 6 styles (Regular, Lighter, Old, Old Scratched, Stamped, and Round), you'll be spoiled for choice when crafting your vintage apparel, movie titles, book covers, comics, product labels, album covers, company logos, etc..
This font works well with Cricut, Silhouette, PicMonkey, Photoshop, Illustrator and other popular applications. Try it and see for yourself!
13. American Handmade
There's beauty in imperfections – and proof of that is this handmade lettering. Inspired by the craft of graphic design, American Handmade includes regular all-caps characters, numerals, and punctuations. The font was intentionally deformed so it looks more authentic. You will get all updates for free. So what are you waiting for? Get it today!
14. American Traditional
This tattoo-inspired typeface is a minimalist nod to traditional roots. It comes in 2 weights to give your works a magical touch. Complement this whimsical font with any regular sans serif. Put it on product labels, business cards, postcards, social media quotes, and more.
15. American Signer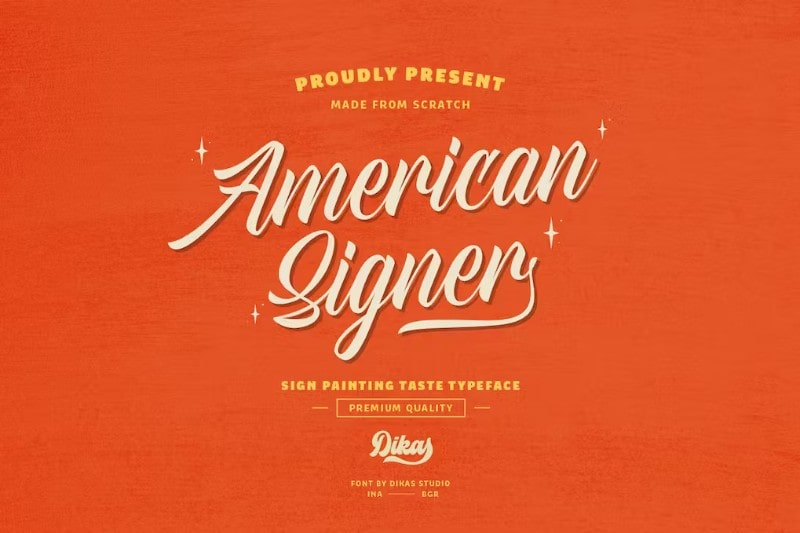 Meticulously crafted to embody the traditional brush lettering of 1980s sign painting – that's the charm of American Signer. Through an extensive digitization process, this font captures the authentic feel of sign painting letters.
It offers a wide range of ligatures, alternate characters, and swashes, to help you make expressive logos, badges, labels, packaging, certificates, and various vintage designs. Let American Signer be your companion in bringing the nostalgic art of sign painting to life.