Last Updated on October 9, 2023
We love crazy, and when it comes to logo design, advertising, and promoting something, we think that the crazier, the better! Each of the 20 font designs below is crazy in its own way, and with the help of design programs like Photoshop and Illustrator, you can make any promotion stand out and appear crazy, fun, and unpredictable. 
How do I Install a Font and Use It? 
Installing a font from the list below is a simple 5-step process. Simply: 
Save the ZIP file to your device and when the download has been completed, proceed to extract the files using an uncompressing program such as WinRAR or WinZip that you can easily download from the web for free!
Install the font on your computer (left-click your mouse and choose 'Install').
Open your program – Photoshop, Illustrator, InDesign, Word, etc. and choose your font, and from here you can change the outline: Regular, Bold, Italic or Bold Italic.
Write your text.
Enjoy your new font and reap the rewards of your quirky and personalized choice. 
1. Radon monogram logo FONT
Fun, stylish, and unpredictable, this Radon font design is gorgeous and would look great on any promotional poster, social media design, or advertising campaign. Included is a regular, bold, and deco design which gives you a little bit of versatility, and we love the fact that you can edit the font using OpenType features too. 
2. Simbox – the color geometric font 
This quirky and wacky geometric font is just perfect for anyone looking to create a fun and informal design. The font is unusual, wide and straight, and it works great for making logos and short titles. The font has color alternates that will vary the design as well.
3. Hydra – Experimental Font (Free)
Hydra is an experimental typeface that's quirky and hip at the same time. Its intricate letterforms will make your designs standout and grab attention right away. Hydra is ideas for fashion, branding, posters, apparel, packaging, web design, social media, and more. Take your designs to the next level today with Hydra.
4. Kreativ – Display Typeface 
The name says it all. Kreativ is a fun and quirky typeface that's perfect for posters, events, headlines, illustrations, printables, t-shirts, you name it. It's very versatile and fun to use, thanks to its beautiful ligatures. Elevate your designs today with Kreativ; we are sure you won't be disappointed. 
5. Aurora – Brutalist Display Typeface 
Simple, yet effective and elegant, Aurora is a serif typeface designed to express bold, artistic, and grand projects. This font is versatile in that it can be used normally but also looks stunning in all caps. Aurora can be used for various projects like social media banners, ads, printed quotes, t-shirt designs, packaging, branding, and more.
6. Techno Cowboy
Introducing Techno Cowboy, a modern techno display font with multilingual support. Techno Cowboy is great for creating eye-catching logos, headlines, ads, posters, web design, print, motion graphics, apparel and much more. If you're looking for a futuristic font that packs a punch, then Techno Cowboy is for you.
7. Heaven Spot
Heaven Spot is a modern graffiti typeface inspired by street art and underground hip hop music. This marker like font is beautiful and legible. You can create incredible wall art, headlines, album covers, social media posts, logos, poster, packaging, and pretty much anything you can think of. Get creative today with Heaven Spot!
8. Helix
Helix is a single line display typeface. Its eye catching design is bound to grab attention and turn heads. You can use Helix for editorials, posters, headlines, social media, packaging, and more. The font is fully kerned and is ready to be used out the box. If you're looking for an uncommon geometric typeface then Helix is for you!
9. Niran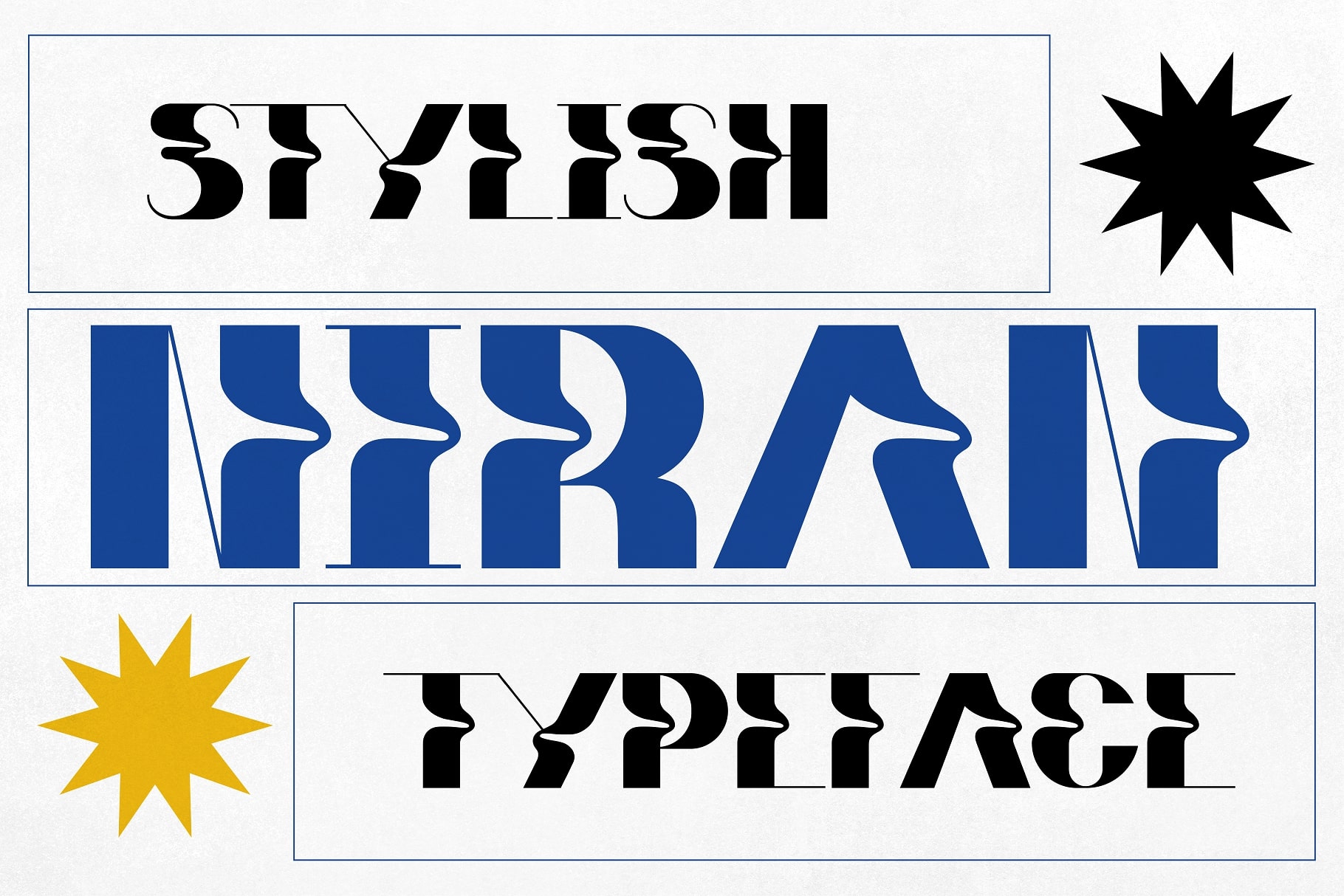 Niran is an experimental typeface with radical curves. Unique rippled lettering makes this font perfect for groovy posters, abstract logos, creative quotes, rad packaging, attention grabbing headlines, and much more. Niran mixes futurist letters with nostalgic curves, thus creating typography which stands out from the norm. If you're searching for an experimental font that breaks the rules, then look no further than Niran.
10. Fake Empire Font 
This font is literally perfect for any newspaper-style project or advertisement that you want to use because it has a rugged ripped-paper look to it that we think is gorgeous. Designed to be imperfect and flawed in its own way, the font is detailed and looks stunning as a headline piece or as a part of a display. 
11. Sakap Typeface Font 
Named after a fish that adventurers would eat on the go, Sakap is a typeface that is unique, sharp, and ready to use. It comes in OTF and TTF style and has a slick and slimline design that we feel offers a mix of unpredictability, fun, and sharpness. Perfect for any design. 
12. Brooklyn Typeface 
Rugged, rough, ready, and hella vintage in its design, Brooklyn is a crazy font because each letter has a slightly unique design to it that we love. Perfect for any vintage project. 
13. Jotunheim Typeface 
A runic typeface that was inspired by Norse mythology, this font is super unique and crazy because it is so unpredictable.  With three different styles available in the package, there is ample opportunity to edit your design in whatever way you wish. 
14. Boardslide – Energetic Typeface 
Boardslide is a rad all-caps typeface inspired by punk and skateboarding culture. This sharp and energetic typeface is perfect for creating logos, headlines, social media posts, t-shirts, Youtube graphics, event posters, and much more. If you're looking to create a wild design, then Boardslide is perfect for you!
15. Fujian – Decorative Display Typeface 
Fujian is a fresh decorative display typeface. The font is made of outlines and doesn't match any existing typographic style. It has upper & lower case characters, numbers, and punctuation. It's perfect for creative design projects that require an abstract typeface. Not only is Fujian eye-catching but it's also surprisingly legible. Use it today for your catchy headlines, branding, posters, flyers, books, web design, motion graphics, packaging, etc. 
16. Nestor – Quirky Typeface 
Nestor is a retro-inspired display typeface that's unique, lovable, and quirky. It's perfect for headlines, advertising, posters, branding, social media, quotes, prints, and much more. If you're in need of a typeface that has groovy curves with a bold personality, then Nestor is for you. PUA encoded, versatile, groovy, and fun, what's not to like? 
17. Azerty – Experimental Typeface 
Big, bold, and beautiful, this design is perfect for anyone looking to make an impact with their designs. 
18. Wavelength Typeface 
Wavelength is an abstract display typeface grabs the reader's attention and keeps them there. It has an upper, and lowercase display, numerals, and special characters included too. It is most suited as a decorative display font for editorials, album covers, posters, logos, and web or packaging design.
19. Acid Goth – Font Family 
Introducing Acid Goth – Sweet late 90's – early 2000's inspired font with 4 styles, including Regular, Light, Bold and Outline, with a full set of upper case, lower case, numbers, punctuation, symbols and multilingual letters. Acid Goth – Heavy retrofuturistic grotesk and trendy Y2K grunge style with the spirit of chaos and freedom of the 2000s era. 
The font is crazy, sharp, edgy, fun, and exciting, and we think that the grungy look makes it stand out even more in comparison to the other crazy fonts on the list.
20. Clotilda 
Handcrafted, unique, and slightly Celtic in its design, Clotilda is a beautiful design that we think would look great on a host of different advertisements, promotions, or concepts. 
21. Gunter Display Font 
Last but by no means least on the list is Gunter. Gunter is a bold modern, quirky half serif half sans serif display font that is in a category all on its own. it has a super-strong grounded horizontal present with playful cuts and loops inspired by 60's and 70's design.  It is made to stand out from the crowd so would work well as a centrepiece for a social media design, a poster, or as a primary heading font. 
22. Qabil – Outline Typeface 
This outline typeface has a fun, and almost child-like quality to it that we feel makes it stand out. This handy toolkit helps you easily letter your comic strips, but this bundle can add some comic book feeling to your design even if you have nothing to do with cartooning.
23. Castillo Font 
There are tribal elements to this font with the gorgeous drawings inside of the letters. It comes in regular, bold, italic, and bold italic, and is suited for a variety of design types. Great for invitations, posters, advertisements, and social media use, this font will be sure to make any design stand out. 
24. Lion Card – Handmade Geometric Font 
Created with a quirky geometric style, this font is super attractive and handwritten to give it a more authentic feel. A little more abstract than other fonts on the list, it is certainly a quirky design, and you can change the colors to suit your branding style as well. 
25. Sentaband Font 
Created from bent ribbon, this Sentaband font is quite unusual in its design. Perfect for shorter advertisements or headings, there is a range of glyphs included and the user has a lot of choice and versatility in what they can do with the font. A great choice for any project or design.