Last Updated on October 9, 2023
Designing for law enforcement content requires thoughtful approach to convey professionalism, authority, and clarity. Even if it's only for a movie or short film, it should still look sharp and realistic.
Are you creating a logo, poster, or website? Consider what the combination of typography, images, and colors would produce. Is it fitting for the intended audience? Define your goals and objectives before designing.
Keep the layout clean, organized, and balanced. Use ample white space to create visual breathing room and enhance readability. Refrain from cluttering your work with too many icons, symbols, or illustrations. This will only overwhelm the senses and probably confuse viewers.
Add suitable elements that align with your theme (in this case, justice and law enforcement). Use high-quality images that support the message you want to convey. Lastly, seek feedback from law enforcement professionals and/or your target audience to ensure you've communicated the intended message effectively. Make revisions when necessary.
Are you making branding for law enforcement organizations? Or perhaps you're looking for appropriate typefaces for police-themed movies and other projects? Just remember to respect guidelines or official insignia associated with law enforcement agencies when creating these designs. Other than that, enjoy these police fonts.
Perfect Police Fonts
1. Scout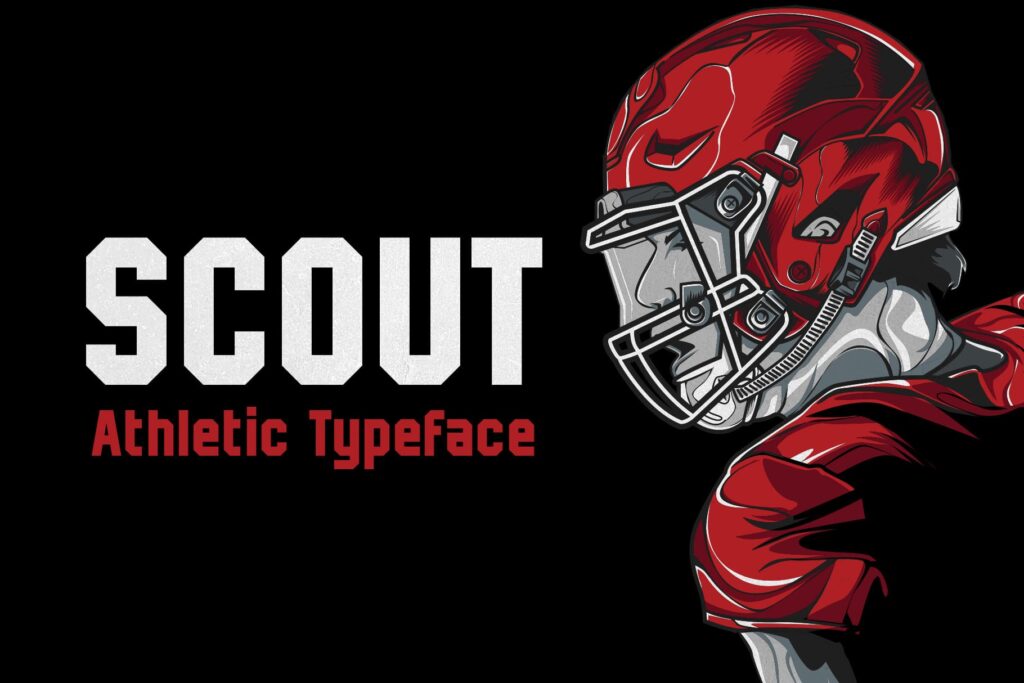 This athletic font is sharp, clean, and bold. It's versatile enough to be used on all kinds of projects, from sports branding, emblems, jerseys, posters, to apparel, magazine headlines, labels, and more. With its fully-kerned design, Scout is ready to go whenever you are. Convenient and professional-looking, you'll wonder what you did without it!
2. Bernard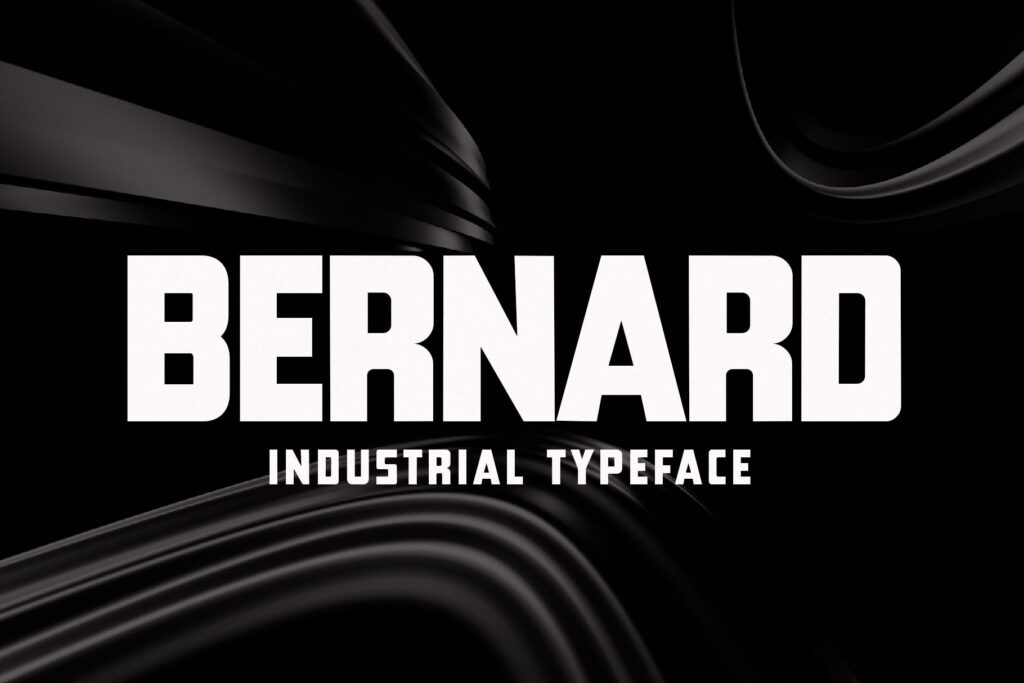 Handsome and robust, this geometric font exudes quiet masculinity. Bernard is the right choice for projects that revolve around space, industrial concept, video games, mathematics, futuristic films, science, web 3.0, and UI/UX applications. The pack contains both lower and uppercase letters, along with a comprehensive set of special characters to help you convey your message clearly.
3. Heisman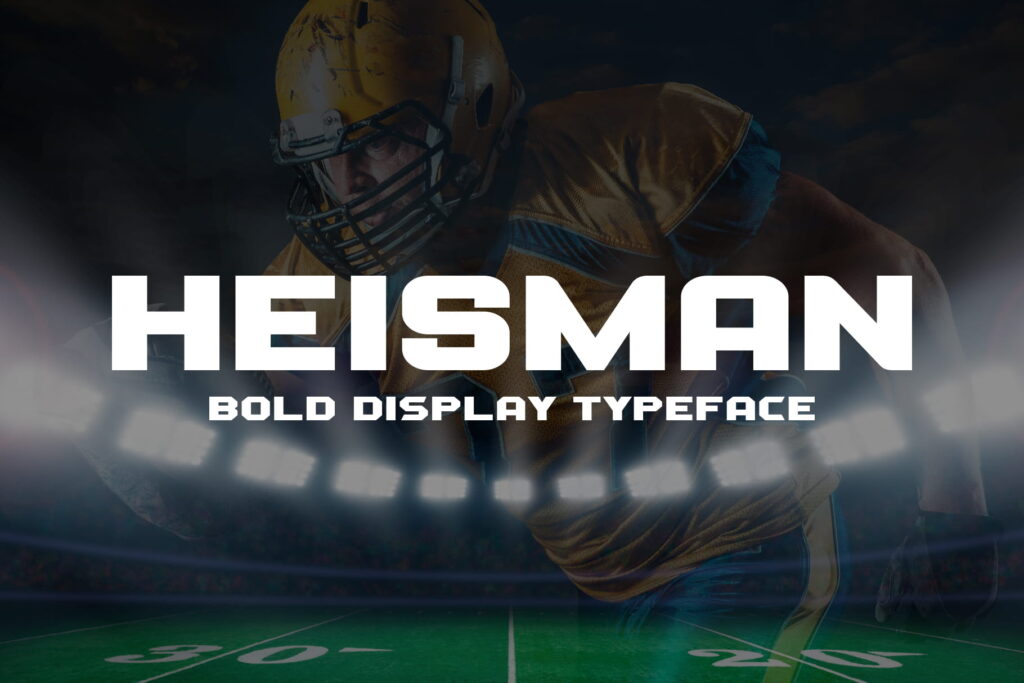 Shine the spotlight on your works with a little help from this all-caps font. Featuring unique characters (Large Caps – sharp corners; Small Caps – rounded corners) that are fully-kerned, it's suitable for headlines, jerseys, logos, branding, posters, packaging, ads, and more. The typeface looks best when the letters are close to each other, but you're free to play around with spacing.
4. Candice
Don't be fooled by the simplicity of this font. Heavy, bold, and expanded, it takes up space where you need it most – like on music posters, sports flyers, social media ads, book covers, event banners, web titles, editorials, etc.. The pack comes with upper and lowercase letters, ligatures, alternates, numerals, punctuation, plus multilingual support.
5. Black Coopy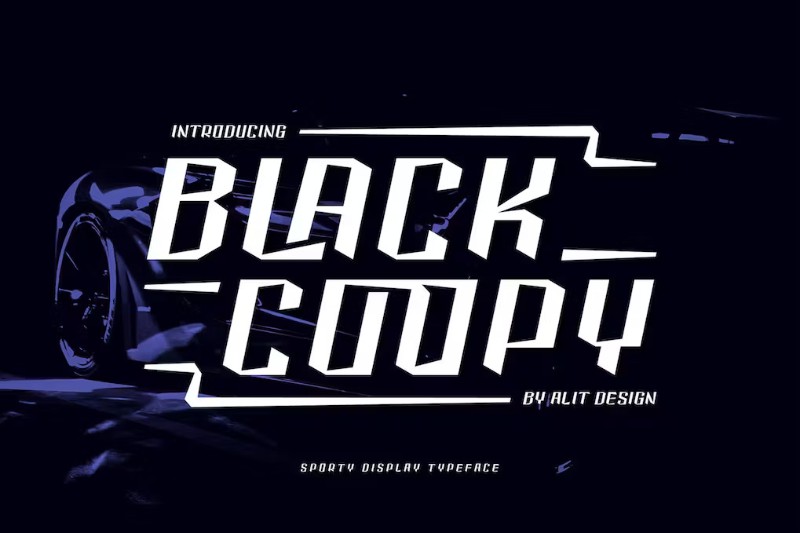 Inspired by sports and racing typography, this display font gives off an impression of speed without going overboard. While it's ideal for automotive and athletic designs, it's also makes a nice addition to sci-fi, cyberpunk, fitness, or gaming themes.
Make sure you're using an appropriate program (e.g., Adobe Illustrator CS, Photoshop CC, Indesign, and Corel Draw) that supports OpenType features to use the beautiful swashes.
6. Futurina
You don't need fancy, complex typefaces when designing for tomorrow. This futuristic game font looks cool but readable. It works well on various compositions such as e-sports, 80s retro, game design, sport racing, car branding, music, website development, modern advertising, and anything cyberpunk.
Aside from the usual Latin alphabet characters, you will also receive handy ligatures and alternates.
7. VOYAGER
Searching for a kid-friendly typeface with a sci-fi vibe? Want to give your industrial or retail design a bit of an edge? Then you will love this military-inspired font.
Aside from the battlefield, this font is adaptable enough to be used for various kiddie projects, like toy packaging, graphic novels, event flyers, game titles, comic covers, etc.. It surprisingly looks good even as body text. Complement it with a regular sans typeface so as not to overpower the entire presentation.
8. Camcode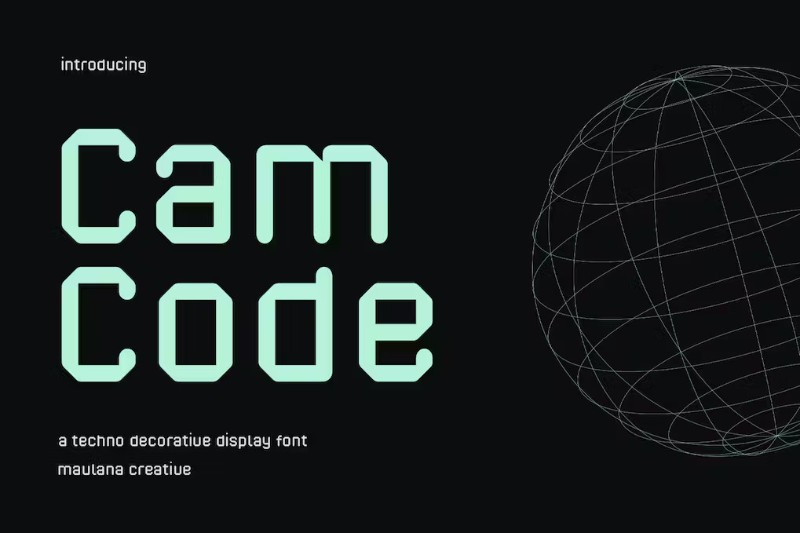 This semi-Bitmap style display sans has charming round edges that are full of potential. Boasting of regular strokes and playful characters, the pack includes ligatures and alternates to add a touch of creativity to logos, social media graphics, movie titles, book covers, as well as short and long text.
Combine it with script or serif fonts for interesting effects. Camcode supports over 100 languages, making it versatile and suitable for various endeavors.
9. Techno Titan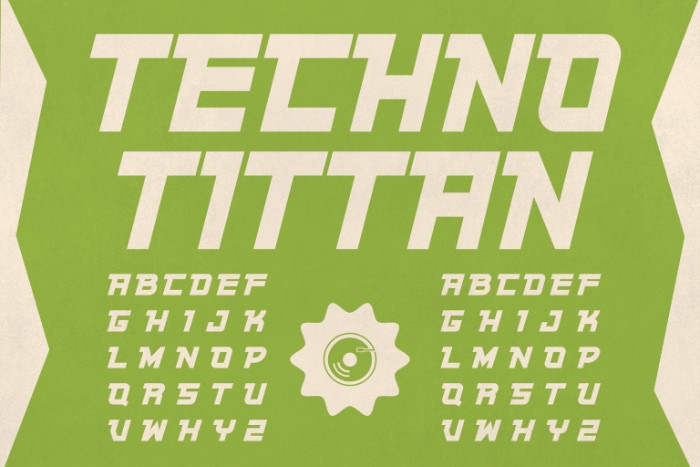 With a blend of sharp edges and smooth curves, this commanding font is perfect for works that require a bold, prominent presence. A little bit futuristic but also vintage, it's unexpectedly awesome on anything retro, hippie, or punk. If you're on the prowl for something eye-catching yet adaptable, this is it!
10. Technovier
How can something slim and seamless look so strong and impactful? That's the enigma of this techno sans family. Clean, professional, and futuristic, it will suit both personal and commercial purposes.
With 5 fonts (Light, Thin, Regular, Bold, Black) to choose from, you will have fun designing posters, t-shirts, packaging, branding, logotype, magazines, brochures, websites, and more.
11. JEDAR
This cutting-edge techno sci-fi font was specifically crafted for captivating displays, posters, and typography that demands attention, particularly in technology and astronomical projects. Its sharp character shapes resemble symbols, making it ideal for tech, sci-fi, cryptocurrency, innovation, and futuristic-themed content.
12. Grayson
Combine the appeal of 1940s detective movies with modern charm using this art deco typeface. Drawing inspiration from vintage store signs in bustling cities like London and New York, it blends a clean aesthetic with exceptional legibility.
Its distinctive letterforms leave a lasting impression, making it an ideal choice for branding purposes. Whether you're working on a corporate identity, packaging design, or any creative endeavor, Grayson offers endless possibilities. The font package includes both OTF and TTF versions, ensuring compatibility across various platforms and software.
13. Devator
An all-caps sans serif that's super versatile, it's a great match for military, sci-fi, and sports themes? Yes, please! Devator does all that and more. Play with the ligatures and alternates to create bold, attention-grabbing headlines, logos, posters, game and app titles, website headers, editorials, etc.. Pair with any thin or minimalist sans for balance.
14. Delta Force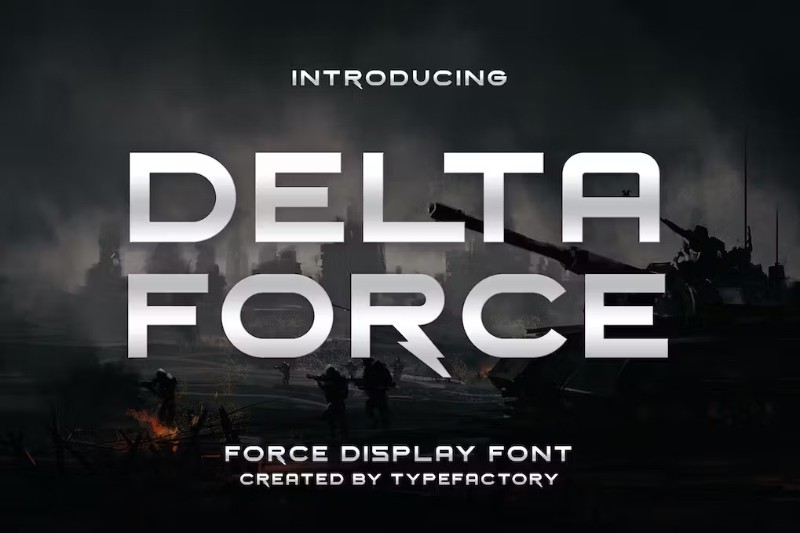 Give your space posters, FPS game titles, and Spotify album covers a strong start using this impactful display font. With its bold and robust character, it breathes life and excitement to any presentation.
Get it today and receive upper and lowercase letters, symbols, punctuations, numerals, ligatures, alternates, plus multilingual support. Incorporate this dynamic typeface into your designs and experience the transformation it brings!
15. Daground
Stencil fonts like Daground is a must-have in any designer's toolkit. They're flexible and can be applied to almost anything – from military, sports, to retro, and contemporary themes. Their classic look is instantly recognizable on t-shirts, school banners, and game titles.
16. Skyload
Go big or go home – that's the first impression when you use this ultra modern sans serif. Ideal as text overlay for urban nightscapes, space imagery, and abstract backgrounds, Skyload will not be ignored. Pack contains both OTF and TTF files for your convenience. Enjoy!
17. Brigade
Introducing Brigade – a techno military typeface inspired by online games and movies. You will get OTF, TTF, and WOFF files, basic Latin A-Z and a-z letters, numbers, punctuations, and international characters. Easy to install and to use, you will look forward to your next military/law enforcement project.
18. Trenton
This stunning stencil serif offers both beauty and legibility across various sizes. Perfect for a wide range of applications including logos, editorials, fashion, sports, blogs, advertising, invitations, posters, quotes, book covers, and stationery, you're sure to get that distinct stencil look in minutes.
19. Detective
Detective is a timeless mechanical typewriter font crafted entirely by hand, paying homage to the iconic invention that revolutionized reading habits and emphasized legibility—the typewriter.
This font seamlessly blends vintage allure with contemporary typographic aesthetics. It offers a balance of old-fashioned charm and modern appeal. Ideal for business correspondence or any work that needs a nostalgic, personal touch.
20. Peligro Stencil
Make it clear that you mean business with this tough, sans serif stencil typeface. By itself, it gets the job done with its clean lines and solid built. But feel free to experiment using text overlays to spice it up.
Use it for police, sports, prison, construction, school or military content. The pack comes with uppercase, numerals, punctuation, and accented characters.