Last Updated on August 29, 2022
The best industrial fonts reflect competence and your own unique style. We collected the top choices that are guaranteed to add a professional and stylish touch to your next project.
1. Improvie
Improvie is a dependable font for those who desire a sense of stability and agency. The typeface is easy to read and versatile enough to be used on websites, business cards and stationery.
2. Katalist
Katalist is an edgy urban display font. The design is focused on lines that are sharp, boxy and strong. This font is suitable for sport posters, streetwear designs, and construction notices.
3. Venture Time
Venture Times is an attractive and versatile stencil typeface. It presents clean and modern letters with endless possibilities. Use this great font for packaging, logos, websites, and restaurant stationery.
4. Nailhead
Nailhead is a more delicate font that is perfect for digital and printing purposes. The typeface is designed with a balance between thin and broad strokes, making the font easy to read and versatile.
5. Brumder
Brumder is a bold font with a focus on thick lines and balanced weight. The typeface is clean, modern and neat. The simplicity is also powerful enough to use in all your industrial projects, including headlines and branding.
6. Muton
Mutone is a simple font that is perfect for a vintage project. The neat design is a trusty all-rounder that you can use for home decor, website titles and event posters.
7. Fathead
Fathead is a wide sans serif display font. The typeface is a good choice if you need a script that is strong and heavy. Fathead is particularly popular as a font for stationery headers and product labels.
8. Rotun
Rotun is another versatile font for all your business needs. With a slight retro echo, the visual elegance is also modern enough for today's trends. Great for titles, headers, business cards, and event materials.
9. Badige
Badige is a unique font that will make your project stand out above the rest. It's perfect for print or online use and can uplift logos, posters, e-book titles and website headers.
10. The Farmer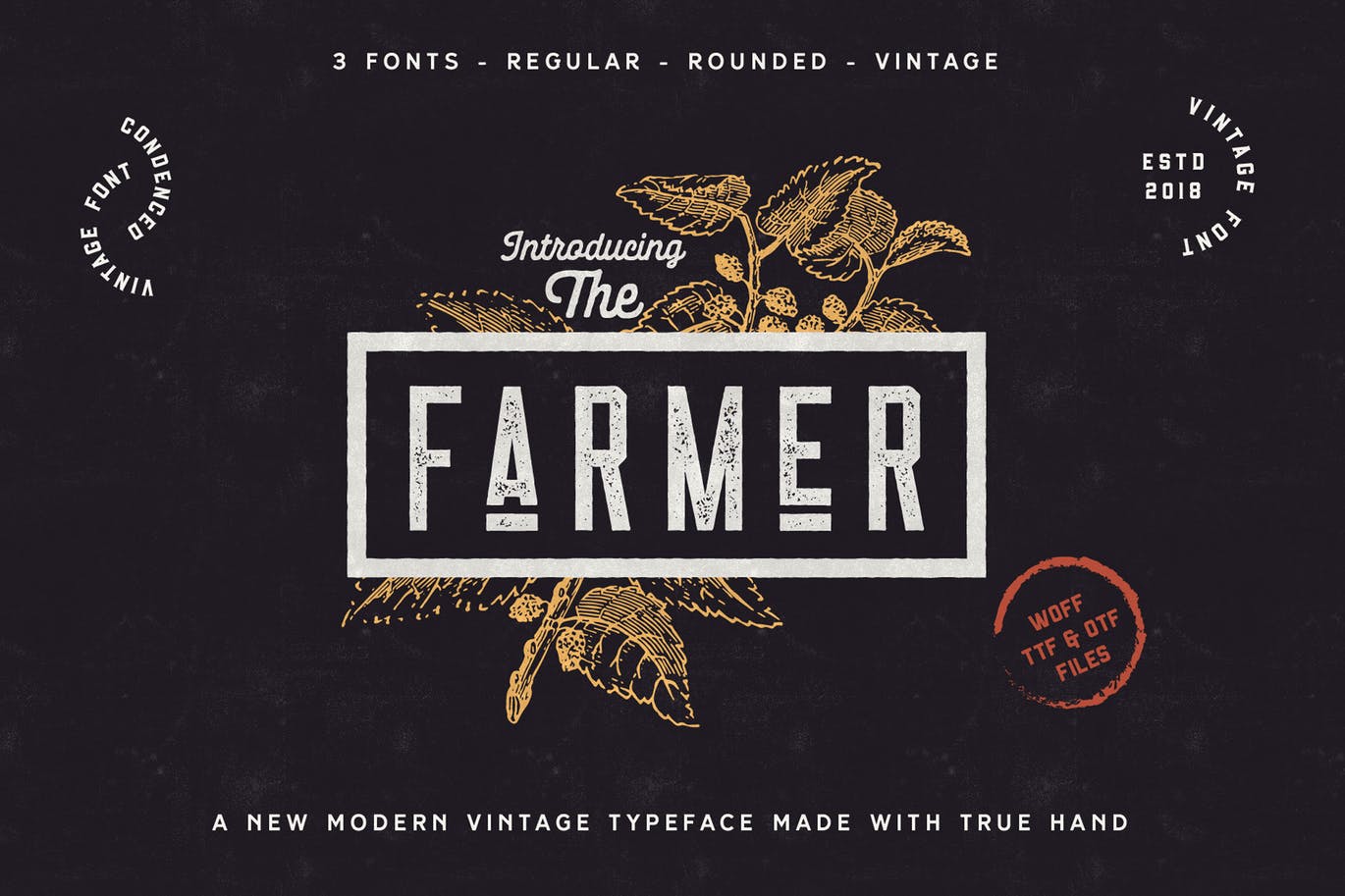 The aptly named The Farmer font is a natural, organic-looking typeface. With its strong and mature look, the fashionable font is perfect for coffee shop branding, beer logos and other hospitality items.
11. Rustyhead
Rustyhead is a textured sans serif font. Designed to look rusty and full of grunge flavor, this font is great for any project that requires a modern typeface and a good dose of playful charm.
12. Sputnik
Sputnik draws inspiration from the old USSR, vintage fonts and other neat typefaces. It's a good option for event posters, invitations and space-themed product labels.
13. Numhead
Numhead echoes with a nerdy electronic flavor or even an old-school computer typeface. With a focus on rugged, geometric characters, the font is attractive and easy to read.
14. Rolas
Rolas is a relaxed, modern font with well-balanced characters. The typeface is also slightly ornamental, making it suitable for restaurant menus, product labels and events posters.
15. Manufaktur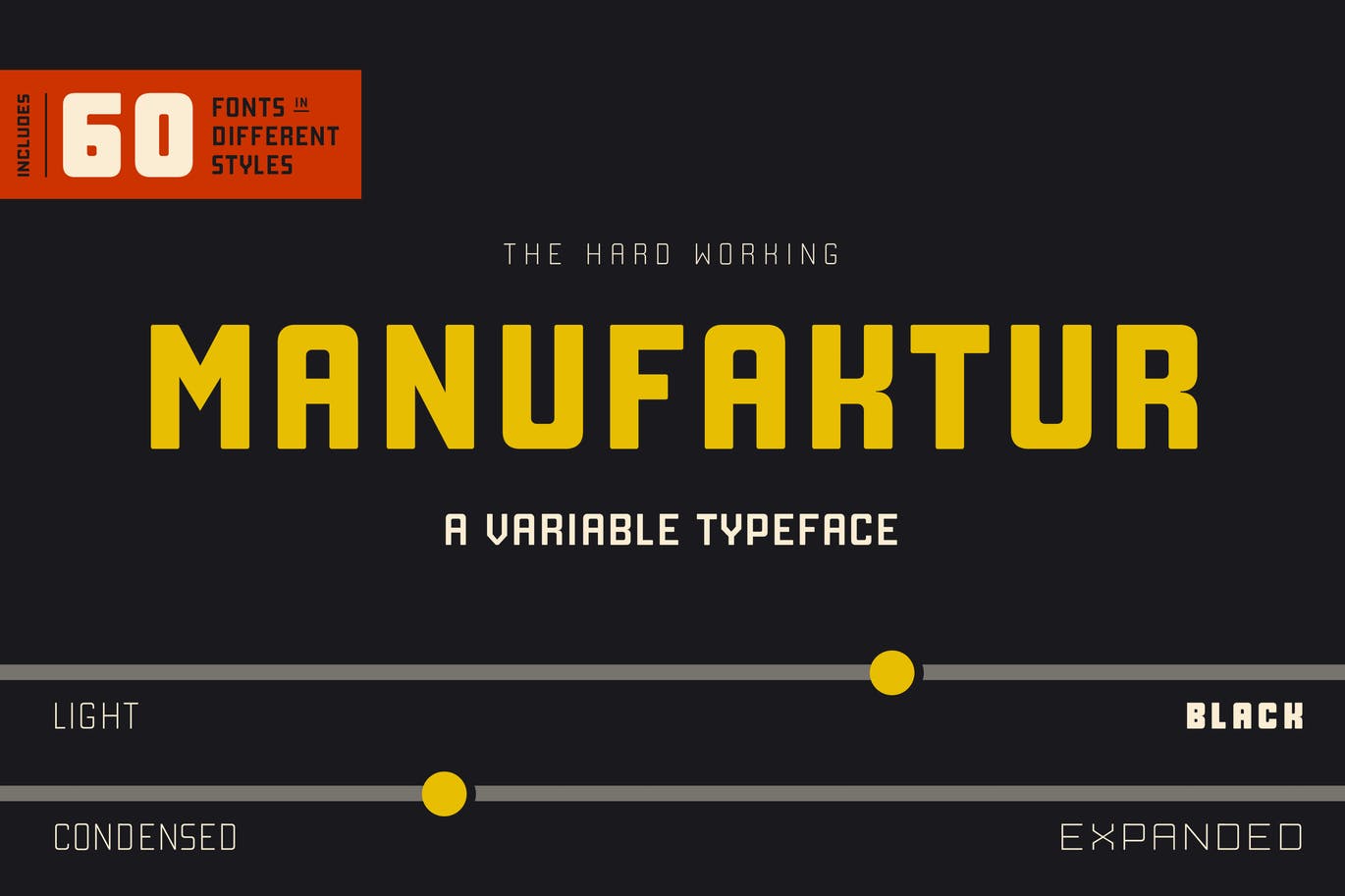 Manufaktur was inspired by an old iron sign found in a Swedish industrial machine. Simple, neat and still very relevant, this font has endless possibilities for modern projects.
16. Blockhead
Blockhead is a robust slab serif font. Despite its bold characters, this font also has a friendly feel. Grab this typeface for dynamic posters, labels and letterheads.
17. Brigadier
Brigadier is a compressed, tall font for modern projects. This typeface is perfect for a branding campaign that needs a tight font with an authoritative touch.
18. Highman
Highman is a bold display font that presents itself in all caps. However, if needed, you can use lowercase letters as they are merely smaller caps. The font is also slightly compressed, neat and versatile.
19. The Hustle
The Hustle is packed with determination and grit, yet it remains stylish enough for all types of industrial uses. Presented in all caps, the font's lower case characters are underlined, adding an extra touch of flair.
20. Atomicaboy
Atomicaboy is a geometric script font. Inspired by the atomic age and chromed emblems from the 50s, this is the ultimate retro choice for your next project. An automatic ligature feature also connects the characters perfectly.
21. Mathics Round
Mathics Round is an industrial font but with a soft feel. With its rounded strokes and ligatures, this stylish typeface is suitable for any project that needs a commanding font that doesn't feel too heavy.
22. Moldr
Moldr is a san serif typeface with a modular grid structure. Inspired by both hand-drawn letters and molds from industrial machines, this font is smooth, familiar and beautiful.
23. Parlour
Parlour is a gorgeous industrial font perfect for the hospitality industry. With its rugged appearance – inspired by barber and tattoo shops, Parlour is perfect for product labels, packaging, and restaurant advertisements.
24. Groches
Groches is a simple font with hints of strength and boldness. The well-rounded characters are also attractive and quick to read, two important traits for successful advertisement copy.
25. Typehead
Typehead is a font collection with endless possibilities. From stencil to calligraphy, this typeface pack is guaranteed to cover all your project's industrial design needs.
26. Uphead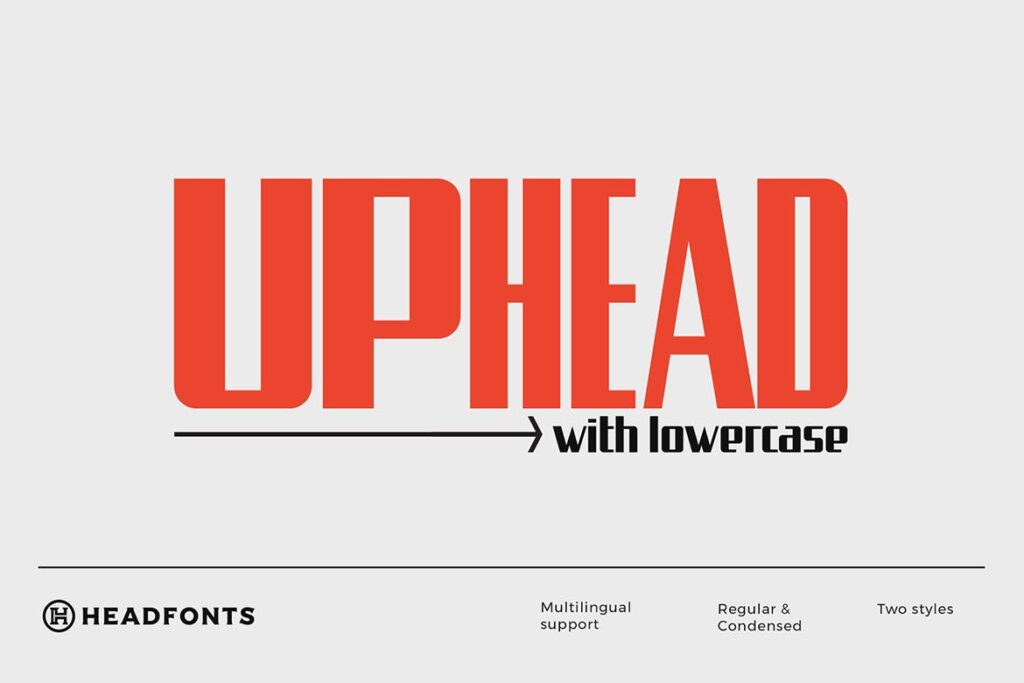 Inspired by Eastern European street signs, the Uphead font is a well-balanced typeface. It's perfect for projects that need a tight font with a strong and modern appearance.