Last Updated on June 10, 2022
Whether it's the military, naval, or air forces, the strength that soldiers possess has inspired people for generations.
There's something about their quiet power and willingness to defend their country that stir so many emotions. It's no wonder that plenty of books, film, and art have been dedicated to the armed forces.
Design has also played a large role in creating an overall atmosphere that would suit men and women in arms.
These are typically portrayed through stencils, typewriter lettering, and bold square shapes. If you're looking to re-create this theme, you can begin with this collection of military and war fonts:
Military and War Fonts for Your Designs
4. Palm Canyon Drive
Post-war California was a magical place: from diners to Hollywood glamor, it was a splendid time for creatives. RetroSupply Co. has captured the essence of that era in this classical typeface featuring tons of extra to truly brighten up your projects.
5. Sign '45 Typeface
Give your artworks the rough treatment it needs while still looking sweet. This font from LeoSupply.co will remind you of bouncy curls and saccharine smiles waiting for you after fighting in the battlefield of deadlines.
6. Commando
Prove you're a real strategist on and off the combat zone in this bold typography by defaulterror. It's perfect for all war, military, and army themed designs, especially delivering courageous logo styles, valorous headers, and daring posters.
7. Sputnik Typeface
Inspired by vintage propaganda posters (especially from the USSR), this font style by Tugcu Design Co. looks particularly great in bold red. Try it now and make your designs pop!
8. Blacklisted
This modern font inspired by old films and art deco styles, could be just what your editorial headlines, greeting cards, packaging, and poster designs need to stand out. Crafted by thomas_ramey, the collection includes special characters, plus eight different arrow styles and various tildes.
9. Prospekt Typeface
Tugcu Design Co. offers this big and bold typeface that's great if you want to quickly grab attention to your works.
10. TT Supermolot Condensed
This high-tech font family from TYPETYPE is suited for contemporary technological designs, sports themes, as well as inside game plays. Innovative with convenient weights, it's an awesome lettering style to have in your arsenal at all times.
Download TT Supermolot Condensed
11. Doddy Boldy Typeface
This heavy and strong typeface by fopifopi is bound to have you saying "bon voyage" to bland fonts. Can you just imagine it painted on ships about to sail away?
12. Mind the Gap Font
If you're looking for something with an industrial, almost military look and feel, this one by It's me simon is perfect for you. Deliberately crafted with imperfect details, it's sure to add personality to any work.
13. U.S. Navy Script
Inspired by the American Navy and WWII hand scripts, add a touch of vintage to your projects with this typeface from Vintage Voyage Design Co.. Buy today and get bonus freebies like badges, ribbons, sunbursts, and more to complement the overall theme.
14. Citadina Font Family
Working for a project that needs some space-saving skills? Graviton Font Foundry presents this font family with a geometrical, neutral appearance and a slightly condensed design that's sure to fit that qualification.
15. Brother Display Font
The Routine Creative gives you this fascinating vintage inspired font that looks clean in every setting.
16. Sergeant Hand-Drawn Stencil Font
This amazing typeface from James Lafuente combines the strong, straight edges of stenciled letters with the homey feel of being hand-drawn. It's best used for branding, logo designs, or as headlines.
17. The First Division
Vintage Voyage Design Co. continues with WWII-inspired themes in this font reminiscent of printed letters on United States Air Force planes.
18. The Aviator Font Collection
This collection from Vintage Voyage Design Co. offers clean and distressed letterpress designs for a truly unique vintage feel. Mix and match to get the exact look you need. Get the product today and receive amazing add-ons like aviator badges, cool icons, and more.
19. Cast Iron Family
A bold, tough, and industrial typeface that comes in four weights and three finishes. Crafted with care by Hustle Supply Co.. Get a taste of this good font you can use again and again in all sorts of artworks.
20. Surplus Pro
Stencils are a huge part of the military style and vibe. Get a good solid base for when you're dealing with such projects by getting this classic vintage military stencil font from Millieangelo.
21. Wooden Atelier Vintage Serif
Sometimes, hand-drawn is the best way to bring out authenticity to your works. Try this font from Greenhouse Supply Co. for a true vintage feel that's great when you're making logos, stationeries, posters, and apparel.
22. Liberator Family
Add a masculine punch to your projects using this heavy bomber-inspired typeface by Ryan vs. Clark.
23. Havelock Titling
XO, Pretty introduces this authoritative font with four weights to complement any design. Whether you're working on something that needs maximum readability or you simply need a handy reliable font, this one is a must-have in every designer's arsenal.
24. Candice
This heavy and bold sans from Typia Nesia will look amazing on almost anything – from branding, editorial, to sports, gaming, and even automotive. Have fun and let your designs do the talking.
25. Devator
Level-up your posters, banners, websites, or ad campaigns using this sci-fi display font with unique ligatures. It's best for avant-garde, science, tech, auto, or fitness themes.
26. Daground
A powerful stencil typeface that knows no boundaries, you will love it on military, tactical, or army projects that need just the right amount of typographic energy. Ideal for short headlines or attention-grabbing titles.
27. Vinstamp
Multilingual, with useful alternates and ligatures, this vintage stencil sans can be applied onto various designs, including retro branding and product packaging.
28. Rouhtem
The sharp edges and solid, geometric shapes of this font will definitely cement itself onto your audience's memories. It will look amazing on war gaming or military themes.  
29. Lordcorps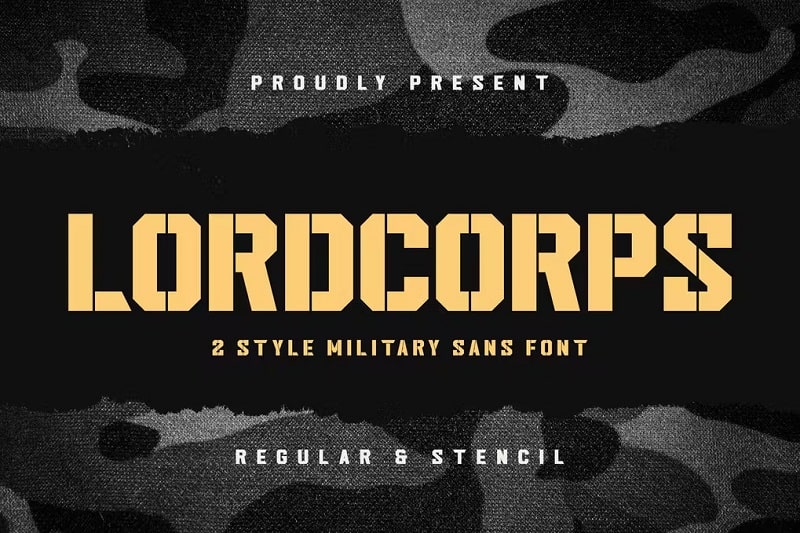 Alterzone presents this military-style font inspired by classic army stencil design. You will get 2 styles, plus standard glyphs, and a web font version. Compatible for both PC and Mac.
30. Reloaded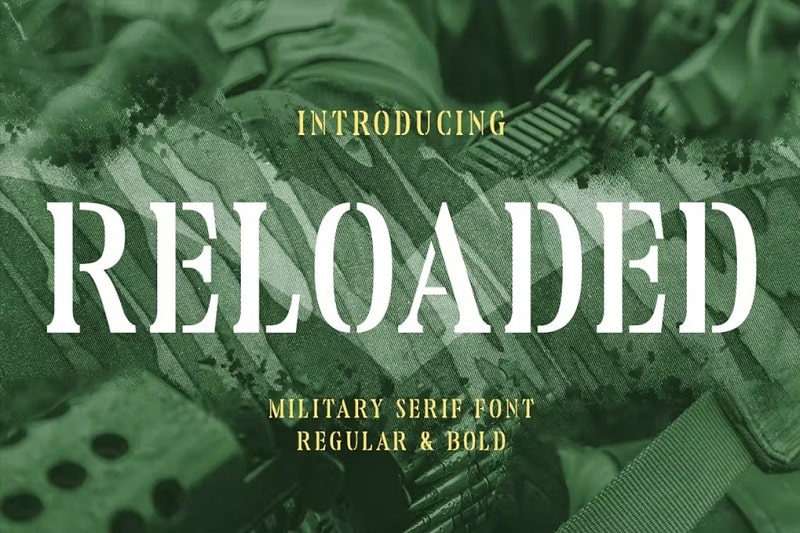 With narrower characters and a sleeker look, this serif is ideal for badges, logos, titles, headlines, and more. It works well with Adobe Illustrator, Photoshop, InDesign, and even Microsoft Word.