Just before World War I, a style that's a mix of geometric shapes, bright colors, and superb craftsmanship appeared in France. It then swept the world over to become known as Art Deco. From architecture, jewelry, art, fashion to everyday objects, people became enamored with this unique concept.
Even during the Great Depression, it has managed to keep itself alive thanks to new materials such as chrome plating, stainless steel, and plastic. One will later describe this style as contradictory: a wish to be opulent yet modern, practical but decorative.
Today, Art Deco is still synonymous with luxury, glamor, and a hope for technological progress. Wishing you could add this look and feel to your artworks? Then browse through this collection of the most beautiful Art Deco fonts.
Beautiful Art Deco Fonts
1. Royal Crest
The Royal Crest serif typeface exudes modernity, elegance, and decorative flair. Its exquisite design features ornate characters that add a touch of sophistication to high-end projects, without overwhelming them. With a vast array of alternative characters at your disposal, Royal Crest provides the creative flexibility to craft exceptional and one-of-a-kind designs. Whether you're working on logos, wedding invitations, websites, or print ads, Royal Crest is guaranteed to make a lasting impact.
Do you want to make a bold statement? Look no further than Royal Crest: a must-have for any graphic artist's toolkit.
2. Rosaline
Rosaline is a beautiful outline typeface inspired by the glorious Art Deco era of the 1920s. This gorgeous font is strong, decorative, and classy. You can use it for vintage projects as well as modern design projects like packaging, apparel, posters, branding, prints, weddings, and more. Create your Art Deco masterpiece today with Rosaline.
3. Amoretta
Are you in pursuit of a truly stunning typeface? Look no further than Amoretta, the embodiment of elegance and sophistication.
Its adaptability is unmatched, making it an ideal choice for both headings and body text, while its legibility ensures clear communication. Featuring delicate serifs and graceful curves, this font exudes a timeless charm and style. Whether utilized for branding, editorial design, or invitations, Amoretta adds subtle luxury to any project. Try it today and see for yourself!
4. Fonseca
Fonseca is a modern sans serif art deco font inspired by early 20th century typography. Features 8 weights, 345 glyphs, and stylistic alternates and ligatures in 7 languages.
5. Fonseca Rounded
Fonseca is a modern sans serif art deco font inspired by early 20th century typography. Features 2 weights, 328 glyphs, and stylistic alternates and ligatures in over a dozen languages.
6. Gatsby


Gatsby – Art Deco Font is a unique typeface for headlines, big text, branding, logotypes & display usage. This all-caps typeface comes with 4 styles best for creating outstanding logos, promotional content, and marketing graphics.
7. Mourich
Mourich Elegant Serif is an Art Deco font with 2 styles in an all-caps/small caps format. Features over 500 glyphs, ligatures, stylistic alternates, and swashes.
8. Genesis
Genesis is a condensed art deco inspired typeface. This font exudes character while remaining useful thanks to a restrained style and modernized construction. With over 50 ligatures, you can be certain that Genesis is versatile and pleasant to use. Excellent for branding, headlines, magazines, print, books, and much more.
9. NovaDeco Type Family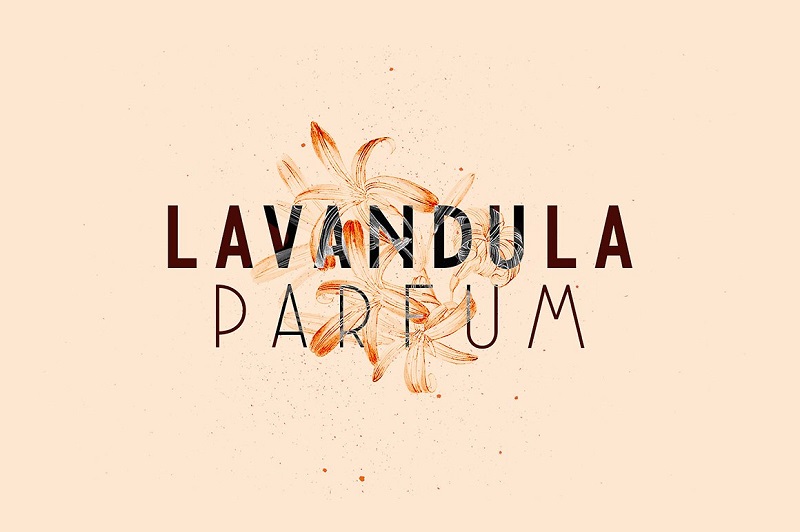 In search of something timeless for your branding projects? Types and Boats brings to you this amazing typeface that comes in 4 weights: Light, Medium, Bold, and Extra Bold for the perfect contemporary addition to any editorial or ad concept.
10. Metropolis Typeface
Tugcu Design Co. proudly presents this art deco-influenced font that captures the classic beauty of that decade. And with more than 50 art deco ornaments as well as 3 gold textures, it's a must-have in every designer's arsenal.
11. Dianna
Make stunning retro designs and themes in a snap with help from this bundle by ochaya designs. Featuring 4 families, 4 weights, and 4 styles, they all total a whopping 22 different variations to use in logos, posters, menus, headlines, labels, branding, and more.
12. Trindle Sans
This display font by Glyph44 is all about contrasting lines and smooth curves. Make a bold statement with it today by adding this to your invitations, posters, editorials, or social media ads.
13. Beaumont
Travel back to the Art Deco scene when you grab this 10-font family by Studio Buchanan. This blast-from-the-past meets modern strokes to create one of the most versatile typefaces you will ever own – perfect for body copy or for high-impact headlines.
14. Minerva Typeface
Tugcu Design Co. brings to you super elegant font that can be as mysterious as you want it to be. Available in Regular and Bold, this pack also comes with 2 bonus rose gold textures.
15. Braga Huis
Inspired by the well-known street in Bandung during the 19th century, this font family by Juru Aksara comes in 3 styles – Regular, Black, and Outline – that are sure to give your works a hopeful, refined touch similar to the Netherland-Indie city of those golden times.
16. Serendior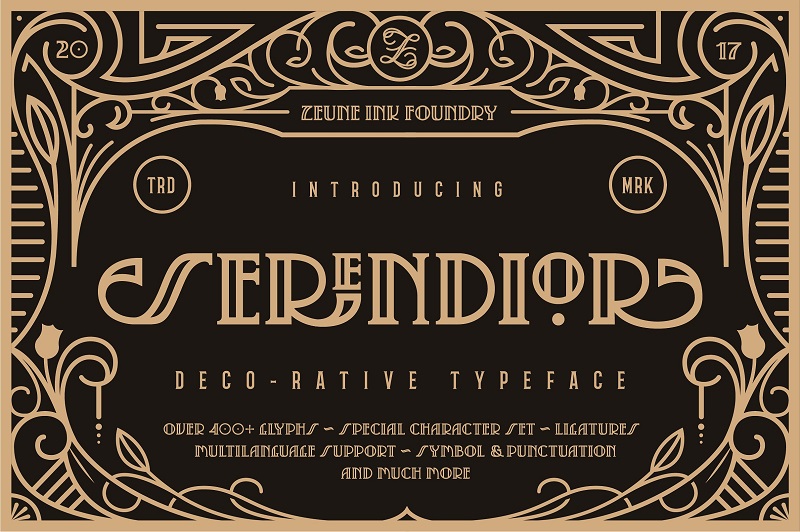 Go back to a time of complete splendor when you use this beautiful font by Zeune Ink Foundry. The pack includes the typeface in Block and Stroke styles, as well as 12 seamless patterns that are scalable and ready to use.
17. Prizefighter Display
This tall and thin sans serif from Vintage Type Co. will look great on either traditional or modern projects. It also features 4 unique styles with glyphs and multilingual support.
18. Von Bond
Easily capture the silent beauty of a bygone era with this pretty sans serif by Josh O.. Created with a modern twist, its classy alternating thick and thin lines will lend vintage elegance to your wedding invitations or social media graphics.
19. Emporia Typeface
This art deco-inspired product from Tugcu Design Co. features 2 styles to die for: Regular, for the discerning audience; and Rough, for the right amount of rustic luxury. The pack also comes with 2 foil textures you can play around with.
20. Ironclad Typeface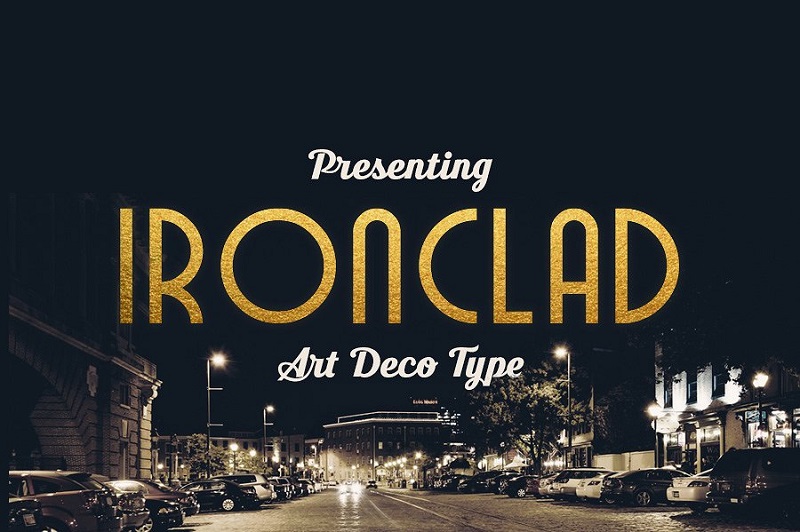 This amazingly contemporary tribute to a 1920s typeface by Tugcu Design Co. has a circular design reminiscent of upscale extravagance.
21. Bronco Typeface
With Inline and Regular styles, this uppercase display typeface pairs well with scripts for gorgeous designs you can apply to badges, logos, labels, and other branding projects.
22. HAUS Sans Family
Inspired by Bauhaus and historical typefaces from the 1930s, this font by Pier Francesco Martini is clean, structural, and highly adaptable.
23. Brigmore Typeface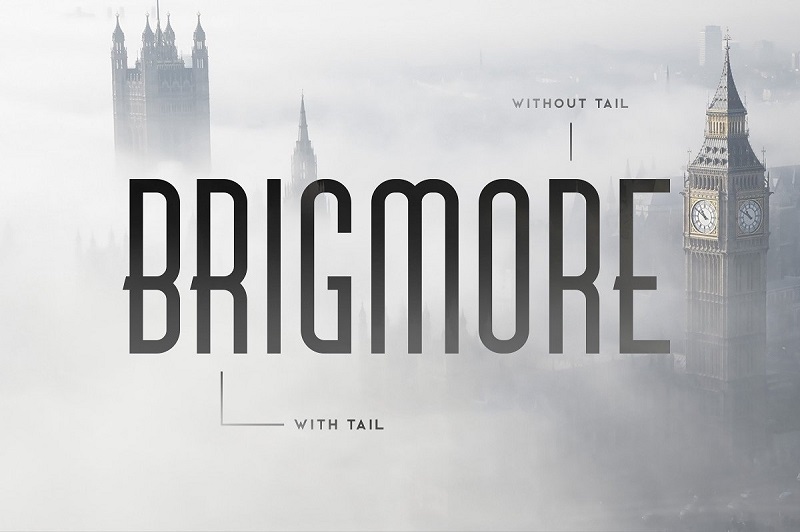 Set the mood using this classy retro typeface evocative of Noir as well as Deco styles. Toggle the Caps Lock to get the alternate letters that will add more character to this already chic font.
24. Pontiac Inline Font Collection
Hand-lettered in Paris, this lovely collection includes 4 fonts – Regular, Inline Inside, 3D, and Shadow – that you can layer or use separately for a modern, yet totally decorative effect.
Download Pontiac Inline Font Collection
25. Haarlem Deco
This all-caps semi-condensed sans serif by Twicolabs Fontdation came from a mix of Euro-American signage lettering transformed into a modern and clean typeface that's beautiful and fun to use.
26. Saveur Sans
Arkitype proudly brings you this clean yet sophisticated font influenced by French cafes and the Art Deco age. This all-caps display typeface is your sweet go-to for designs that require a subtle French flair.
27. Cormier Typeface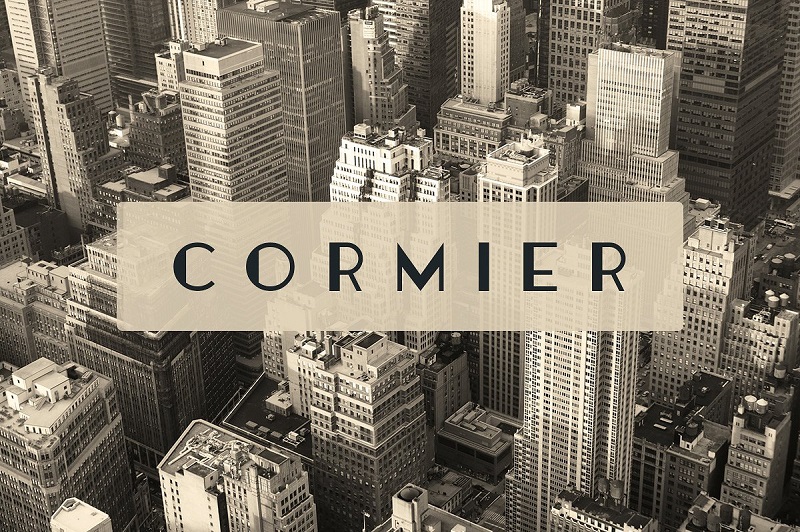 Quickly add the timeless look of Art Nouveau in your projects thanks to this gem by Tugcu Design Co.. Available in Regular, Rough, and Double styles, it's an instant mainstay in any designer's toolbox.
28. Carose Sans 6 Elegant Typeface 
This is Carose Sans, a modern elegant luxurious sans serif with a ton of ligatures and alternate characters. It is clean and minimalistic and works wonderfully on its own for logos, headlines, posters, packaging and many more! And with six different weights to choose from, your options to create a more unique and versatile design are endless
29. Aviator
Let your designs reach new heights with this simple sans serif from Medialoot. Clean yet elegant, this art deco-inspired typeface is best used for contemporary and minimalist concepts.
30. Brilon Font
This product by Tobias Saul comes with a beautiful serif, as well as 18 special ligatures, 17 stylistic alternates, and 8 high-quality botanical photos. Truly a must-have not to be missed!
31. Hazel Deco Font
An elegant typeface reminiscent of a Gatsby era, Leslie Ray also includes a lovely gold foil texture that will instantly transform this font from simply chic to stunning.
32. Borest Typeface
Borest is a carefully crafted, Roman sans serif, art deco font with a versatile and luxurious feel suitable for invitations, covers and titles, and so much more.
33. Cassandre Font
A tribute to French artist and typeface designer, Adolphe Jean-Marie Mouron (whose pseudonym is Cassandre), this elegant display font from Archiwiz comes in Regular and Light to add a touch of humble charm to any design project.
34. BACKSTAGE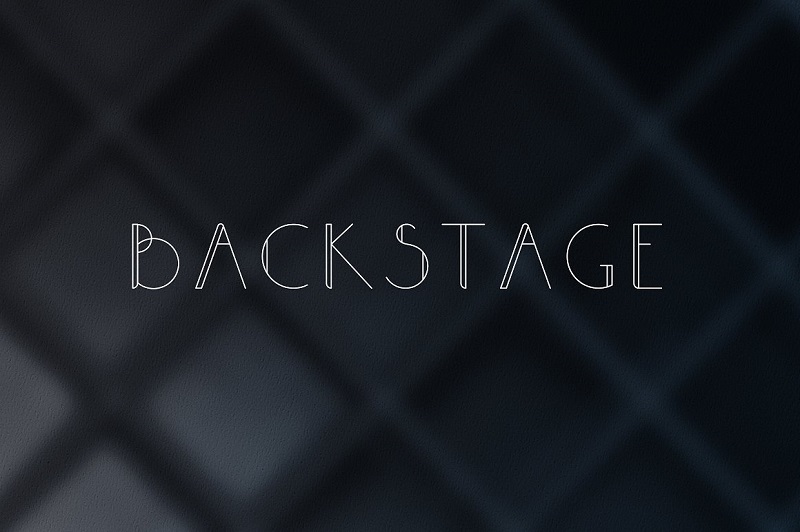 This lovely sans serif by Ivanna-Ivashka is all about clean, updated letterforms that will lend the right art deco flow for invitations, business cards, posters, logos and more.
35. Emblema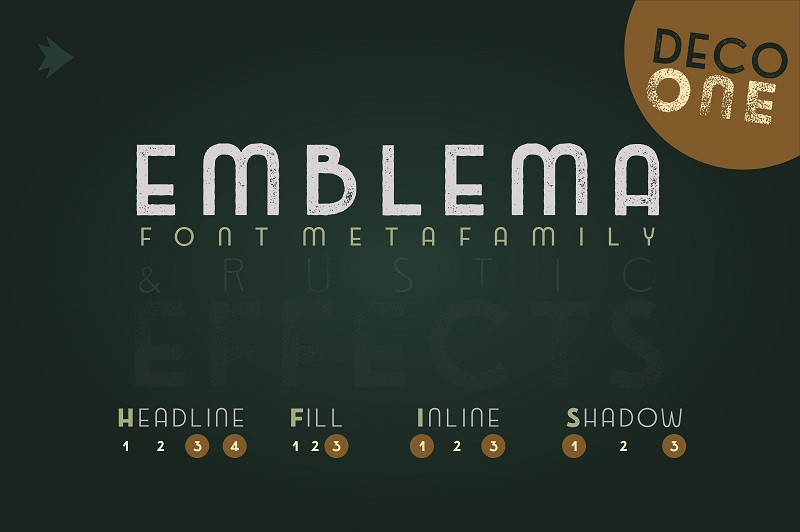 Get more out of one purchase with this font bundle from Duvan Cardenas. Featuring a total of 7 styles, you can layer or use on their own, you'll get all kinds of antique effects that are not only decorative but multipurpose.
36. Naive Deco Sans Font Collection
Designed by Fanny Coulez and Julien Saurin, this handwritten sans serif is meant to be layered to produce various beautiful combinations reminiscent of Deco style. It's also available in Double and Triple lines to give unique variations with a touch of whimsy.
Download Naive Deco Sans Font Collection
37. HandDeco Font Family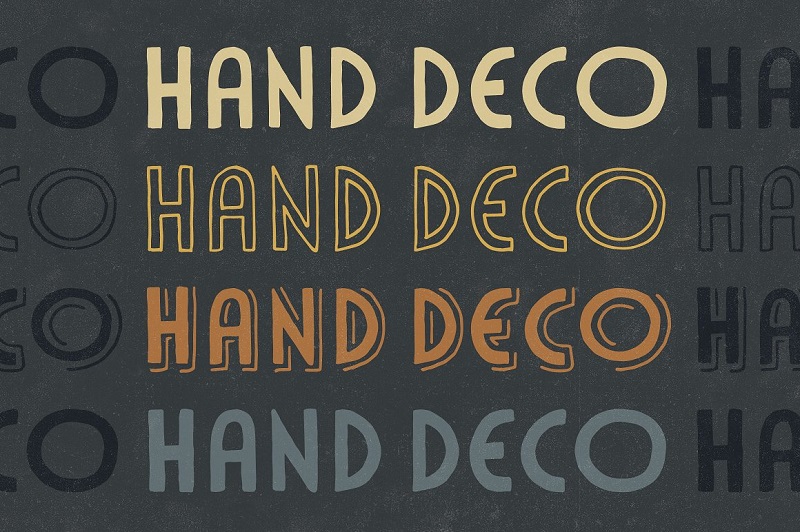 Inspired by geometric typefaces from the early 20th century Art Deco period, this font family by Gerren Lamson includes 4 styles that have been carefully handcrafted. Use them to re-create historic yet refined designs.
38. Pinkhoff 
If you are looking for a 1930s vibe, then this font is perfect for you. It is all about nostalgia, and we think that the beautiful lines of the typography and numerals show how the barely restrained charisma of art deco can be coupled with the new obsession with all things vintage. 
39. Rosie Sans Gorgeous Typeface 
Introducing Rosie Sans – A Gorgeous modern sans serif font with ton of stylistic alternates to choose from. It is bold clean and simple. It works wonderfully on its own for logos, headlines, posters, packaging and much more! And with three different weights to choose from, you have a lot to work with.
40. Garine Art Deco Display Fonts Trio 
Garine is an art deco-inspired display typeface full of character, quirky ligatures, and glyphs to keep your designs fresh. It is perfect for a range of design ideas and features multilingual support. 
41. Magnate Typeface 
Magnate is an art deco themed display font with uppercase multilingual letters, numbers and punctuation. The download also includes the frame on the third screenshot in PSD format and the texture used in the previews for the text in JPEG format.
Download the Magnate Typeface here!
42. Fonseca Art Deco Font Family Pack 
Fonseca is a modern sans serif inspired by art deco and typography poster in early 20th century. The key to this all-caps family is its simple straight geometric forms and modernized letterforms.
The font looks great with any form of content, and is best suited to headlines, logos, branding, and posters. 
Download Fonseca Art Deco Here!
43. Pochter Art Deco 
Inspired by vintage art deco style, this Pochter font package is slick, and versatile. We think that it is perfect for a range of design ideas and its multilingual support makes it a versatile option for each design idea, and many different languages. 
44. Art Deco Monogram Font 
Art Deco Monogram Font is a sans serif font specially designed for creating stunning monograms in no time. Art Deco Monogram Font includes three weights, light, regular and bold with uppercase and lower uppercase characters. This font has endless combinations. Each letter was designed to perfectly combine with the others easily and with great results. 
The uppercase letters are tall and narrow, while the lower uppercase letters are wider and short-bodied. For a successful monogram, you simply have to choose an uppercase letter and a lower uppercase letter, place them on top of each other and adjust them to have the same center, or just use the existing monograms in this font. Each font contains over 360 combinations of monograms, letters, and alternates.
Download the Monogram font here!
45. Decohead Typeface Art Deco Font 
Presenting DECOHEAD, an elegant and warm Art Deco inspired typeface. With its unique and delicate touch, this font can add a sophisticated twist to any design. Decohead has a neat appearance that feels modern but at the same time, its decorative accents set itself apart, maintaining a subtle yet exquisite overall look, without being too shabby.
Decohead has three weights, uppercase and lower uppercase characters, a number of 63 glyphs per font and standard Latin script support with numerals. You can use Decohead for almost any design project that requires a glamorous, decorative whisper.
From posters, headers, and feminine logos to wedding invitations but it can also be used for small articles and occasional texts.
46. Valencia Typeface

Valencia is a geometric display font with uppercase multilingual letters, numbers and punctuation. It has a very solid look to it, and is versatile in that it appeals to a range of design ideas and concepts. 
47. Contstelar 
CONTSELAR is a unique font based on a modified sans serif font or commonly known as the art deco font style. A font with a distinctive and unique style to support an art deco design that looks elegant and classic. Within the package, you get access to four stunning fonts. Each of them is versatile and are perfect for any design concept. 
48. Lempicka Font Duo Vector 
Lempicka is an Art Deco-inspired, ligature-rich typeface duo with support for Latin and Greek. In this package, you will receive two fonts and one vector pack of frames and ornaments.
Lempicka Display and Lempicka Small Caps are a pair of light, clean fonts with strong Deco character. The frames and ornaments are all fully editable vectors – including a Save The Date template – that complement the fonts beautifully.
49. Mirra (FREE)
The thin lines, flowing descenders, and characteristic rounded serifs make this lovely font from Oxana Tkach perfect for both digital and print projects. Its minimalist style will lend a magical feel to your signs, labels, invitations, branding, apparel, brochures, book covers, and more!
50. Rustler Barter (FREE)
Designed by ShowUp! Typefoundry, this elegant serif font has vintage aesthetics with a modern vibe. This set includes special uppercase letters, alternate characters, and handsome ligatures. Free for personal use only.
51. St. Jacques (FREE)
As a modern mid-century inspired all-caps sans, this font from Pixel Surplus surely doesn't disappoint. The clean lines and wide design makes it ideal for headlines, banners, titles, covers, and other short forms of text.
52. Rousseau Deco (FREE)
The stylized O, R, and S characters in this Art Deco inspired font by Mariano Diez give it a simple, decorative feel that's subtle yet impactful. Although it works well for body copy, it is best suited for shorter texts such as for headlines, titles, posters, and logos.
53. High Life (FREE)
Reminiscent of a bygone time, this stylish serif from Oban Design Studios is as timeless as your vintage ideas. For headlines, logos, or titles, use all-caps. To create interesting effects, try toggling upper and lowercase characters.