The punk subculture has been around since the 1970s and has had numerous influences. From the music of the Sex Pistols to the writings of Charles Dickens, punk is as complex as it is varied. Inasmuch as it draws inspiration from art and philosophy, it's also motivated by film, literature, music, as well as early subcultures such as Beatniks, bikers, and even glam rockers.
The origins of the word can also be debated. Some sources say the term 'punk' was first coined to mean novice or untutored guitar-and-vocals-based rock and roll bands. Later on, these bands would sing songs about socioeconomic struggles and post-war ideals. Younger individuals relate to these songs, awakening in them a sense of non-conformity, anti-authoritarianism, and anti-corporatism.
One thing's for sure: punk is here to stay. So for designers who feel like they don't want to conform to the usual, here are some amazing punk fonts to get you started.
Edgy Punk Fonts
1. Boardslide – Energetic Typeface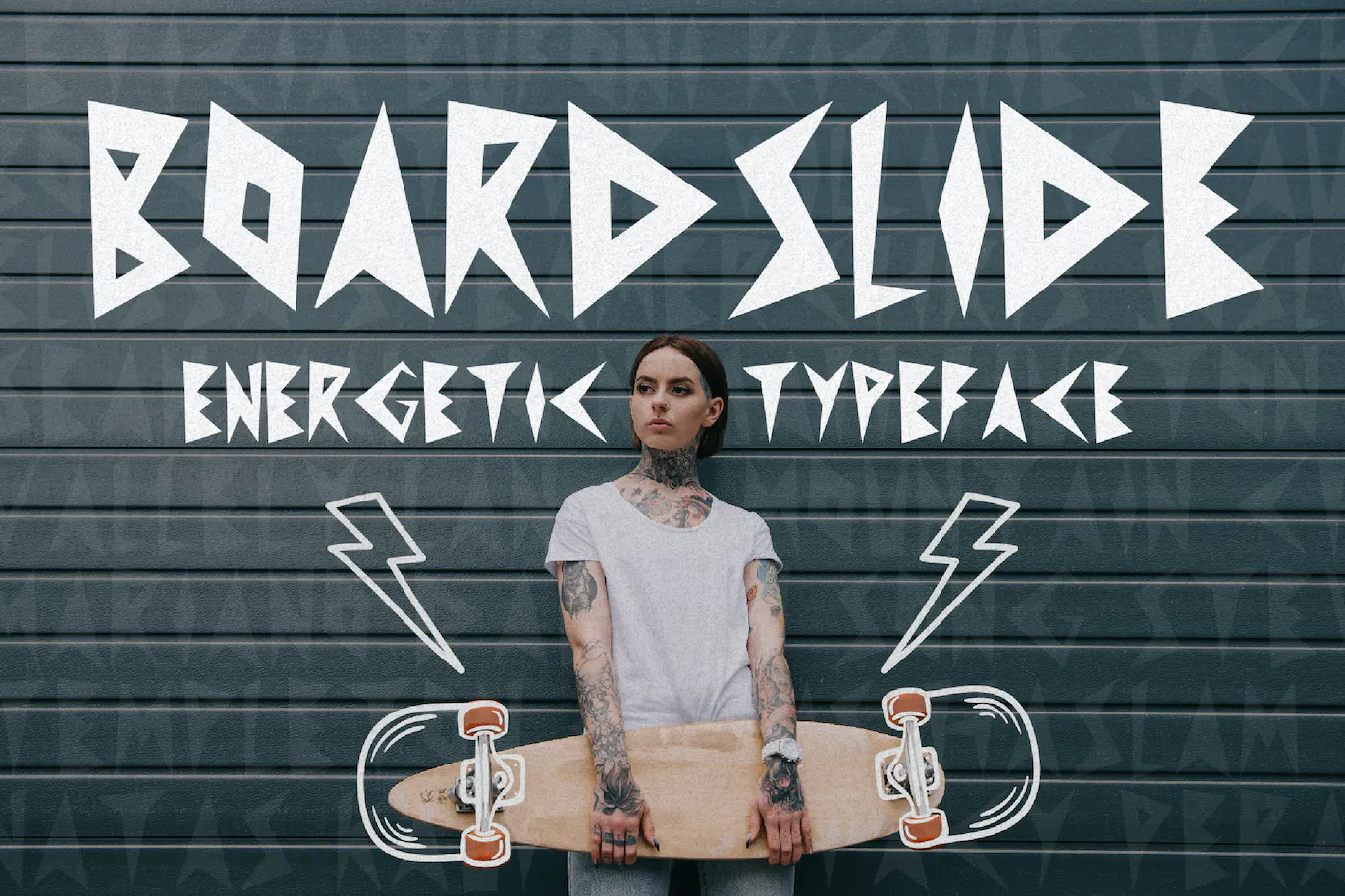 Boardslide is a rad all caps typeface inspired punk and skateboarding culture. This sharp and energetic typeface is perfect for creating logos, headlines, social media posts, t-shirts, Youtube graphics, event posters, and much more. If you're looking to create a wild design, then Boardslide is perfect for you!
2. Boneless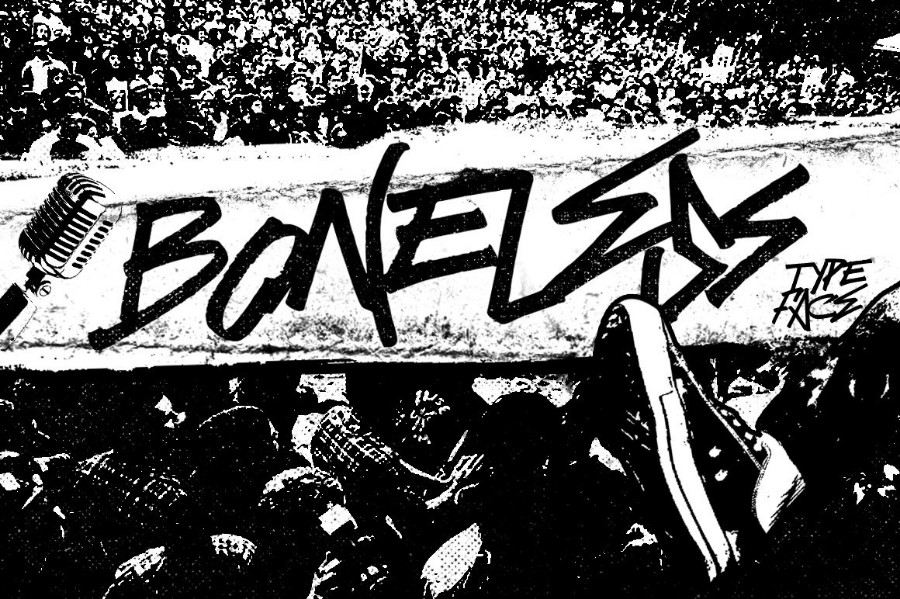 Designs for music events, band names, and just about any project that screams 'rebellion' will get the most out of the rockin' vibes of this Ian Irwanwismoyo creation.
3. Pool Riders
Bring along the wild boldness of punk and skateboarding culture using this Guerillacraft typeface – plus 7 graphic elements to give your concepts a boost.
4. Fabian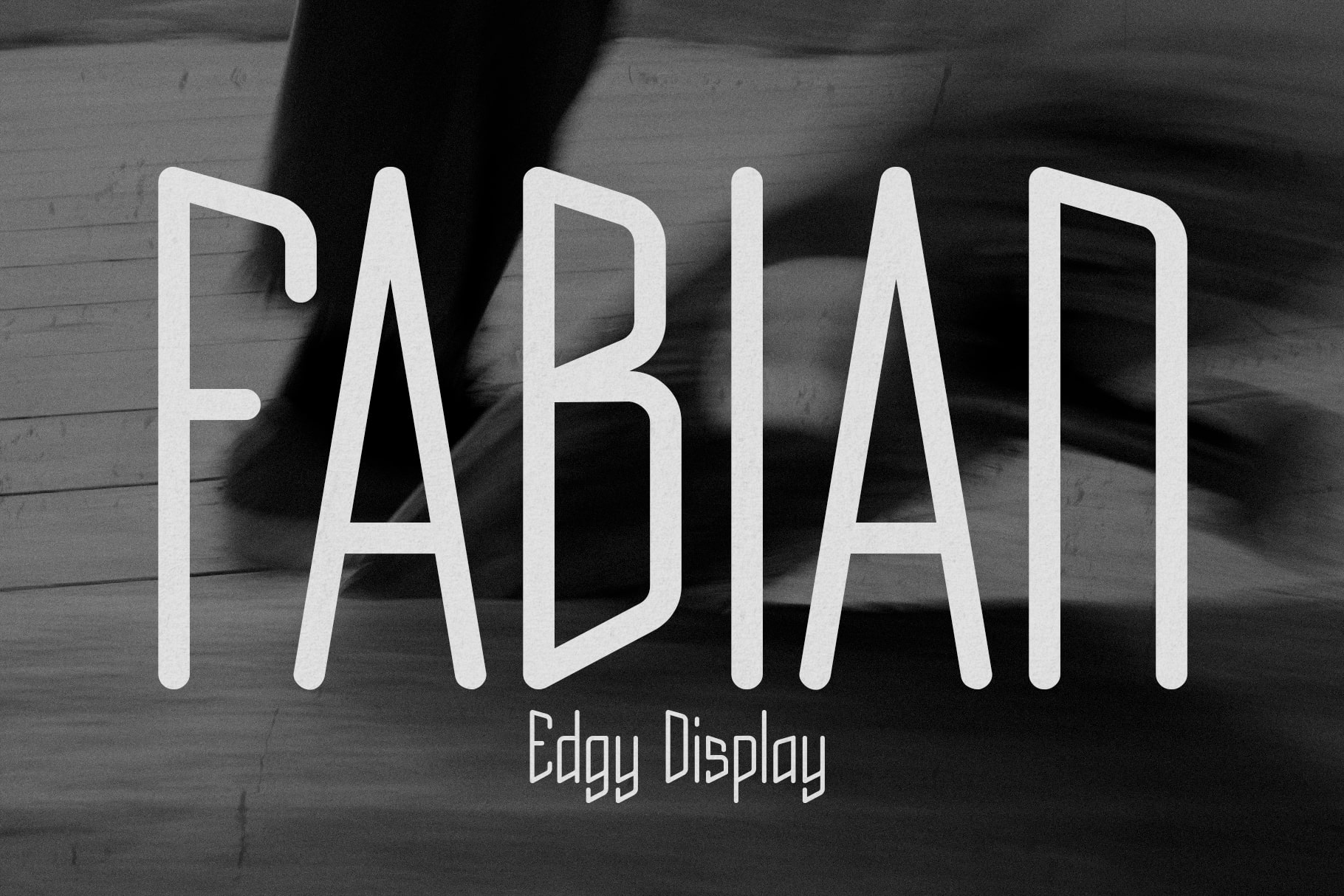 Fabian is an edgy punk display typeface. It's distinctive look is perfect for posters, album covers, apparel, logos, headlines, and more. It was inspired by the 1990s punk rock movement. This modern font includes upper & lowercase letters as well as punctuations and numerals. To get a feel for it, test it our below.
5. Made by Bears
Check out this typeface by The Branded Quotes made with irregular lines and sharp edges for giving your presentations one big bite.
6. Misfit
Misfit is a decorative display typeface heavily influenced by the 1990s punk scene. The font is perfect for posters, headlines, album covers, apparel, logos, and much more. This all caps font includes punctuation and numerals. You can mix up small and low caps to get unique combinations. Enjoy!
[fontsampler id=48]
7. Truncheon
Cool Fonts brings to us a typeface that looks digitized and yet makes its own statement with randomness.
8. Helix
Helix is a single line display typeface. Its eye catching design is bound to grab attention and turn heads. You can use Helix for editorials, posters, headlines, social media, packaging, and more. The font is fully kerned and is ready to be used out the box. If you're looking for an uncommon geometric typeface then Helix is for you!
9. Skate Bait
Old Italian horror film posters get representation in the modern typography scene through this Remedy667 creation – perfect for book titles, magazine headers, posters, logos, and many other design concepts.
10. Mutiny CPC
Just imagine: get a paintbrush, dip it in a bucket of paint, and write the loudest, most intense message you can think of – all that is possible through this product of Christopher P. Cacho.
11. Toscography
Capture a touch of Brazil through this organic, light-textured, and hand-made font from the creative minds of Misprinted Type.
12. Haywire
Available in four fonts varying in intensity, this product by Ekloff is sure your give your design concepts a jolting jumpstart to electrifying heights.
13. Zine Time
If your design works require something that benefits from a classic, photocopied look, this Remedy667 creation is perfect in achieving that circular aesthetic.
14. Radio Fake
This display typeface draws influence from classic punk rock and zine culture, perfect for visuals that need a loud and bold means of expression.
15. They Live Brush Font
Bring out the punk vibes and unleash the rebellious side of your projects with this Alphabet Agency typeface.
16. Villain
Clint English brings to us a font created with natural flows that bring organic vibes for a handwritten look that is perfect for Halloween or any ominous themes you can think of.
17. Cherie Bomb
Hand-lettering that oozes with personality and a punk-rock feeling is easy when you use this Great Scott typeface.
18. King of Rock Heavy Metal Font
This all-caps decorative typeface inspired by punk rock and heavy metal music from Doffdog is great for logos, posters, headlines, apparel, and other projects.
Download King of Rock Heavy Metal Font
19. Chapters
Horror-themed lettering with solid and sharp edges makes chilling images and creepy appeals for a wide range of projects that need to draw attention.
20. Ace of Spades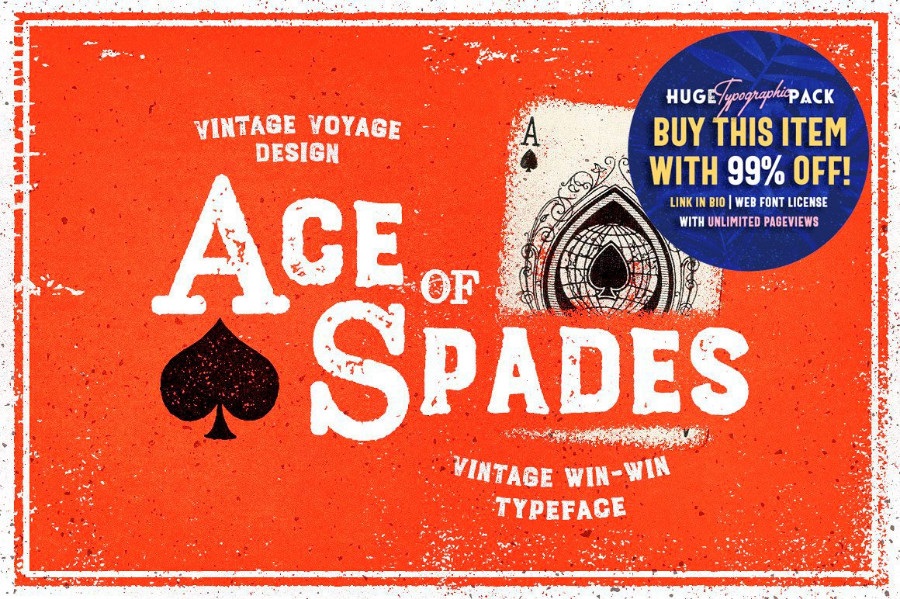 Whether it is for retro or rock-and-roll themes, this Vintage Voyage DS typeface definitely brings out what your presentation needs.
21. Chaos Font
Check out Reshapely's sans serif formed with scratches as the design concept – great for an assortment of design work that needs large letters and few words.
22. Lakeshore Brush Font
This hand-painted font from Greg Nicholls comes in the Regular style, the Italic version that works great with titling, and the Swash variant that makes a paint splash effect that serves as an underline.
23. Punk Machina Typeface
If you're looking for a font that is a throwback on retro automotive culture or are simply looking for a typeface that goes well with cars and motorbikes, Fopifopi's product will have no problems fitting in.
Download Punk Machina Typeface
24. Metal Serif Font
If uniquely-shaped serifs with twisted metal motifs are what you are after, this typeface is a strong contender for a variety of projects.
25. Fierce Font
This brush font has no subtleties and has a loud personality – great for posters, advertising, packaging, headlines, logos, titles, and other projects where a natural or punk theme is needed.
26. Rockstar Font
Go all-out raw and rowdy with this product from Little Fonts inspired by the scrawls and engravings on travel-hardened instruments.
27. Fake Empire Font
Those into punk or dystopian themes will find this Itsmesimon typeface great for projects that need a crude, dirty, and damaged look.
28. Overexposed
Get a typewriter font and light it up with high exposure – what you'll have is a cool, distressed font that does not lose legibility.
29. Zombie Punks
This grungy, hand-drawn brush font from Wingstart Studio brings out the classic horror flair perfect for movie posters and trailers, album covers, books, and many more.