Perhaps one of the most unforgettable decades of our time, the 1940s were almost synonymous with war time. From the attack on Pearl Harbor to the nuclear bombings, what happened during this period will forever leave a mark on those who experienced these events for themselves. But it wasn't all bad either.
There were some good that happened during the 1940s. For example: Captain America was introduced by Marvel Comics for the first time in 1941. The first electronic, general purpose digital computer called ENIAC, was completed and announced to the public in 1945. And George Orwell's '1984' landmark novel was published.
While this decade wasn't exactly bright, happy, or cheerful, the design and style elements inspired from the 1940s remain a favorite to this day. As proof, here are some amazing 1940s fonts.
Functional 1940s Fonts
1. Cutting-Ends
Ready to feelthe baseball vibe of a gorgeous retro typeface that has 1940's written all over it? That's what Cutting Ends promises, and if you mix it in with a baseline two-color setup on the design front, Cutting Ends will shine bright and help promote that 1940's look extensively well.
2. Hardela
Hardela is a classic typface almost built for the vibe associated with the 1940's in that it carries that vintage feel and try to mix in some modern in there as well. Combine Hardela with a classic sans-serif typeface slightly tilted, and you will have a wonderful mix.
3. Vintage
Vintage is, like its namesake a classic homage to a different time, and it is indeed one of the few fonts out there that would work wonderfully well on its own two feet, rather than needing a supplementary tagline next to it. Vintage works on its own, and would suit any 1940's poster, website or even logo quite well.
4. Rampsey
Rampsey is a playful typeface that would have fit in well on classic signage and traditional media back when traditional media was television and what was seen in the streets! Mix Rampsey with a tall Bebas-like font and you will have a retro match made in heaven.
5. George Nomsay
George Nomsay is a whimsical typeface that can be used as a casual display font for just about any retro setup. If you were planing on adding inner and outer strokes to get the ultimate retro vibe, George Nomsay handles both of those quite well. A solid choice to help really sell that 1940's style.
6. Strikeout – Bold Script Typeface
Strikeout is a beautiful script typeface inspired by 1940s and 1950s baseball era. Strikeout allows you to create hand lettering in an instant. This super handy typeface is ideal for logos, product packaging, headers, posters, merchandise, handwritten quotes, social media, greeting cards, and much more. If you love baseball and retro typography, then this font is for you!
7. Citro
Citro is a bold typeface based on retro hand-painted paper signs primarily seen in grocery stores from the 1920s through the 1970s. It features inconsistent baseline and cap heights so as you type the characters seem to dance.
Citro is fun and not too serious. It's perfect for both vintage-inspired and contemporary branding, marketing, packaging, and much more. If you're looking to create a bold impact with a retro flare, then Citro is for you!
8. Aviano Wedge
Sharp, triangular wedge serifs bring out the late 19th Century confidence and elegance to any visual work using this font from insigne.
9. Advertising Script
Zetafonts brings to us a brush script typeface based on the work of calligrapher Ross Frederic George used in the Speedball 1947 Textbook manual.
10. Puzo Modern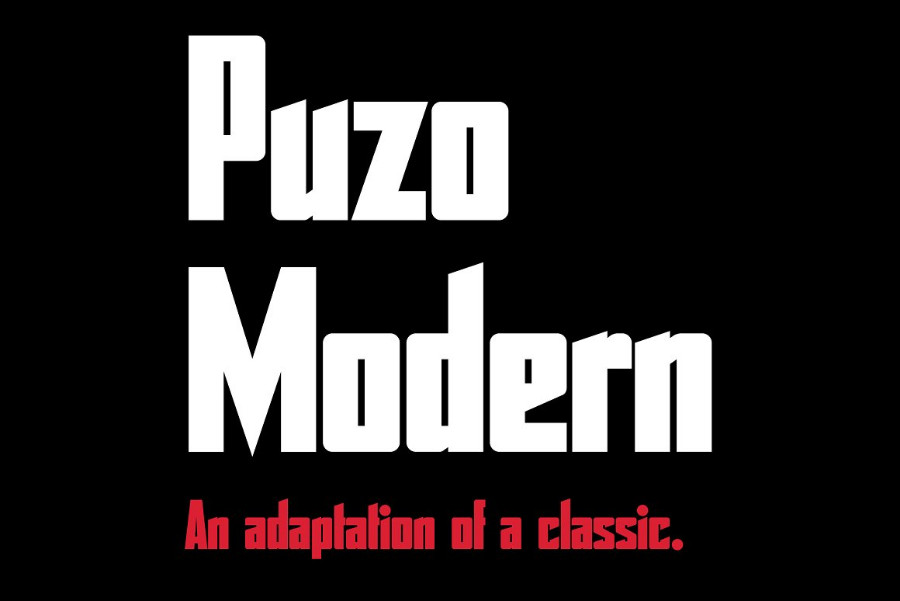 This adaptation of the Neil Fujita lettering used on the cover of the original Godfather novel can be used on a wide variety of projects thanks to Anna Richard Design.
11. Monde Libre
Optimism, joy, and whimsy comes out of this typeface from Elyas Beria, made from the memory of lettering found on old film footage.
12. Olivare Font Family
Adam Ladd's typeface inspired by vintage painted signs and oil can lettering comes with 18 fonts that can be mixed, matched and layered to achieve a wide variety of effects.
13. Workhorse
Tapered waists to elegant snaps of the brush captures the essence of hand lettering a few typefaces could match, made available for a wide range of uses by Borges Lettering.
14. NPSGeo1940s
This Rachel Ortiz product is inspired by a geometric typeface widely used in the 1940s – great for projects that need a modern elegance while keeping a retro charm.
15. Blaketon Pro
This Sudtipos typeface is a throwback to the days of U.S. hand lettering and calligraphy from the early 1930s leading to World War 2.
16. Super Deluxe Display
Vintage neon signs from the 40s and 50s are the backbone of ideas in this Good Craft Supply Co. product – and that can be expressed freely with 30 fonts available in this package.
17. Merchant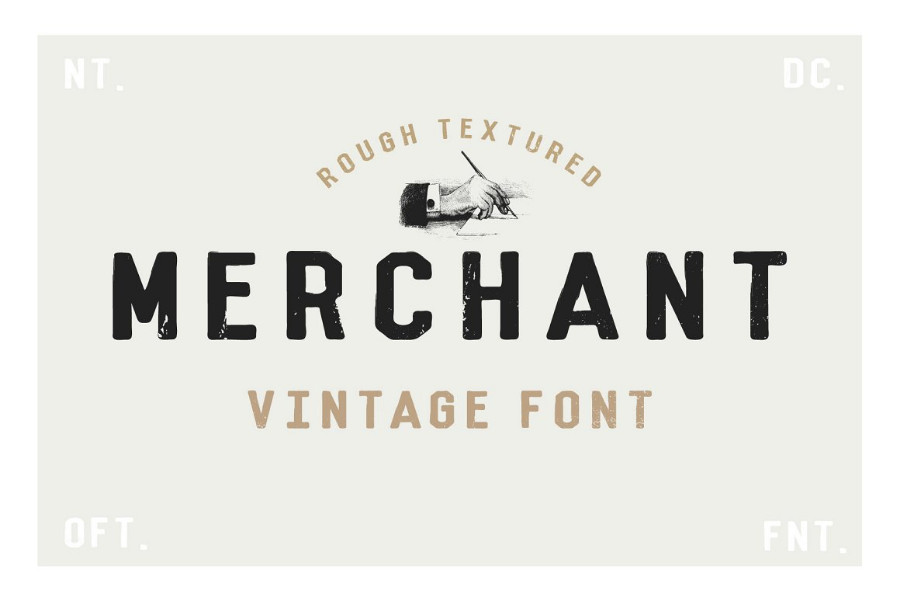 For projects that need a textured feel with subtle brush edges that give an overall hand-made look, you can't go wrong picking up this typeface from New Tropical Design.
18. Serifa Typeface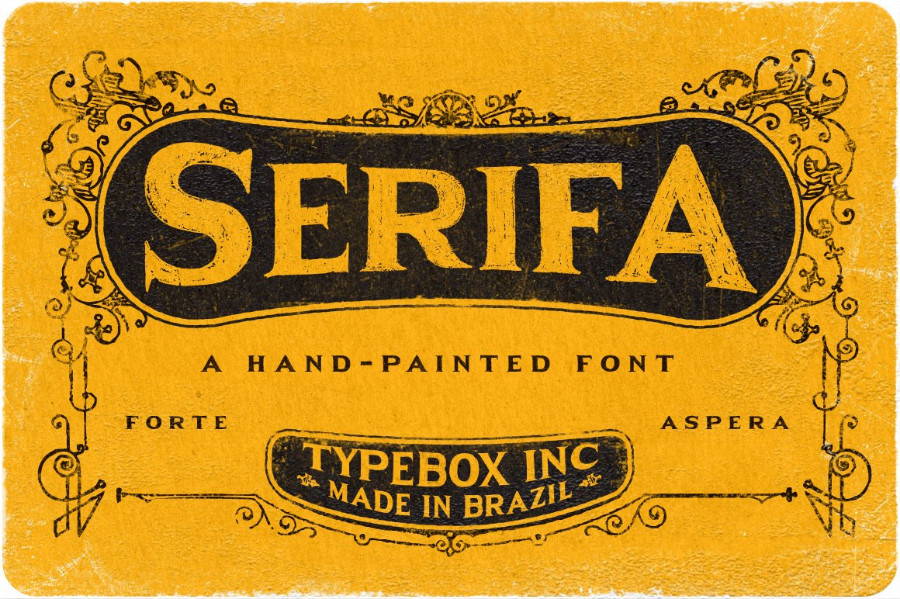 Type Box includes two fonts in this package: Forte, where the essence of Brazilian type is captured in stronger strokes, and Áspera, a variant that uses rough brush strokes.
19. Monte Carlo
This typeface from New Tropical Design weaves between classic and modern experimental styles of capital letters that can be toggled by using Caps Lock.
20. Pitcher
This brush font from Fenotype is based on 1940s to 1950s Americana typefaces – just what you need for strong, sturdy scripts with lots of character.
21. Sho Card Gothic 1948
SouthpawMiller's typeface is based on pen and brush lettering books of the 1940s, perfect for headlines and display projects that benefits from a clean look without losing the classical touch.
22. Ellifont
Combining the 1940s style and modern curves and angles is done easy through this product from Jordan Wilson, which will make sharp, demanding, and present projects.
23. The Pincher Brothers
This vintage collection from Larin Type Co. comes in variations of script, serif, sans serif, and rough styles – making customization quick and easy.
24. Addressotype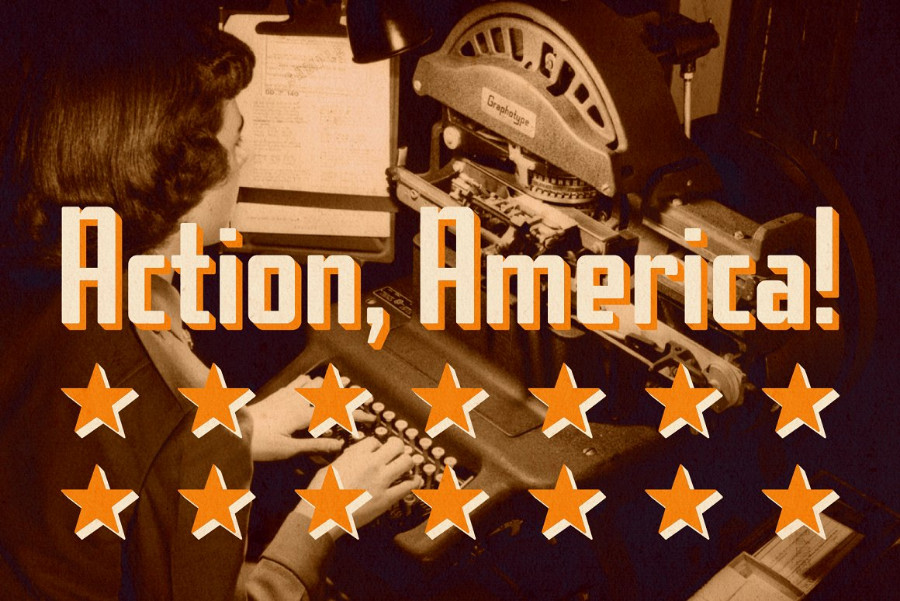 This Midwest Type font is based on a lettering found in ads made for the Addressograph-Multigraph Corporation, giving the gas pipe lettering method a new life in modern-day typography.
25. Emblema
Add another level of customization using this graffistyling typeface that includes Fill, Inline, and Shadow fonts – all of which can be mixed, matched, and layered together when desired.
26. Yasashii
This Dharma Type art deco font is based on late 19th Century to early 20th Century Japanese cosmetic packaging designs and comes in four styles for a great degree of customization.
27. Cornhusker Regular
Bring to your visual presentations the warm and charming letters found in 1940s Midwestern signage using this condensed sans from Section Type.