Construction isn't just about buildings, domes, and houses. It's also about history, science, engineering, and society. More than the finished products, it also refers to how these structures were made, the tools that were involved, as well as the techniques. Construction spans all kinds of projects: from bridges, sewers, to power stations, and mills.
Perhaps the earliest evidence of creation from mankind was when we began exploring wood working. This was from 9000 BC to 5000 BC, also known as the 'New Stone Age'. The tools were made of bone, grass, stone, wood, and animal hide. These were fashioned into hand axes or choppers.
What really spurred construction was the Copper and Bronze Age, when man was able to use harder tools such as chisels and saws that were tougher and could cut better. Soon enough, we weren't just building tents or huts – mankind was able to settle down and create civilizations. And the rest, as they say, is history.
Whether you're going for boldness or strength, these construction fonts aren't going to fail you.
Strong Construction Fonts
1. Creator
Creator is a colorful, strong construction fonts set designed in gears and pulleys in a steampunk style. Truly unique, this color or SVG opentype font is just breathtaking!
2. Industrial Box
Strong construction fonts in SVG format are a new technology, but Industrial Box has absolutely nailed it. With a 3D style it's perfect for headers, industrial design projects, and more.
3. Steel Construction
Color or opentype SVG gives an opportunity to use strong construction fonts that look like steel! Steel Construction is the perfect name for this incredibly detailed font set.
4. Under Construction
Strong construction fonts like Under Construction look like they're made with such attention to detail! It's a beautiful color or SVG font option that works so beautifully with a handmade touch.
5. Worker's Tools
Who never organized random items into shapes and letters before? Worker's Tools is a strong construction fonts set that includes all kinds of tools such as wrenches, bolts, and more!
6. Fokus
Fokus was inspired by mid-century print design. The height of this condensed typeface automatically draws attention and can be utilized to create beautiful headlines, logos, quotes, posters, social media, headlines, magazine titles, clothing, large print formats, and more.
You can easily pair it with scripts and bold sans serif fonts. Fokus comes in two versions, regular and thin, which makes it super versatile and fun to experiment with.
7. MUNKA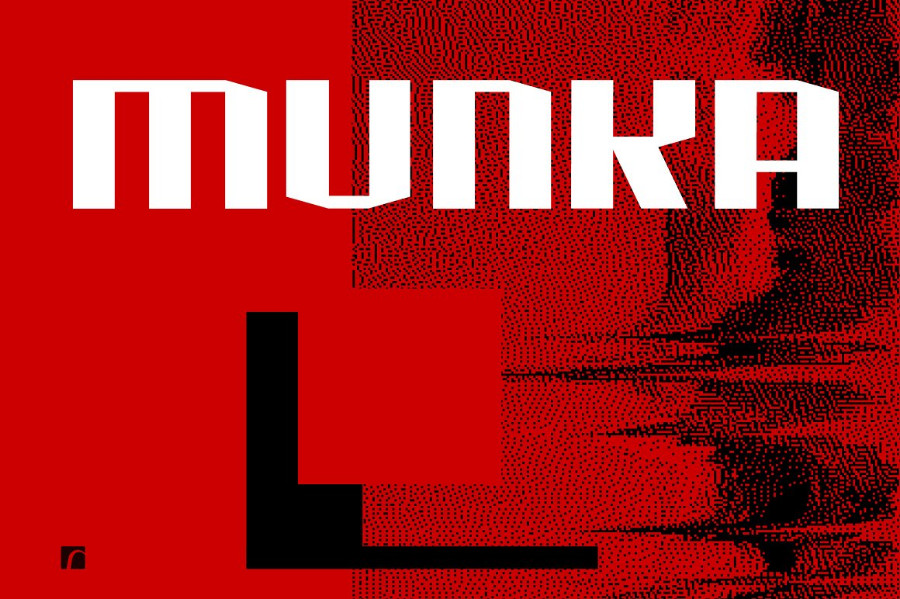 Give your displays a minimalistic and modern approach with this typeface from Fontanatype. With characters that do not make use of ascenders or descenders, it will make fantastic texts while keeping them readable.
8. Mammoth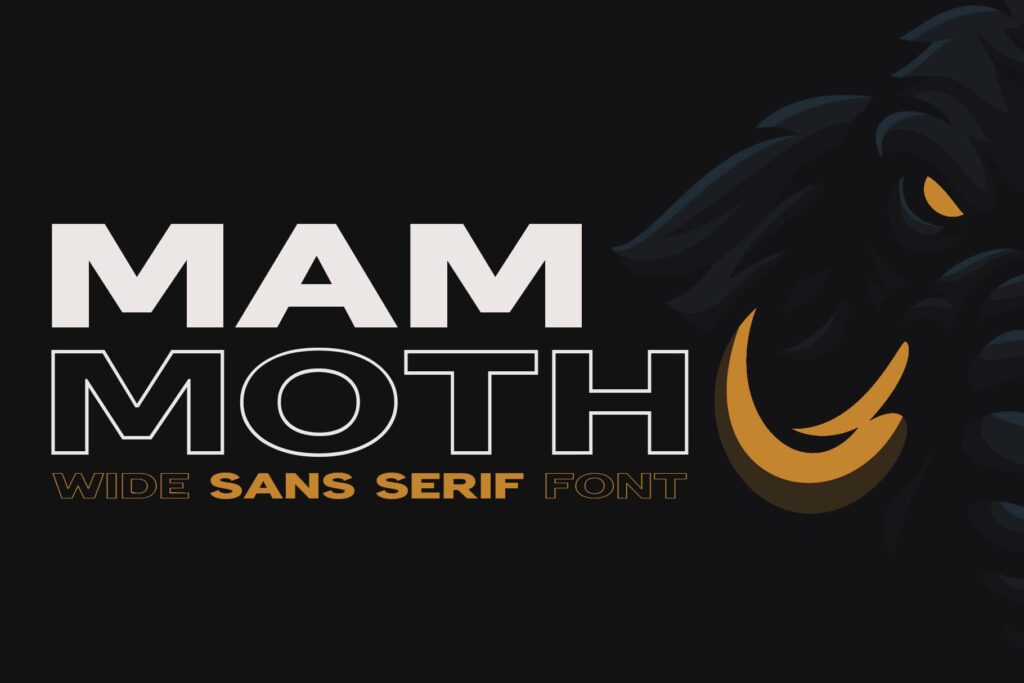 Mammoth is a wide sans serif typeface ready to push the boundaries in your designs. Thanks to its modern look you can use it for any project that requires a bold, clear statement.
You can use it for numerous projects like fashion, magazines, logo, branding, photography, invitations, wedding invitation, quotes, blog header, poster, advertisements, postcard, book, websites, etc. This download includes regular and outline versions as well as lowercase letters for each. You can mix and match the outline and regular version to come up with unique designs.
9. Dozer
Dozer is a robust and potent typeface designed for those who seek to make a bold statement. Its thick, blocky letters and solid, sturdy lines impart a commanding presence and a confident aura. It is an ideal choice for projects that demand a striking and assertive style, such as posters, logos, and branding materials.
10. Holy Font
Strong capitals and smooth lowercase letters will make truly effective visuals. Such effects are found in this 6-font package from Syabab Studio.
11. Monolisk
Visual firmness with solid construction makes delivers a sense of uniformity to design projects. Studio Buchanan delivers a 10-font creation in the form of a rigid, Gothic typeface.
12. Monorama
Check out this uppercase sans-serif made by Indian Type Foundry. The absence of curves makes this a great match for industrial-themed concepts.
13. RAILS Display Font
The font name says it all. Made from parallel tracks with distinct breaks, this Superfried Type Emporium product aims for a clean look, with subtle surprises.
14. Vanguard CF
Build a strong impression in print, titles, headlines, social media, and a wide variety of projects by trying out this Connary Fogen typeface. It comes in 16 fonts to achieve various effects.
15. Blockhead Typeface
Headfonts presents a typeface that is robust and catchy in its own right. Add a touch of the industrial to an otherwise modern font without losing a friendly appeal.
16. Fibonacci Display Typeface
The geometric aesthetic inspired by the golden ratio comes alive in this typeface from Aaron Johnson Design. Your design concept will surely benefit from its modern or futuristic look.
Download Fibonacci Display Typeface
17. Builder
This is the perfect font for STEAM-themed (which stands for science, technology, engineering, arts, and mathematics education) concepts. Created by KA Designs, you can certainly find a place for this font in your projects.
18. Armatura
Assert your business or corporate identity using this all-caps typeface. Heavy weight and wide proportions make this True Story Letterworks font ideal for branding, titles, headers, and apparel.
19. Centrifuge Family
This versatile typeface from Midwest Type is adjustable from formal to funky by combining styles. It works great for grabbing attention in short copy, as well as in titles, logos, headlines, and more.
20. Zaptron
Patria Ari Type Studio has made a font that can be customized by toggling between upper and lowercase letters. Its sci-fi theme will make it a perfect fit for many technological, futuristic, and industrial-themed applications.
21. Neue Norm Rounded Condensed
Carefully rounded corners make a sweet contrast to the overall technical appearance of this typeface. This package from Doubletwo Studios comes in 18 fonts for an added degree of flexibility.
Download Neue Norm Rounded Condensed
22. Sledge Typeface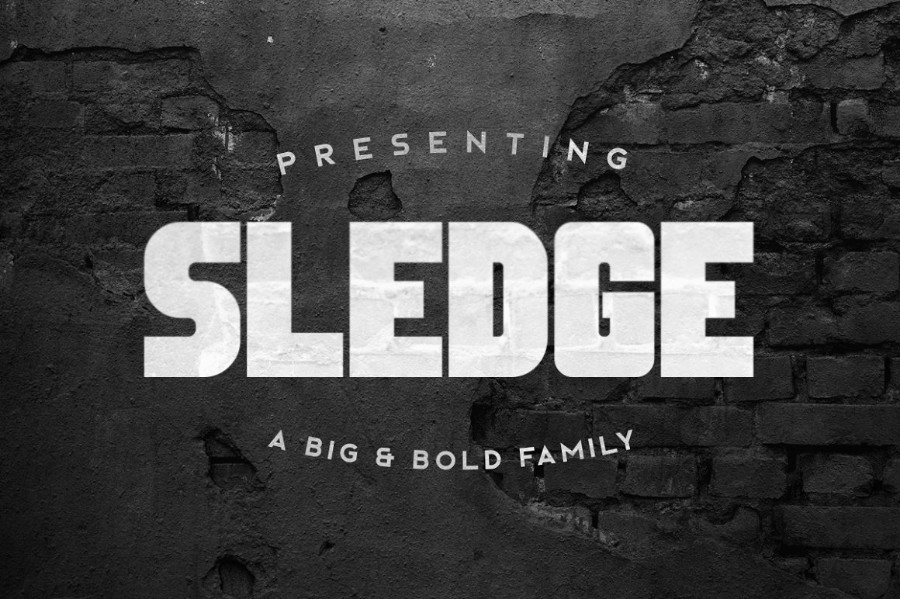 This Tugcu Design Co. display font combines elements to create a dystopian look that fits well with urban settings. It comes in Regular and Rough textures for optional effects without losing readability.
23. Liberator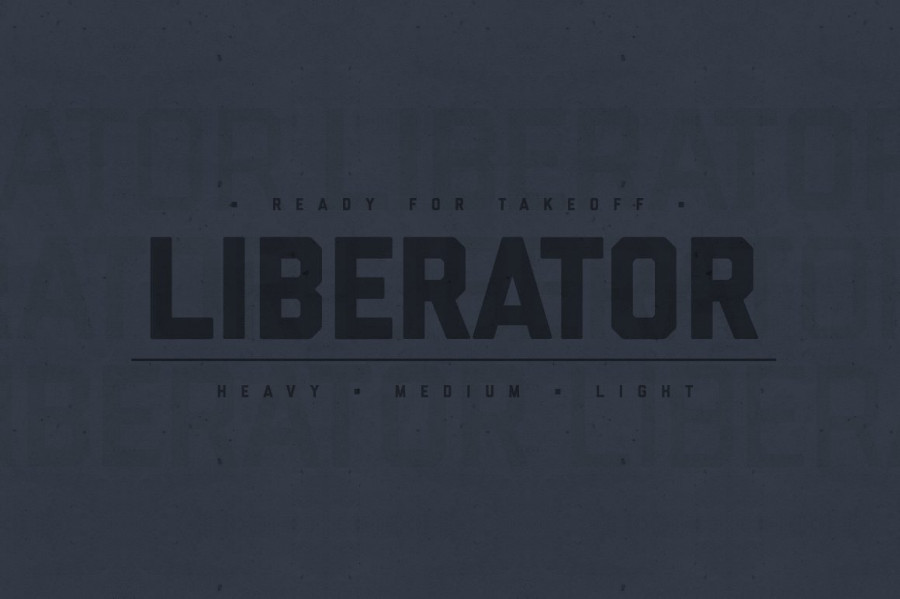 Pay tribute and salute to this historically-inspired typeface from Ryan vs. Clark. Available in light, medium, and heavy weights, this typeface brings out masculinity to a wide range of projects.
24. Bayou Block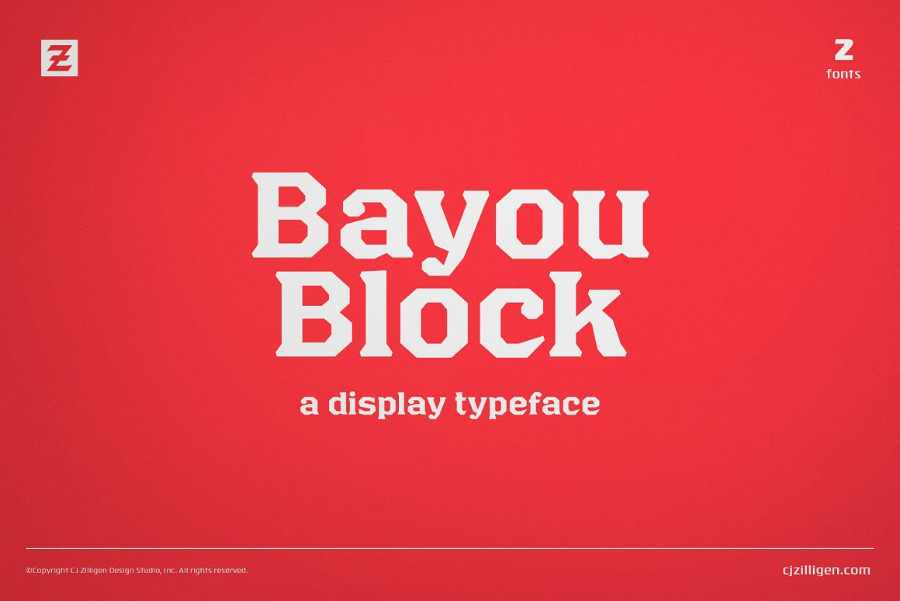 This gem from Varsity Type gives more life compared to the usual block lettering. Add a touch of the Southern US through this product's Slab and Cut fonts.
25. The Box
If you are after a unique way to present logos, titles, headlines, and brands, look no further than this creation of Atj. This sans serif captures the tucked into boxes look, for an appeal like no other.
26. Portsmith
Parker Creative brings to us a blocky typeface with 4 styles to easily make multi-layered lettering with. Regular, Inline, Outline, and Distressed variants make this product a must-have for quick and effortless customization.
27. Monogram-Forge-1
Sets of tall and wide characters as well as differently-shaped glyphs make this Para Scope Design & Type a top pick. Monograms, badges, logos, titling, and a wide range of projects have never been so easy to make.