Last Updated on May 29, 2023
Filled with bell bottoms and groovy tunes, the hippie culture of the 1960s also gave the world a unique take on shapes and colors in art. The latter is making a popular comeback, so if you are looking to add some flower power to your next project, we have all the best hippie fonts right here!
Flower Power Hippie Fonts
1. Royal Crest
The Royal Crest serif typeface exudes modernity, elegance, and decorative flair. Its exquisite design features ornate characters that add a touch of sophistication to high-end projects, without overwhelming them. With a vast array of alternative characters at your disposal, Royal Crest provides the creative flexibility to craft exceptional and one-of-a-kind designs.
Whether you're working on logos, wedding invitations, websites, or print ads, Royal Crest is guaranteed to make a lasting impact. Do you want to make a bold statement? Look no further than Royal Crest: a must-have for any graphic artist's toolkit.
2. Moonlight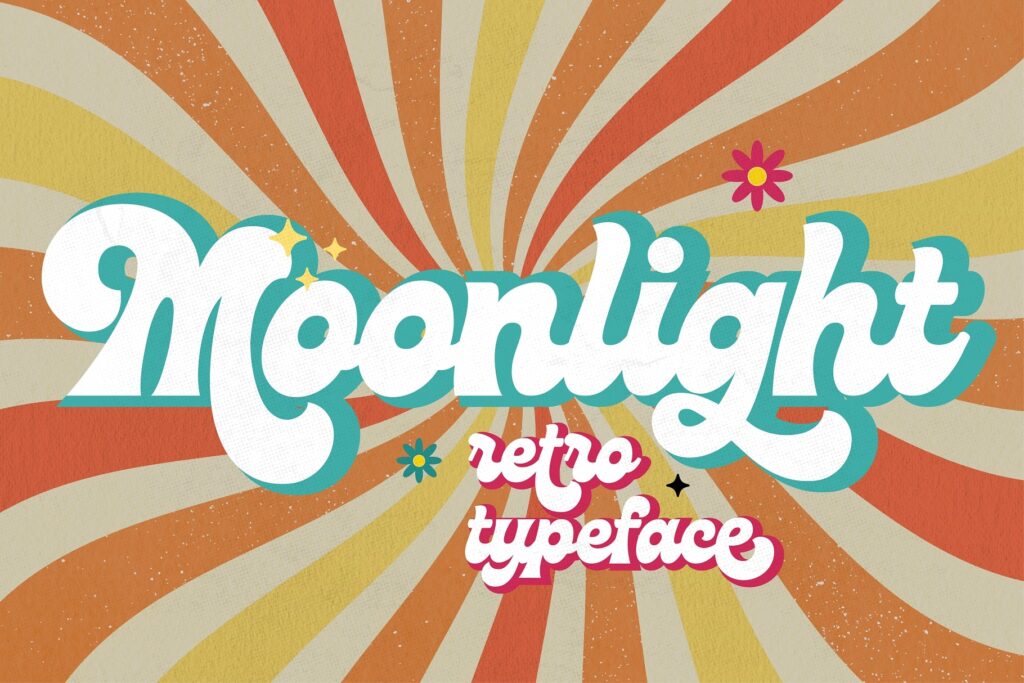 Inspired by the groovy disco era of the 1970's, Moonlight's script lettering keeps the connections between letters smooth and flowing. This font is multilingual and has tons of gorgeous ligatures ready to spice up your designs.
Moonlight is suitable for branding, stickers, packaging, Cricut project, headlines, apparel, posters, magazines, books, YouTube, Instagram, web design, and much more
3. Skinny Joe
Skinny Joe is a font that takes its inspiration from the Bell Bottom pants and also the disco era of the 80s. The font is bendy, dynamic and perfect for those party invitations, retro posters and more.
4. Antigua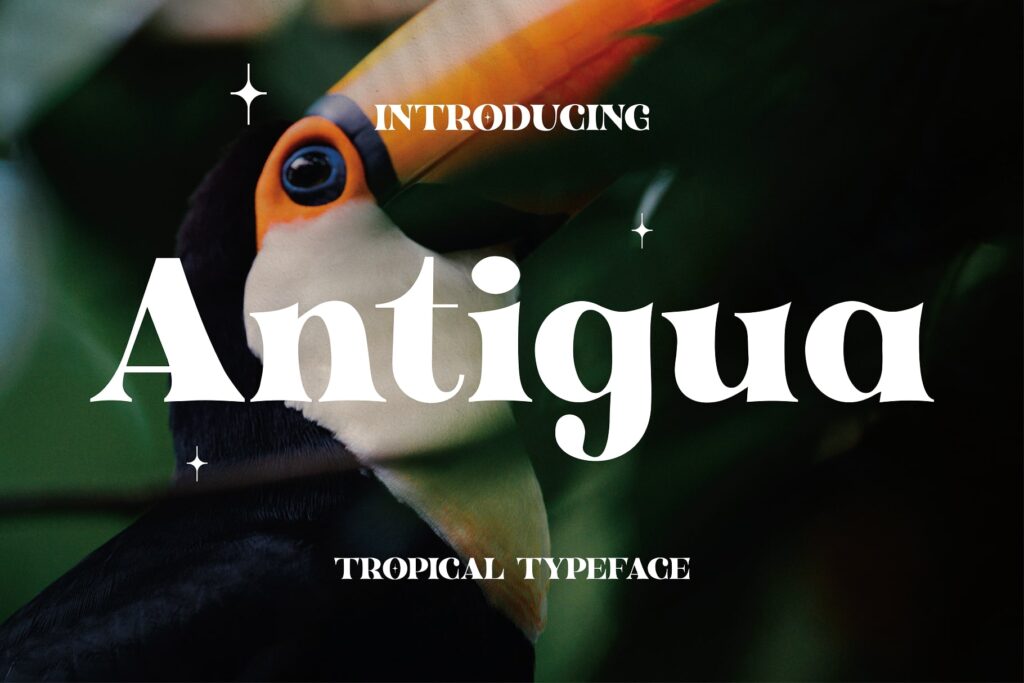 Check out Antigua, it's a pretty cool font family with two awesome styles: Regular and Outline. It's simple, elegant, and totally unforgettable. Plus, it even has some bonus ligatures that can really make your designs pop. You can use Antigua for all kinds of stuff like branding, packaging, posters, social media, and magazines.
Trust us, it's a fun font to work with and read. You might even find yourself using it more than you thought you would!
5. Breather
Breather is a dreamy font with balanced, easy to read characters. This typeface can be used for retro and modern projects, including posters, fashion designs, stationery, and website headers.
6. Firecracker
Firecracker is a true blast from the past, taking you back to the vibrant and exciting era of the 1950s and 1960s. Its beautiful letters evoke the energy and enthusiasm of that time. Perfect for use magazines, newspapers, signage, branding, packaging, and more.
Firecracker comes in two different styles, regular and oblique, allowing you to add a touch of retro flair to any project. With Firecracker, you'll be able to transport your audience back in time and create designs that are both nostalgic and timeless.
7. Dorris
The Dorris font is one of the prettiest hippie fonts. With their bendy swirls, the dreamy characters are fun and cute additions to any project. Indeed, Dorris is perfect for any poster or label that needs that special ornamental touch.
8. Morgy
Morgy is a magical font that will light up any invitation or retro poster. The smooth, flowing lines are perfect for any decorative endeavor and are certain to catch your customer or reader's eye.
9. Niran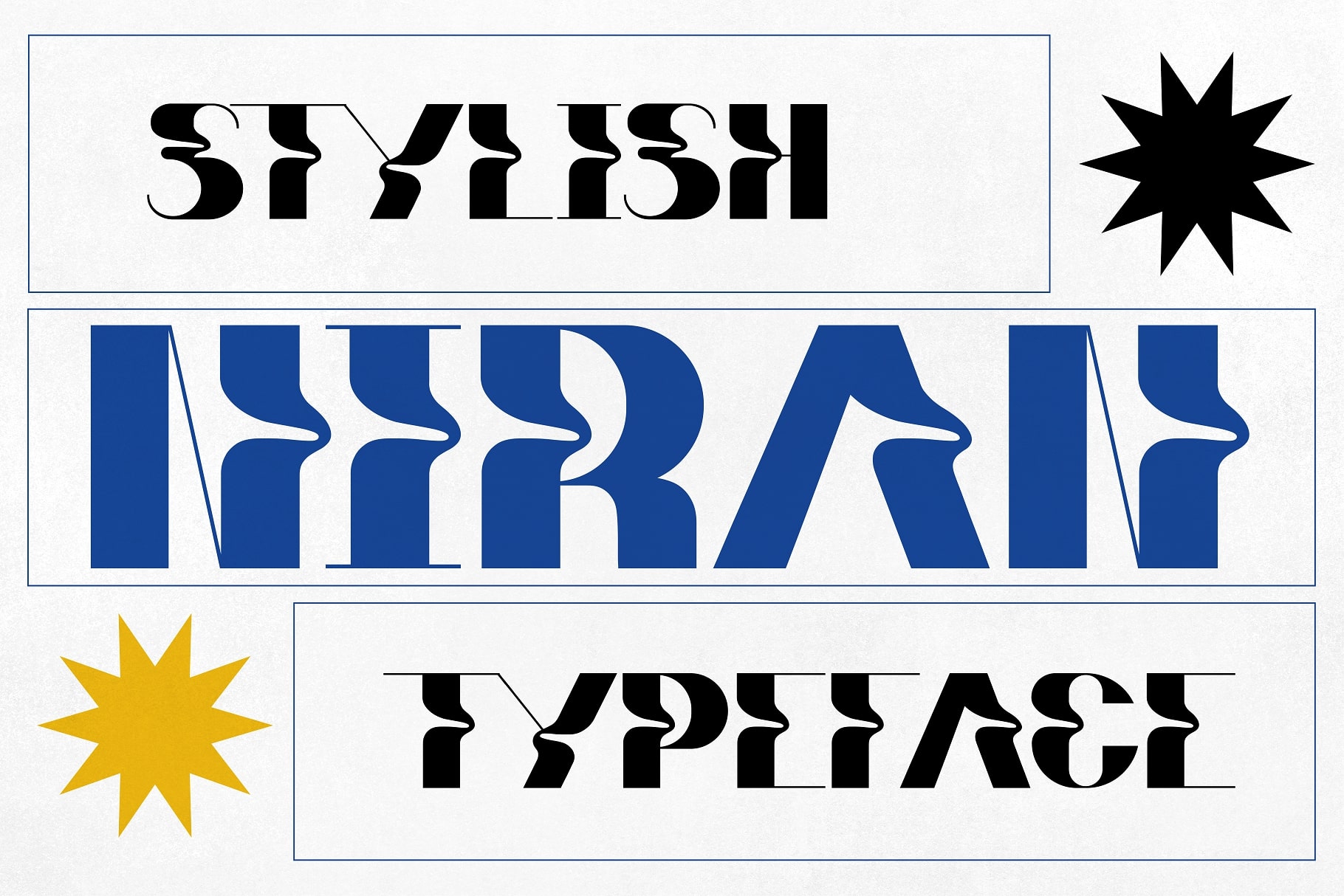 Niran is an experimental typeface with radical curves. Unique rippled lettering makes this font perfect for groovy posters, abstract logos, creative quotes, rad packaging, attention grabbing headlines, and much more. Niran mixes futurist letters with nostalgic curves, thus creating typography which stands out from the norm. If you're searching for an experimental font that breaks the rules, then look no further than Niran.
10. Reggy
Reggy is a fun font for creative projects. The typeface has dynamic and flowing curves with a happy appearance. Reggy is suitable for packaging, logos and branding.
11. Nectarine
Nectarine is a bubbly font that is classic and modern. Graced with ligatures, the typeface is an uplifting choice for posters, stickers, and landing pages.
12. Ligatoy
Ligatoy is a great font when combined with colorful graphics, especially those aimed at kids. The melting ligatures and broad strokes are inspired by 70s design styles, making it a good pick for invitations, product labels and posters.
13.Trenton
Trenton is a stencil serif typeface. This display font is beautiful and legible in small or large sizes. You can use it for logos, editorials, fashion, sports, blogs, advertising, invitations, posters, quotes, book covers, stationery, and more. If your goal is to create a unique and versatile stencil based design, then Trenton is for you.
14. Brohalo
Brohalo is a lovely ornamental font that echoes of the good old days. The slightly compressed characters are well-balanced and flowing, making the font suitable for fun projects like party posters and home decor.
15. Naskle
Naskle is the ultimate font to brighten a child's invitation or to add some true hippy groove to your themed projects. The bendy, colorful and neat characters are amazingly magical, making this a very versatile font to add to your typeface collection.
16. Grandelo
Another fun font for kids and hippy-themed events alike, Grandelo consists of compressed characters, broad lines and ligatures. Also useful for product labels, posters, logos and cards.
17. ISC Bergetter
Bergetter is a more sober font but it can still make the right poster or art project look amazing. The well-spaced, edgy typeface is simple and yet fetching. Also suitable for headers and quotes.
18. Marthy
Marthy was inspired by Art Nouveau and 1970's psychedelic posters. This expressive typeface is designed to be used for branding, music posters, album graphics, book titles, etc. Evoke that nostalgic 60s/70s look today with Marthy!
19. Bogem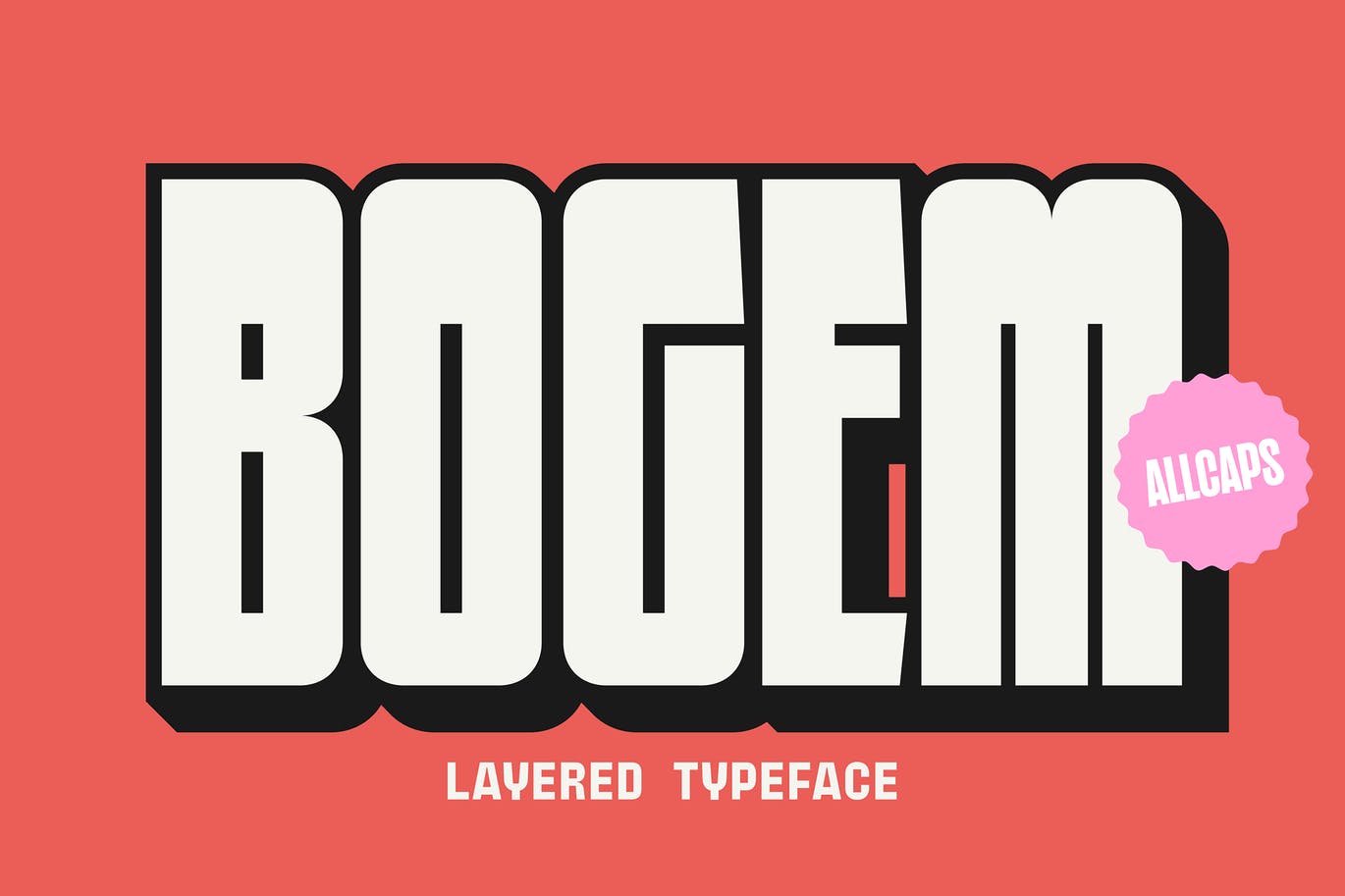 Bogem is a broad, compressed font perfect for headers and titles that need to grab attention. The simple yet strong typeface looks great when used for packaging, logos, signs and even banners.
20. Grovey
Grovey is a happy retro font that is perfect for invitations, events posters and even hippie-themed product labels. The typeface is textured and also easy to read.
21. Your Groovy Font
Your Groovy Font is certainly well-named! It's fun, dynamic and highly decorative. The typeface is popular as a party font, especially for related invitations, posters and T-shirt quotes.
22. Tropical Vibe
Tropical Vibe is a fruity, warm font that is versatile and magnetic. The characters appear handwritten and add a holiday mood to branding, media posts, invitations, and more.
23. Kooka
This font family offers condensed, normal and expanded options. With three fun varieties of this modern vintage font, the creative potential of this pack is huge.
24. Gruvilicious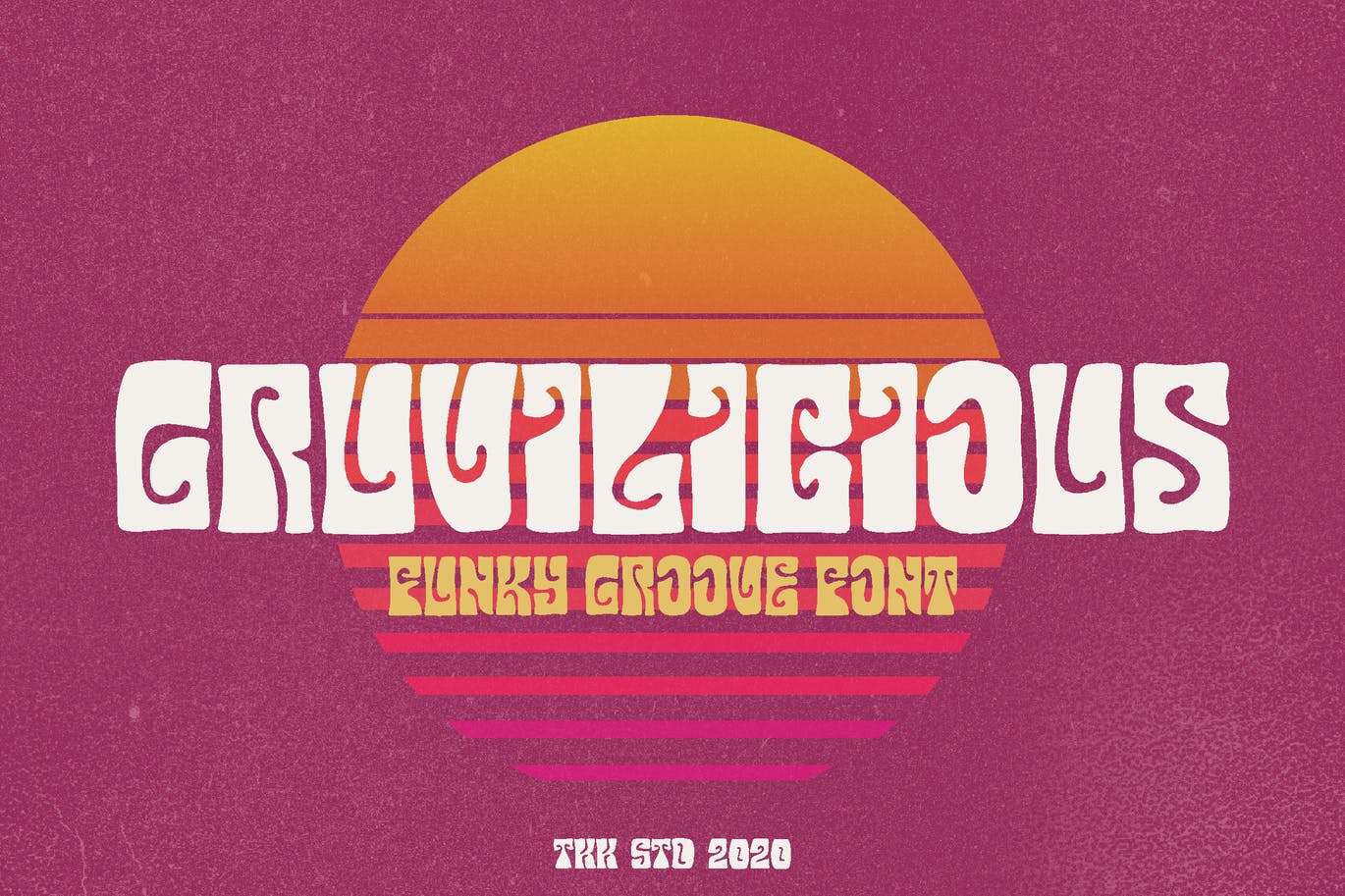 Gruvilicious is a font with retro sunset vibes, harking back to the 70s and 80s. Perfect for vintage music covers, YouTube designs, T-shirt quotes and old memorabilia.
25. Corduroy
Corduroy is a classic hippie font designed to capture the recognizable style of the 60s and 70s. The font is great if you want your customers or friends to see, at a glance, that your party theme or product is a retro hit!
26. Popstone
Popstone is a magical and groovy font family that offers you limitless potential for all your projects. It looks great when used for decor, labels, announcements and invitations.
27. Ramdone
Another classic hippie font, you can look forward to a bold presence and lots of swirly tails. Ramdone is perfect for headings, titles, posters and product labels that require a loud retro attitude.
28. Janger
Sanger offers a reverse contrast style font for versatile project creation. The typeface blends broad and thin lines to create a groovy and psychedelic experience.
29. Bellyman
Bellyman is a good choice if you also love fonts with an Arabian Nights flavor. This modern typeface is unique, offering a large selection of ligatures for curvy, charming creations.
30. Crava
Crava is a swirly font with clean, neat characters. The groovy style is friendly, easy to read and attractive. Perfect for product logos, cards, posters and T-shirt designs.
31. Euphoria Party
Euphoria Party is a versatile psychedelic style font. Inspired by 1960s music posters and albums, the typeface is very visible and perfect for headers, banners and fashion branding.
32. Le Monte
Le Monte is a gorgeous font that is groovy and futuristic at the same time. The style is perfect for projects that need a formal touch like luxury branding, products and labels.
33. Lucidity
Lucidity is a font family that offers plenty of stylistic alternatives and ligatures. This versatile typeface looks great on magazine and book covers, albums, clothing, and packaging.
34. Vertistyle Waves
Vertistyle Waves offers you a blend of groovy waves and carnival retro. The unique characters are compressed, decorative and psychedelic. Perfect for that mug design, shirts, posters and more.
35. Mamenchisa
Mamenchisa is a font you might love if you are looking for an authentic hippie feel. The typeface offers ligatures and both straight and wave-like words for a normal or psychedelic experience.
36. Manuscribe
Manuscribe is a chic font for projects that require an unusual, classy touch. Designed with futuristic bendy parts while still echoing of the 60s and 70s, this font is perfect for company stationery, beauty products, and magazine headers.
37. Giuthen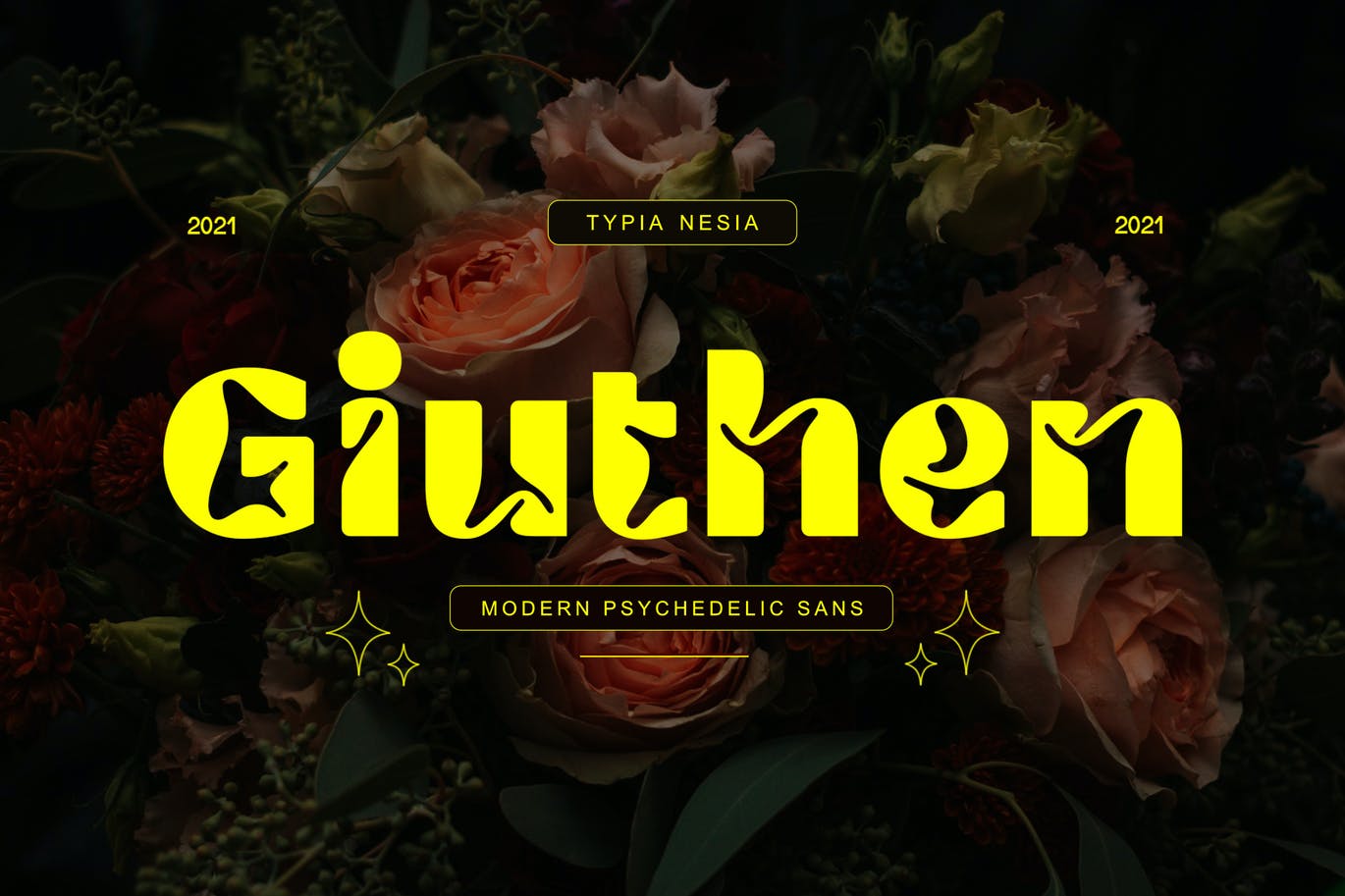 Giuthen is an expressive font with a modern psychedelic design. The unusual typeface is perfect for projects that need to stand out like business startup campaigns, sports event posters, industry branding and other special events.
38. California Sunshine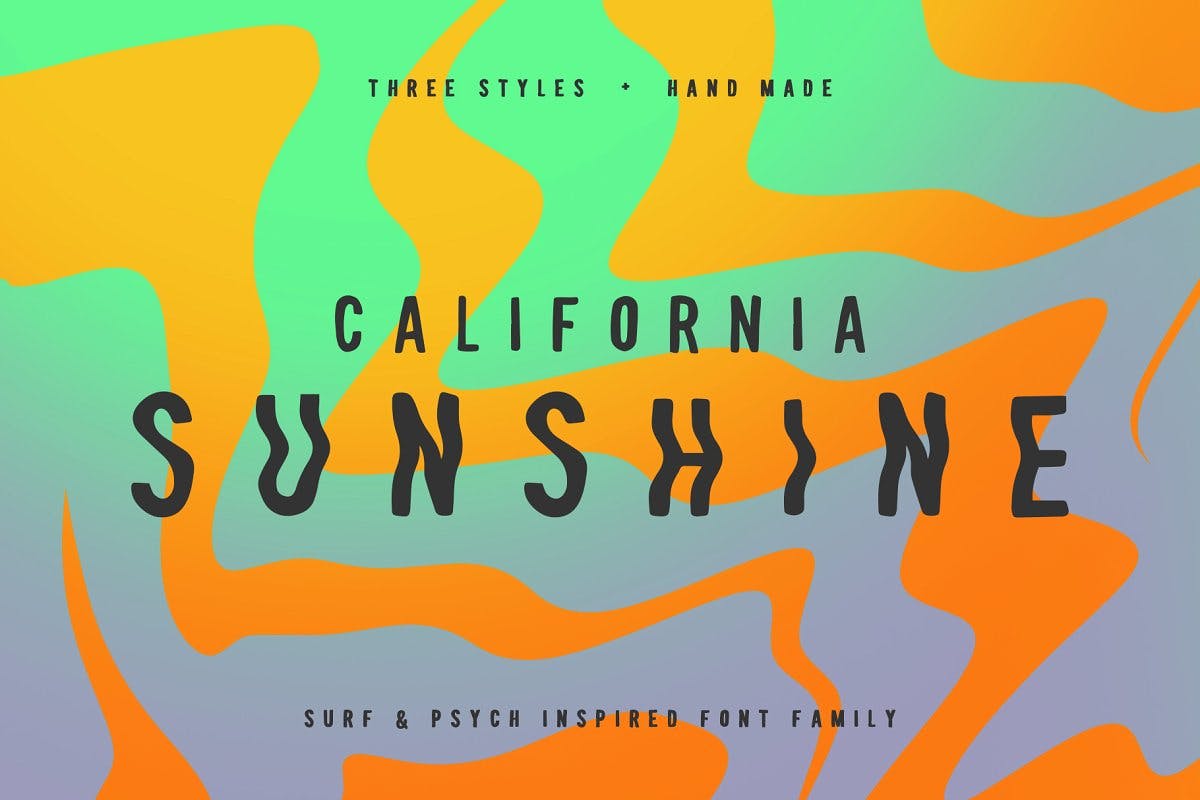 Inspired by surfing, skating, music and the 1960s, California Sunshine is a warm and fun font. With regular and bendy options, you can create all the stationery, posters and labels that you need.
39. Lower Coast
Lower Coast is a classy font with well-balanced lines and neat reading. Perfect for business cards, invitations, book titles and websites.
40. Kafkey
Kafkey is a reverse contrast slab font with a playful nature. This versatile typeface offers two styles as well; regular and oblique. Its classic retro feel is suitable for any hippie-themed project.
41. Bravado
Bravado is a modern front with stylish characters, even lines and an attractive appearance. The typeface is suitable for classy product labels, branding, clothing designs and headers.
42. Sake Moru
Sake Moru comes in two styles; regular and outline. Either way, the graceful design is suitable for tasks outside your hippie-related project. Use it for Christmas wishes, a book title or a child's birthday invitations.
43. Geska Rolling
Geska Rolling is a font that kids will adore. Use it with colorful graphics to enhance those invitations, name cards or stationery.
44. Block Marys
Block Marys is a chunky retro font with four variations. The typeface is basic, balanced and easy to read, making it suitable for all your design needs.
45. Mantyla
Mantyla is a perfect way to add a groovy touch to food and drink labels, or your restaurant's menu. The curls, tails and broad strokes are eye-catching and truly versatile.
46. Fintbar
Fintbar is a robust font that is also fun and playful. This typeface is perfect for children's posters and party invitations. But it's also a good choice for magazine titles, labels and advertisement designs.
47. Codigra
Codigra is a gorgeous font. Liquid, balanced and adorned with ligatures, this typeface is a perfect blend of retro and modern fonts. This makes it perfect for any project that needs good visual branding.
48. Funkies
Funkies is a wonderfully engaging font. Bold and retro, the design draws inspiration from 70s music genres of funk, disco, and rock. The stylish swash is perfect for posters and advertisement campaigns.