Last Updated on September 21, 2023
Ghosts, from time memorial, have been known to incite terror or panic in a potential onlooker. When we come across the word Ghosts, it certainly accompanies a feeling of fright or fear. On occasions that require excitement and horror, like Halloween, the prevalent use of Ghost themes have led to the creation of stunning yet spooky designs, decorations, or mere costumes.
Additionally, the use of ghosts has caused heart-wrenching havoc in movies with the horror genre because of its constant use as a subject of dread. Subsequently, in the digital world, the concept of Ghost fonts is not too far-fetched from the inspiration behind the usage of ghost-like elements. 
And, of course, this is to invite a feeling of fright, fear, and creativity to your design or project. Has your work been needing a bit of thrill? Well, with these collections of bold, edgy, sharp, subtle, abstract, and rough calligraphy styles, you can build as much delight and suspense as you please in your design.
With not much left to say, here are a few ghost fonts that would create thrill and incorporate the right amount of fear into your next project.
Spooky Ghost Fonts
1. Fright Night
Fright Night Font is an emotional serif lettering that evokes a feeling of spook and horror when used on a creative. Therefore, Fright Night is perfect if you're searching for a font that builds suspense, thrill, and tension in your design. It is bold, clean, and coupled with sharp edges. This font is apt for movie titles, posters, and business cards.
2. Pokra
Pokra is a whimsical Halloween font perfect for creating fun and catchy designs. Use it for flyers, book covers, headlines, posters, stationary, web design, t-shirt designs, stickers, packaging branding, and much more. Take your creative ideas further with Pokra!
3. Thursday
Thursday is a goth serif typeface that oozes mystery and sophistication. The delicately crafted letters are simply stunning, perfect for creating a sense of ethereal wonder.
With its intricate details and stunning serifs, it's ideal for a wide range of projects that cater to the witchy, dark, or magical aesthetic. Each character has a unique personality of its own, drawing you into a world of dark enchantment and captivating tales.
From book covers to movie titles, YouTube thumbnails, and even eerie posters, the possibilities are endless. With Thursday, you can add a touch of goth elegance and intrigue to your designs, taking your audience to a world of dark fantasy. Go on – create something enchanting and bewitching today!
4. Skull Story Font
Are you looking for a font to design your Halloween project? Well, Skull Story is the perfect pick. Skull Story typeface includes the use of bone structures in the formation of each character. This idea provokes both fear and awe when displayed in any design. It is handmade and favorable for any Halloween-themed project.
5. Castleton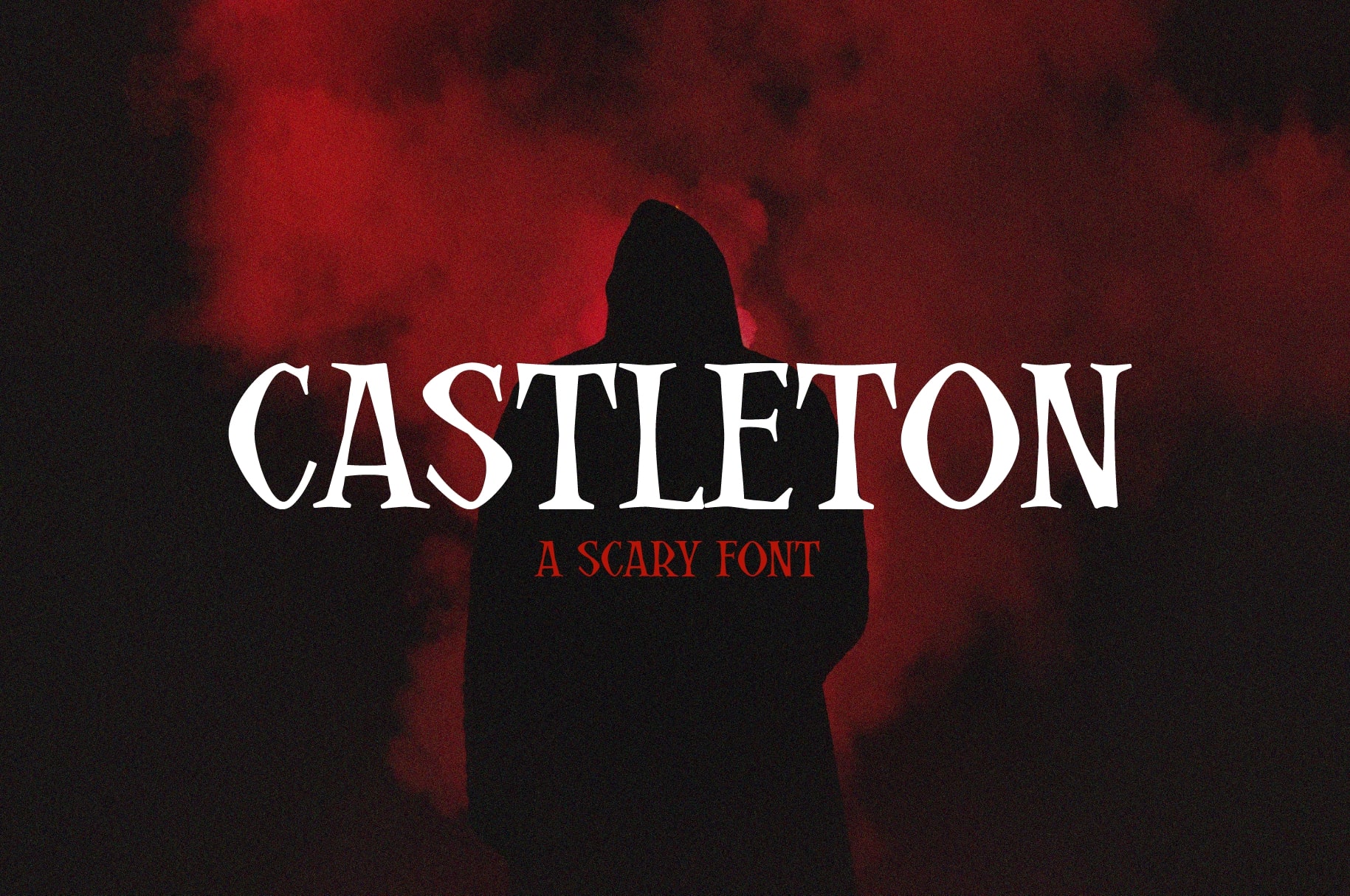 Castleton is a Halloween inspired typeface. This unique font is perfect for horror designs as well as fantasy based projects. You can use it for just about anything like posters, branding, apparel, stationary, stickers, packaging, movies, album covers, and more. Create eye-catching designs today with Castleton!
6. Nightwish
Nightwish is a sharp script typeface. The font is a bit slanted as if it's handwritten. Its gothic/Old English aesthetic is ideal for apparel, greeting cards, product packaging, book covers, album covers, logos, social media, posters, and more. If your design requires an aggressive vibe, then Nightwish should definitely be on your radar.
7. Freebooter 
Freebooter is a pirate inspired typeface from the 1500s. The imperfections of Freebooter will give your designs and authentic human touch. It comes with upper and lowercase letters along with all the special characters you would expect. Suitable for branding, apparel, social media, advertising, editorials, marketing. etc.
8. Bloody Scary Horror Halloween Font
Bloody Scary is a scary horror typeface with all its characters in uppercase. Each character appears to be drenched in blood which adds to the horrific effect of the font. This style makes it most suitable for Halloween-themed designs.
Nevertheless, the decorative style of this font also makes it a perfect fit for various large projects like wedding designs, watermarks, photography, social media posts, and invitations.
Download Blood Scary Horror Halloween Font
9. Freaky Story

Freaky Story is a concise serif that emanates a scary and spooky mood in any piece of work. This font's distinctive nature easily captures the reader's attention and makes your design pop. Due to its creepy vibe, this typeface is of high recommendation for Halloween posters and related designs. 
10. Vampire Zone

Vampire Zone is also a horror font, meaning that this typeface creates a feeling of terror when used in designs. Influenced by "a bouncy spooky style," this font complements all forms of Halloween-themed works. Its features include upper and lowercase characters, numbers, punctuations, and multilingual support.
11. Horrific
Uppercase and lowercase letters, alternate characters, and ligatures are apparent features of this calligraphy style. Horrific typeface is a curvacious font that can build scare and horror in any design. Each font's letters are rough, violently displayed, and can provoke thrill when used right in a piece of work. This font's decorative style would suit designs that require excitement and horror, like Halloween.
12. JangKung

This Brush Font by Rometheme, though appearing scary, is also eye-catching and easy to use. Its characters are in uppercase, and parts of each letter seem incomplete and only smeared with ink. This gives the font a brush-like and handwritten effect. As such, JangKung Font style is appropriate for professional projects like magazines, CD cover albums, business cards, or designs that require frightening looks.
13. Black Rose
Blackrose is a distinctive display font. The font's eerie feel makes it compatible with horror-themed projects. In addition, the colors used for each character are a mix of black, white, and red which sets a spooky mood in any work.
This font features the typical upper and lowercase letters, numbering, punctuations, ligatures, and multilingual characters. Hence its eligibility for designs like movies, Halloween Crafts, posters, and flyers.
14. Ghost Cove
The Ghost Cove sans-serif enshrines minimalism. This typeface duo has thin curves and abstract lines with much left to the mind's eye. Each character appears lightweight and rebukes the style from any form of firmness.
Its simple and elegant aesthetic makes the font befitting for fashion and branding projects. Although, its subtle nature can add a bit of spook to any design.
15. Gloomy Line

Introduced by Khurasan, Gloomy Line is a modern brush typeface. As a result of its horrific and gloomy appearance, it is mainly recommended for Halloween projects. Alternatively, this font can be used to create posters, logos, branding, and greeting card designs.
16. Ghost Shelby

Ghost Shelby is a modern-vintage typeface. Its characters consist of upper and lower cases. Some fonts are thick and bold, while others are in regular text style, giving your design a feel of variety. You can use this typeface for style quotes, posters, and book covers. 
17. Coaster Ghost

This Vintage Serif Typeface by Typealiens contains bold and rigid characters typically used as a title or supporting font. The firmness of Coaster Ghost gives a sense of an old-fashioned and gothic aesthetic. Consequently, it suits logo and badge designs perfectly.
18. Sadis

Inspired purely by a gothic look, Sadis is a Blackletter font with its characters having intricate patterns. This font style appears metallic with very sharp edges. Its features include a smooth blend of upper and lowercase letters alongside swashes, ligatures, and elaborate alternates to create a good design.
19. Death Stinger
Death Stinger is a bold font style with mainly uppercase letters. Its patterns scream terror and thrill. As such, it is typically used for websites, book covers, movie titles, games, custom mugs, and editorial designs. It is also a classic horror display font that is handwritten.
20. The Ghost
Have you been looking for a legible and compact brush typeface that gives your design a frightening Halloween atmosphere? The Ghost font radiates that same vibe! Its characters combine upper and lowercase letters and are in the form of actual ghosts, giving the font a mysterious and spooky feel. It's perfect for Halloween-themed designs, book titles, and movie titles.
21. Black Knight

Black Knight is a Horror Display Font style that appears in no other way but bold, thick, and legible. Its block letters make it easy to capture the reader's attention. Consequently, it complements mystery and horror games, food menus, movie titles, and magazine designs.
22. Elmore 
Elmore is a handmade Brush Font that adds a horrific touch to your designs or projects. It was designed in a style that can provoke fright in its reader or onlooker. It's written in uppercases and is an excellent match in creatives like title cases, logos, and headers.
23. Ds Black Memory
Created by Allfriday studio, The Black Memory is a brush-style font. The standard stroke pattern of this brush typeface makes it ideal for any creative. The font's blend of block and lowercase letters, alongside various shapes, allows you freedom of choice in your design.
It also makes use of standard glyphs, ligatures, and multilingual accents. This is why it is perfect for designing the titles of different movie genres, including horror, action, mystery, and murder.
24. Dark Angels

Dark Angels is a haunted display font with its edgy characters that ooze a vibe of fear in any work. It features a distinct style with a frightful mood that makes this typeface conducive for horror-themed projects like Halloween crafts. Conversely, the decorative style of this font is not put to shame as it fits perfectly in other designs like posters, movies, and flyers. 
25. Wicked House
Wicked House is a horror font style that is inclusive of both upper and lowercase characters. Although exuding a frightening vibe, its patterns are also fun, playful, and unique. When used on your design, it creates a scary yet dazzling effect.
Wicked House font is mainly fit for drawing tattoos, gothic designs, horror story books, and Halloween Projects, typically because of its fear factor. Equally important, this lettering style features multilingual support.
26. Piglet Ghost

The Piglet Ghost typeface is a sturdy and bold font style that sparks a spooky Halloween feeling when used in a design. Its characters appear mostly in uppercases. Because of its ability to incite fear, it's primarily used for occasions like Halloween. Nonetheless, this font style can decorate book titles, movie titles, and other events.
27. Scarville
Scarville decorative font is the perfect choice for Halloween designs. Its eerie yet playful mood does an excellent job of holding the reader's attention. It displays upper and lowercase letters, punctuations, numbers, and multilingual characters. Despite its abstract and quirky character patterns, Scarville is a very legible font style to kick off your spooky projects.
28. Wani Sambat
Wani Sambat's Halloween-themed illustrations give the font a scary effect and make designs spookier. Its style contains the use of swirls for each text, creating an atmosphere of fun and fright. As such, Wani Sambat is ideal for creating posters, stickers, invitation cards, and t-shirt designs.