Last Updated on September 28, 2023
Icons are commonplace nowadays. Even the least tech-savvy person is familiar with them. You see them on computer screens, smartphones, electronic billboard ads, and even on your smart TV.
They're like a universal form of communication. People recognize most of them because they mean the same thing regardless of country or culture. For example: arrows point towards the next action or instruction. A checkmark icon on the other hand, means 'done' or 'finished'.
What are Icon Fonts?
An icon font is basically a font with glyphs and symbols instead of the usual letters and numbers. They're often used by web developers as they're easy to setup and to style. Icon fonts are normally styled using CSS. They come as vectors, which mean they retain quality despite resizing. They're the go-to solution for responsive design because they work in almost any device – from desktops, tablets, to smartphones.
The first known icons appeared in 1973 on the Xerox Alto, the first computer to support an operating system (OS) based on a graphical user interface (GUI). It's believed that this research computer was the inspiration for the 1983 Apple Lisa, one of the first personal computers developed by Apple.
A few of the earliest icons we know today – such as the trash bin, calculator, file, and folder – were available on both machines, making user interaction easier. By the time the Apple Macintosh 1.0 was released, icons became fancier, thanks to American artist and graphic designer, Susan Kare.
Her principle that icons should be 'clear, concise, and memorable' is still the standard followed by fellow designers at present.
High Quality Icon Fonts
Whether you need them for personal or commercial purposes, having icons in your toolkit is always a good idea. You can create them from scratch (hand-drawn) or simply download any of the free ones online. Build up your repository with these high-quality and affordable icon fonts.
1. Line Flat Font
This pack from A_Slowik includes a decorative font plus 26 business-themed colored icons you can use in postcards, presentations, websites, labels, posters, and more.
2. Wirebet Fonts
Simple, geometric, and practical, this product by Spovv was created to help designers present web concepts without the need for a graphic software. Use it as a wireframe or to highlight web design elements.
3. Pictypo
Typogama proudly presents this large set of dingbat fonts that come in open, rounded styles. Get all kinds of icons – from office, arrows, hand signals, to transportation, weather, as well as quirky designs.
4. Doodic
Looking for simple doodles to add an authentic, hand-drawn feel to your projects? Then you can't go wrong with this pack by Wowomnom that includes a cute sans serif font AND playful doodle icons.
5. Indigena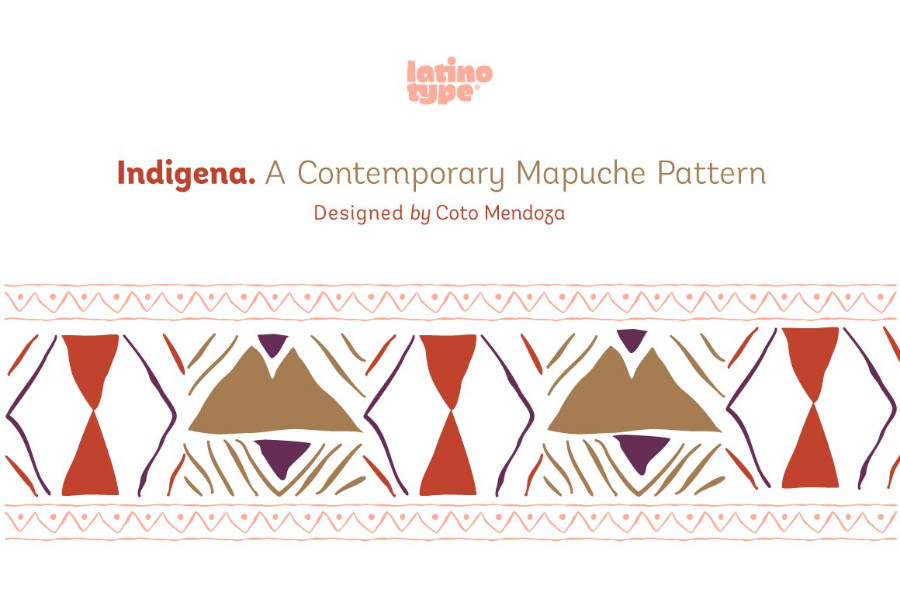 Inspired by Mapuche patterns – 'Mapuche' meaning 'man of the land' – this dingbat font from Latinotype is the expression of Mapuche people in Chile but with a fresh, modern twist.
6. Picons Font
Hand-crafted, unique, and high recognizable, these practical icons from Picons are compatible for both Mac and Windows. They also come in different convenient formats, including SVG, to help you create your own webfont.
7. Fancactus
KA Designs brings you this fun and friendly doodle bundle made of succulents and cacti. Perfect for every plant and nature lover!
8. Pixee Icon Font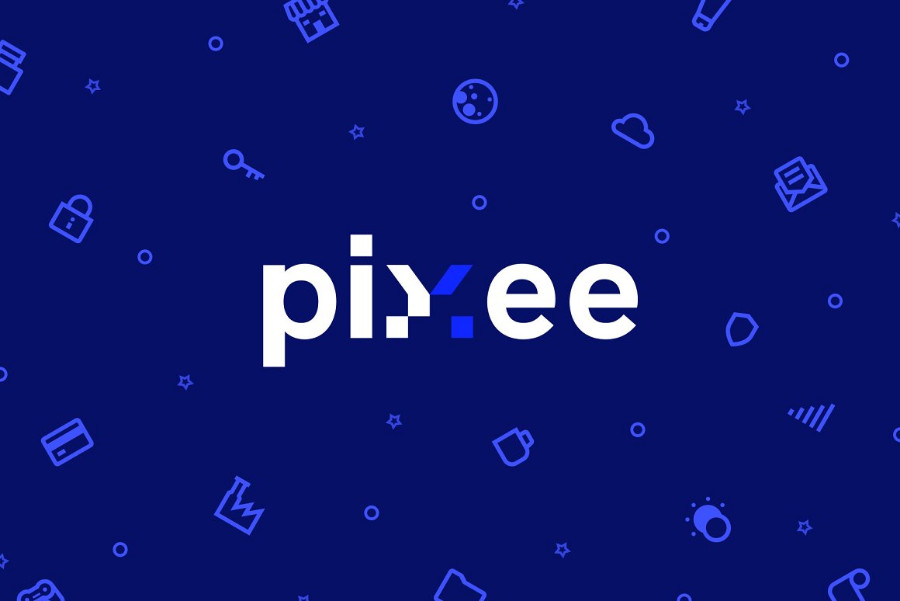 Specifically designed for UX/UI projects, this set from Jinro is based on an 8-point grid system that's easy to install and to use.
9. RNS Pictográfica Cocina
Comprised of 230 glyphs, this pack from RNS Fonts contains kitchen, culinary, and food-related icons that are a feast for the eyes. Structured, minimal, and with rounded corners, they will look great on any contemporary or minimalist setting.
Download RNS Pictográfica Cocina
10. Hand Drawn Arrows Font
With 98 unique hand-drawn arrows, Inspirationfeed gives you this bundle of functional arrows for your website, presentation, or labelling projects.
Download Hand Drawn Arrows Font
11. Dans Le Cuisine
Inspired by 60's cooking magazines in Chile, this festive icon set is packed with flavor, wild curves, and lots of experimentation.
12. Symbols Font Collection
Featuring 450 elements ranging from Halloween to flower themes, this collection by Pixaroma has everything you need to make fun or wacky designs fit for any season.
Download Symbols Font Collection
13. Koprun American Sign Language Font
This dingbat font of the American Sign Language from DreamONprints comes in 2 styles (Regular and Solid) you can apply on posters, signs, labels, and more.
Download Koprun American Sign Language Font
14. MapGlyphs United States
Go on a tour of every state in the Union and Washington DC with this set of 53 scalable vector icons from Vector Maps. Files come in various formats, such as AI, EPS, PDF, PSD, and SVG.
Download MapGlyphs United States
15. Household Icons Font
Looking for symbols that represent home items and chores? This bundle by Idette Designs™ is not only beautiful and functional, it's also optimized for Android and iOS.
16. Flat Line Icons Webfont
With over 180 high-quality icons for Bootstrap Framework, this pack from Peachananr is great for minimalist themes.
Download Flat Line Icons Webfont
17. Jolly Icons Font
Save time and effort when you use this collection by Hand-Drawn Goods. Featuring 400 icons in EOT, SVG, WOFF, TTF formats, choose from a wide array of designs such as communication, e-commerce, weather, multimedia, tech, etc.
18. Busy Icons Font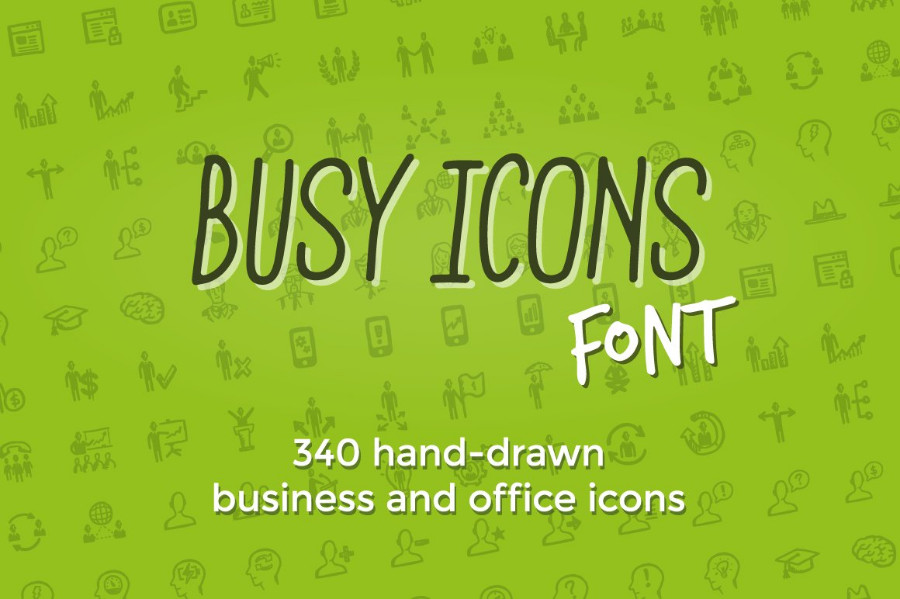 Grab this set that contains 340 business and productivity symbols. With unlimited scalability, seamless icons, and 4 font formats, you'll get the best performance in a small, affordable bundle.
19. Material Design Icons Light
Ideal for the Web, these icons by Templarian can be easily styles using CSS. There are also SVG icon vectors to help you make your own webfonts.
Download Material Design Icons Light
20. Outdoor Adventure Icon Font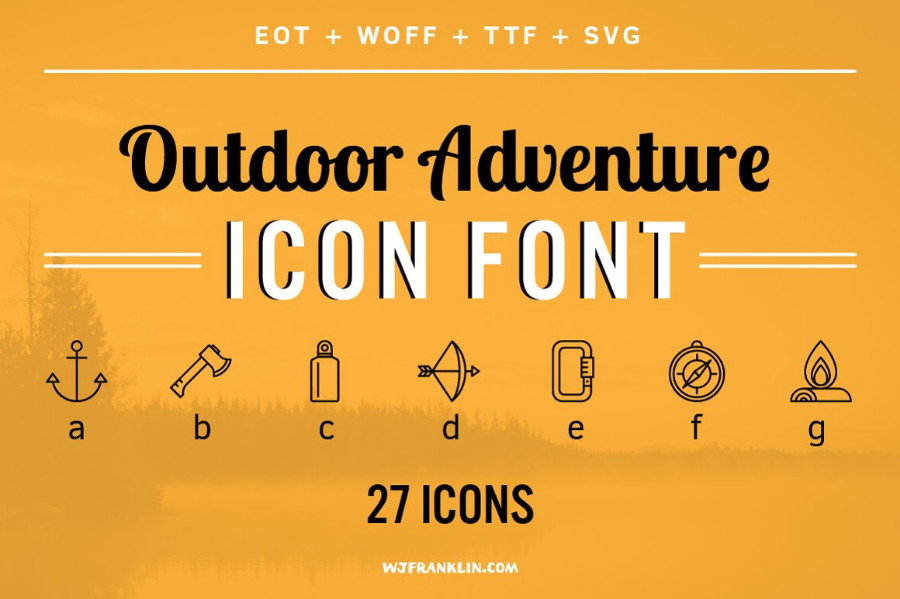 Working on travel or adventure projects? Spice it up with these outdoor-themed icons by Wes Franklin. Clean, modest, and easy to use, they're perfect for desktops or websites.
Download Outdoor Adventure Icon Font