Last Updated on July 21, 2023
What makes a good horror and thriller film? The plot of course, must keep audiences engaged and interested until the end. The music and sound effects should be on point – whether it's that build up before a jump scare or the eerie silence that gets under your skin. But let's not forget about design: specifically, the unforgettable movie posters.
Friday The 13th (1980), Nightmare on Elm Street (1984), Fright Night (1985), It: Chapter Two (2019), and Escape Room (2019) are just a few iconic movies with equally iconic posters. You'll recognize them immediately partly because of their unique typography. That drippy, edgy, custom font, which is often described as "bloody."
This kind of typography design incorporates elements of blood or blood-like effects into the letterforms. It's often used in various contexts, such as horror-themed designs, Halloween promotions, gothic art, and other dark or macabre projects. The style aims to conjure a sense of fear, intrigue, and fascination to capture the attention of audiences looking for something unconventional and intense.
Despite it being a powerful concept, it should be used thoughtfully and responsibly. Think about the intended message and your target audience. When utilized properly, it can be a fantastic tool for eye-catching, memorable works that leave a lasting (and scary!) impression.
Here are some of the best bloody fonts to add to your collection.
Creepy But Good Bloody Fonts
1. Scary Vampire
Bloody doesn't need to equal scary. This PUA encoded, spooky font from Sronstudio12 is proof of that. Use it on Halloween invites, posters, party banners, or comic art to make some scary but good designs. Pack contains upper and lowercase letters, numerals, punctuation, and multilingual support.
2. NCL Halloween Danger
Enxyclo proudly presents this rough, handwritten bloody font that's perfect for horror fans. Although it was made for large point sizes, it maintains its freaky aesthetics when applied to short body text. Try it on film posters, event flyers, social media graphics, and more.
3. Bloody Witch
Sharp, creepy, and highly impressive, this horror Instagram font from Mikrotype Std. has natural-looking brushed strokes for that striking first impression. Aside from standard characters, the pack includes numerals, ligature, swashes, and web fonts for your convenience.
4. Lonesome Zombies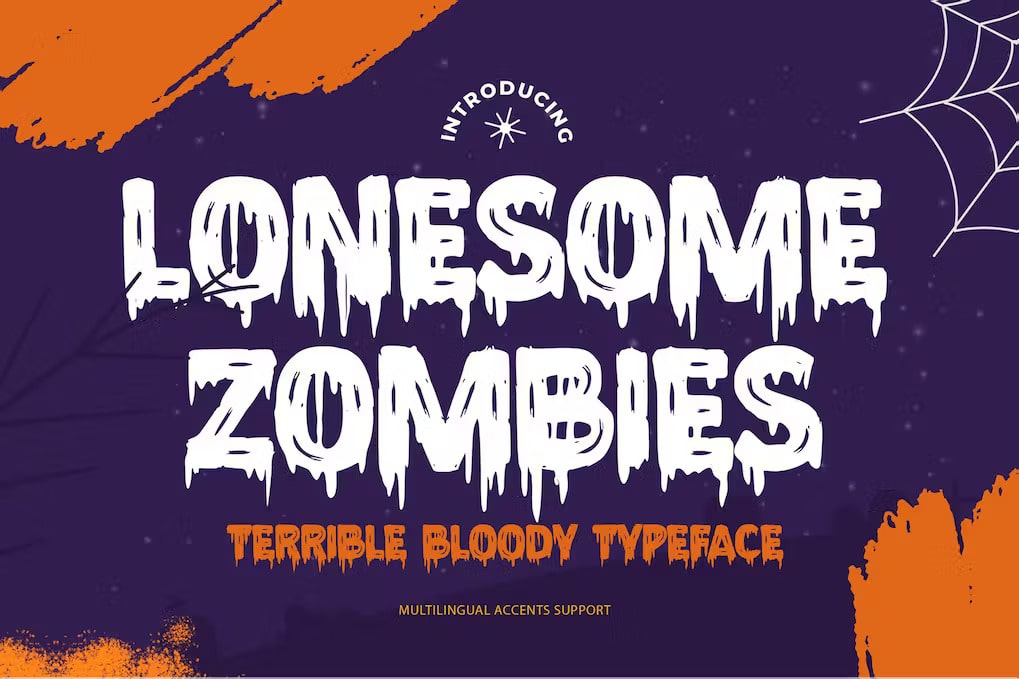 Create eye-catching and fun Halloween artworks with this terribly bloody typeface by Gassstype. Combine with cartoon or kiddie graphics and images for the best results. Featuring standard glyphs, web font, and multilingual support, it works on both PC and Mac for every kind of horror lover!
5. The Crots Typeface
Alit_Design brings you this chilling, splatter typeface that's versatile and easy to use. Aside from the Regular version, you will also receive a Bloody version and a bonus of 150 Halloween-themed illustrations.
Combine both styles for unforgettable flyers, banners, invites, Instagram posts, posters, book covers, and print materials. To make the most of this pack, make sure you have a program that supports OpenType such as Adobe Illustrator CS, Photoshop CC, Indesign, and Corel Draw.
6. Gost Farm
Make way for drippy display font by MightyFire_STD. While it's recommended for big projects such as banners, posters, and headlines, it surprisingly looks good even as body text, book title, or on a Halloween card.
7. Spooky Trick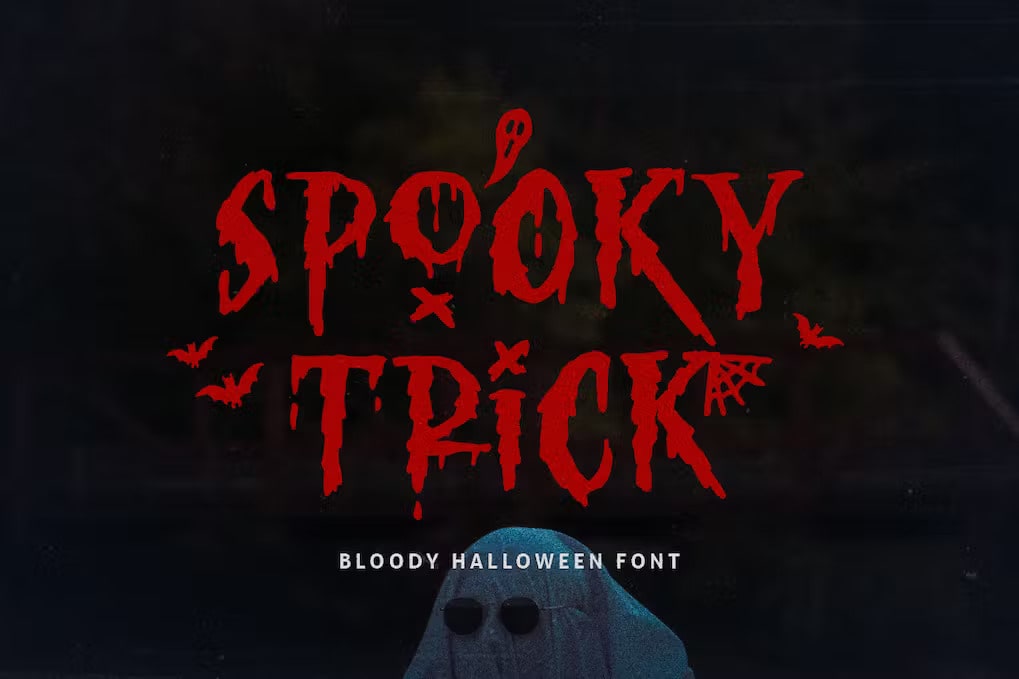 This rough, handmade typeface from Saridezra is ready for some serious trick or treating! Serving up some unique lowercase letters and Halloween icons, it will make your movie posters, event flyers, and social media banners instantly stand out.
Complement it with either a script or a sans serif to produce interesting results. Feel free to try it on other design concepts such as punk, edgy, and goth styles.
8. Grimes Blood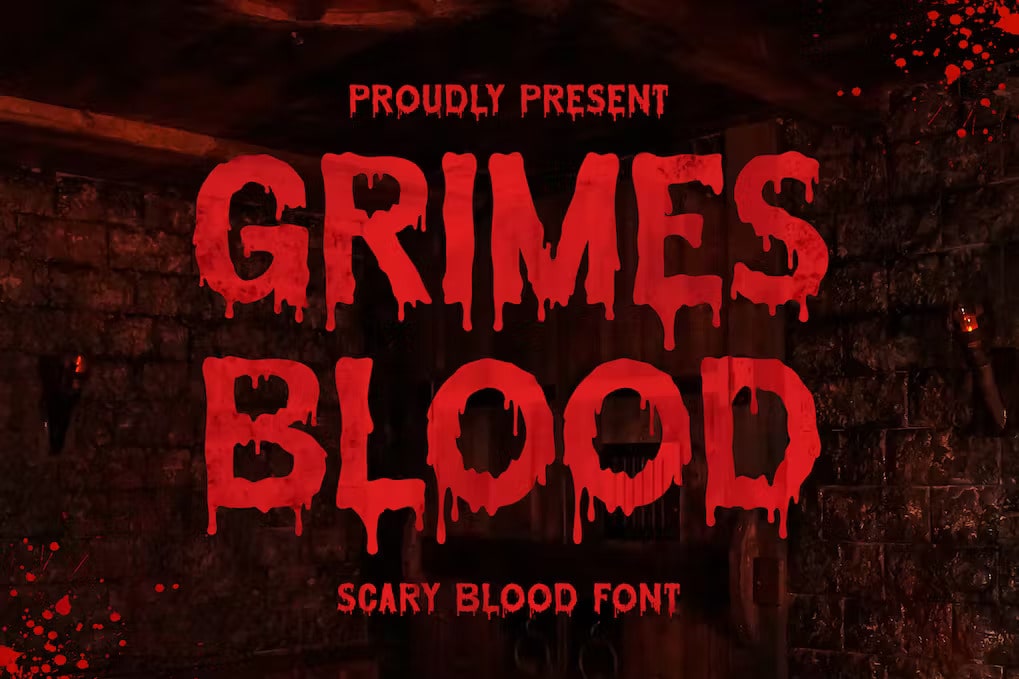 Bloody, scary, and spectacular, this horror display font by Type Factory Co is as frightening as it is versatile. Use it on horror game apps titles, thriller book covers, spooky promotions, and more. Pack includes OTF, TTF, WOFF, and WOFF2 files for your convenience.
9. Bloody Camp
Make it grizzly and scary with a little help from this eerie blood font. You will get upper and lowercase letters, symbols, punctuations, numerals, alternates, and ligatures. Pairs well with sans serifs.
10. Bloody Brains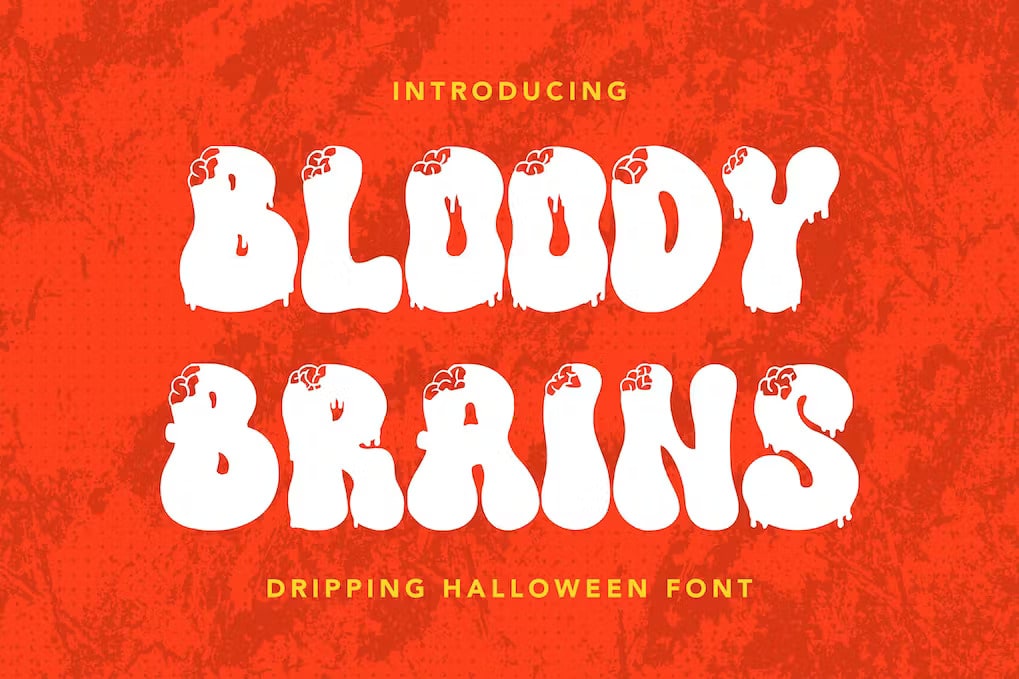 Don't let the chubby, playful shape fool you – this display font with exposed brains and drippy alternates evokes serious zombie vibes. Use it on logos, badges, t-shirts, album covers, and printed works. Brought to you by ARENDXSTUDIO.
11. Bloody Scary
Whether you're making promotional materials or scary web design, this creepy horror typeface from Rahardi Creative will not disappoint. Boasting tons of glyphs, there's plenty of room to get creative – and bloody. It also complements both sans and sans serif styles beautifully.
12. Optimystiq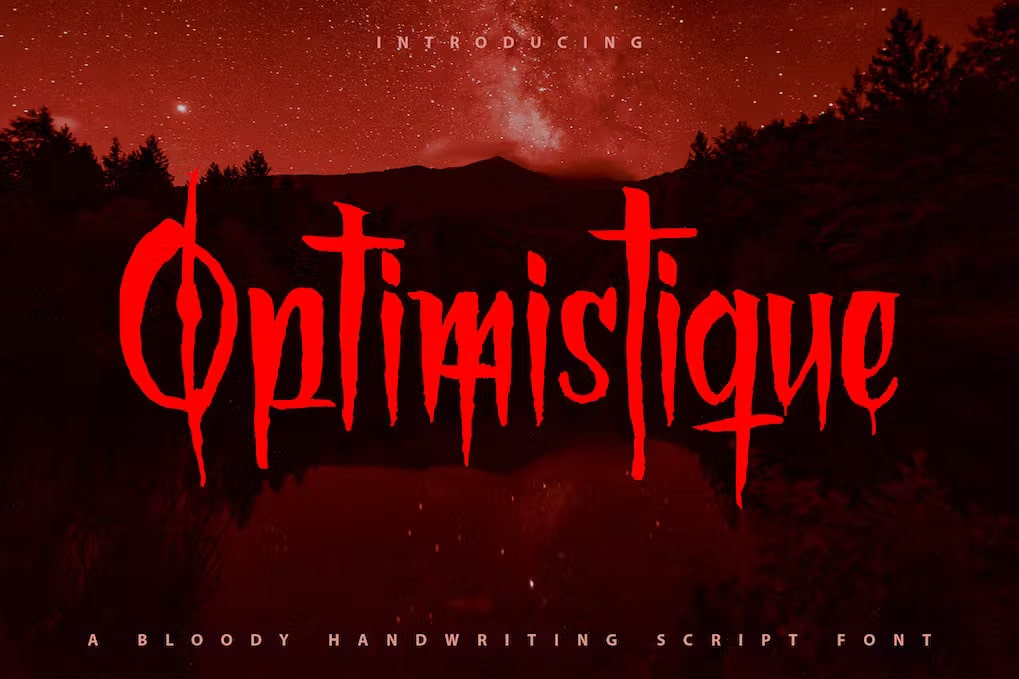 With dagger-like characters and OpenType features, this handwriting script from Vunira is terrifyingly beautiful. PUA Encoded, easy to install, and comes with multilingual support, it's ready to haunt your invitations, cards, posters, book covers, and social media posts.
13. Chill Blood
Even if October and November are your busiest months, you can count on this crafty yet creepy typeface by DmLetter to help you make the best Halloween projects. It's ideal for children or kiddie-themed event banners, invites, cards, flyers, and digital graphics.
14. Bloody Mary
No need to call her name three times at midnight – all you need is this spine-chilling font from Naulicrea and you can create ghoulish thriller quotes, horror game titles, and spooky clothing easily. Guaranteed scary, bloody, and hand-drawn.
15. Bloody Frozen
Drippy design isn't all about blood and gore. You can also experiment with it for winter or punk aesthetics, as proven by this fun display font by K-gold. This adaptable all-caps is perfect for ghostly greeting cards or chilly product promotions. Try it and see for yourself!