Last Updated on September 28, 2023
People who are not big into music more often than not confuse metal with rock. Band? Check. Guys in mostly weird styles? Yes. Electric guitar and drum sets on stage? Absolutely. The consistently-widening diversity of these two music types is another thing that makes differentiating between them more confusing than before.
But when it comes to the word, what music can be truly called 'metal'?
What is considered metal music?
Metal is a subgenre of rock music. Many prominent features of metal can be traced to 70s hard rock.
Photo by Julian Lozano on Unsplash
You will find a lot of write-ups about its origins that say pretty much the same features. Metal music revolves around heavily-distorted guitar riffs and frequent use of power chords. A lot of them have complicated drum sequences, accompanied by the lowest range of bass notes you'll hear.
Of course, there's those usually aggressive, throaty, or screechy vocals that add depth to the songs. Most of these are pretty dark in nature: death, depression, guilt, justice, remorse, and violence are the go-to ideas for many metal composers. Some break the mold and use comedic lyrics masked by head-banging music. When it sounds heavy, chances are you're listening to a metal track.
If you're already a fan, then the names Black Sabbath, Pantera, Slayer, Iron Maiden, Korn, Dream Theater, Judas Priest, and Alice In Chains will be familiar to you. If not, you can always check them out on Spotify or YouTube Music. Who knows, maybe you'll end up adding a new genre to your usual playlist.
For now, enjoy these heavy metal fonts that are sure to make your projects edgy and awesome.
Best Heavy Metal Fonts
1. Sadis
Tall and gothic, this blackletter font from Dikas Studio includes standard ligatures, swashes, and stylistic alternates to help you pick the right look for your projects.
2. Stunegart
Playfully nostalgic with incredible vintage aesthetic, Dans Design brings you this amazing typeface that will suit product logos, packaging, headlines, album covers, and apparel.
3. Banxors
Sharp, tall, and smooth, this versatile serif by Pandastocknet works well regardless of size. Put it on magazine covers, invitations, music titles, posters, labels, and more.
4. Graciaso
Highly detailed and ornate, you will love this font on your tattoo parlor or on a metal music cover.
5. Black Pytter
Who knew blackletter could be dainty? This typeface by Alit Design is not only strong and unique, but also elegant. Set contains Regular and Outline versions with multilingual characters.
6. Minerva
Modern yet gothic, this expressive serif from Muntab Art will look amazing on t-shirts, branding, illustrations, web design, and music album covers.
7. Grandice
Pair this contemporary blackletter font from Letterhend with regular sans serifs for interesting, polished results. Recommended to be used on Adobe apps and Corel Draw.
8. Hello Mytoys
Want to give your dark, punk works a little sophistication? Use this impressionist typeface with beautiful swashes that will complement whatever project you have in mind.
9. Sacre
Looking for something edgy? This sharp, handmade typeface by Celcius Designs will suit just about anything.
10. Sauronking
This gorgeous, ornate font can be applied to wine or whiskey bottles, music covers, shirts, logos, branding, tattoos, or even books.
11. Anemouth
Dark and evil? We'd beg to differ – rather, it's classic and edgy. Ilhamtaro brings you this timeless blackletter with drip effects.
12. Dramaga
Inspired by the post hardcore bands, use this font for labels, invitations, branding, logos, apparel, banners, tattoos, posters, music covers, and more.
13. Darkrise
With biker style influences, this classic typeface by Ahnaf-Studio is clean yet sharp, metal yet versatile. It's perfect for when you need something bold but also legible.
14. Boardslide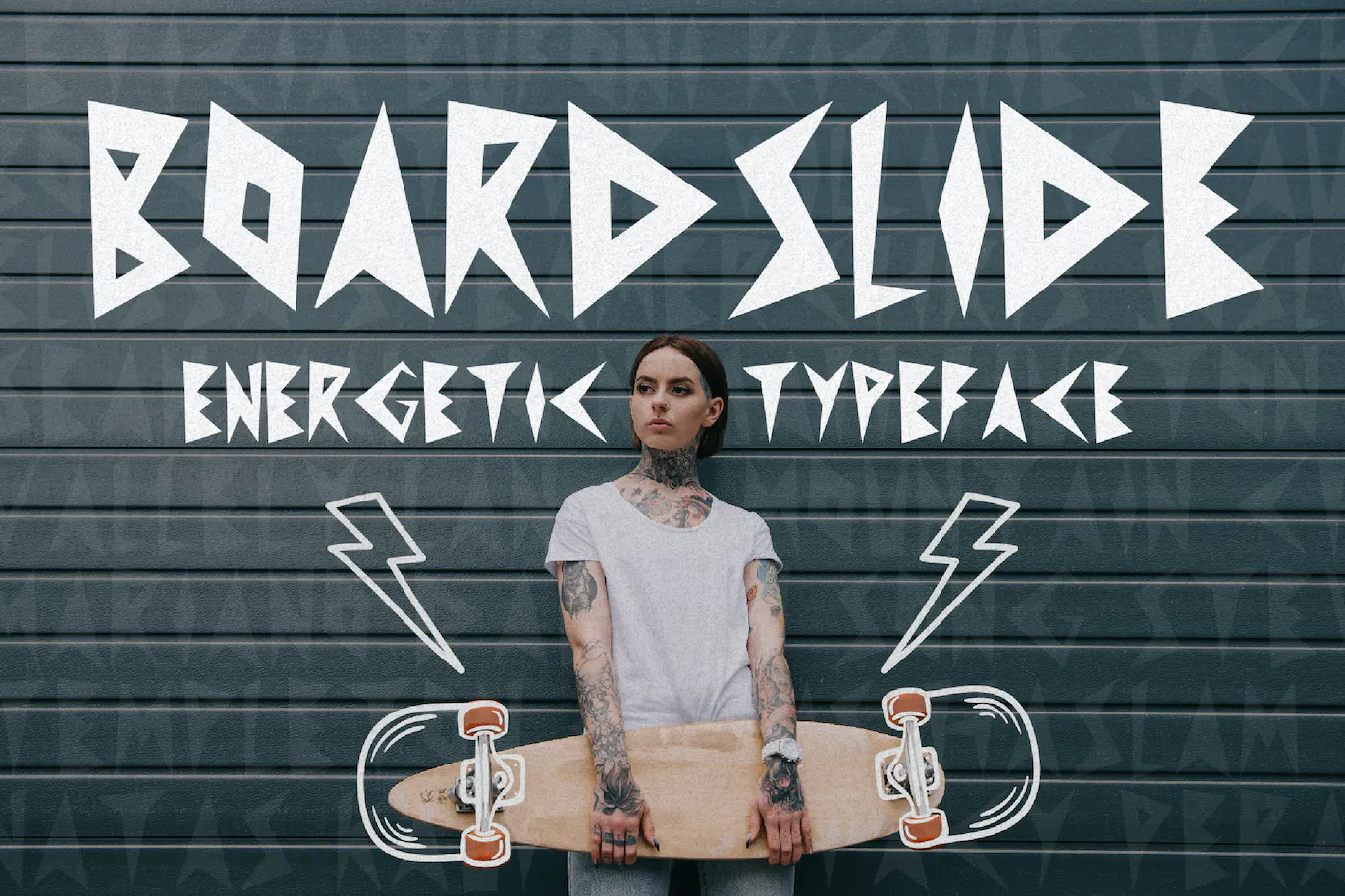 Boardslide is a rad all caps typeface inspired punk and skateboarding culture. This sharp and energetic typeface is perfect for creating logos, headlines, social media posts, t-shirts, Youtube graphics, event posters, and much more. If you're looking to create a wild design, then Boardslide is perfect for you!
15. Killviners
This modern blackletter can be used on various formal or casual works, including logos, headlines, beverage labels, fashion branding, ads, invitations, etc..
16. SHIRENS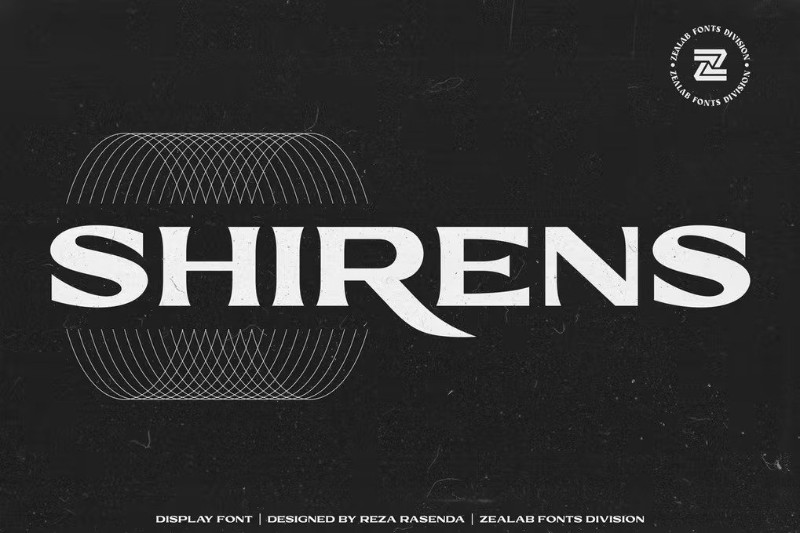 Inspired by the emo/metal/harcore music scene, this display font from Zealab will look stunning on apparel, especially on street or punk themes.
17. Glofters
Bold and somewhat quirky, this decorative typeface by MartypeCo features 4 cool styles in Regular, Rounded, Stamp, and Rough.
18. Escape! Font
If you love retro horror, you will love this sans serif by The Branded Quotes. Use this to complement your thriller or death-metal artworks.
19. Distorsi
Your metal or rock band deserves only the best font. Holismjd brings you this solid choice that could be applied to more than just music projects.
20. Black Orchestra
Whether you're out there to promote heavy-metal music, or you want to print horror movie posters, you will need this creative blackletter from 38-lineart.
21. Pink Punk
Want something wild but still readable? This fierce, 'burning' all-caps typeface by Prioritype Co will suit all your creative projects.
22. CHRATOS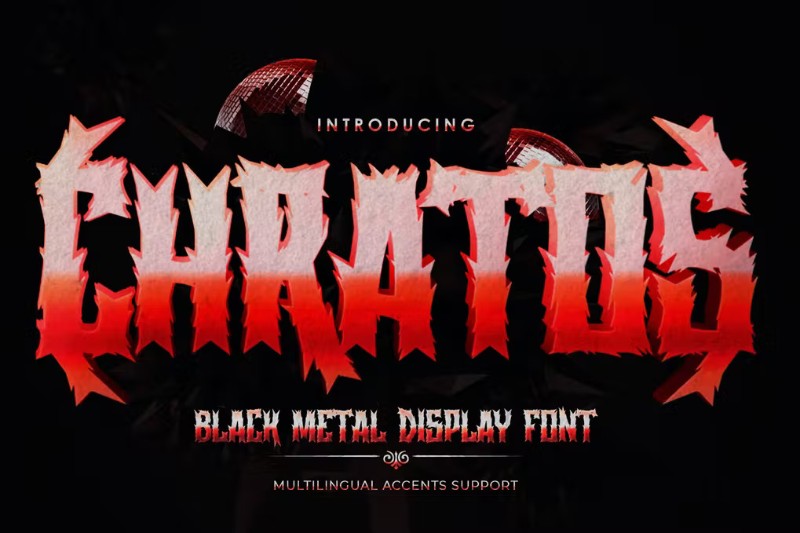 Gassstype is proud to present this black metal display font that's handmade and awesome. Includes alternates and multi-language support.
23. Smackdead
Scary or deadly – you decide. Regardless of usage, this black metal font by Blankids is ready for the undertaking.
24. Faceless
Rooted, readable, and ornamental, this strong and brutal typeface will make audiences scream for more.
25. Scratch Metal Font
If you need something subtle but still very heavy metal, then you've met the right font with this gem from Shirongampus. Put it on album covers, flyers, posters, invites, and even apparel.
26. Pattrious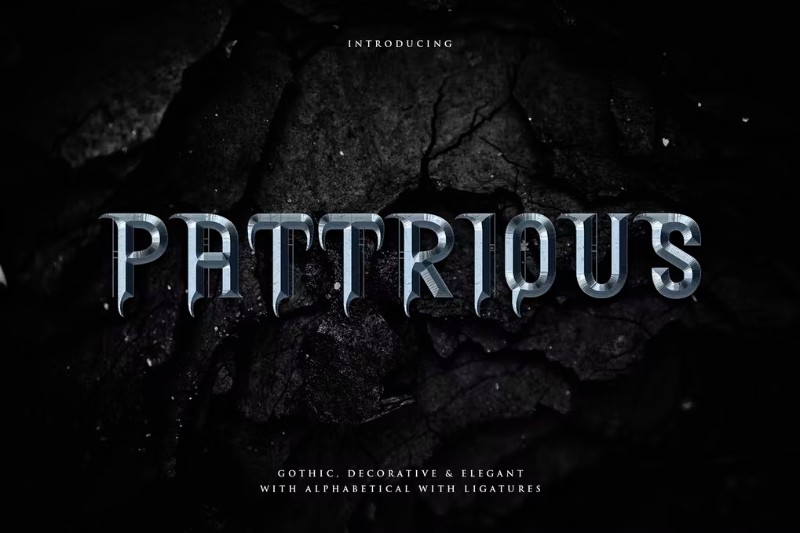 Easy to install, elegant, and decorative, everything you could ever want in a metal font is here. Brought to you by Naulicrea.