We now live during a time when everything seems so…clean and seamless. It's so easy to create a 'picture-perfect' look thanks to countless photo editing apps and filters.
Got a wrinkle? Smooth it out using this software. Want to make your images appear as if they were taken during the 60s? Then use this filter. It can be so refreshing to see something imperfect for a change.
Here's where distressed elements come into play. Their inconsistent, grungy appearance makes them look more organic or true to life. They also come in all kinds of forms: there are those that imitate the look of wood, others are intentionally deconstructed to mimic the natural wear-and-tear of age.
Distressed fonts for instance, can immediately alter the mood and look of your projects in a few clicks. Sure, you can use a filter for that. But these are carefully made, one letter at time, providing you with a beautifully frayed result that looks like it took years of hard work.
Check out this collection and see for yourself.
Cool Distressed Fonts
1. Cheddar Gothic Rouch Font
This all-caps sans serif typeface is carefully drawn for quality and readability, and it works great for various display uses.
Download Cheddar Gothic Rouch Font
2. Fake Empire
Fake Empire is a grunge fonts masterpiece, created from scratch using paper, glue, and scissors. It celebrates it's own faulty, flawed, and defective appeal, and it's marvelous!
3. Graun
Graun is a handmade grunge fonts typeface that features bonus graphic elements in AI or EPS vector formats. It's part 1990's and completely cool!
4. Rhinos Rocks
This brushworked grunge fonts set (plus swashes) is here to live loud! Rhinos Rocks offers all US glyphs, and handmade with a round marker. There are an extra 14 swashes and paint splatters, too!
5. Nightwish
Nightwish is a sharp script typeface. The font is a bit slanted as if it's handwritten. Its gothic/Old English aesthetic is ideal for apparel, greeting cards, product packaging, book covers, album covers, logos, social media, posters, and more. If your design requires an aggressive vibe, then Nightwish should definitely be on your radar.
6. Helix
Helix is a single line display typeface. Its eye catching design is bound to grab attention and turn heads. You can use Helix for editorials, posters, headlines, social media, packaging, and more. The font is fully kerned and is ready to be used out the box. If you're looking for an uncommon geometric typeface then Helix is for you!
7. Glowist
Looking for a vintage, handwritten, distressed font with ligatures, swashes, and alternates galore? What if we add some vector ornaments too? Grab Glowist today for all of the above!
8. Old Elm
Four, unique variations are available in this rugged, distressed font, Old Elm. Featuring 72 characters and symbols perfect for high-end designs wherever a bold impact needs a hand-lettered touch.
9. Sumac Typeface
From Tugcu Design Co., this typeface features smooth lettering but with a textured appearance that is big, friendly and catchy.
10. Navy Queen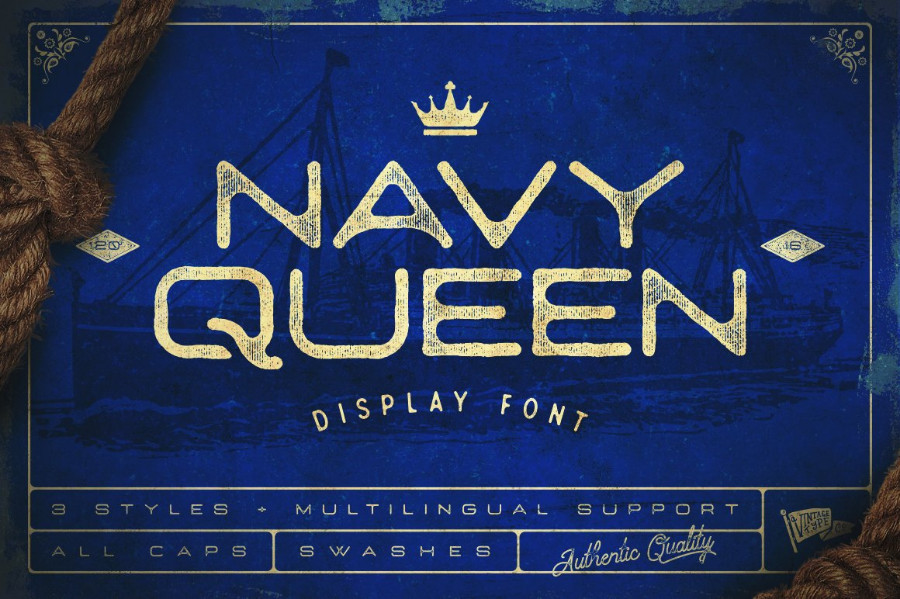 Vintage Type Co. has created this font as an over-extended, geometrically designed sans serif to complement the vintage look for posters, logos, and packaging projects.
11. Kohler
Hustler Supply Co. presents a six-styled typeface that can be customized from a textured font with a vintage aesthetic to a clean, modern condensed font to use for projects.
12. Weinston Typeface
Heybing Supply Co. presents this dual-purpose font made with authentic hand-drawn characters and an irregular baseline to make casual, arty and inky lettering for your design projects.
13. Gasline
This two-style, stencil-inspired font made by Addictype Foundry also has bonus vector images to add more depth to customization.
14. Service Station
Haynie Design Co. takes inspiration from the classic styles of vintage signage found in old gas stations and repair shops for that classic hometown aesthetic.
15. Thunderhouse
Aerotype made this font using a diversity of 52 Opentype features that makes different effects for design and visual projects possible.
16. Rough Antiqua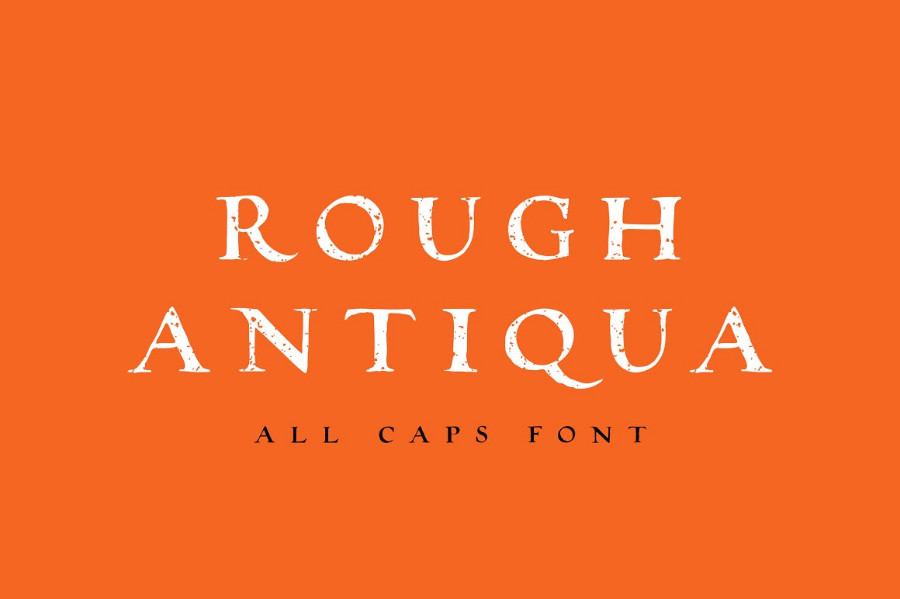 This all-caps font from vatesdesign is based on hand-inked antiqua types from the Renaissance Era for a living, handmade classic feel on visual projects.
17. Boston Skyline Font Duo
Sam Parrett presents a hand-crafted duo of premium sans and script fonts to create a contrasting yet complimentary and free-flowing design for logos, product packaging, quotes, and display text.
Download Boston Skyline Font Duo
18. Ricochet
From Ben Harman, get a vintage font that oozes with masculinity and add more to your visuals using alternates for the most common characters.
19. Broster Fonts
Get effortless industrial or mechanical vibes using this font that is based on the basic shape of a nut, plus bonus badges to add depth to your visual projects.
20. Bhavers Typeface
Get the best out of your presentations using Ilham Henry's hand-drawn font with stylistic alternates plus bonus Bhavers badges with editable text.
21. Distressed Telegraph
Stiggy & Sands brings the uniqueness of the Large Elite Type No. 44 keyboard lettering to the digital age that captures the unpredictability of keystrokes to ribbon and paper.
22. Oatmeal Stout
This versatile, vintage typeface from Hustle Supply Co. comes in five styles inspired by texts found in beer labels.
23. Dream Maker
KA Designs presents a distressed font with grunge elements to add flair to logos, t-shirts prints and other projects that benefit from big letters and few words.
24. Berringer
This rough-textured, vintage sans serif font family includes textured, rough, clean, and oblique versions of characters that can help you achieve 3D effects without the need to add another process.
25. Handters Typeface
Get the best vintage feel out of your visuals using this cool serif display font and included ornaments to complete the appeal in one package.
26. Eveleth
Customize the texture and level of distress of your texts using this premium hi-resolution letterpress family with six styles – and added extras to further accentuate either a retro or a vintage feel.
27. PressBox Combo Font
Score a winning deal through this vintage font package consisting of two main fonts with an Americana and metallic appeal and a bonus font stylized with spurs with additional ornaments for deeper customization choices.
28. Jason Caps
TypeFaith Fonts has reproduced this old woodblock font design the early 20th century with added ornaments to add more to the vintage look.
29. Broadwell
Gain greater creative control using a versatile, striking and sharp font that has varying degrees of distress but does not lose on legibility.
30. Veneer
Mix and match the level of grunge needed for your visuals using this font package that comes with up to six distress options for maximum effect.
31. The Farmer Font
This ultra-condensed font family from NEWFLIX.bro gives a diverse set of aesthetics from a simple, modern vintage look to a more rugged vibe.
32. Imprimo Letterpress Font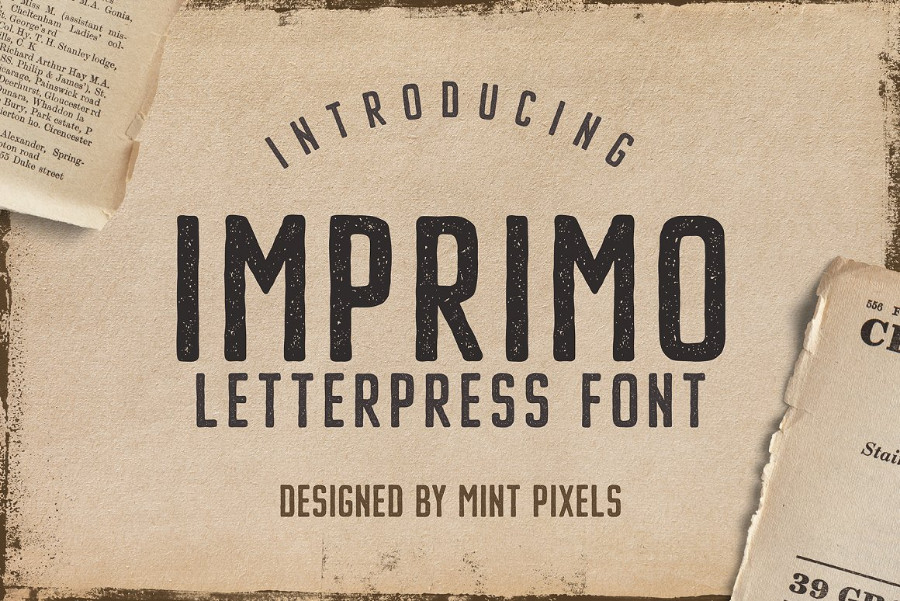 This uppercase sans-serif font from Mint Pixels comes in two styles that further accents the distressed effect and brings out the best in titling projects.
Download Imprimo Letterpress Font
33. Mosley
Bart Wesolek's product comes in six styles that is great for retro-inspired headlines, branding, labels, posters, and more.
34. Watchers
Check out this semi-distressed, worn in sans serif designed by Clint English that's perfect for personal or commercial works.
35. The Northwest
This sans-serif is inspired by Wild West culture with a few touches of modern typography that allows great flexibility of texture strength for effective visual projects.
36. Tobacco Typeface
From Josh O., get a two-styled font to help give your visuals either a rough and gritty look for distressed graphics, or a clean and seamless appearance.
37. Higgs Boson Blues Wood Type Font
This handmade display font from Simon Stratford follows the traditional American wood type, giving it a weathered, almost stamped-like appearance.
Download Higgs Boson Blues Wood Type Font
38. Rough Rider
Get the Rough Rider grunge fonts bundle that features another bonus CA font in a rough, display style. Recently expanded to include a full Central European character set, too!
39. Destone
Get 2 styles in one with the attractive curves and fresh, urban edge of Destone, a distressed font set suitable for packaging, signage, branding, and more.