In essence, the Victorian period was so called because it happened during the reign of Queen Victoria, which was from 1837 until her death in 1901. She was Britain's second-longest reigning monarch, surpassed only by Queen Elizabeth II.
This era was marked by great progress and turmoil. On one hand, it introduced the world's first Industrial Revolution, produced the likes of Charles Dickens and Florence Nightingale, and welcomed the first modern railroad line. On the other hand, it was also the time of the Irish Potato Famine, the Crimean War, and the onslaught of Jack the Ripper throughout the streets of London.
Indeed, the Victorian period was charming and chaotic, turbulent but exciting. Invoke similar vibes to your projects when you use these delightful Victorian fonts.
Delightful Victorian Fonts
1. Angwie
A combination of modern and classic, this 1800s font, Angwie, offers some awesome alternates and ligatures. Bring a classy, artistic touch to any design with this old school font.
2. Anthique
A handmade 1800s font featuring three alternates, ligatures, and multilingual support. Anthique will bring you back to the Victorian era when darkness and light met face to face.
3. Blue Angel
Blue Angel is a gorgeous, swashed 1800s font with multiple styles, ornaments, and alternates. Every character has a few alts to give you endless combinations. Arrange with the ornaments for unique, Victorian style designs.
4. Pollyester
Pollyester is a gothic, blackletter 1800s font featuring handlettered alternates and ligatures. Includes multilingual support and a webfont file so you can use it anywhere!
5. Wornout
Ever lay your eyes on a gorgeous 1800s font in a vintage poster or book cover? You have now! Wornout is an unbelievable classic with a retro feel. Use this serif display typeface with extras for an extra punch.
6. HavaShine Typeface
This opentype from StoricType merges the finesse of classical lettering and the rough, industrial look of Victorian types. Mix and match different letter styles and included ornaments to bring uniqueness to your visual projects.
7. Hungry Beast Layered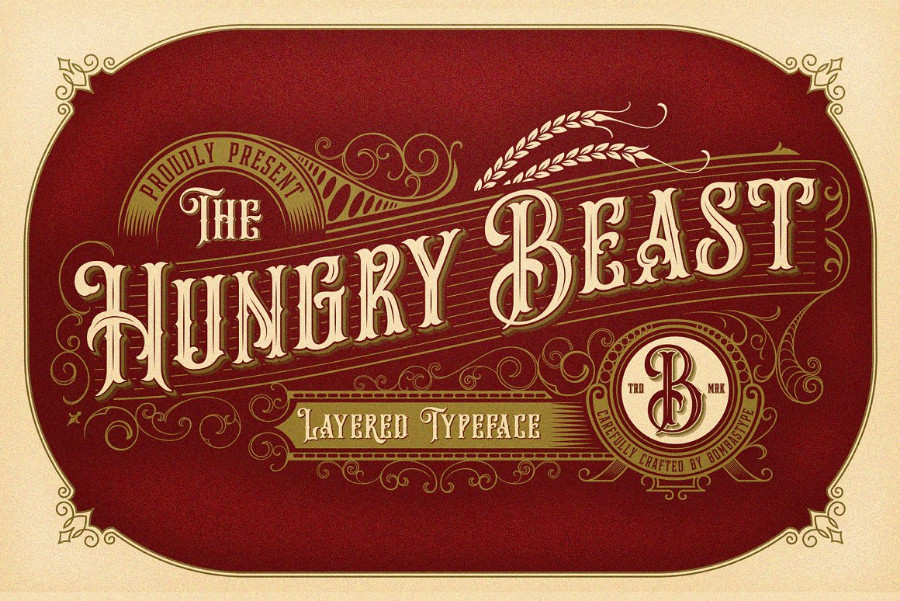 Bombastype presents a Victorian-themed layered typeface. Make a loud and easily-noticeable statement without losing an expressive, traditional appeal for a variety of projects of all sizes and lengths.
8. Sea Horse Typeface
Alterzone brings to us a typeface inspired by old Victorian typography sign painting. This works great for design works that demand either a vintage or elegantly rough look.
9. Brown Chunkers
This serif based display typeface by Letterhend Studio includes plenty of alternates, swashes, ligatures so you'll always have something beautiful to use for your invitations, apparel, logos, magazines, books, cards, and packaging labels.
10. Hillenberg
This set by Dikas Studio features 10 styles, along with a handy vector ornament set for branding, packaging, and personal crafts. The serif character was inspired from beer and brewery signage, making it perfect for food and beverage concepts.
11. Historycal
Make your own history come to life using these hand-drawn period characters. They come in 2 styles (Clean and Inline), as well as extra ornaments, to truly capture the magic of the past.
12. Renaissance Garden
Burntilldead brings to you this layered font family reminiscent of 19th century ornate French typography. With 10 styles to choose from, it's like going back in time through dramatic type.
13. Hermona Vintage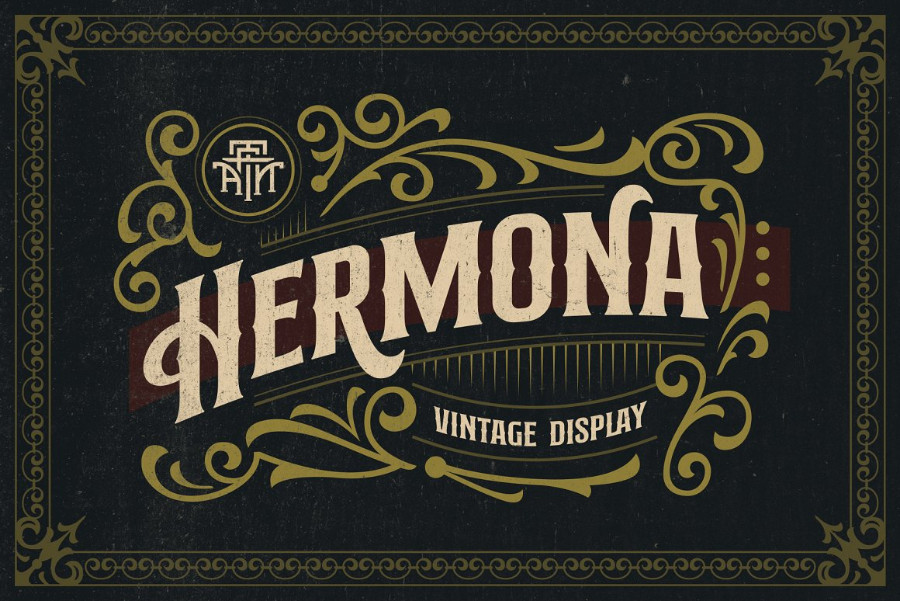 This all-caps font by Arterfak Project combines retro and old fashioned themes to make your work stand out from the rest. Use this gem for your labels, posters, signage, apparel, greeting cards, and logos.
14. Arlington Layered Font
Inspired by vintage lettering sign and art, this bold and solid typeface is everything you need to add the right Victorian touch to your designs.
Download Arlington Layered Font
15. Salvathore
Transport your audiences to the 1800s using this elegant font inspired by old-school advertising. Created by Bloom XXVI, it looks amazing on labels, logos, packaging, headers, and posters.
16. Sacred Bridge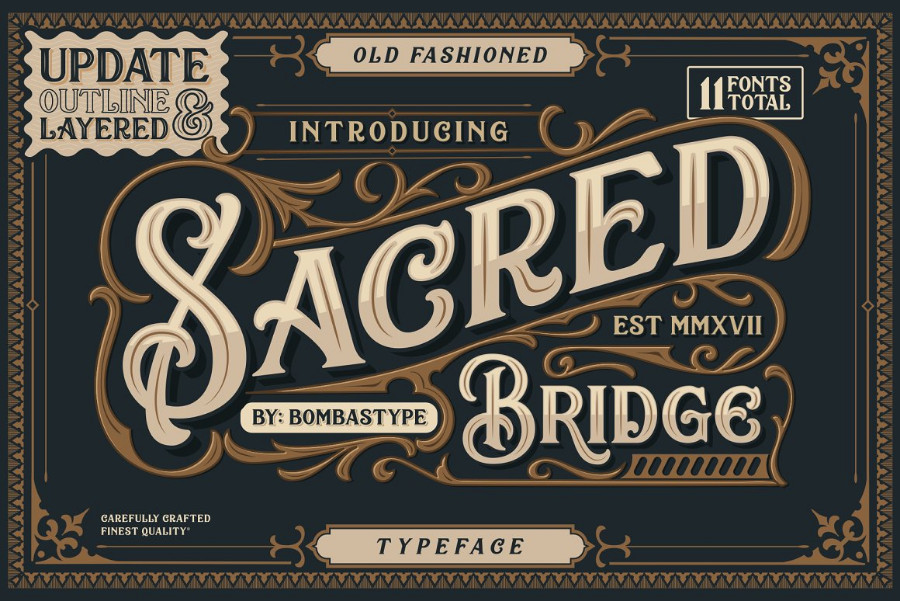 Lend a clean and letterpress style to whatever it is you're currently working on, thanks to this product brought to you by Bombastype.
17. Blaze & Glory Typeface
Keep things clean and simple using this commercial typeface from Zerowork Studio. The set contains catchwords and ornaments to add more flair to your designs.
Download Blaze & Glory Typeface
18. Bulges Layered
Looking for Gothic inspired Victorian typefaces? Then you've hit the jackpot in this layered typeface by Libertype .Co. With 3 styles plus vector ornaments, you'll be happy to add it in your toolkit.
19. Blackriver Font
Build beautiful classic creations quickly and easily using this font By Tobias Saul. Inspired by vintage packaging and advertising from the early 20th century, it's a must-have for every creative.
20. Controwell Victorian Typeface
Featuring 6 styles you can mix and match, this Victorian themed font by Alit Design is charming and practical. Plus, it looks great in both digital and print products.
Download Controwell Victorian Typeface
21. Victorian Decade
Bring your designs to life with real expression and clarity using this set from Fontsgood. You will get 17 fonts, as well as bonus vectors to complement your works.
22. Java Heritages
This multi-layered type family by Heybing Supply Co. is everything you need to breathe new life to vintage designs. You'll be glad to know the set also includes bonus vectors and badges to complement that traditional vibe.
23. Victorian Parlor
Painstakingly painted one character at a time, you can't go wrong with this old-fashioned Victorian typeface that comes with 350 glyphs.
24. Caniste Font Family
Have a passion for all things old but aesthetically pleasing? Then you will love this font family by Ilham Herry. Inspired from antique aphemera, labels, and cigar box labels from the 19th century, this all-caps serif is a work of art all on its own.
25. Victorian Fonts Collection
Make Victorian logos easily and effortlessly using this ornamental font. Multilingual and playful, it's the perfect blend of traditional and practical to make your modern projects shine.
Download Victorian Fonts Collection
26. Magnifika
Magnifika is a Victorian font inspired by vintage lettering with lowercase letters and is especially beautiful for displays and large banners.
27. Morning Glory
Morning Glory is inspired by the Victorian age of fashion, politics, and is a perfect Victorian font for bands, clothing, and albums.
28. Rumble Brave
Rumble Brave is a vintage, Victorian font with serif, script, and dingbat typefaces along with alternates, swashes, and ligatures. Great for beverage labels, logos, and anywhere you want a classic look and feel to your design project.
29. Sea Horse
Sea Horse is inspired by old victorian font typography and sign painting. Makes amazing vintage greeting cards, logos, and more.
30. Swashington
Inspired by a few letters in a hand-drawn Victorian style, Swashington is a serif font with both an early 20th Century feel and yet is evocative of the swash fonts of the 1970s as well. The real meat of this typeface comes with using all the swash and ligature variants.
31. Carllosta
This layered typeface by Letterhend studios was created using inspiration from vintage lettering in signs with a touch of artistry. Add more flair to your projects using the decorative ornaments included in this font package.
32. Royal Signage
Tobias Saul presents this classic font that will give your designs elegance and artistry. The special uppercase letters and up to 38 alternate characters make a fantastic blend with its set of over 40 vector ornaments.
33. Celestial Fonts
Victorian hand-lettering combined with modern classic typography gives us this exquisite gem from Fortunes Co. Bring a classical touch to your visuals while not losing modern aspects.
34. Desire
Take advantage of this great offer from Borges Lettering. This typeface boasts of a wide selection of upper and lowercase forms featuring delicate line flourishes that add a distinct style to your logos, headers, posters, etc.
35. Gibsons Co. Vol. 2
From Anxiety studio, this font family merges vintage patterns and a rough-textured appearance. Get the best out of this product for presentations that call for a classic aesthetic and also need a gritty, aged feel.
36. RageSoul (FREE)
This handmade display serif from NoahType is exactly what you need to create stunning modern invitations, logos, headers, banners, posters, business cards, and portfolios. You will get the Regular and Outline versions. Use one or combine both for unique effects that look amazing for modern times.
37. Black Savior (FREE)
Floral elements and decorative curves make this Victorian retro font by Tepikali Studio a classic addition to any designer's toolkit. Ideal for tattoos, invites, cards, posters, headers, logos, signage, apparel, and more. Includes OTF and TTF formats.
38. Peaches Blessed Font Duo (FREE)
This Victorian-inspired hand-lettering by Prioritype Co is great for projects that require a touch of old-world beauty. Use them together to create splendid results for various themes (e.g., fashion, branding, retail, etc.). For personal use only.
Download Peaches Blessed Font Duo
39. Dragon Slayer (FREE)
Slay those design projects – whether it's a game title, a t-shirt print, or a headline for a magazine editorial. This versatile blackletter font by Green Adventure Studio is sure to be a head-turner with its decorative details and lovely forms.
40. Caernarfon (FREE)
Traditional and ornate, this classic Victorian serif has all the makings of vintage typography. Showcase its magnificence in product packaging, logos, signage, invitations, logos, posters, and headlines. It will look just as marvelous paired with serifs or sans. Free for personal use.