With the growing use of various technological devices, it seems that the art of penmanship is a dying art. Perhaps gone are the days when people used their own handwriting for correspondence, books, or notes. Nowadays, one can simply use an app.
But beautiful penmanship has, and always will, contain a certain authentic feel to it. In fact, there was a time when elegant handwriting was a status symbol. Special schools and instructors came out to teach future scribes how to improve their handwriting. Back then, your penmanship can help tell someone a lot about you – from your sex to your occupation.
Missing that old-world feel? Well, dot your I's and cross your T's using these lovely handwriting fonts.
Handwriting Fonts
1. Mathelline
Inspired by luxury and branded items, Almarkha Type brings to you this classy script font with 2 styles (regular and italic) to choose from.
2. Shaloems Handwritten Signature Font
Make your invitations, stationeries, logos, and website headers come to life with this handcrafted signature typeface from Maulana Creative.
Download Shaloems Handwritten Signature Font
3. Winterfellia
Add an authentic hand-lettering brush style to your designs when you use this gem from Ferry Hadriyan.
4. Augusto
NiceStuffSupply especially created this font for logos, printed quotes, and other media where the feminine touch makes a better appeal.
5. Halimun Script Style
For a clean, handwritten feel, this script from Creatype Studio will suit those needs.
6. Helmwick Signature Font
For a touch of elegance to go with either serif or sans serifs, this AllenValley product will definitely suit your needs.
Download Helmwick Signature Font
7. Marthin Script Font
Elegant lines make this Subectype Studio product great for adding personal touches to different presentations and media.
Midnight Rider is a script handwriting font created with a dry marker with a quick and personal style. It includes over 300 glyphs with international characters, alternates, ligatures, and swashes.
9. Nirmana
Nirmana Calligraphy is a calligraphic handwriting font created with 326 glyphs with tons of alternate characters and multilanguage support.
10. Meritocracy
This full-featured font from Up Up Creative includes tons of alternate characters and OpenType features, giving it a look that resembles actual handwriting.
11. Father
Get a load of this casual script by ElvlNova. The set contains upper and lowercase letters, numbers, punctuation, ligatures, plus multilingual support.
12. Funky Signature
Ef Studio's typeface is ready to give you that 80's feel for personalized branding and other media where your brand needs to be remembered.
13. Unforgiven
This handmade calligraphy typeface offers not only basic letters, but also a unique set of ligatures for a fresh touch of style.
14. Witter
Danti's font combines classic calligraphy with a modernized dancing baseline to help you win on those corporate or contemporary projects.
15. Hafidz
RedyStudio made this signature typeface with a distinct swish and swash to give it that unique handwritten elegance.
16. Reinata Font Duo
Get TWO for the price of one in this fashionable and contemporary pair from Nug's Project. Buy now and receive a signature and a sans font that totally compliments one another beautifully.
17. La Parisienne
Energetic feminine styles for your presentation or media is achievable with using this NiceStuffSupply typeface.
18. Mocha Latte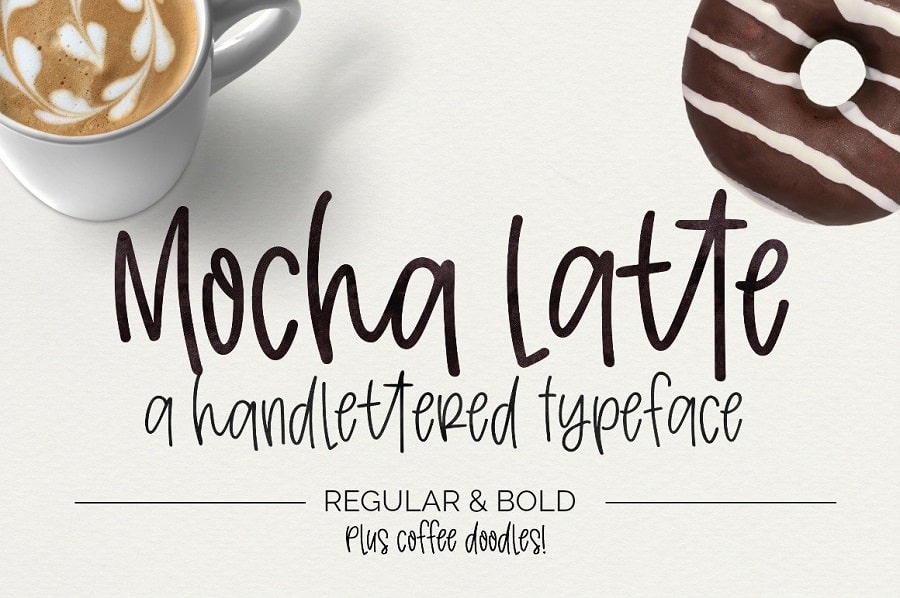 Sabrina Schlelger's font exudes that young, modern vibe and can be further accented with available coffee doodles.
19. The Styled Edit Chic Ligature Font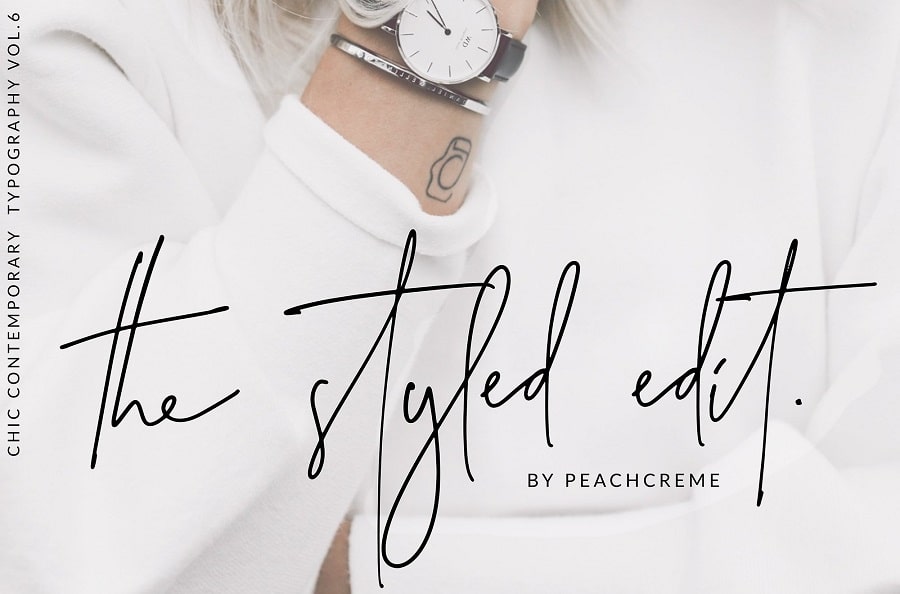 This PeachCreme creation is the crème de la crème to top off your blogs, invitations, letterheads, posters, or social media posts for a contemporary and sophisticated appeal.
Download The Styled Edit Chic Ligature Font
20. Moraine
Wooly Pronto's typeface boasts of two interchangeable styles to add personal touches to your designs.
21. Wild Love Fonts, Symbols & Logos
This complete set from Skyla Design comes with two compatible fonts, as well as symbols for easy, personalized designs.
Download Wild Love Fonts, Symbols & Logos
22. Aquamarine
This quaint font family comes from Sunkissed Minimalist comes in two handy weights: bold and regular.
23. Mr. Monty Handwritten Script
Lively and charming, this attractive font by Mr. Typeman will give your works the allure it needs.
Download Mr. Monty Handwritten Script
24. Charlotte Handwritten Font
Megi Satyo Widodo proudly presents this delightful handwritten typeface with a light, feminine touch.
Download Charlotte Handwritten Font
25. Santorini
Get the full package featuring upper and lowercase letters, multilingual symbols, numerals, and punctuations in this island-inspired signature font.
26. Modesto
Struvictory.art presents this handwritten font that features beautiful art deco and art nouveau motives.
27. Sweet Waves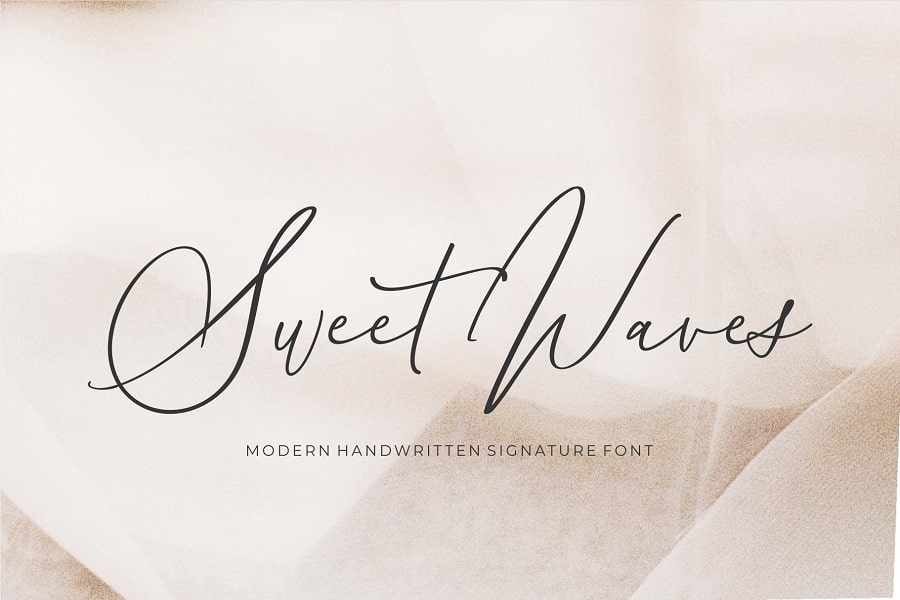 Dynamic and elegant, use this font from 50Fox to perk up posters, packaging, badges, logos, greeting cards, apparel, social media quotes, and more.
28. Handwritting
A result of pure handwriting, this is a must-have in every designer's toolkit.
29. Sebastian Bobby Handwritten Font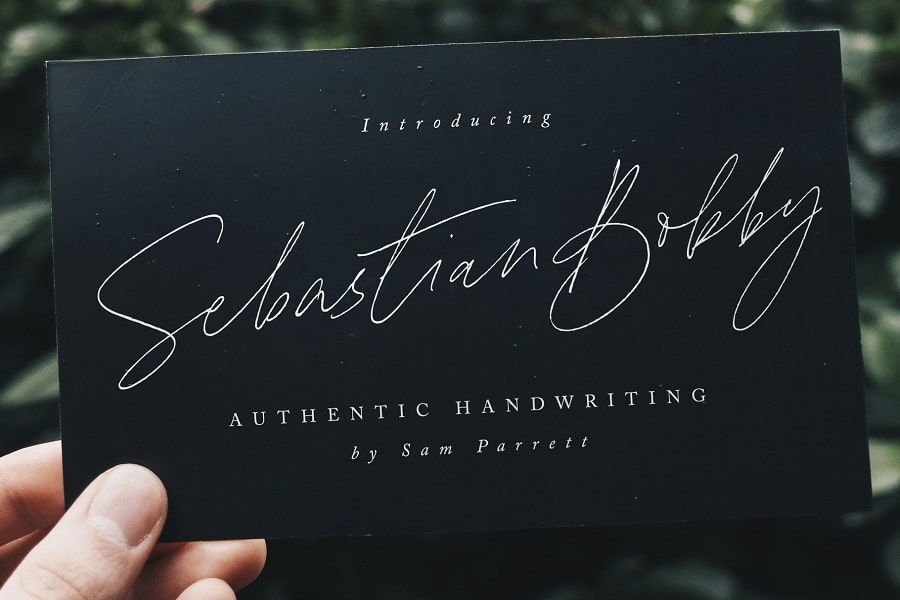 Crafted using a real fountain pen, Sam Parrett outdoes himself in this handmade product that includes 4 styles.
Download Sebastian Bobby Handwritten Font
30. White Oleander
A casual yet super elegant font that comes in 4 versions (Regular, Slanted, Upright and Compact), this gem by Nicky Laatz keeps it fresh and versatile.
31. Little Rose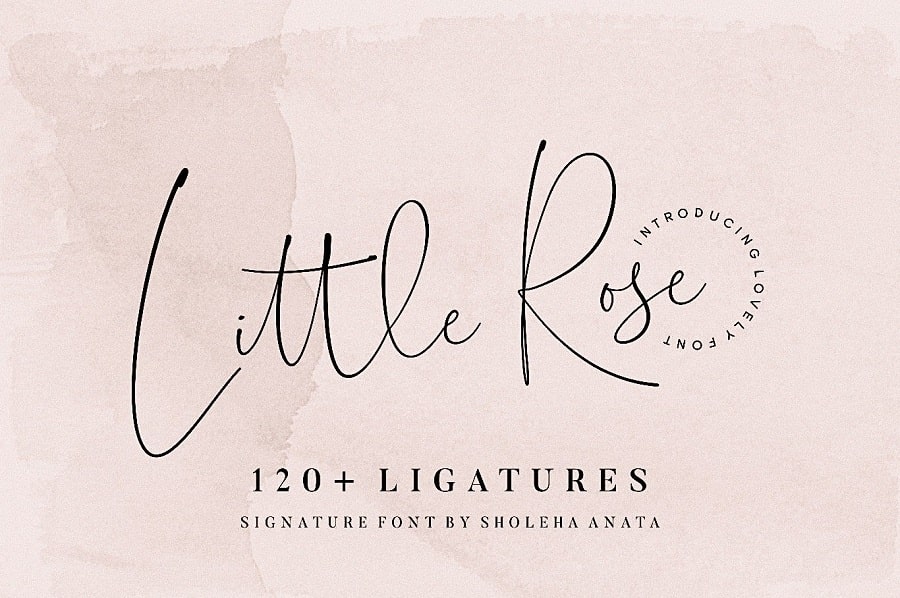 This gem from Antadesign combines calligraphy methods with modern handwriting.