Last Updated on January 21, 2022
One of the periods in human history that has fascinated many people is the medieval times. Who can resist stories of knights, dames, kings, and queens?
To some extent, perhaps you too, have dreamt of looking down from a tower as a troubadour serenaded you. Or maybe you wondered how the life of a knight was like: with sword fights, battles, and chivalry.
Middle Ages vs. Medieval Times vs. Dark Ages
The timeline covering the medieval period is from 500 AD to 1500 AD, which is roughly 1,000 years. Most people like to use the three terms – middle ages, medieval times, and dark ages – interchangeably. But experts will tell you there are slight differences.
The middle ages refer to the timeline from the fall of Rome to the beginning of the Renaissance. Scholars also prefer to call this era as the medieval period. Many are familiar with the latter term because it calls to mind castles, monasteries, cathedrals, peasants, and crusades.
The dark ages on the other hand, is what historians like to refer to the period when not much was known after the fall of Rome. Hence, everything was left in the 'dark'.
Significant Events During the Medieval Period
Perhaps one of the most infamous events during the medieval times was the 'Black Death'. The then mysterious plague – now known as the bubonic plague – was said to have killed over 20 million people, roughly 30 percent of Europe's population. Because of cramped cities, poor hygiene, and little knowledge in medicine, the disease was easily transmitted and lasted for about three years.
Another notorious happening of that time was the crusades. Started in 1095 by Pope Urban when he ordered a Christian army to Jerusalem, the battles were on and off until the 15th century. One of the signals that the crusades were eventually coming to an end was the siege of Acre, in 1291. In 1312, even the famous Knights Templar was dissolved.
Many experts associate the medieval period for two things: barbarism and religion. Devotion to the church birthed Romanesque cathedrals and monasteries. Before the invention and large-scale use of the printing press, there were handmade manuscripts written in gold and silver lettering with intricate adornments and sacred illustrations.
Powerful Medieval Fonts
The medieval period wasn't just a time of barbarism, plagues, and dark architecture. These stunning medieval fonts will hopefully help you showcase what was good and beautiful during that misunderstood era.
1. Cambridge
Command the respect from your fiefdom and turn heads with this medieval gothic font. It's perfect for logos, movie posters, book covers, signage, labels, apparel, or just about anything that needs an imposing yet stylish feel.
2. Pollyester Blackletter
Designed by Maulana Creative, this sharp decorative serif is handmade to look like intricate lettering from days past. The pack comes with ligatures, stylistics, and includes multilingual support for your convenience.
Download Pollyester Blackletter
3. Greatwoods
Hardcore and hand-lettered, this gothic gem from Typia Nesia Std can be as dark or as stylish as you want – it all depends on your imagination. Use it on shirts, album covers, logos, posters, editorials, and blogs, what matters is that you have fun with it!
4. Distorsi Blackletters
Inspired by metal bands, Holismjd crafted this one-of-a-kind sans that's a scene-stealer even by itself. Keep on rocking when you apply it to your photos, music covers, apparel, and more.
Download Distorsi Blackletters
5. Poison Freak
A decorative sans serif by Alit_Design, it's inspired by black lettering reminiscent of old world gothic style. Tweaked for the modern generation, this product comes with a bonus vector set you can customize suit your needs.
6. Solaire Rough
MehmetRehaTugcu proudly presents this fantasy-themed font with a runic feel that will look amazing on your posters, game designs, and book covers. Use the caps lock to toggle between alternates (available for select letters only) to give your works more character.
7. Livingstone
Need something striking for your vintage wine bottle labels or old-school logos? Then get a load of this decorative blackletter font by StringLabs.
8. Wilson Wells
This no-nonsense blackletter gothic font needs no introduction. It comes with stylistic alternates, ligatures, multilingual support, and even works on Microsoft Word.
9. Old Charlotte
Bold, strong, and timeless, this gothic typeface from Naulicrea is everything you need to create that otherworldly, dark atmosphere you've seen in vampire and medieval movies – except this one is readable, utterly gorgeous, and has modern influences.
10. Aceking
As they say, don't go into battle empty-handed. In the battle for the best typography, you'd want something solid, reliable, and can hold its own – just like this beautiful vintage display font.
11. Restora Neue Bold
A mix of old-style roman serif styles, this font from Nasir-Udin features a neater shape and higher contrast. Versatile enough to be used on book covers, product packages, and business cards, it's also unique enough to be applied to branding and editorials.
12. Mythshire
Crafted by Twinbrush, handwritten script is rich in personality and loaded with a full set of alternate characters (upper and lowercase), plus over 40 ligatures to play with. Elegant, organic, and somewhat medieval, this will be your go-to typeface for anything related to the Middle Ages.
13. Rozex
Whether it's for a tattoo design or a mural template, this decorative serif has the character and attitude that packs a full punch.
14. Brightfate
This bold serif is a combination of medieval lettering styles with urban street wear themes. Designed by Reza Rasenda and Riska Candra Dewi, the product includes alternates, ligatures, stylistics, and multilingual support.
15. Bullgine Blackletter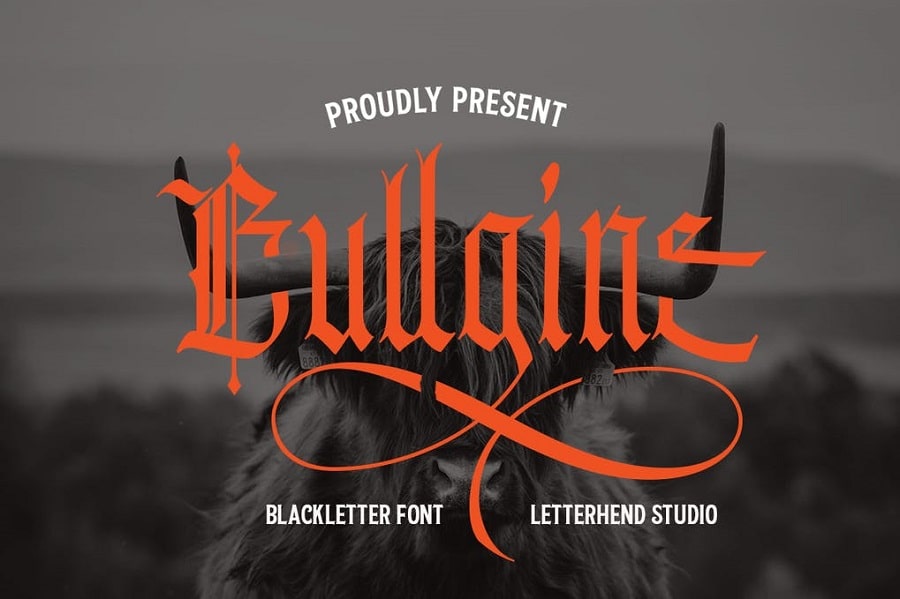 Letterhend presents this modern gothic blackletter that can be applied to both professional and informal projects. You can access all glyph variations when you use programs like Adobe apps and Corel Draw.
16. Lordish
Embrace your dark side in this unique blackletter font by CreativeMediaLab. It will look amazing on your apparel, tattoo, album covers, posters, labels, and more. Product also comes with ornaments and logo templates.
17. Odd Times
Gleb_Guralnyk brings to you medieval blackletter typeface influenced by old fracture calligraphy. Decorative with handwritten touches, it's best used on apparel, posters, book covers, and branding.
18. Black Baron
Densely black with slightly decorated caps and angular forms, Mihis_Design gives you this medieval serif that more regal than it looks. With its modern appeal and alternating thin and thick strokes, it's flexible enough to be applied to just about any project.
19. Belmont Regular
Bring those fantasy themes to life when you use this medieval font family from MehmetRehaTugcu. Its clean look and old-school touches lend just the right flair for logos, book covers, and posters.
20. The Ancient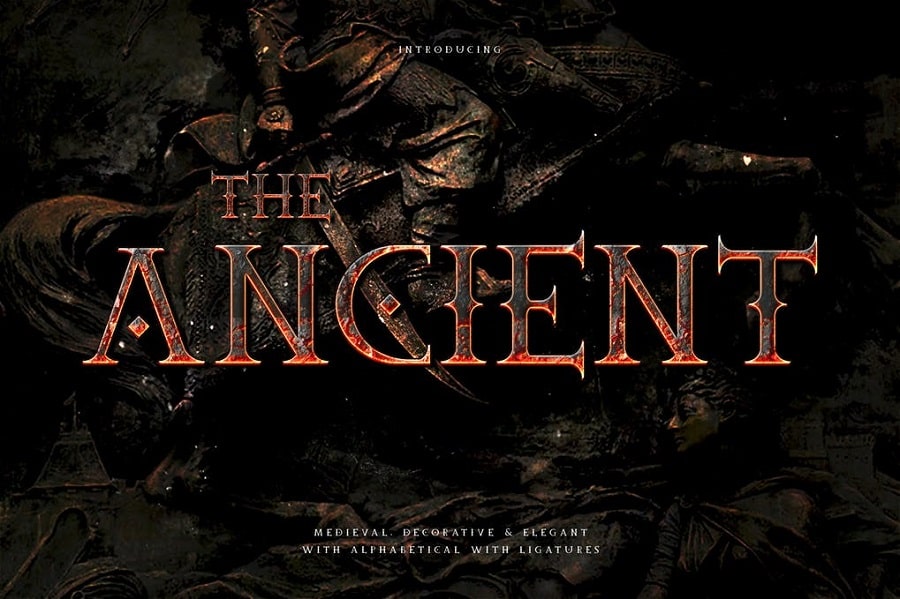 Impress audiences and clients when you apply this medieval sans to your works. Powerful, sharp, yet retains readability, it's the perfect font for postcards, logos, business cards, book covers, game apps, and web pages that hark back to a time of lords and knights.
21. Candelabra
Candelabra is a blackletter, medieval fonts set full of ligatures, numerals, and punctuation. Includes a set of 8 hi-res layer styles are included, plus 10 flares for adding a magical finishing touch!
22. Arkana
Arkana is a breathtaking fantasy typeface. It includes upper, lowercase, special characters, numbers and punctuation. You can use this font for a variety of projects. It's perfect for books, video games, movies or any other kind of publishing or production in the fantasy genre.
Test this font by typing here