Last Updated on August 17, 2023
Regardless of what your profession happens to be or how little you might write, I can guarantee that you have seen thousands of different forms of typography in action throughout your life. Typefaces can range in size and shape and are everywhere, on traffic signs, billboards, buses, pieces of paper, or bottles and packets of sweets and crisps, to name but a few examples.
However, typography is not as straightforward as writing in a fancy way on a piece of paper, it is well planned and thought out to have maximum effect. This article looks to give you a better idea of what typography is and what books are best suited to give you, whatever your skill level, something new to apply to your arsenal.
What is Typography
Put simply, typography is the Style and appearance at which a piece of text is represented. There are countless examples of typography in everyday life.
The art of typography is the procedure of organizing or processing letters into order for a specific reason or as a form of art.
Typography is important because the right font or type can communicate your intended message nicely, whereas a bad typography can ruin your brand's intended message entirely.
Are there any rules?
There are always rules to be applied to any discipline, but generally, there are 5 rules that you should look to follow:
Balance that conveys a consistent structure
Hierarchy that defines organization and direction
Contrast to emphasize highlights
Repetition to create consistency and familiarity
Alignment to present a sharp and structured image
In addition to this, layout, white space and color are essential elements of typography basics. It's important to look at the shapes created by the words and letters.
Challenge your brain to look beyond what the word "says" and more closely at how it "looks." This is a mantra used by corporations around the world, "show, don't tell".
White space is also used as a print and web design strategy to make text look less busy and more pleasing to the eye. It's important to have a comfortable balance between the text and graphics and the empty aka white space of the blank background.
6 Quality Typography Books
1. Typographie by Emil Ruder
This book is seen as one of the seminal books on typography. The book is currently in its 6th revised edition, but its content and black, white, red, yellow and blue illustrations remain timeless and are still utilized.
It is quite an expensive book to buy, costing up to $80 without shipping, but it is worth it for the real lovers of the typographic craft who wish to honour the work of Ruder, the man who founded the Swiss Style.
2. The Elements of Typographic Style by Robert Bringhurst
Released in 1992 by Canadian typographer Robert Bringhurst, this book is another classic typography text. It is regularly referred to as the "Typographers Bible", and it is easy to see why, especially when you consider its combination of practical, theoretical, and historical approaches, it caters to everyone.
It is close to 400 pages long, is available for around $20 in paperback, and has been translated into several different languages, what's not to love!
3. Thinking with Type by Ellen Lupton
Published in 2007 and republished in 2010, this book is seen as a critical piece of text for any designer, writer or editor. It contains notes on the latest fonts and styles and how they can go in and out of Style, historical observations, and theories.
The aim of the book is to get the reader thinking of how they can use typography in visual communication and how that might work. The book covers all typography essentials, from typefaces and type families to kerning and tracking to using a grid. Visual examples show how to be inventive within systems of typographic form, including what the rules are and how to break them.
4. Just My Type by Simon Garfield
Published in 2010, this is a rare hybrid of a book in that it combines practical tips, text, and even a little comedy! Garfield gives a great overview of the 500+ year history of the typographic art discussing everything from the T of the Beatles logo to the fonts that presidents have used to get them elected and why that is so important.
He also investigates a range of modern mysteries, including how Helvetica took over the world, what inspires the seeming ubiquitous use of Trajan on bad movie posters, and exactly why the all-type cover of 'Men are from Mars, Women are from Venus' was so effective. Nothing is off-limits, and it makes for a great book on typography.
5. Scripts by Steven Heller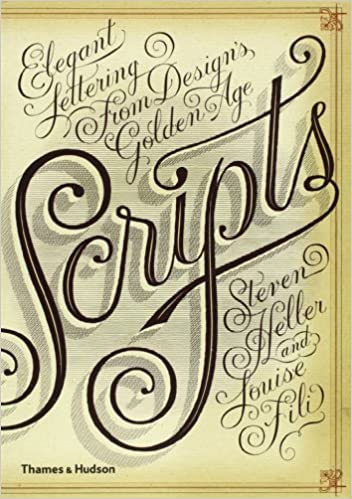 One of the most appealing looking books on the list, Scripts by Steven Heller is a brilliant guide that looks to analyze different typefaces in advertising, the media, on the streets and in shops.
The pages are beautifully laid out and give hundreds of examples of different and exciting fonts and writing types. It prides itself on being the first full compilation of types and typefaces from all across Europe and the world, giving readers countless examples.
6. The 3D Type Book by Tomi Vollauschek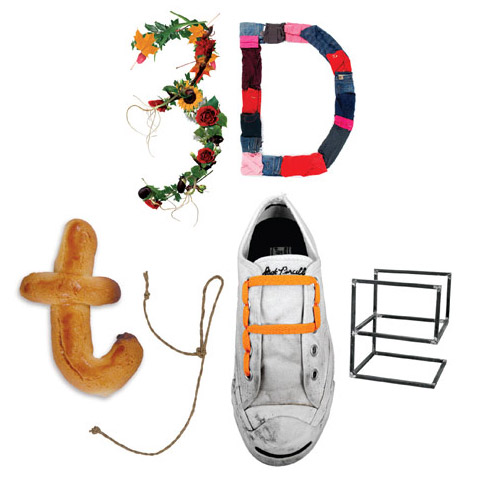 This is yet another great book on typography, but it looks to approach some type forms a little differently. It deals with three-dimensional typefaces across over 1300 images.
From toothpaste typography to sperm alphabet to typo-noodles, the book's typographic specimens both make us see with new eyes the seemingly mundane building blocks of language and reconsider ordinary objects, materials, and media as extraordinary conduits of self-expression.
It is available for around $5 on Amazon in either Kindle or paperback format, and it gives readers a look into some more innovative kinds of typography.
5 Honorable Mentions
Here is a small list of Typography books that may not have made the top 6 list but are still highly important in helping people understand the ever-evolving craft.
FAQs
What is Typography?
Typography is the appearance of texts in various forms. It is extremely common and is judged based upon the different fonts in which it is written. It is designed to be visually appealing to the reader.
Where would you find typography in everyday life?
Typography is an important part of our everyday life. We see it almost everywhere we look- on websites, street signs, food packaging, promotional posters, in the videos we watch and even in the books we read. We see typography everywhere, and often we fail to realize what it even is!
How did the art of Typography get its name?
The word Typography is taken from the Greek word "Typos", meaning "form, and "graphein", which means "to write",. So its rough translation is "To write in a particular form".
What are the baselines in Typography?
There are five primary typography lines: the baseline, the cap line, the top line, the midline, and the beardline.
What is the easiest way to learn typography?
To get a better grip on the basics of typography, there are a few steps that you can take. For one, spend time studying and learning the art. Secondly, take note of font communication. Typeface selection is hardly a random process. Merely searching through your font catalogue to choose a font you personally like rarely create an efficient result.