Last Updated on June 14, 2022
Blackletter is an old ornate style of typeface – usually Gothic in design – that was widely used in Western Europe during the 12th century. Since then, creatives have done an excellent job of making different variations to it: from the elaborately classic, to something simpler and more modern.
Thanks to its unique look, blackletter fonts can be used to add an old-world charm to any artwork. If you're in the market for them, then browse through this collection of the best blackletter fonts.
Beautiful Blackletter Fonts
1. Hikma – Arabic Style Typeface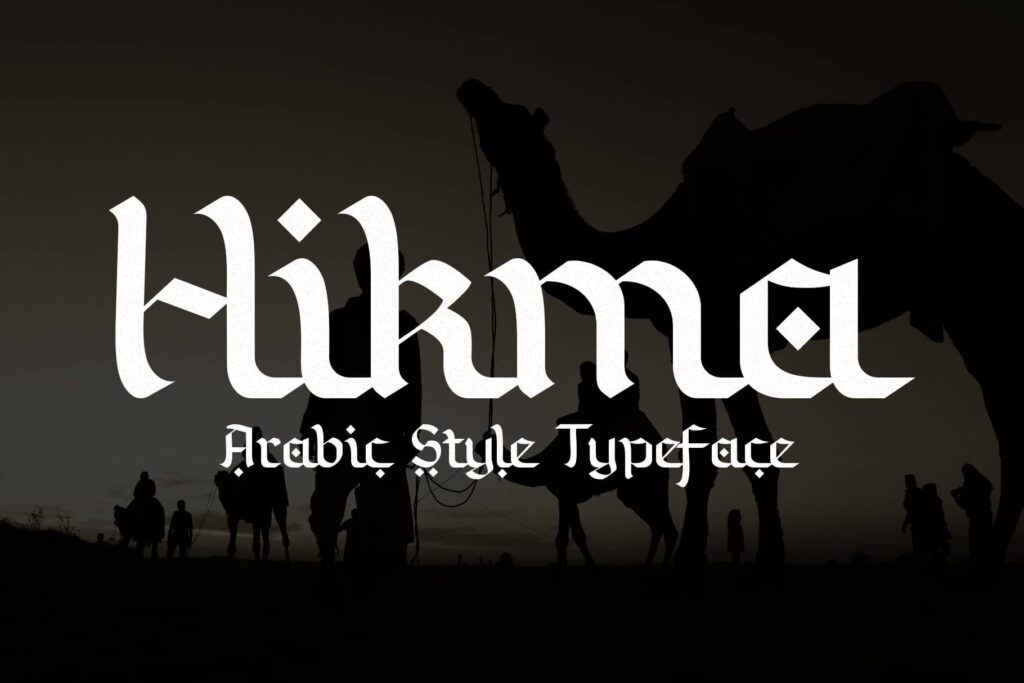 Hikma is a unique Arabic style typeface with 35 beautiful ligatures. Inspired by gorgeous Arabian calligraphy, this font is suitable for any Islamic or Middle East content. Hikma is perfect for branding, photography, product designs, stationery, wedding designs, invitations, watermarks, advertisements, labels, product packaging, special events and much more.
2. Cattedrale
Cattedrale is a gothic, blackletter font featuring four styles plus ornaments. Includes uppercase, lowercase, currency, punctuation, and multilingual support. Perfect for tattoos, clothing, and any other gothic-themed project.
3. Osgard Pro
Osgard Pro is a powerful, luxurious blackletter font that adopts Romanesque typography's fluid elements and combines it with a gothic style. Includes 1000 swashes, pre-made ligatures, and alternates.
4. Othelie
Othelie is a bold blackletter font that comes in two versions and tons of alternates. Get inspired by its fashionable Gothic appeal!
5. Tendencious
Tendencious is a bold, gothic, blackletter font with a vintage look and feel suitable for book and movie titles, logos, bands, and events.
6. Millennium Blackletter Typeface
Headfonts brings to you this super versatile blackletter font that you can use for futuristic or urban projects as well. Featuring two styles – Regular and Round – you can shift from the past to the future in an instant.
Download Millennium Blackletter Typeface
7. Odd Times Typeface
Gleb Guralnyk introduces this elaborate font inspired by old fracture calligraphy. Download it today and receive cool bonuses such as watercolor blotch textures, a lettering composition slogan, as well as a flying fish vector illustration.
8. Black Baron
Imagine the ornate medieval script lettering with just a touch of retro – this is the finished product from Headfonts. Perfect for vintage designs to street-inspired projects, this is one typeface you'll be glad you had in your arsenal.
9. Spearhead Typeface
Believe it or not, you can use this typeface from Headfonts to induce an industrial feel to your works. A combination of gothic culture and modern fonts, it's a great addition to any designer's toolkit.
10. The Liquor Collection
Bart Wesolek proudly presents this font bundle that has everything you need to start making authentic vintage designs immediately. Featuring 19 exclusive display fonts, 15 premade logo templates, plus a handy character map, this is one of those deals that pays for itself tenfold.
Download The Liquor Collection
11. Harbour
Inspired by the hand-lettering of the 19th Century, this gem by Vintage Voyage Design Co. comes in 4 lovely styles you won't want to miss. Use them for logos, posters, packaging, labels, invitations, apparel, and more!
12. Wall Axe Font
Create sophisticated designs in a snap using this pretty typeface by Tirta Craft. Clean, classic, and available in two seamless styles with stylistic alternates and ligatures, it's a must-have for every vintage lover.
13. Ravenholm
Gothic doesn't have to mean unreadable. This fresh typeface from NREY is a good example. Use for personal or commercial projects and see how it can make your works truly pop.
14. Backyard
For designs that need a clean, seamless feel to them, opt for this classic typeface by Mans Greback. With rounded edges and 4 beautiful variations, this blackletter typeface can adapt to almost any situation.
15. Archive Copperplate Text
Get that authentic medieval look in minutes with this display typeface by Archive Type Fonts. Consisting of just the basic character set, this was done to preserve the genuine feel of this old-world font.
Download Archive Copperplate Text
16. Ole Ingrish Font
Create unexpected Gothic works with this offering from PixelMoshpit. Don't be limited by old, classic themes. Feel free to play it up and use this typeface for modern, light-hearted projects such as on apparel, logos, headlines, and greeting cards.
17. Whisky
This font family from Corradine Fonts is everything you want and more in a contemporary blackletter font. With 7 weights, each with an inline and fill variation, you can experiment with totally distinct looks in just minutes. Use each typeface separately, or layer on top of one another to create something exclusively yours.
18. Amstrong Typeface
Make a strong first impression with this gem from Rvq Type Foundry. Ideal for logos, apparel, headlines, titles, and even tattoos, this pack includes upper and lowercase characters, plus beautiful ornaments to build an edgy effect.
19. Unlucky BlackLetter Font
If you're looking for a retro font with the right hint of Gothic blackletter, then this one's for you. Crafted by RetroSupply Co., it's the best typeface for delivering unforgettable content.
Download Unlucky BlackLetter Font
20. Karson Blackletter
There's nothing like a modern blackletter font to create edgy designs that fit the streets. Karat Design definitely delivers in this pack that features 4 styles you can mix and match to suit your tastes.
21. Giureska Font Volume
Love Gothic fonts but disappointed at their readability? Then check out this amazing revival from URW that features legibility while still retaining the classic medieval feel of each character. Perfect for all kinds of projects – no matter which font size you choose!
22. Rising Sun
Inspired by the works of Gering and Remboldt during the late 1490s, this gem from Proportional Lime evokes the original retro look. With over 900 defined glyphs, it's only a matter of imagination to what you can create.
23. Dark Angel™
If you're looking for the best typeface to complement your dark, Gothic, or vampire-themed designs, then look no further than this beautiful blackletter font from MichaelDoret/AlphabetSoup. Featuring swashes, tails, and lots of ligatures, it comes in 3 styles that are sure to make your designs stand out from the rest!
24. Lupulus
Inspired by German expressionist and type designer Rudolf Koch, this highly versatile font comes in a total of 16 styles. Created by W Type Foundry, it's perfect for projects that need a modern or Gothic feel to them.
25. Eagle
Make something unique today when you download this offering from Noah Kinard. The pack consists of the original font plus a beautiful inline counterpart. Use together or separately to achieve an exceptional effect.
26. Cambridge
Cambridge blackletter font is a bold, hand-lettered, decorative typeface with a medieval gothic feel. Perfect for calligraphic, single word titles, featuring basic Latin letters, numbers, punctuation, and alternates.