Last Updated on June 27, 2023
Are you looking to give your company or brand logo a new and modern edge? Do you want to create a brand identity that is memorable and interesting to potential customers and proves your worth to competitors? Well if the answer is yes, then you are in the right place. 
These Raven-themed logos are stylish, modern, sharp and elegant and will make any brand or business stand out in all of the right ways. Use them for merchandise, promotional posters, flyers, or on social media to build awareness and increase trust in your company, you will be happy that you did. 
The raven has a range of meanings, one of the most common is death, however, there are certain connotations with rebirth as well however, which is the perfect way to use your raven logo to your advantage. Download one of the Raven logo templates below and use it to symbolize the birth of a new age for your company or brand. 
Why use a team/brand logo? 
Regardless of the design that you use on your logo or badge, there are a few key reasons as to why you should get a team logo or badge designed. This is crucial if you are building a brand or rebranding a company altogether.  
What makes a good logo? 
A good logo is one that aligns and feels appropriate to your industry or service. If you're a professional services business (vs. a product) usually simpler is better. We often design wordmarks or typographical logos for clients b/c that is all they really need.
It's designed in such a way to differentiate you from everyone else and fosters brand loyalty. How? It has meaning built within it. Why? Because your businesses' belief system, core values, purpose, mission, and vision are what your brand is built around. It's what people remember and tells their friends about; not your logo.
No one really cares about your logo (except for graphic designers, or those with an eye for design). What people really care about is their experience with your service and what your brand is advocating. Good design not only looks professional on the surface, but it also signifies something deeper. Which begs the question, why use a raven in the first place? 
A good logo needs to be 3 things, we call it the Three M's
Minimal 
The world of marketing and branding moves at a million miles an hour.
Simple logos focus on highlighting the most important parts of a brand's personality with limited real estate. This includes focusing more on aspects like colors and fonts as well as on distilling ideas into their simplest form. For instance, a symbol is a powerful way of creating simplicity, as it can instill a mental association with a particular set of values or ideas.
Other great designs for a simple logo include letter and word marks, which dispense with images and focus instead on communicating brand personality directly with fonts and colors. Overall, the most important aspect is to focus on using as few elements as possible to communicate your brand's identity.
Memorable
Another key aspect of a good logo is that it is memorable, even from the first time you see it. The goal of a logo is to create a connection with a consumer and generate interest in your brand. When consumers can easily recall your logo and brand, they are more likely to connect them with your company. Logos that are easy to remember and produce a strong impact are valuable because they help your brand stick in consumers' minds.
Memorable logos combine many of the elements discussed above, but they find the right balance between the visual and textual aspects. More importantly, they clearly and cohesively communicate your brand's personality and tone.
Let's not forget that a memorable logo needs to be unique in its design. If you stand out, then you are well on track to creating a larger customer base. 
Malleable 
Last, but certainly not least, a good logo can be used in a variety of ways, shapes, and situations. For example, a logo you can only use in one size online is not very good, as it limits the ways you can expose your brand to the world. On the other hand, choosing a logo that can be resized, printed, or placed on different media makes your brand significantly more visible.
One of the easiest ways to make your logo more versatile is to think about what format you create and save it in. Traditional photo images may pixelate when you resize them, but vector files are built to be scaled
Why Use a Raven?
As their color might suggest, the ravens are symbolic of darkness, and along with it, everything that is negative and mysterious: death, wars, despair, loneliness, and so on. However, they also have a positive side to them and can represent protection, intellect, resourcefulness, dignity, confidentiality, and respect. 
Regardless of the size or age of your company or brand, it is important to convey specific core values and attributes. The raven is full of positive symbols that your company can take advantage of. 
Birds in general are actually a hugely popular symbol with a variety of companies and sports teams, a range of football teams use birds in their names and with their logos, and big companies like Duolingo, Armani, Hollister, Twitter, or Penguin Books all use birds in their logos, so never be afraid to choose a bird as the main logo design for your company. 
Unique Modern Colorful Robot Raven 
Crow Logo 
Raven Crow Key Black Bird Monoline Logo 
Download the Raven Crow Logo here!
Blue Raven Sport and Esport Logo 
Raven Crow Geometric Polygonal Logo 
Download the Raven Crow Logo here!
Raven Crow Logo 
Raven Color Mascot Logo
Download the Raven Color mascot logo here!
Pack of Linear Raven Tattoo 
Download this awesome image pack here!
Raven Logo Template 
Raven Skull Logo
Raven King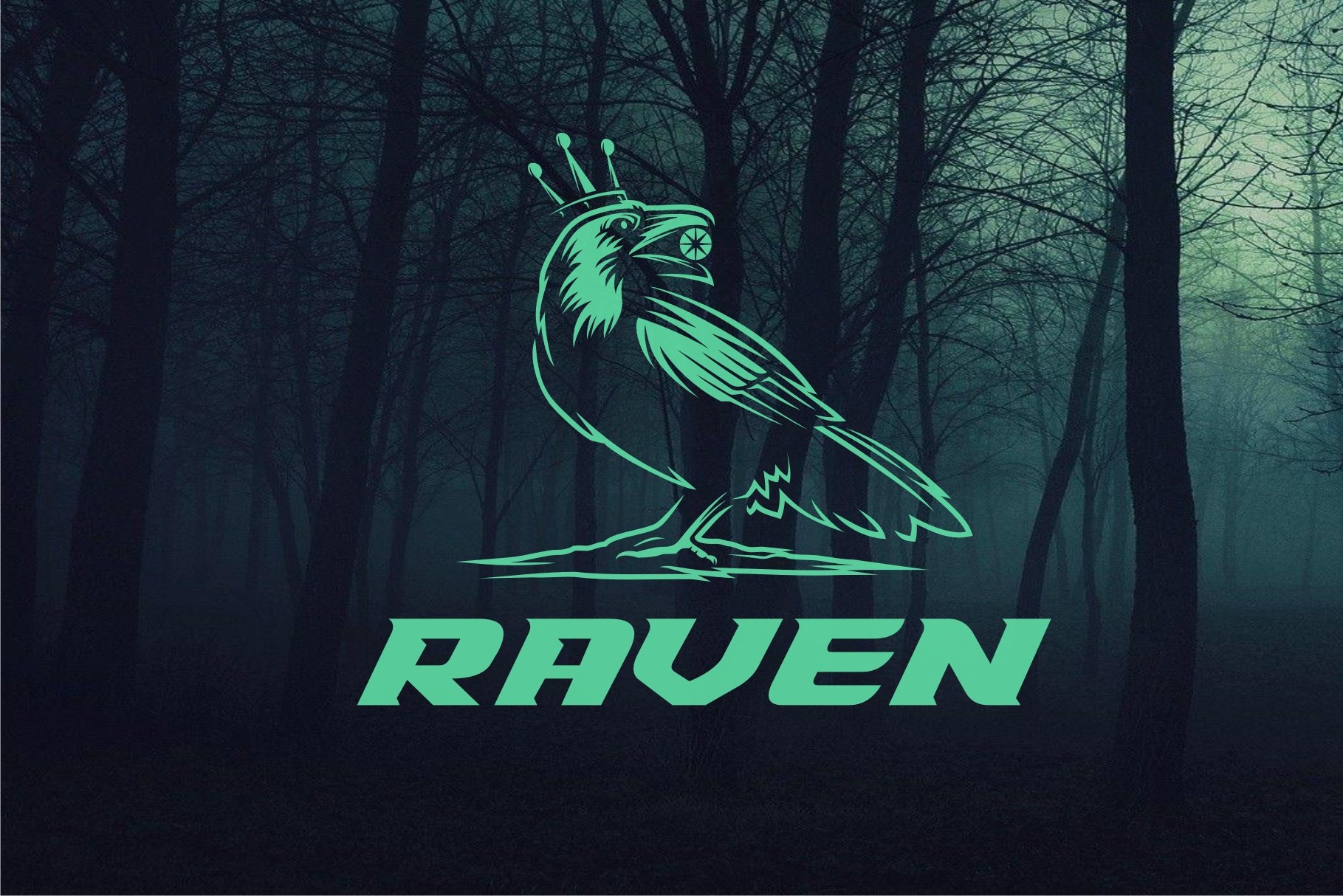 Raven Logo 
The Raven 
Raven Logo 
Raven Logo 
Raven Logo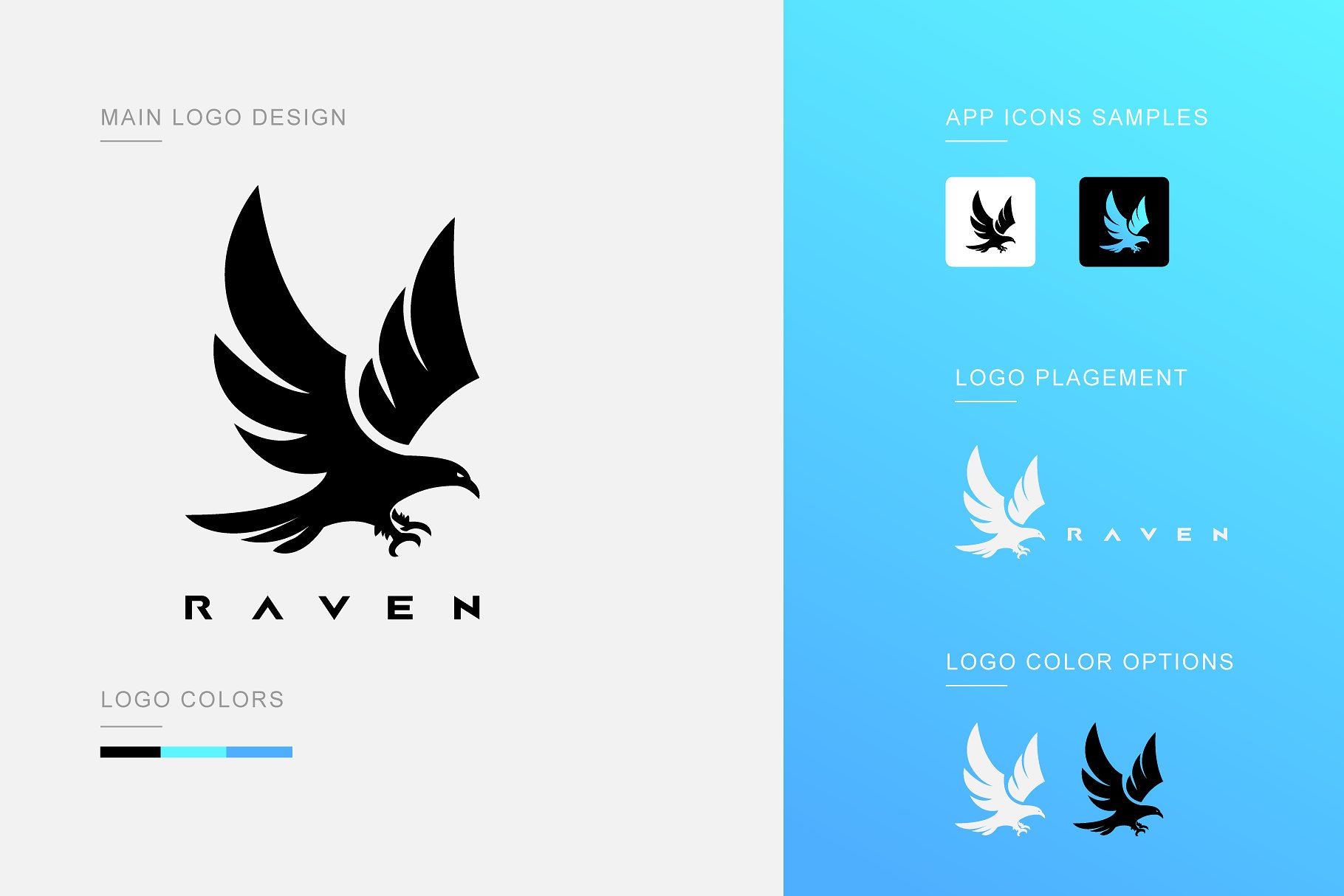 Raven 
Crow Logo 
Raven Logo 
Download the Raven Logo right here!
Raven Mountain Logo Template 
Download the Raven Mountain Logo here!