Creating good Arabic fonts is a challenge – despite the various design courses and digital devices we now have at our disposal. That's because typeface design has been, for the most part, aimed at Latin languages. Regular typography design just can't accommodate the complexity and different contexts of the Arabic tongue.
One common problem is that the usual Arabic fonts available are either too small or can't include modern changes to the language. However, more and more creatives are meeting demand. Thanks to different online platforms, the number of beautiful and legible Arabic fonts is increasing.
Don't dismay if you haven't found the right Arabic typeface to use in your project. Take a look at this collection and see if maybe the right font was just hiding here, all along.
Beautiful Arabic Fonts
1. Hikma – Arabic Style Typeface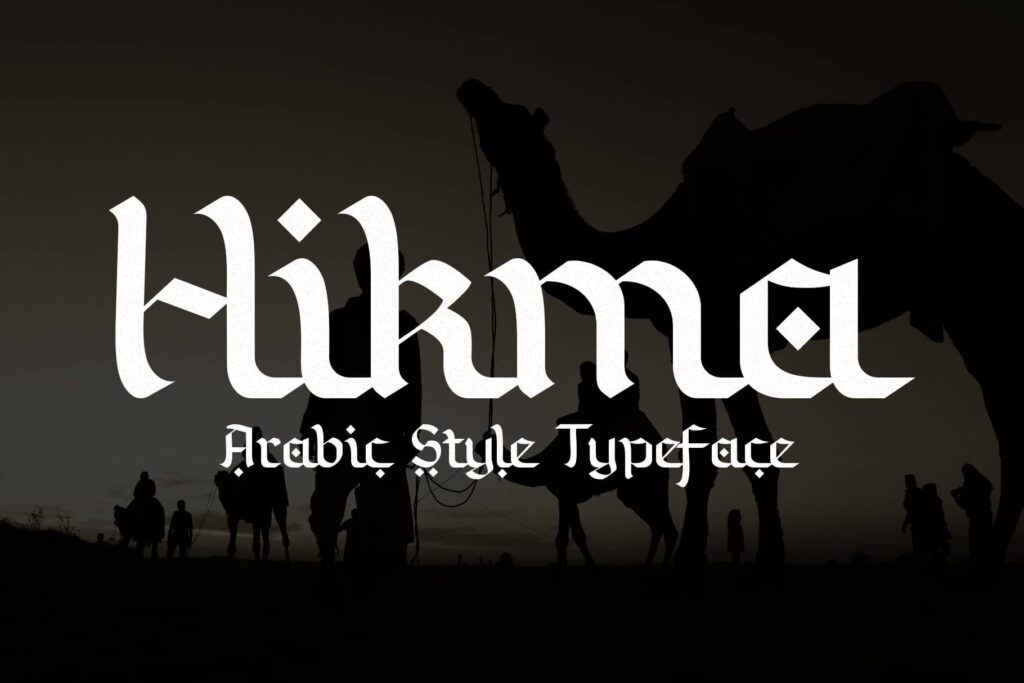 Hikma is a unique Arabic style typeface with 35 beautiful ligatures. Inspired by gorgeous Arabian calligraphy, this font is suitable for any Islamic or Middle East content. Hikma is perfect for branding, photography, product designs, stationery, wedding designs, invitations, watermarks, advertisements, labels, product packaging, special events and much more.
2. Mideast
Inspired by Middle East calligraphic shapes, this bold script from Konstantinestudio is ideal for edgy or boho concepts. Use it for Arabic design, branding, logos, music, fashion, and more.
3. Rakhisa
Fun, bold, but still readable, this decorative sans serif from Tokokoo brings an ethnic, Middle East vibe that's still friendly and joyful.
4. Tharwat
Whether you're working on Ramadan posters or travelogues, this solid sans captures that unique look while remaining legible. Works on PC and Mac.
5. Aslah Turkish Font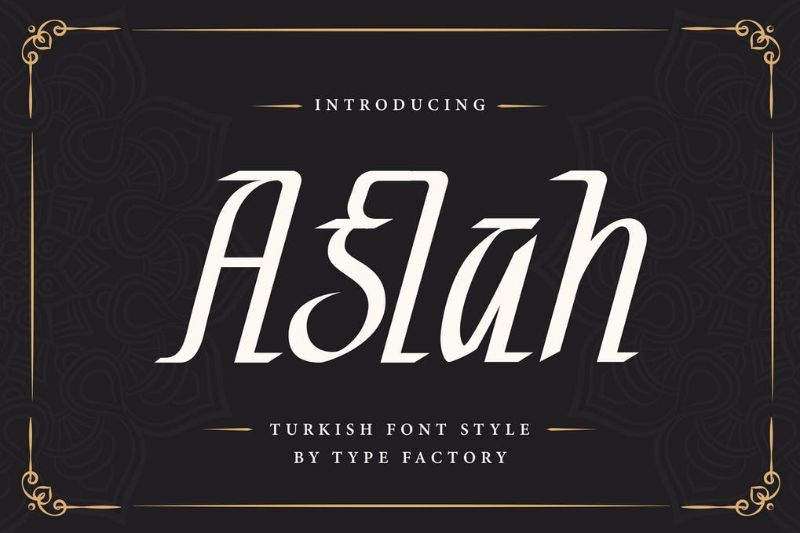 Typefactoryco brings you this beautiful font inspired by Turkish aesthetics. Contains ligatures, alternates, and multilingual support for your convenience.
6. King Malik
Stylish and decorative, this lovely serif can be used on book covers, headlines, photobooks, greeting cards, and more.
7. Saihat Arabic Typeface
Latin characters wrapped in gorgeous Middle Eastern style calligraphy, Alit Design gives you this elegant typeface that has plenty of uses, from print to digital projects.
Download Saihat Arabic Typeface
This versatile font does not completely follow traditional directions of Arabic scripting. This results in a totally readable product that looks good on print or on the Web.
14. Nishan, Arabic Typeface
This unique font combines the spirit of ancient Kufic inscriptions with the elegance of contemporary Arabic writing. Available in three weights (Light, Regular, Bold).
15. Rawaj, Arabic Font
This font family fuses visual features taken from three common Arabic handwriting styles: Kufic, Ruqu'ah, and Naskh. Available in three styles (Hollow-outlined, Heavy, and Transitional Heavy), add this beautiful typeface to your collection today.
16. Shafrah, Arabic Font
A unique typeface based on distinctive Arabic handwriting style with ancient Egyptian flavor, this set also comes with an extra stylistic set inspired by Hieroglyphs.
17. Kufigraph, Arabic Font
This display font features distinct geometric structures, unlike the traditional anatomy of the Arabic script. Completely re-designed to meet the new structure and to develop a unique typing experience, enjoy this product in three weights: Light, Regular, and Bold.
18. Enferad, Arabic Font
Use this non-cursive Arabic font for your creative headlines, titles, or logos. Available in a single weight with geometric structures and smooth, rounded edges, this typeface is as practical as it is beautiful.
19. Ebhaar, Arabic Font
In Arabic, it means "dazzle". Thanks to the beauty of its brush-pen lettering combined with the traditional features of Arabic calligraphy, you are sure to dazzle audiences, too!
20. Zahey, Arabic Font
Working on publications, web, or print projects? Then make a statement using this typeface that boldly merges geometric structures with traditional penmanship for a vivid look.
21. Lavah Pro
This upgraded version from Protype is narrower and features a grunge, rough style that will be amazing on vintage posters, branding projects, or ads.
22. Kahraman
As a word that means 'amber' in Arabic, this display font from Mostafa El Abasiry was inspired by the folk tales of One Thousand and One Nights, giving them that gorgeous, spontaneous look that will pair well with illustrations.
23. Falak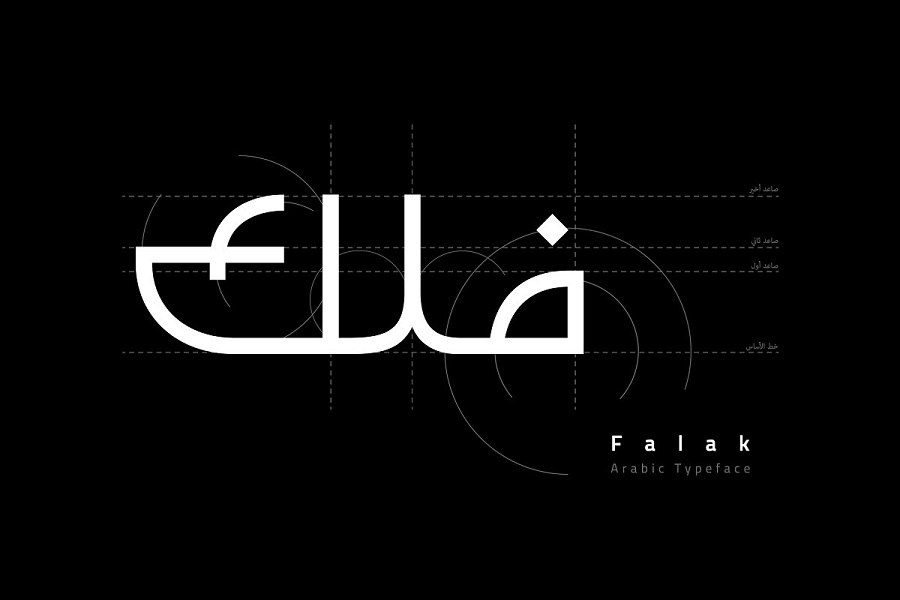 Laced with astronomy and natural science themes, this display font has rounded letterforms that make it suitable for both corporate or personal creative pursuits.
24. Mawzoon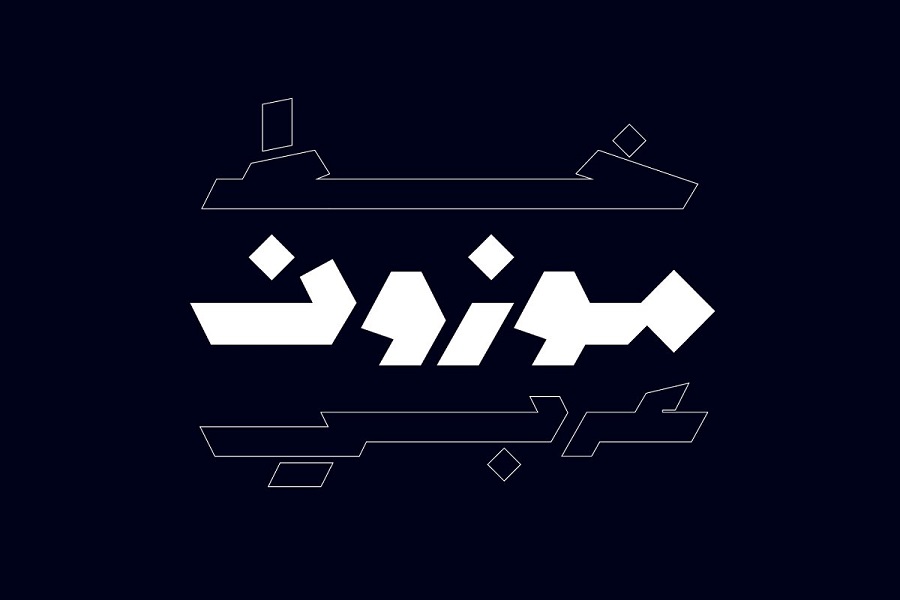 With heavy influences from the Ruq'ah script, this display font contains a solid structure and comes in 2 styles (Normal and Oblique) for you to choose from.
25. Taleeq
Arabic for 'fluent' or 'freed', it's a typeface that looks clean and is available in 3 practical styles (Bold, Regular, and Light) for print or digital projects.
26. Ostouri, Arabic Font
This typeface is Arabic for "legendary". And true to its name, it captures the harmonious flow of forms and connections, which is necessary when telling a story – on- or offline. Created by Mostafa El Abasiry, this is an elegant addition to any designer's toolkit.
27. Paxalah, Arabic Font
Inspired by the 8-bit graphics, this font is Arabic slang for "pixelation". Perfect for works in web design, advertising, and print.
28. Tashabok, Arabic Font
Arabic for "overlapping or intertwinement", this Arabic typeface features uniquely intertwined hollow letterforms, most suited for branding, typographic compositions, and print.
29. Kaleem, Arabic Font
This font's name in Arabic refers to "unique talker". It also indicates a person who has far-reaching conversation skills. Featuring a unique writing style and a solid geometric structure, it's available in Bold and Regular.
30. Tarhaal, Arabic Font
This display font would be perfect for creative headings thanks to its solid geometric structure and heavy letterforms.
31. Makeen, Arabic Font
Available in three styles (Regular, Slant, and Joined-Dots), try this versatile typeface in web, ads, and print projects.
32. Olfah, Arabic Typeface
Sometimes, you just need a friendly font that also looks good on logos, headlines, infographics, and more. Choose this typeface when you want something casual yet usable.
33. Mozarkash, Arabic Font
Need something decorative to truly catch the eye? Look no further than this display font, which is the Arabic word for "emblazoned".
34. Tasreeh, Arabic Font
Give a good first impression for your business or commercial projects with this typeface, featuring bold, active letterforms.
35. Ahaleel, Arabic Font
For those who need something special for branding works, mobile apps, or children's books, this display font with its funky and casual style is perfect for you. Created with spontaneous letterforms, its solid geometric structures are sure to delight and please.
36. Alama, Arabic Font
Available in Regular and Bold, this typeface was exclusively designed to be used for creating gorgeous branding projects such as logos, signage, headers, and more.
37. Jazeel, Arabic Typeface
Need a versatile font that can remain readable when used whether as headers or regular text? This one can do both – thanks to its bold yet solid geometric composition that remains legible no matter how you apply it.
38. Anteeqa
Anteeqa (the Arabic slang for 'Antique') is an Arabic display font that features a distinctive blend of geometric letterforms infused with traditional Arabic calligraphy. The typeface is perfect for branding, creative designs, print, and mobile applications.
39. Mareh
Mareh (the Arabic word for 'Cheerful') is an Arabic display font that features prolonged-squared letterform structure. Mareh typeface consists of two weights (Regular and Bold). It suits various range of creative projects including web, publication, packaging, branding and mobile applications.
40. Greycliff Arabic Geometric Sans Font
Greycliff Arabic's geometric, monolinear construction lends a classic durability, tempered by softened edges and vibrant shapes. Covering both Arabic and Latin scripts, Greycliff Arabic allows for visually cohesive multiple-script applications. A host of Arabic-script diacritics are included for wide language support and compatibility.
Download Greycliff Arabic Geometric Sans Font
41. Holy Month
Holy Month is a display font inspired by Arabic Manuscript. It is constructed with geometric glyphs, making the font look modern and suitable for branding, cards, posters, promotions, product packaging, etc. Holy Month comes with ligatures, alternates, and supports 60+ Latin-based languages.
42. Sabana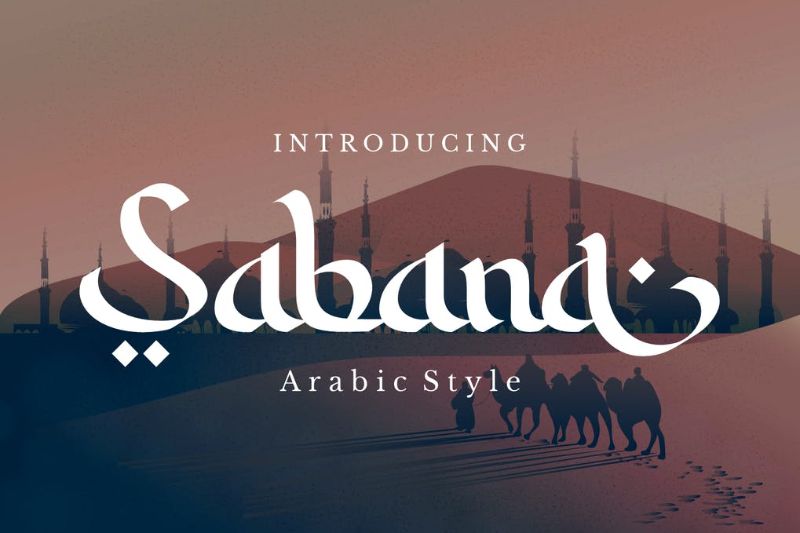 This Arabic style typography by Motokiwo would be perfect for Ramadan Kareem greeting cards, invitations, and travel photos.
43. Jasmine Script (FREE)
This beautiful brush script from Katario Studio can be applied to almost any project, from personal branding to DIY crafts. Free for personal use ONLY.
Download Jasmine Script (FREE)
44. Momken Font (FREE)
Inspired by the Arabic word, Mumkin, which means 'could', 'can', and 'maybe', this display typeface by Kareem Mrghani will lend all kinds of possibilities to your works. Free for commercial and personal use.
45. VLAX Font (FREE)
Anyone ae brings to you this noble and elegant Arabic calligraphy that comes in 2 styles – elongated and compact. It includes punctuations and diacritics to help you decorate aesthetically.
46. DG Rawnaq Font (FREE)
A little bit playful but still professional, this Arabic font from Hossam El Deen Ahmed will complement anything and still look amazing.
47. Yaseer Typeface (FREE)
Searching for an adorable scribble font for Arabic handwriting? You've found the perfect one in this creation by Fahd Al Fraikh. Use it on menus, labels, cards, logos, posters, and more!
48. Marshmallow Typeface (FREE)
Made by Yousef Alhamili and Abody Ammar, this funny, sweet, and fluid Arabic font will make your blogs, websites, portfolios, and posters stand out! Free for personal use ONLY.
49. Hamah Fonts Family (FREE)
Simple, practical, and readable, this Arabic font from Nabil MURAD has numerous uses not only at the office, but also for your personal projects.
50. Massar (FREE)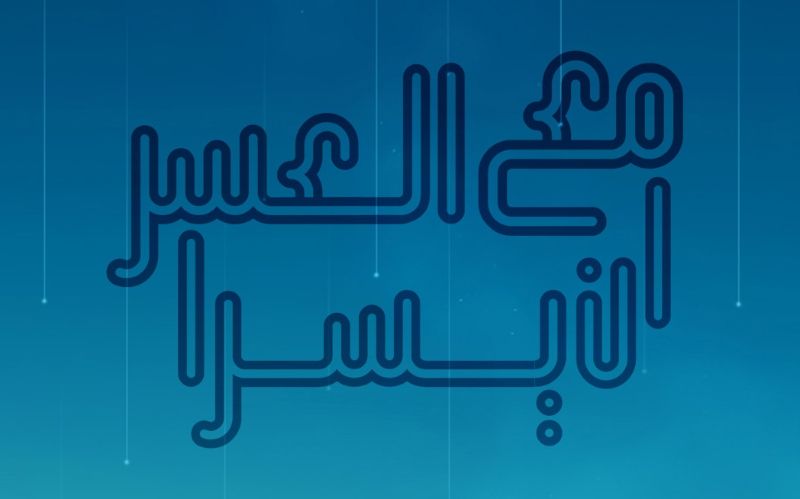 This Arabic calligraphy by Mohammed Abd El khaliq has outline features that will look stunning on posters, invitations, presentations, and social media posts.
Did you enjoy these beautiful Arabic fonts? Whether you want something authentic to tell your story, or you need it for a big event, these typefaces have got you covered. Download a set today and see the possibilities it offers.