The devil is in the details – and nowhere is this saying more applicable than in design. The tiniest of elements can make or break an entire look. Think of it as something similar to wearing the wrong kind of shoes, or having the wrong type of rug in a room.
The key is to think of everything from the get-go. Have a concept in mind and draw up a plan. Even imperfections have a place, particularly for when you need a 'natural, organic' feel. From colors, texture, to shadows, all elements need to work together in harmony.
It's important to have the basics on hand so you don't need to scramble at the last minute to find the 'perfect missing piece'. Here's where a good collection of number fonts come in.
Whether you're working on a poster, a presentation, or a corporate logo, a good number font will tie all the features together so they look amazing from every angle.
Check out this number fonts collection for inspiration.
Modern Number Fonts
1. Didone
Didone Room Numbers is a non-alpabetic number font, with multiple currency support. Inspired by hand-painted hotel room number plates in Vienna.
2. 0261 Numbers Font
Threz's display font brings in a Venezuelan appeal blended with a funky, retro style that brings in the accent to your visuals.
3. Stockpile
If your work needs crisp, clean and modern designs with an easy-to-read typeface, Drew Melton's font is an easy fit to meet those descriptions.
4. Numbers Letter Abstract Vector Set
This typeface is a creative blend of abstract patterns and geometric shapes that will give any presentation a wonder to the eyes.
Download Numbers Letter Abstract Vector Set
5. Numbers Alphabet and Font
Foxys Graphic presents a geometric, regular and condensed numeric font that is great for projects that benefit from an industrial or sporty look.
Download Numbers Alphabet and Font
6. Fab Figures Normal A
Get this font with high contrasts and curly terminals that work great with projects that benefit from a stylish or retro feel.
7. RS Numerals
Use this font from resource.studio if you are looking for numerals that draws the right amount of attention to your design project.
8. Pole Numerals
Irregular curves and accents make this number font a great choice for projects that demand a classic or vintage look while keeping style.
9. SUPR Fly Numeral Set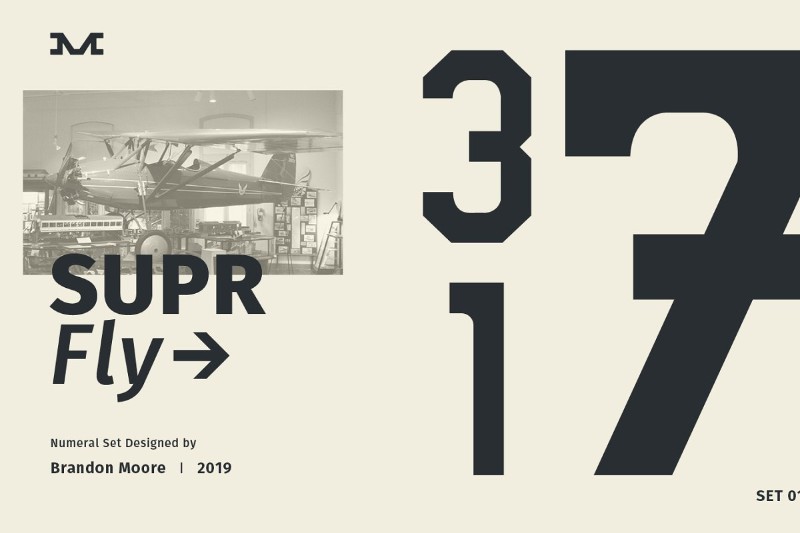 This custom numeral set from Brandon Moore takes inspiration from marking found on a Davis D-1 Airplane's wings in the Wayne County Historical Museum of Richmond, Indiana.
10. Yuma Numerals
Based on the film "3:10 to Yuma", this font made up of beautiful, heavy slabs contrasted by curves will give a true Western appeal to your design project.
11. Robu Sport Numerals Display
From Andrei Robu Type, these shaded numeral designs are further accented by lines that is great with sport projects or t-shirt graphics.
Download Robu Sport Numerals Display
12. Thrifty Numerals
For presentations that want to make a big impression and need to be read, this loud set of fonts from JonathanBall follows the style of hand-lettered grocery signage.
13. Numbers Alphabet and Font
This elegant font is made with classical geometric design that works best with projects that are looking for a vintage or retro feel.
Download Numbers Alphabet and Font
14. Classical French Alphabet and Font
This numeric typeface is used classical French didot or didone style fused with contemporary geometric design that shines in projects that need retro or vintage vibes.
Download Classical French Alphabet and Font
15. Fab Figures Typeface Set
Available in 10 variations, get the most out of this number-only font from Letterwerk in unleashing creativity out of your design projects.
Download Fab Figures Typeface Set