Last Updated on September 28, 2023
Curiosity. Creativity. Evolution.
These three admirable qualities are responsible for the seismic changes that have made the world what it is today. Suppose you consider the significant milestones that the industrial revolution has caused. In that case, you will realize mankind deserves multiple accolades for providing solutions to various problems that have plagued us over the ages.
It's pretty easy to take the various achievements we've made for granted. Though we haven't been able to completely eradicate the challenges that arise daily, innovation has helped improve the quality of life. 
We would never be where we are today without speculative imagination. It has helped us dream of a better world where any and everything is possible. Today, there are robots and machines that can make the most heinous tasks as simple as possible. Indisputably, innovation is here to stay.
Would you like to craft designs that revolve around evolution and innovation? Do you want your works to be a perfect synergy of science, technology, and creativity? If so, you're in luck! This article details some of the best Robot font styles that would make your works stand out in our ever-changing world. 
Let's dive right in!  
Innovative Robot Fonts
1. Synthetika
If you're searching for an ultramodern font to achieve a seamless futuristic visual, look no further than Synthetika. With its wide spacing and blocky shape, it's an excellent choice for various creative projects, including game covers, dystopian-themed films, fitness posters, etc..
The geometric shapes create a bold, commanding presence, suggesting confidence and strength. Its clean and slightly blocky style is just what you need for cutting-edge and forward-looking designs. Whether you're developing a modern website for a client or you need a fresh font for an indie game, you can't go wrong with Synthetika.
2. Techno Cowboy
Introducing Techno Cowboy, a modern techno display font with multilingual support. Techno Cowboy is great for creating eye-catching logos, headlines, ads, posters, web design, print, motion graphics, apparel and much more. If you're looking for a futuristic font that packs a punch, then Techno Cowboy is for you.
3. Jcorbs
If you're aiming to create a bold, elegant, and futuristic style, just know that nothing screams "Hitech" louder than the Jcorbs serif font. Jcorbs gives your logos, presentation, brandings, and packaging a wonderful and dynamic sci-fi aesthetic which you would absolutely adore.
4. Cygun
With its robust, modern, and unusual style, the Cygun sans-serif font provides an attractive cyberpunk style and advanced technology atmosphere. So, if you're looking for a font style suitable for hi-tech, robotics, or virtual reality projects, Cygun should be at the top of your list.
5. Dusty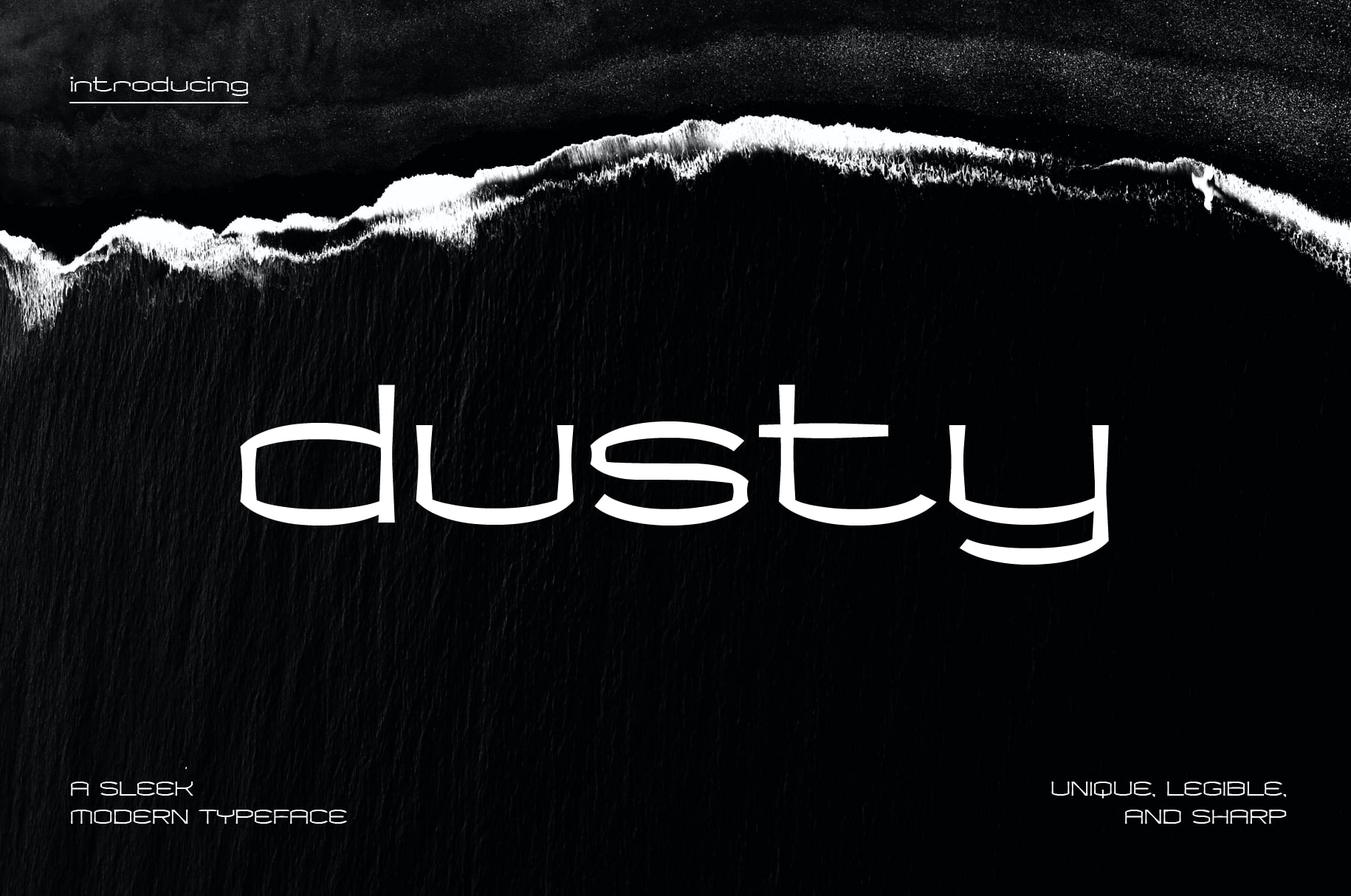 Dusty is a sleek modern display typeface perfect for high exposure without that unnecessary distraction. Its clean futuristic look is perfect for sci-fi, video games, sports, and technology themed projects. Dusty is intended to be used for headings,, branding, logos, wordmarks and other application rather than typing a body of text. If you need a head turning geometric display, then Dusty is for you.
6. Robotika Family Font 
As the name implies, the Robotika Sans Serif Family Font is a perfect choice if you're trying to create a chic, robotic, and futuristic concept on brandings, logos, book covers, and packaging designs. It comes with nine different exceptional font weights: normal, italic, bold, bold italic, extra bold, extra bold italic, thin, and thin italic.
Download Robotika Sans Serif Family Font
7. Rhaogen
The unique touch the Rhaogen serif font style provides makes it a fantastic choice if you want to create an elegant, science-friendly display on your works. You can efficiently apply it to business cards, games, logos, brandings, and web design projects. Rhaogen is also very easy to install on Mac and Windows OS.
8. District
District is a futuristic font stencil sans serif typeface. This minimalistic font is ideal for sci-fi movies, e-ports logos, video games, technology gadgets, branding, posters, presentations, packaging, and more. Thanks to its dynamic nature, District is very legible. If you want to create some killer designs that look like they're from the year 3000, then this typeface is perfect for you.
9. Fenrise
Fenrise is a chic and unique serif font style that looks amazing on business cards, logos, web designs, brandings, and posters. If you're thinking of giving your designs advanced technology aesthetics, then Fenrise is undoubtedly the font style you need.
10. Ronix Font
With its bold, active, and modern display, the Ronix font is a remarkable tech-inspired sans serif font style. It can readily be adapted if you're trying to create projects centered on virtual reality, android, robotics, and sports. Ronix also gives your work a distinct and unforgettable futuristic concept which you would definitely love.
11. Murosia
If you're aiming to create designs that push past constraints, ignite your creativity, and provide a space galaxy display, then Murosia is undeniably the perfect serif font style for you. It is a superb choice for projects or designs whose themes revolve around virtual reality, android, robotics, and sports.
12. Pondar 
Are you still pondering what font style will be a perfect synergy of science, technology, engineering, and creativity? Look no further! Pondar is a unique serif font with a stylish and modern concept that would look phenomenal on projects whose themes revolve around space, robotics, android, sports, and virtual reality.
13. MBF Kromium
Asides from the fact that the MBF Kromium font style has a fantastic science-inspired name, it is also capable of producing an intriguing digital display. If you're aiming to use a minimalist approach to create a cyberpunk theme on t-shirts, posters, and logo designs, this is the perfect font style for you.
14. Fauna Pro
If you'd love to naturally craft bold, geometric, and science-friendly designs like a pro, then Fauna Pro is a great choice. This sans-serif font style cleverly combines mysterious and futuristic themes, which gives your work a nice robotic flair. It also includes six font styles, namely: extra light, light, regular, medium, semibold, and bold.
15. Neckle Typeface Tech
Modern, sophisticated, and unique, the Neckle Typeface Tech produces clean, hi-tech, and futuristic aesthetics on designs. It has special upper and lowercase characters which have the same height but appear in different shapes. It also includes other features such as numerals, punctuations, and multilingual support.
16. Oxtra
The Oxtra-Cyberpunk Font is an extraordinary, detailed sans-serif font style. It certainly lives up to its name as it produces incredible cyberpunk designs with an elegant finish. In addition, the modern and unique concepts the Oxtra-Cyberpunk Font makes are perfectly suitable for creating designs for personal and business purposes.
17. Aztrobuiya
Aztrobuiya is a distinctive and sophisticated font style that produces a tremendous advanced technology impact on your design projects. Inspired by robot costumes and futuristic designs, this font style is a lovely choice for creating tech-friendly mecha and steampunk style designs.
18. Sanborg
If "cyborg" or "robot" is the first thing you'd like people to think of when they see your design, this is the perfect font style for you. The Sandborg-Robotic Display Font is an elegant sans-serif font style that produces a futuristic impact with its all-caps characters. This font can be used on logos, posters, stationery, cards, and any large-scale design project.
Download Sandborg-Robotic Display Font 
19. Ropotic 
Nothing screams "robotic" louder than this font style. Ropotic is a lovely serif font that gives your projects a space galaxy, or hi-tech touch. Inspired by science and technology, Ropotic produces a wonderful, futuristic digital display which looks incredible when you're working on designs centered on androids, robotics, space, and virtual reality.
20. Super Giant Robot
As the name implies, Super Giant Robot is the perfect font style if you're aiming to add an innovative robotic flair to your designs. This Japanese robot-inspired font style is a fantastic choice for a wide range of graphic design applications such as posters, web, and product designs. It also comes with alternate characters, uppercase, lowercase, and multilingual support features.
21. Robot Line
This font style is a perfect fit if you're aiming to create geometric and innovative tech-themed designs. The unique and hip digital display the Robot Line-Futuristic Tech Font produces makes it an excellent fit for game, poster, and logo designs. It also comes with alternate, uppercase, lowercase, and multilingual support features.
Download Robot Line-Futuristic Tech Font
22. Androned
Modern, sophisticated, and unique, Androned is a distinctive sans-serif font style that cleverly imprints a futuristic display on your projects. This font style will be a great fit if you're trying to create an "advanced technology" vibe on logos, posters, book covers, and games.
Download Androned-Futuristic Font
23. Proxon 
The modern, chic, and techy atmosphere the Proxon Sans Serif Modern Font produces gives your work a playful, unique, and unforgettable aesthetic. As such, it is perfectly suitable for creating tech-friendly designs on websites, scientific magazines, games, and logos.
Download Proxon Sans Serif Modern Font
24. Xylarion
The Xylarion-Futuristic Font is a phenomenal sci-fi-inspired sans-serif font style created to give your work a futuristic, and unique flair. It can be easily adapted to develop tech-centered headlines, logos, posters, and book cover designs. 
Download Xylarion-Futuristic Font