The night is young and all you need is a partner – welcome to the 70s disco revolution. Fueled by a simmering subculture who wants to just let it loose, the disco movement was all about acceptance and individuality, enlightenment and release.
Here is a world where you can have a different version of yourself. Sure, you might be known as the plain Jane clerk by day. But pay the admission and dress up a little, and you could be the Dancing Queen come nightfall. There are no limits. Anyone, from the minority to the new middle class, can enjoy themselves through the sophisticated sounds of bands with strong and brass sections.
Want to relive the excitement of the 70s? Collect all these disco fonts and start dancing!
Far Out Disco Fonts
1. Moonlight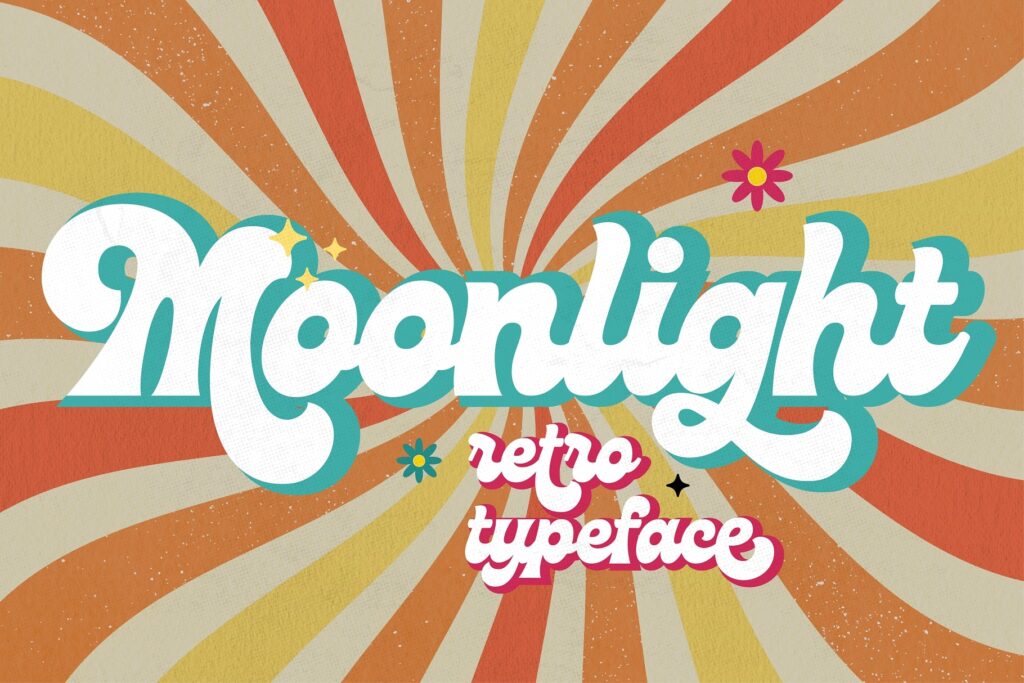 Inspired by the groovy disco era of the 1970's, Moonlight's script lettering keeps the connections between letters smooth and flowing. This font is multilingual and has tons of gorgeous ligatures ready to spice up your designs.
Moonlight is suitable for branding, stickers, packaging, Cricut project, headlines, apparel, posters, magazines, books, YouTube, Instagram, web design, and much more
2. Bondie Extrude Font Family
Take advantage of the four fonts available in this package: Regular, Outline, Extrude, and Extrude Shadow.
Download Bondie Extrude Font Family
3. Boardley Script
This typeface from Craft Supply Co. was created by experimenting with and fusing concepts from American and European bold script lettering, making it suitable for logos, greeting cards, quotes, posters, branding, and an assortment of art and lettering applications.
4. Marthy
Marthy was inspired by Art Nouveau and 1970's psychedelic posters. This expressive typeface is designed to be used for branding, music posters, album graphics, book titles, etc. Evoke that nostalgic 60s/70s look today with Marthy!
5. Summer of 76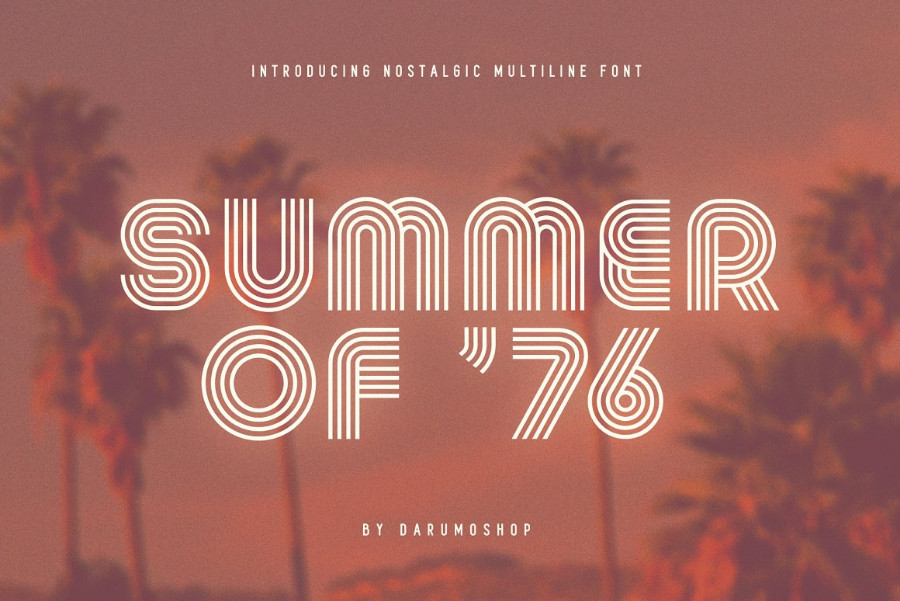 Darumo Shop presents a nostalgic multi-line font inspired by the looks of the '70s – your best solution to giving a lovely retro touch to your design projects.
6. Point Blank

Check out Point Blank – a cool retro font that will take you back to the groovy and funky styles of the '60s and '70s. It's got big, bold, and chubby letterforms that will surely make a striking statement in whatever project you use it for. Its sweet retro charm will captivate while effectively communicating your message.
Posters, logos, social media posts, t-shirt prints, invitations, music covers, product labels – you name it, Point Blank will bring it!
7. Jassin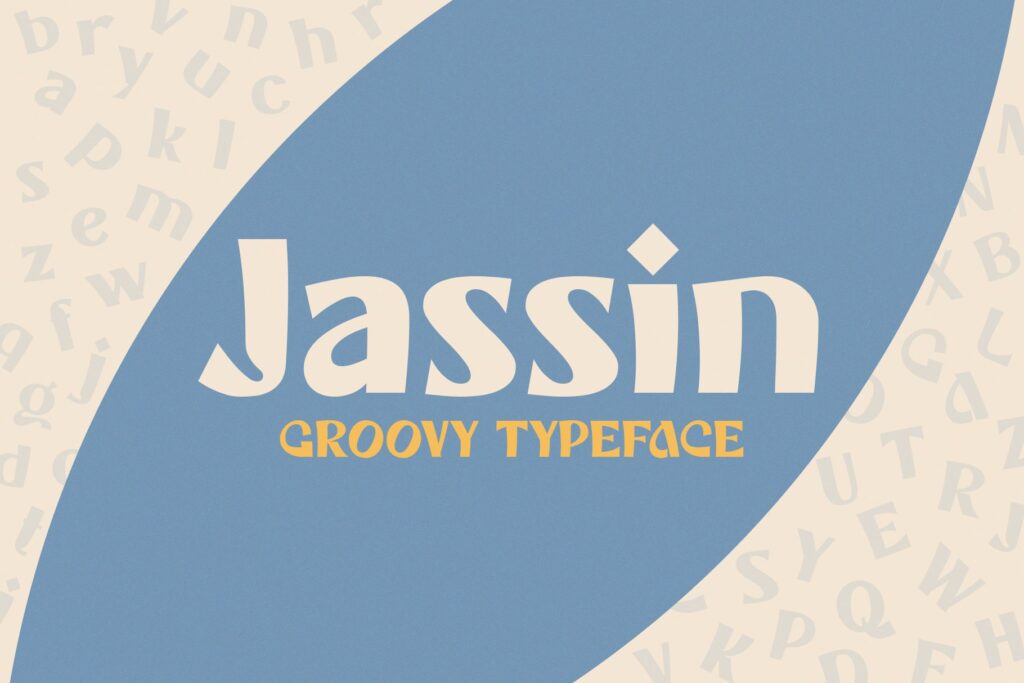 Jassin is a fun and groovy typeface with a bold personality. Perfect for branding, headlines, social media, advertising, packaging, posters, t-shirts, editorials and much more. Its vintage feel evokes the carefree and whimsical vibe of the psychedelic era, allowing you to craft impressive looking designs.
8. Surreal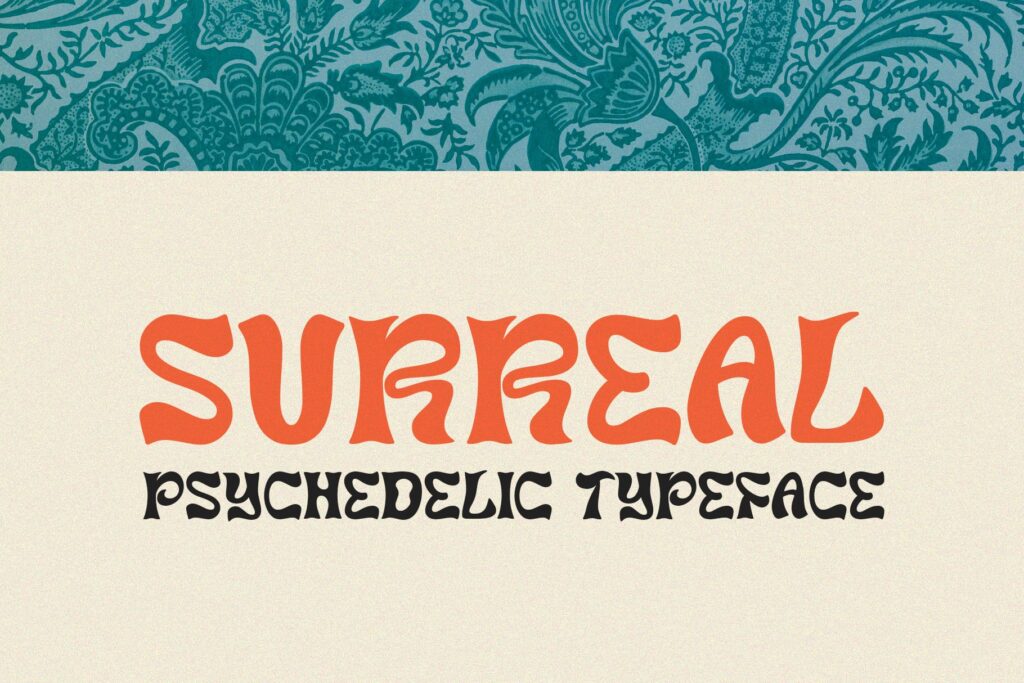 Surreal is a hand drawn psychedelic font perfect for groovy posters, experimental artwork, and rad design projects. It was inspired by the psychedelic movement of the mid 60's. Since this one of-a-kind typeface is not seen everyday, your design projects are bound to grab the reader's attention.
9. Croogla
From 4th February Type Foundry, check out this clean display typeface that keeps a distinct retro appeal, great for a wide range of design concepts.
10. Flatface Beams
If you want the appeal of street signs or shop signs in your graphic, making that happen is easy when using this font from Flatface.
11. Groovy
Rounded elements that fill spaces make this ArtyType font great for either a fun, trendy presentation, or a more serious visual.
12. The Alpan
This Khoir product is inspired by a unique '60's style, and you can add more uniqueness to your projects using the regular style alongside its decorative alternate characters.
13. RENIN
Relive the futuristic vision of the '90s through this artistic display slab serif from the creative minds at Konstantine Studio.
14. Outrunner Retro Script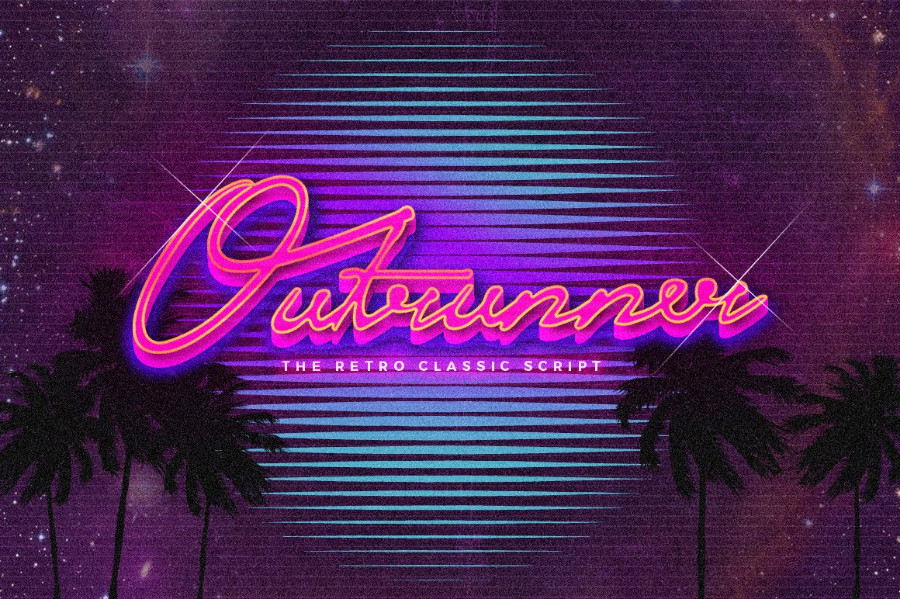 The glam and jam of the '80s come to life with this typeface by TSV Creative that is great for signatures, logo designs, branding, invitations, blog headlines, and more.
Download Outrunner Retro Script
15. Hendrix Groove
Make your designs marvy with Namistudio's product, which comes in Regular, Italic, Gradient Regular, and Gradient Italic to mix and match for a truly funkalicious vibe.
16. Lovadelic
This fusion of '70s script and psychedelic balloon typography comes in Regular, Expand, Slant, and Slant Expand fonts – don't forget the graphic extras that will aid you greatly with creating your projects.
17. Bayshore
This tubular typeface from Sam Parrett comes straight out of the '80s with its large glyph base, end and underline swashes, and 10 neon glow styles (Photoshop is required)!
18. Valeson
Give your visual designs the funky moves with this '70s and '80s-inspired retro typeface made by Valeson.
19. Funkies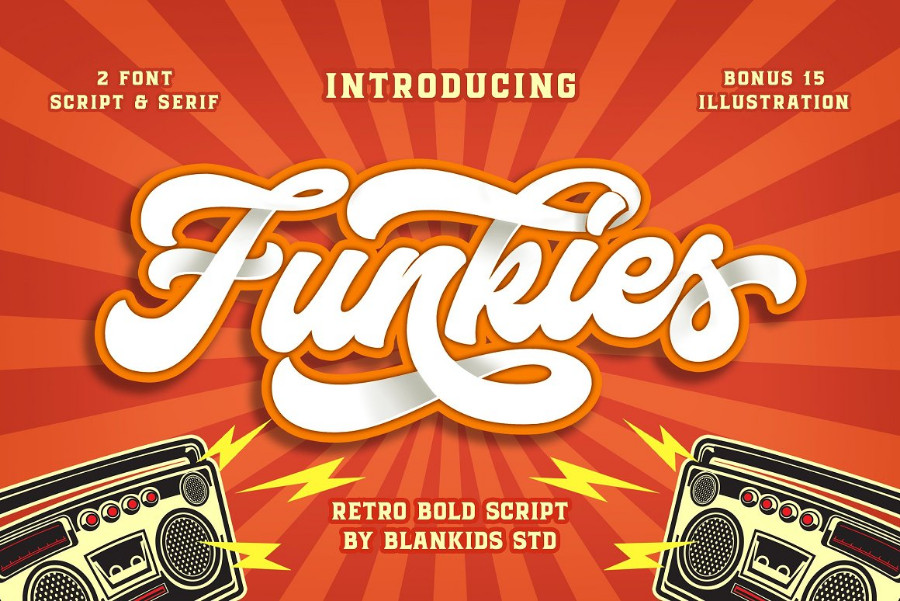 Bring back the days of funk, disco and rockabilly music using this Blankids Studio typeface that comes with stylistic alternates and 15 illustrations to boost your design options.
20. Thunderstorm
Your logos, posters, apparel lettering, branding, headers, and more will definitely carry that '80s to '90s feel when using this Aiyari creation.