Last Updated on June 13, 2022
Although the 70s were more known for disco and bell bottoms, there was more to it than meets the eye. Many people, even historians, will say that this period felt like an extension of the 60s – colorful, vibrant, yet chaotic.
A few notable events of the time include: the 'New Right' political movement, the Watergate scandal, the first Earth Day, the approval of the Equal Rights Amendment (ERA), and the debut of the first wrap dress by Diane von Furstenberg. It was the decade of exploration of liberties and political involvement.
Don't feel bad that you missed the 'Me Decade'. You can still evoke the 70s vibes when you use these groovy fonts.
Colorful Groovy Fonts
1. Nestor – Quirky Typeface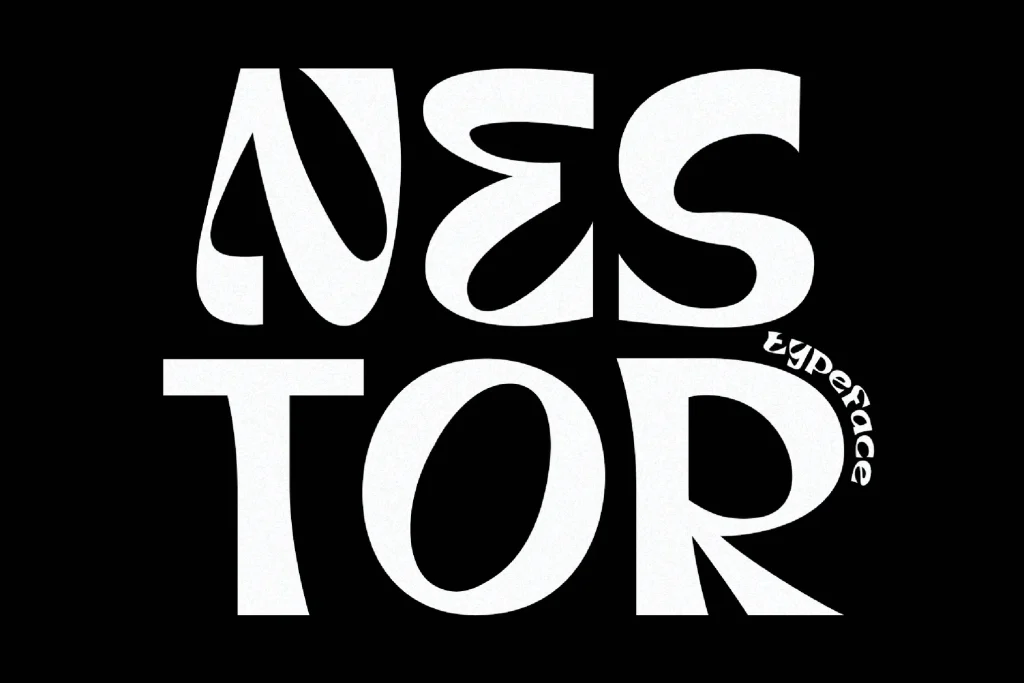 Nestor is a retro inspired display typeface that's unique, lovable, and quirky. It's perfect for headlines, advertising, posters, branding, social media, quotes, prints, and much more. If you're in need of a typeface that has groovy curves with a bold personality, then Nestor is for you.
2. Far Out!
This Think Make Design product is made with the Flower Children of the 60s and 70s in mind, with 22 hand-drawn graphics to bring your designs a step higher.
3. Losta Masta
This unique, playful and versatile typeface from Creative Media Lab comes in 8 fonts that add a degree of freedom and versatility when creating any visual design project in mind.
4. Crava
This vintage display font from PutraCetol Studio has OpenType features with a healthy selection of alternates to help you further personalize the many projects this product works great with.
5. Ariestha Script
Bold strokes with playful finishes make neat and flexible lettering for logos, signs, posters, crafts, branding, and storefront or merchandise concepts.
6. Kandani
Bring along the 60s to your design projects using this Letterhend Studio typeface that comes with an Extrude version to add more flair to your lettering.
7. The Beardy
Inspired by serif didone combined with flourish typography and 60s–70s pop culture, this Aiyari typeface works best with logos, headlines, titles, branding, magazine covers, book covers, and more.
8. Funkies
Inspired by the posters and album covers of funk, disco, and rockabilly music, this bold and fun font from Blankids Studio works great with retro-themed projects.
9. Peace & Love Font Duo
Salt & Pepper Designs blends together a bold Regular font and an Ouline variant that can be used together for a wide variety of designs and crafts.
Download Peace & Love Font Duo
10. Agies Fresh
This StringLabs typeface is curved and rounded, giving it a uniquely vintage look that works great for 70s or 80s-themed branding.
11. Quincy Johns
Rounded corners and natural curves give this Tokokoo typeface a bold attitude that jives with a smooth, jazzy groove.
12. Dorris
This unique, cute and versatile typeface from Creative Media Lab comes with 9 weights and bonus ornaments to further personalize the classic aesthetic on your design projects.
13. Gruvilicious
Gruvliciouis is an interesting mix of creative and groovy. While the legibility might not be there 100%, there's definetely creative flair to boot in this groovy masterpiece.
14. Ramdone
Ramdone is just about groovy enough to be a solid candidate for the font in use for the van decorating the Scooby Doo gang's famous vehicle. A solid pick, whether for a retro cafee, a baseball bat or something similar.
15. Amettati
Amettati is a free-flowing and almost spaghetti-like script font that heralds all of the groove value of a generation, and if you want to pick a typeface that works well with some shadows to it as well, AMettati is that font.
16. Kool Beans 
Kool Beans is a 1960-70s inspired type that embraces the groovy psychedelia era. Kool Beans can be used for magazine covers, social media posts, quote posters, book covers, merchandise, websites, advertising, branding, and more. Kool Beans comes in 2 unique styles, solid and outline. You can use both of the fonts to make your designs come to life by giving them a 3d feeling.
Test this font by typing here
Test this font by typing here
17. Jassin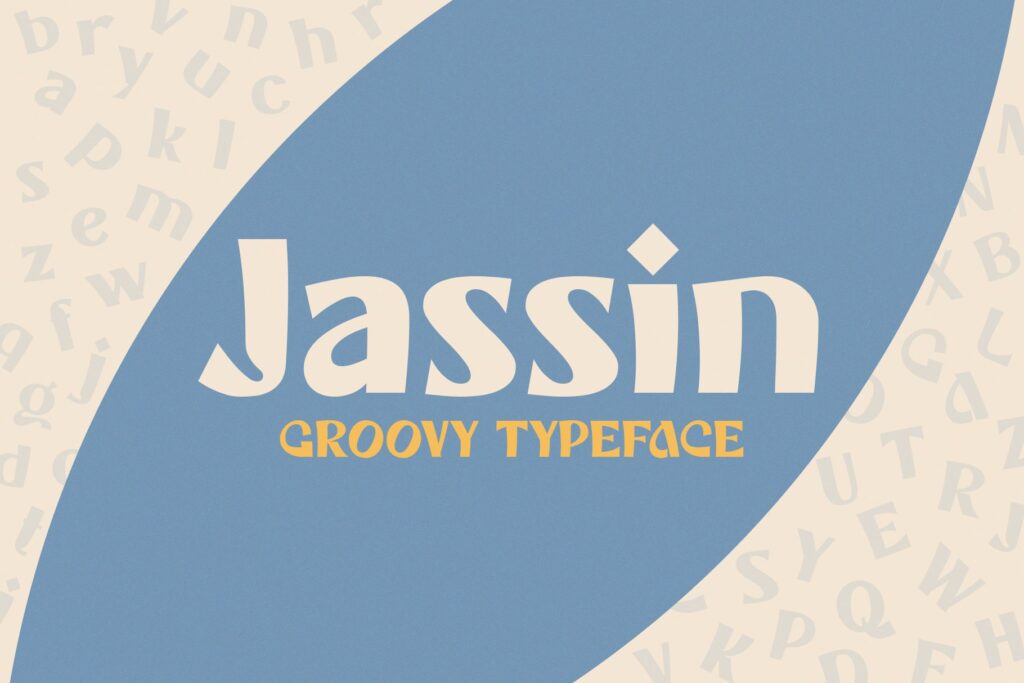 Jassin is a fun and groovy typeface with a bold personality. Perfect for branding, headlines, social media, advertising, packaging, posters, t-shirts, editorials and much more. Its vintage feel evokes the carefree and whimsical vibe of the psychedelic era, allowing you to craft impressive looking designs.
Test this font by typing here
18. Monro
Introducing Monro, a disruptive typeface with shapes inspired by the aesthetics of the 80s and 90s. Monro is an ideal typeface for large size display texts and wordmarks, its eye-catching quirky letters grab the readers attention and makes them notice the message being sent across. If you're searching for a geometric typeface that offers versatility as well as a clean/sleek build, then Monro is for you!
Test this font by typing here
19. Wanderlust

This classical-looking typeface that makes use of soft lines and curves is great for a wide range of projects from invitations to magazine headers.
20. Surreal – Psychedelic Typeface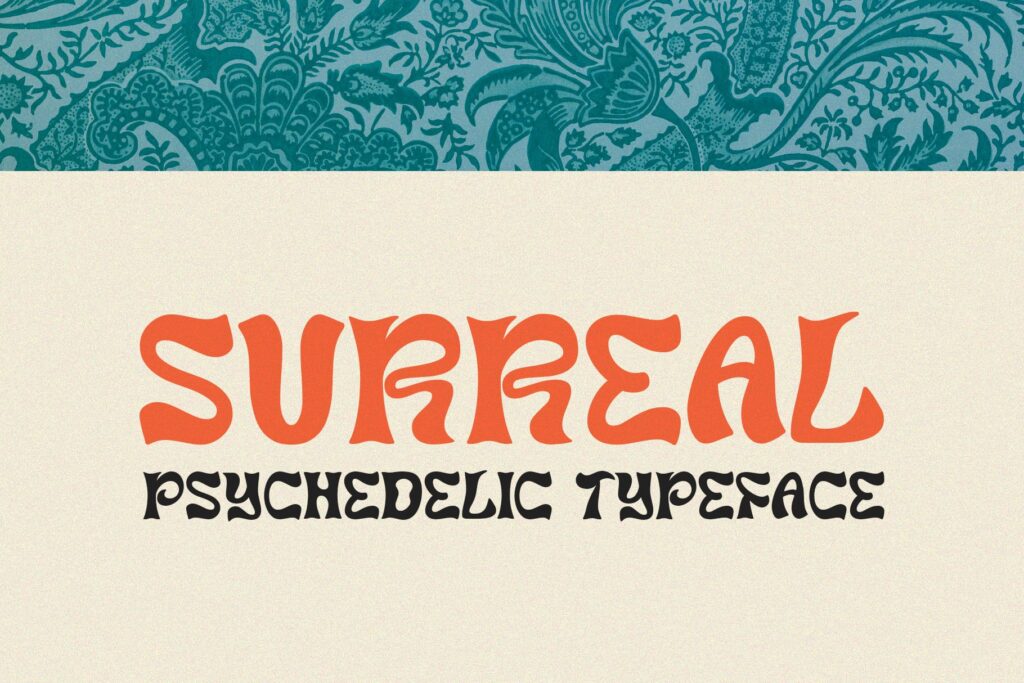 Surreal is a hand drawn psychedelic font perfect for groovy posters, experimental artwork, and rad design projects. It was inspired by the psychedelic movement of the mid 60's. Since this one of-a-kind typeface is not seen everyday, your design projects are bound to grab the reader's attention.
21. Mumbai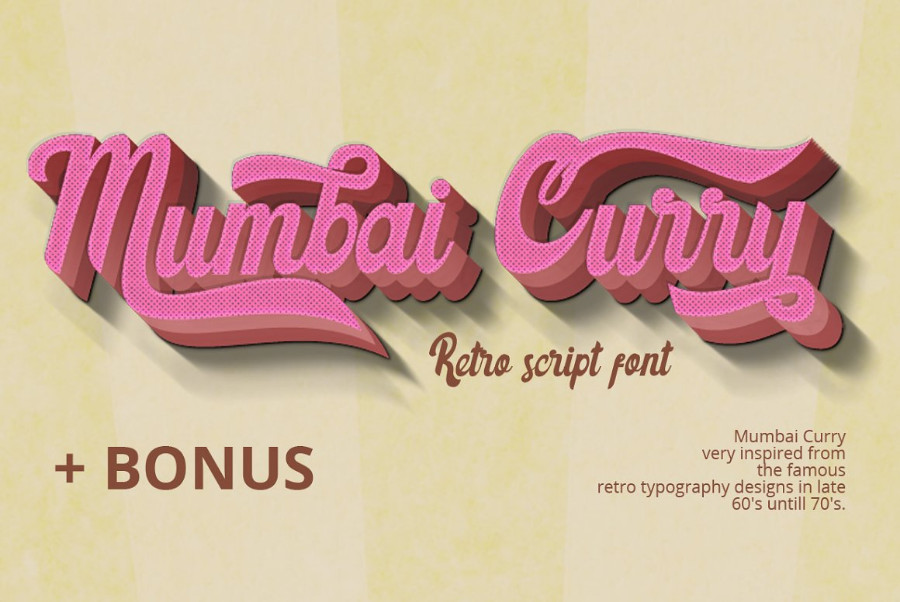 Projects come to life with a retro 70s vibe when using this Anomali Creatype product that comes with a bonus Extrude font for an amazing twist to your designs
22. Flatface Heft Display Font
This bottom-heavy font is a throwback to the 60's art styles that is suitable with a great number of creative projects that get more when using a classic or retro look.
Download Flatface Heft Display Font
23. Karolin
Yellowline's bold script is great for merchandise, branding, clothing labels, logos, stationery, and other design projects that focus on retro vibes.
24. Groovy
This typeface from ArtyType combines the appeal of the 70s and the minimalist lines used in many current-generation typefaces, which makes a timeless appeal to any design work.
25. Seventies
This Sproviero-Type creation is a variation of the many typography concepts that appeared during the 70s, which lends itself greatly to many design projects.
26. The Bayland
Bring back the move and groove of the 60s using this Letterhend Studio typeface, which is appealing to a lot of design works that get more out of a classic feel.
27. Lovadelic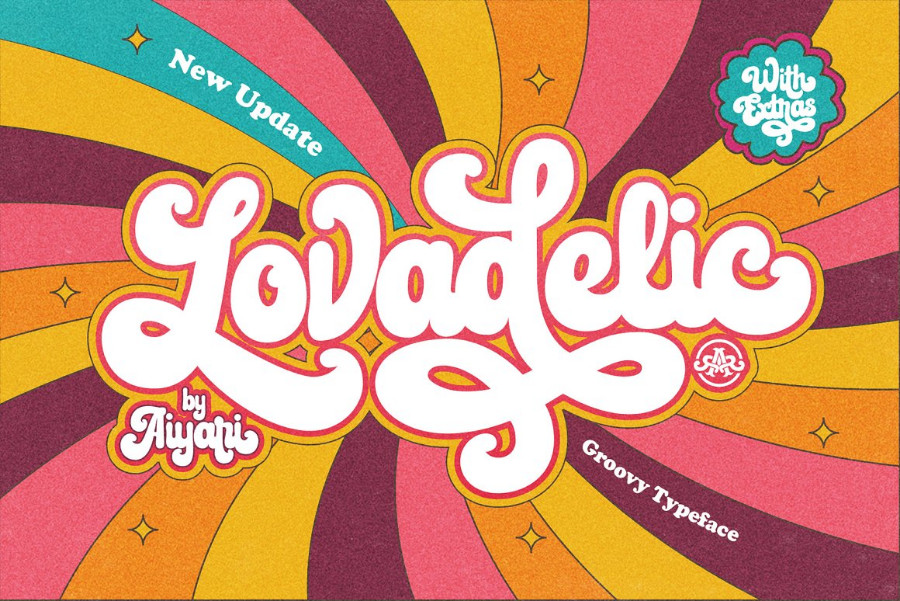 70s script lettering combined with psychedelic balloon typography makes this font an absolute stunner for a variety of visual designs.
28. Margin
Thick curves and traditional serifs make this Dharmas Studio font perfect for nostalgic mood boards and vintage logos.
29. Soul Wanders Modern Typeface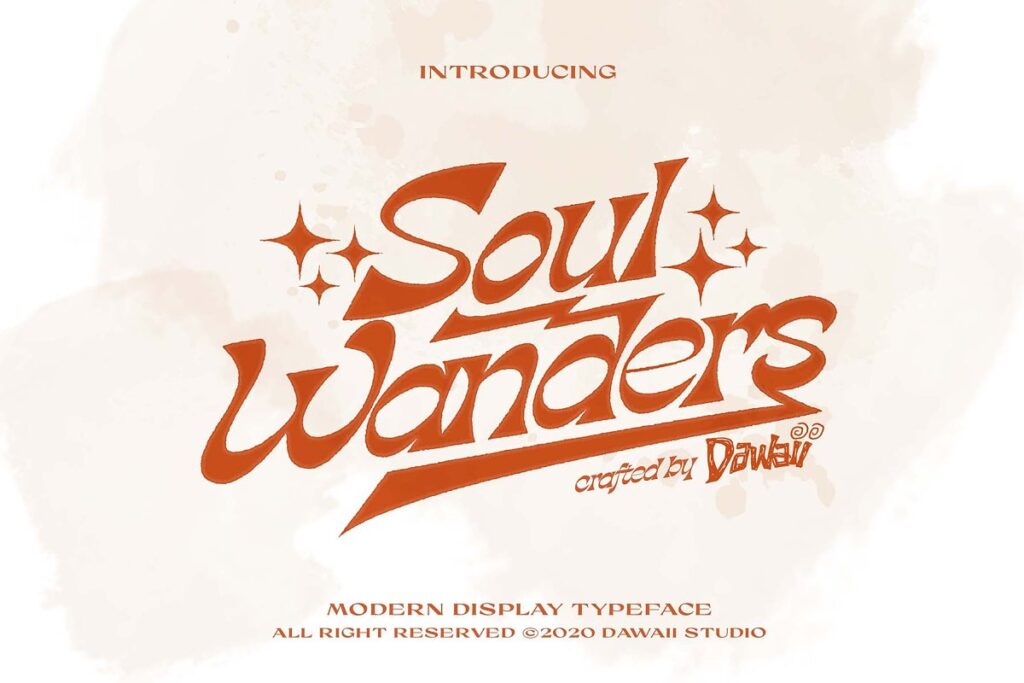 A groovy typeface from Megflags is inspired by 70s typography and posters, making it great for posters, magazine headers, logos, branding, and many more.
Download Soul Wanders Modern Typeface
30. Sixties Flashback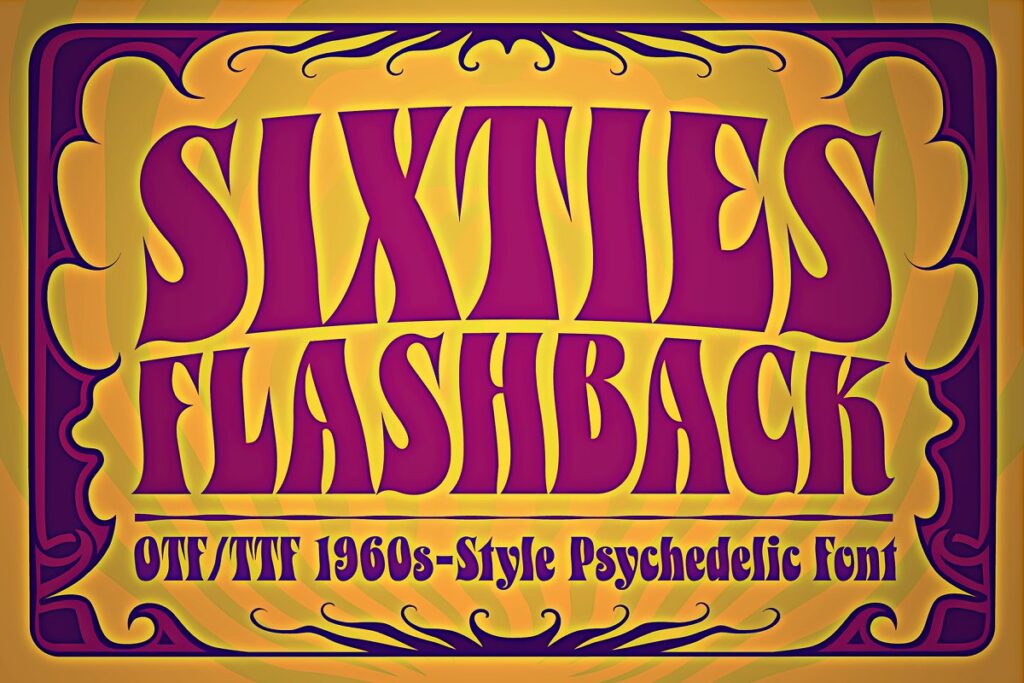 The retro graphics incorporated in this Mysterylab Designs product warps your projects back to the carefree 60s or the groovy 70s.
31. Molli Rocky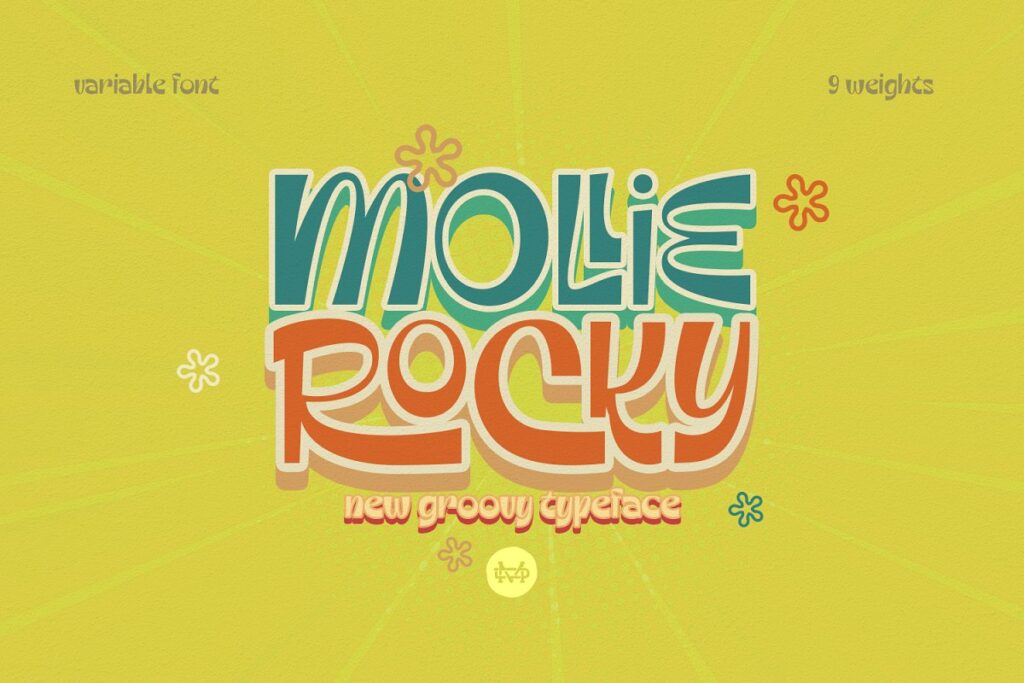 MadeDebuk's 18-font product makes use of thin and thick stems, giving it a retro look that stands out among other similarly-themed typefaces.
32. Vintage Dreams Modern Groovy Font
MaryanKamalCo introduces a typeface that comes in brush stroke/hairline version and solid regular version, giving your projects a unique expression.
Download Vintage Dreams Modern Groovy Font
33. Groovy
Hendra Pratama's product is based on 60s to 70s typography designs with Opentype features to customize a variety of effects.