Last Updated on March 13, 2023
The word "ivory" conjures up images of elephants majestically strolling the African plains.

Apart from their sheer gigantic size, elephants are also famous for their tusks, which contrary to popular belief, aren't horns but teeth. These overgrown teeth contain a hard, whitish material known as ivory. Tusks can be spotted in a variety of other animals too, including warthogs, walruses, hyraxes, and the now-extinct mammoth.

But in addition to its association with animal tusks, ivory is also the name of an exquisite color. You've probably interacted with this pigment before but confused it for white or cream. That's because of its impeccable similarity to both hues.

In this article, we explore what the ivory color is and some its amazing uses.
What Is Ivory?
The ivory color is a gentle off-white color with a very slight tint of yellow (or more specifically, beige). It is assigned a hex code of #FFFFF0.
The color is very similar to white and cream, so much that the three pigments are often confused for one another. But as you shall find later on, there's a clear distinction between ivory, cream, and pure white.

Ivory's definition may also vary depending on the specific pigments the color is believed to contain. For instance, the ISCC–NBS System of Color Designation defines ivory as a pale yellow-green color, although chartreuse would better suit this description.
Some color enthusiasts also believe that ivory contains a pinkish tint and may define it based on that parameter.
What Colors Are In Ivory?
White and yellow are the predominant colors in ivory. The pigment is made primarily by mixing an off-white color with a faint tint of yellow, typically beige.

It's also safe to say that ivory contains red, green, and blue. That's if you consider that red and green are the main constituent colors in yellow while red, green, and blue are the colors that make up white light.

But in the interest of avoiding all these intricacies, you could simply describe ivory as a blend of white and yellow.
Why Is Ivory So Named?
There's no mistaking where the ivory color gets its name. The name "ivory" derives from the eponymous hard, whitish material that makes up the tusks of elephants, walruses, and other animals with overgrown teeth.

FUN FACT: Rhino horns are wrongly believed to be made from ivory. However, they actually contain keratin, the same substance that comprises human hair and nails. That said, rhinos are still poached for their horns, perhaps out of sheer ignorance.
What Is The History and Origin Of The Ivory Color?
Humans have been interested in ivory – the hard substance in elephant tusks – since at least the 14th century BCE. Although it has no intrinsic value, the substance is highly prized for its diverse applications.

Ivory has been used for centuries to create art, ornaments, and jewelry. It was also a common raw material in the production of piano keys and chess sets. It was also a staple ingredient in folk medicine until 1989 when a worldwide ban on ivory trade was imposed.
Before the ban, ivory was considered a status symbol in Africa. That's unsurprisingly because the substance came from one of the most iconic land animals.

But while ivory trade had been going on Before the Common Era, the ivory color emerged a few centuries later. The first recorded usage of the term "ivory" as a color name in English dates back to 1385.
Ivory has been widely used since Roman times, especially for carving and in paintings. The color was present during other eras too, such as the Renaissance and Baroque periods.

It was also the primary theme in creating the ivory soap brand. The brand was founded in 1878 by James N. Gamble (later Procter & Gamble Company (P&G)). It's famous for its mild scent and buoyancy.

The ivory color also found its way to web design. The pigment was one of the few web colors used by computer software designers in the late-20th century.
What Colors Are Similar To Ivory?
The ivory color is noticeably similar to white and cream. Anyone with casual knowledge of colors would struggle to tell these three pigments apart. So, how are they different?

1. Ivory vs. White

Many people consider ivory a variant of white color. However, the two pigments are somewhat distinct from each other.

White features cool-toned undertones while ivory is a warmer tone that blends white with yellow. Therefore, the primary difference between ivory and white is the inclusion of yellow tints.

The yellow hues in ivory may also appear brown or peach. That's because brown and peach may sometimes be used to create ivory, much as yellow is the more desirable choice. Ivory looks exactly like the substance in elephant tusks where it derives its name.

2. Ivory vs. Cream

It would be incredibly easy to distinguish between ivory and cream if you're already familiar with what the real ivory from elephant tusks look like. That's because real ivory may feature different shades depending on its age.

Fresh ivory tends to be almost white, with a very slight hint of soft yellow in it. But as the material ages, it takes on more yellow and might often be mistaken for a shade of cream.

Therefore, the key differentiator between ivory and cream is the amount of yellow undertones in them. The yellow tints in cream tend to be more pronounced than in ivory.
What Is The Meaning and Symbolism Of Ivory?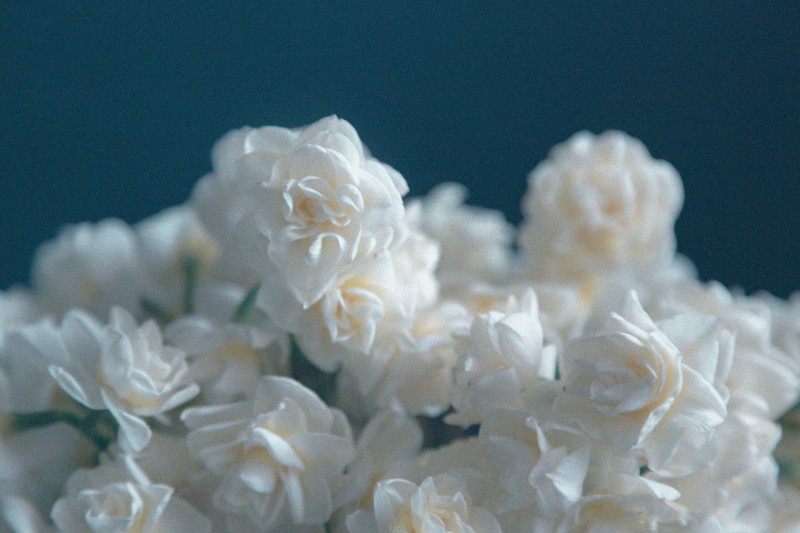 In color psychology, pure white is widely associated with purity, innocence, holiness, and serenity. These qualities may also be attributed to ivory. However, they wouldn't come off very strongly considering that ivory is a blend of white and yellow.

Ivory is also associated with elegance and luxury. This might explain why ivory-containing elephant tusks were a common raw material in the production of jewelry and ornamental products. The color's association with luxury and flamboyance is also the reason behind its growing popularity in the fashion industry.

The ivory color also stands for honor and prestige. That's precisely why many African cultures trophy-hunted elephants. Obtaining elephant tusks was in itself considered an act of valor. And donning relics crafted from ivory inspired even greater awe.

Last but not least, ivory is a neutral color. The pigment can convey feelings of warmth and tranquility in addition to diminishing the intensity of other colors.
What Are Ideal Uses for the Color Ivory?
a) Jewelry

Ivory has been used for centuries in making jewelry. From earrings to necklaces, bracelets, and even pendants, the ivory color can help convey a sense of luxury on every piece of jewelry it's used on.

b) Wedding Dresses

White is ordinarily used for wedding dresses because it resonates with innocence and purity. However, ivory has also found its way into the wedding industry. The color is ideal for couples who desire to look flamboyant while still portraying themselves as pure and innocent.

In addition to wedding dresses, you could also use ivory as the background color for wedding invitation cards.

c) Trophies

Ivory is a clear symbol of status and prestige. That makes the color a top choice when designing trophies. It doesn't matter the scope of your achievements.

Displaying ivory-colored medals in your trophy cabinet will have you command more respect than if the medals were coated with other pigments, including precious colors like gold and silver.

d) Religious Artifacts

As an awe-inspiring color, ivory can perfectly suit religious artifacts. The color will look splendid in different kinds of religious relics, including the Celtic cross and the Statue of Jesus. Using ivory on religious symbols will help inspire reverence for a deity while subtly communicating a sense of purity and virtue.

e) Stationery

Most of your classmates and colleagues probably prefer white notebooks. Why not stand out from the crowd by using ivory ones?

f) Interior Design

Ivory has recently become one of the go-to colors for interior design due to its neutral hues.

You can use the pigment alone to bring warmth and a touch of simplicity into your living space. You could also combine it with other shades for a more stunning look. In the latter scenario, ivory would create the biggest impact if used as the background color.
How Do You Create Ivory?
Method – 1
The simplest way to create ivory is to use its constituent pigments – off-white and yellow. Once you have the two colors, you'd basically combine them to form ivory.

One of the best practices when preparing colors is to add darker pigments to lighter ones and not the other way around. In this case, you'll need to add yellow to white.

Remember that ivory is more white and subtly yellow. Therefore, start by adding off-white to your color mixing bowl. Then, introduce yellow drop-wise until you achieve the desired shade. A good ratio to start with would be 80% white and 20% yellow.

Also, since a teeny-tiny amount of yellow is required to make ivory, you'd have better luck using paler shades of yellow than the color's basic pigment. Examples include titanium white and yellow ochre.

Method – 2

Another way to prepare ivory is by using a combination of white, red, blue, and yellow.

In this method, you'll begin by adding a large blob of white paint to a mixing bowl. Then, introduce small amounts of red, blue, and yellow to the white color. Use a paintbrush to stir the mixture until it's uniformly combined.

Note that you may not create ivory immediately using the four colors. In some cases, the final product may appear more beige than ivory. When this happens, you simply add more yellow to convert the mixture into ivory.
What Are The Different Shades Of Ivory?
Like all colors, ivory is available in various shades. The pigment can appear darker or lighter depending on the amount of tint added to it. Solid gray is the most common color used in creating the different shades of ivory. But you can also use black or white to make ivory darker or lighter, respectively.

Below are the different shades of ivory available;
1) Arcadia White
Despite what its name implies, arcadia white is a variation of ivory and not white. The color is noted for its perfect blend of pigment and brightness. It's ideal when you want to enhance the depth of your designs without making them look too yellow or peachy.

2) Ivory White

Ivory white is a light grayish-yellow shade of ivory. It's the closest variant of basic ivory but differs slightly in its warmer tone.

3) Light Ivory

Light ivory appears more yellow than white. It's closer to cream than true ivory and is commonly used to complement light blue. This shade is common in color cosmetics. It's usually used as the representative color for a foundation and works best for people with ivory color skin.

4) Unmellow Yellow

This color is more related to yellow and is mainly considered a shade of ivory due to their complementary effects. Unmellow yellow is also similar to laser lemon and is a basic component of the Crayola collection.
Final Word
Ivory is a color noted for its powerful visual effects which resemble the strength of the land animal it's associated with. The ivory color is reasonably flexible and can blend into multiple surroundings regardless of the pigments it's paired with.