It's a state known for its melting pot of cultures, national parks, the Golden Gate Bridge, and of course, Hollywood.
California is the United States' 31st state, bordered by Oregon, Nevada, Arizona, and Mexico.  With more than 100,000 earthquakes a year, it's still the biggest producer of fruits and vegetables, as well as a number of the biggest innovations of the modern world, such as Apple, video games, skateboards, and Barbies.
Aside from the famous Sequoia National Park, you can also find the original Disneyland theme park here. And if you're visiting, don't forget to stop by Chinatown in Los Angeles to pick up some fortune cookies. No trip is complete without a quick peek at the Hollywood Walk of Fame. Just don't start calling it 'NorCal' or 'SoCal'.
Whether you call it Golden State, The Land of Milk and Honey, The Grape State, or simply, home, you will love these awesome California fonts.
Awesome California Fonts
1. Bahama Nights
Bahama Nights is a graceful script typeface made with love. Its beautiful cursive style can be used to create gorgeous wedding invitations, elegant packaging, advertising, eye-catching social media posts, stationary art, fabulous logos, and much more!
2. Pandora Callister Font
This LeoSupply.co typeface will bring out the naturally playful side of any artwork. Help yourself to these 6 fonts to create a dazzling range of effects.
Download Pandora Callister Font
3. California Sunset Font Family
Sunset effects and a swirly script make this Salt & Pepper Designs typeface a joy to use. Take advantage of a higher level of customization through its 4 sans and 4 scripts included in this package.
Download California Sunset Font Family
4. California Jackpot Font
If your project needs a loud message while keeping a personal, handwritten look, this typeface from LeoSupply Co. may be the one you need. Made with flat markers styled with flair, logos, quotes, titles, brand names, and an assortment of projects will look one-of-a-kind.
Download California Jackpot Font
5. California Hotel
Maulana Creative's font will give your design concepts an authentic, handwritten feel. Stationery, logos, quotes, magazine titles, and book covers will benefit from a truly personal aesthetic.
6. Pool Riders
Unleash the expressive spirit of punk and skateboarding culture using this Guerillacraft typeface. It comes in 3 weights and 76 graphic elements to help you level up your creative side.
7. Revolve
Revolve is a beautiful typeface inspired by fashion magazines. It's thick–thin strokes are perfect for elegant designs.
Revolve will serve well for branding, social media, advertising, mood boards, packaging, editorial design, headlines, titles, and more.
[fontsampler id=56]
8. Marthy
Marthy was inspired by Art Nouveau and 1970's psychedelic posters. This expressive typeface is designed to be used for branding, music posters, album graphics, book titles, etc. Evoke that nostalgic 60s/70s look today with Marthy!
9. Sandra Type
Artstudio introduces a natural-looking font with a hand-made vibe. Personalize your invitations, branding, logos, quotes – and just about anything you can think of.
10. Venice Beach Font
Kirsten Marie Design takes inspiration from Venice Beach's skate culture when creating this typeface. Your projects will live to its fullest using its dynamic and unique beat.
11. Azusa Sans Font Trio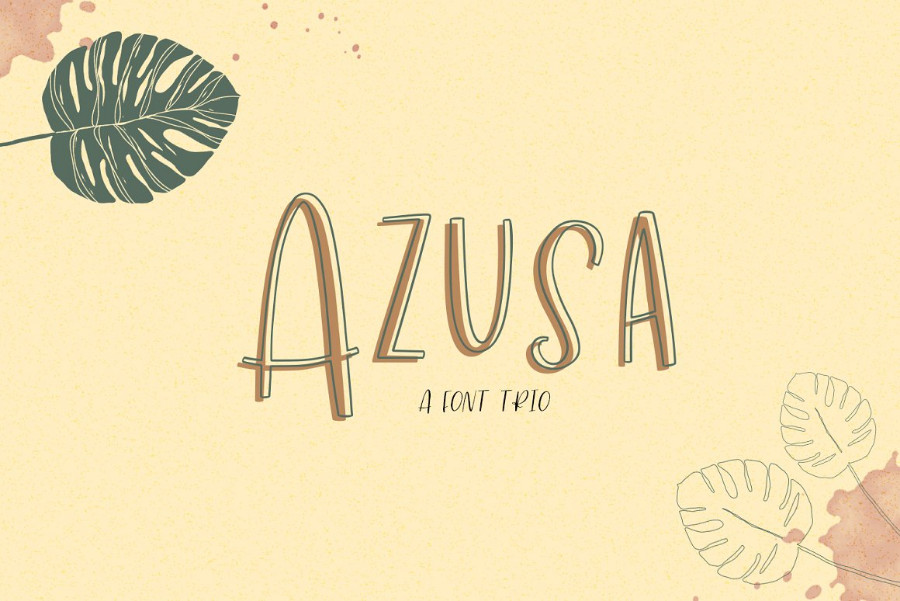 This Beck McCormick creation is simple and natural-looking without losing its fun aspect. Choose and fuse Regular, Outline, and Italic versions to get distinctive effects.
12. Indie (Regular)
Ever wondered what kind of effect your design concept will get when using a typeface inspired by pointed brush lettering? This Sproviero-Type product will bring out your project's independent, hipster spirit.
13. Costa Typeface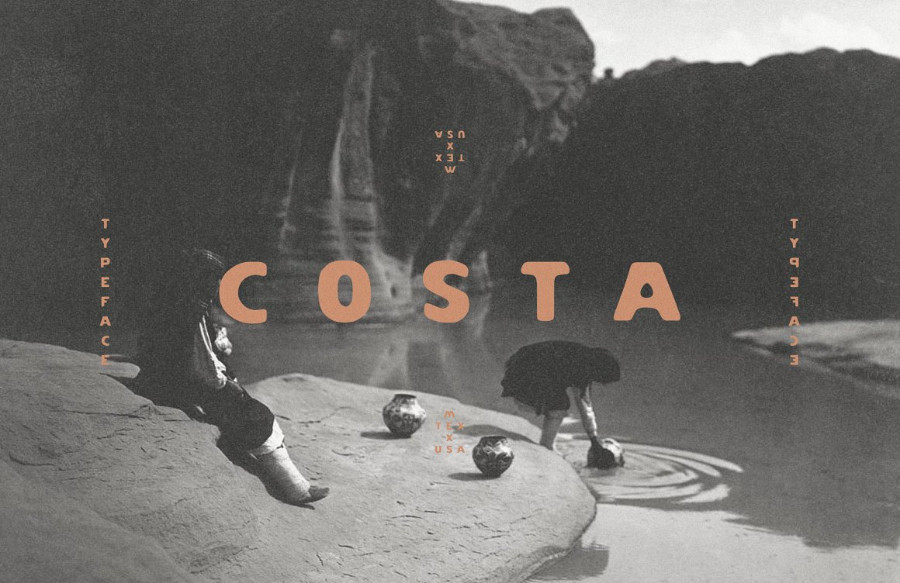 Bring the vibe of coastal Mexican villages using this functional font from James Coffman Design. The sun-baked look for various projects has never been so accessible.
14. California
Have a slice of the good old days of Alta California using this Jason Burkholder product. Your projects will gain a lot more attention with a bit of the West Coast vibe.
15. Palm Canyon Drive
This monoline script from RetroSupply Co. brings us the magic of 40s to 50s California. Whether it's a personalized postcard or a travel poster, this retro font will definitely not fall behind.
16. California Sunrise Font
Big, quirky letters make this KA Designs typeface cute without making it less readable. Take advantage of alternative letters found in this package for added personalization.
Download California Sunrise Font
17. California Love Script Font
You can feel the love and effort poured in when Dixie Type Co. created this script font. Pass than on to your design works for a natural, handwritten look few other typefaces can match.
Download California Love Script Font
18. California Dreamer
Featuring a refined, sophisticated script and a handwritten-like sans serif, this font duo from The Styled Script is a welcome addition to your toolkit. Showcase a watercolored texture in a clean yet elegant way in no time flat.
19. The California
This textured typeface from KA Designs achieves a hand drawn, modern look when used on a variety of projects. Available in serif and script styles.
20. California Palms
Actual watercolor and marker-pen texturing adds a degree of authenticity few other typefaces can match. Take advantage of this 6-font pack with 65 graphic elements brought to you by Nicky Laatz.
21. Original Surfer Pro
Taking inspiration from a 'California Cliffs Caravan Park' ad, this sans serif from Stiggy & Sands adds an offbeat and lively personality to your projects. Bring the fun and excitement of summer vacations using this product.
22. California Sunshine
The 1960's has always been the decade of psych, surf and skate cultures. Take your project viewers back in time through this typeface from Midnight Grim.
23. Wonder
Artstudio presents a handmade gem with a definite human touch. Mix and match with other fonts to add tenderness to your design projects.