Hot long summers, Cadillacs, and slow rock – visions of a bygone era can make one feel nostalgic for simpler times. And who wouldn't wish for the roaring 20s or the hip 50s again?
Imagine driving downtown on a weekend, the streets lined with small shops whose signs either dangle above their doors or painted on the windows. You pick up a sundae from your local diner, spot a friend across the street, and before you know it, you're cruising towards the beach with no cares at all.
Evoke those warm, carefree feelings when you download these amazing sign painter fonts.
The Best Retro Sign Painter Fonts
1. Eastside Brush
Eastside Brush is a sign painter font nspired by the casual style of sign painters with 3 styles, script, cursive, and capitals. Easy to mix and match, with multiple language support.
2. Galantis Script
Galantis is a collective modern sign painter font with 3 styles, alternates, multilingual, and mix and match format.
3. Narrabeen Brush
NARRABEEN. This is the first of a family of sign painter fonts from Great Scott. Most suitable for display, logo, and typography art.
4. Rockaway Beach
Rockaway Beach is an upright and soft vintage sign painter font with a bouncy baseline. Also features condensed space and round forms that give this typeface a friendly and handmade feel.
5. Seren Script
Seren Script is a set of two script sign painter fonts. It's a retro font that contains 430 glyphs, the OpenType feature can be used to create your own custom typo and design.
6. Strikeout – Bold Script Typeface
Strikeout is a beautiful script typeface inspired by 1940s and 1950s baseball era. Strikeout allows you to create hand lettering in an instant. This super handy typeface is ideal for logos, product packaging, headers, posters, merchandise, handwritten quotes, social media, greeting cards, and much more. If you love baseball and retro typography, then this font is for you!
[fontsampler id=50]
7. Merchant Street Sans
Vintage Type Co. proudly presents these 8 stackable all-caps sans serif to bring your designs to a whole new kind of dimension.
8. Workhorse Combo Pack
Capture the true essence of hand-lettering in this timeless font that can be used in both vintage and modern works.
9. Black Script
Show off your ambitions for bigger, bolder things using this script family from Fenotype. Featuring 12 fonts plus extras, you simply can't go wrong.
10. The HIPTON
Create a multitude of possibilities with a little help from this layered font family by Ilham Herry.
11. Suti
Clean and easy to read, you can't go wrong with this casual script from Mika Melvas. Use it on posters, product labels, logos, and more.
12. Parts & Labor
Looking for something dependable? Then choose this layered type system from Union Type + Texture that comes out perfectly aligned and beautiful every time.
13. Fictoria Typeface
Make those logos, shirts, posters, greeting cards, letterheads, and book covers stand out with this unique vintage display typeface.
14. Ed's Market Main Script
Laura Worthington invites you to stir up those classic 20th-century vibes in this sweet hand-lettered font.
Download Ed's Market Main Script
15. Shop Casual
Create the friendliest signs, labels, and posters using this casual font brought to you by Art And Sign Unlimited.
16. Sign Panthers Brush Script Vintage
This dynamic duo from Konstantine Studio contains one sans serif for that bold, in-your-face approach, plus a script for a traditional punch.
Download Sign Panthers Brush Script Vintage
17. Laticka Brush Script
Make your design both badass and beautiful thanks to this gem from Type & Studio. The pack also contains 4 bonus rough vector textures.
18. Xign Painter
Hats off to this creation from PixelMoshpit. It features authentic brush drag to each character, giving it that timeless, customized appeal.
19. Show Stopper
Charming and inspiring, this cute brush lettering by Drew Melton is like something out of a classic ad, movie, or cartoon.
20. Humoresque Layered Mini Font
This font family by Ornaments of Grace containing 24 fonts is exactly what you need to add just the right touch of wit or whimsy to any artwork.
Download Humoresque Layered Mini Font
21. Egyptian Painters Sans
Old America Design Co. painstakingly recreated this font from historic lettering manuals to give you a traditional Egyptian sans serif brush display unlike any other.
Download Egyptian Painters Sans
22. Chesterfield Typeface
Inspired by carnival, circus, and tattoo sign shops from the late 1800's, Imagi Type Co. brings to you a totally adaptable typeface that's as pretty as it is practical.
Download Chesterfield Typeface
23. Thillends
Wacaksara Co. makes it effortless for you to create drama and movement by just using this fancy hand-lettering. Includes swashes.
24. Berg Layered Font
If you've always wanted a lot of attention, then you can't go wrong with this 7-font gem by Brosnes.
25. Kansas Casual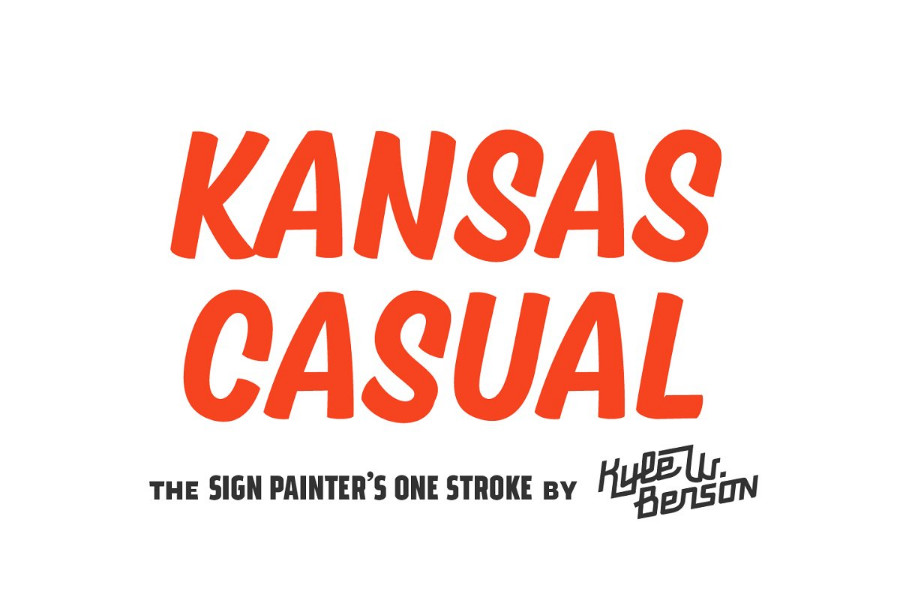 Upright, gothic, yet very modern, you'll find yourself coming back to this reliable all-caps that maintains its authenticity despite the urban demands.
26. Kitten
Zetafonts brings to you this multi-weight script family that comes in 13 fonts and also covers over 40 different languages.
27. Aloha Script
Welcome your audiences into a tropical paradise everytime you use Borges Lettering's fun brush font that contains more than 100 alternate characters, and an assortment of ligatures, swashes, and underlines.
28. Lil Stuart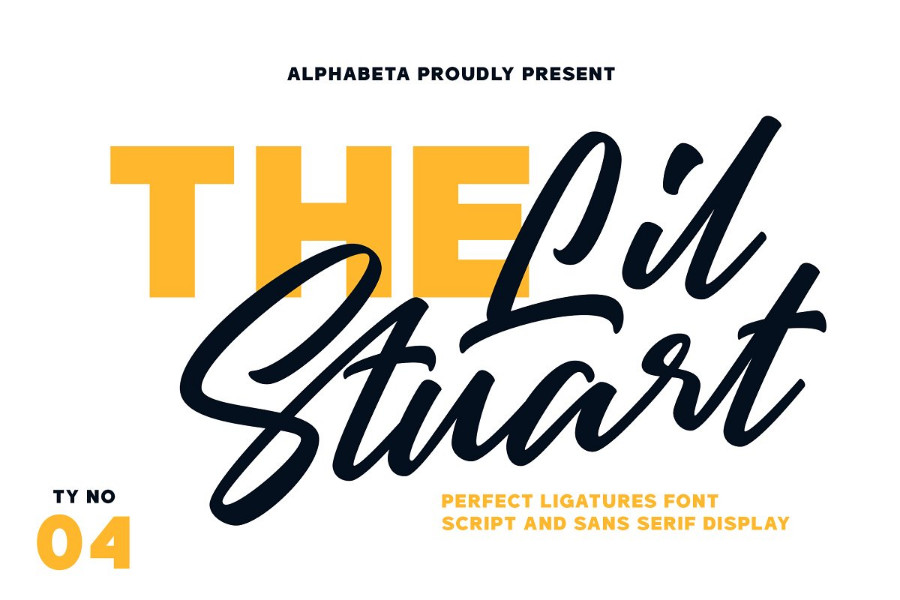 With three fonts you can mix and match to set the tone, Alphabeta brings you this perfect combination of modern style and nostalgia.
29. Sideshow Display
Inspired by the art of sign painting, Drew Melton wants to make sure you don't let anyone miss out on your amazing designs each time you use it.
30. Sign Painter
This handcrafted typeface from Svetlana Postikova comes with 10 decorative elements to make those logos, signs, cards, and posters pop.
31. Trincha Typeface
Enjoy this carefree sans based on the hand-painted letters on the walls of Sao Paulo country towns. Designed by Type Box.