The idea of creating something from a single source is nothing new. But this concept wouldn't really hit it off until the age of the internet. Today, monoline – or the use of single-weight, wire-like line, especially in typography – can be seen almost everywhere: from signage, logos, to book covers, and labels.
Monoline is as versatile as it is gorgeous. It may seem too simple at first; but it can in fact, be utilized for retro or modern works. Add it to your designs for just the right hint of 'handmade' to an otherwise commercial creation. It's also a great way to showcase minimalism and negative space for brands that want to get in on the trend.
Whatever your purpose, these monoline script fonts will surely be a refreshing addition in your toolkit.
Monoline Script Fonts
1. Antiqueline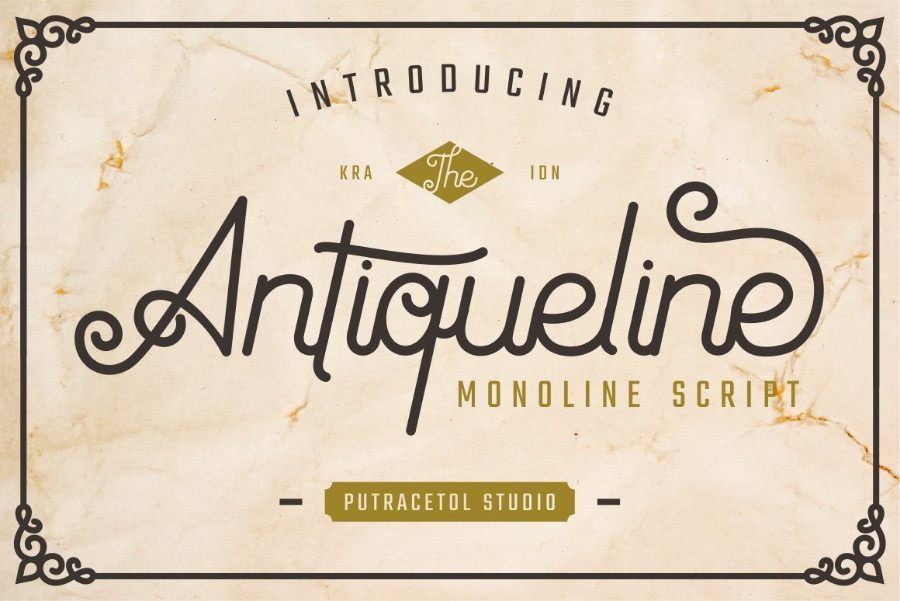 Add a beautiful vintage touch to your works when you use this typeface by PutraCetol Studio. With lots of ligatures and alternates, you'll be ready to face any design challenge.
2. Retylle Solyta Monoline
Creatype Studio presents this monoline retro script that's perfect for making vintage projects that need a touch of old-school handwriting.
Download Retylle Solyta Monoline
3. Rising Star
Adventurous and available in 3 weights (Regular, Light, and Stamp), this modern monoline by Hindia Studio will remind you of warm summers, clear night skies, and camps by the lake.
4. Belvedere
Unio brings to you this versatile font family that includes more than 400 characters plus multilingual support.
5. Lazy Ride
Hendra Pratama brings to you this script and all-caps sans that pairs perfectly with one another.
6. Palm Beach
This font duo from Ivan Rosenberg comes in a total of 4 fonts (2 styles for each font) plus multilingual support for stress-free designing.
7. Baquette
Baguette is a simple yet personal monoline font with plenty of flavour and some gorgeous characterizing swirls. Perfect for signatures and bold logotype.
8. Magelius
Magelius is a pretty unique monoline script font in which the transition from each letter is so natural that it's hard to tell that it's actually a font.
9. Rampage
Rampage is a beautiful and elegant monoline script font that has an almost western-like vibe to the swirls of the typeface.
10. Gemblo
Gemblo is a typeface that looks as if it could have been used by the Dribbble team for their logo. Gorgeous, monoline script font with huge ascenders and and elegant letter transitions.
11. Blondia
Blondia is a coffee owners dream. The gorgeous almost French-looking curls to the characters and the extravagant uppercases makes this one an ideal logotype font.
12. Selfie
This complete pack from Sproviero-Type contains 4 handy styles of connected sans serifs plus catchphrases to make your self-shot pictures stand out.
13. Traveler
A script and sans serif duo by The Routine Creative, it's the best companion to your nomadic lifestyle. Now you can show off your free-loving spirit in the right typography.
14. Hesterica
A clean, bouncy, and friendly font by Windestrian, use it for creating customized cards, labels, invitations, and posters for family and friends.
15. Ollie
This rounded script by Manraj Ubhi is a beautiful monoline where each letter flows onto the next smoothly and seamlessly.
16. Outfitter Script
A super sleek hand drawn monoline from Spencer & Sons Co., this pack comes with a bonus Wayke Regular font.
17. Carimba
Influenced by classic label design, Heybrinc Studio gives you this vintage yet hipster typeface you can have fun playing with!
18. Canggu
Inspired by the typography style of the 40's and 50's, this monoline typeface from Inspirationfeed is an easily legible script that will look gorgeous on your apparel, invitations, badges, posters, signage, and more.
19. Montebello
With a total of 4 fonts, this pack by Ian Barnard features cursive scripts and an art deco sans that are reminiscent of sunsets, beaches, and cold cocktails.
20. Smoothy
With gorgeous capital flourishes, this 2-font family can be applied when creating monograms, invitations, apparel, magazine headers, logos, and more.
21. Palm Canyon Drive
Inspired by '40s and '50s California, RetroSupply Co. brings you travel postcards, Tikki bars, and Hollywood dreams in the form of this magical typeface.
22. Catfish Monoline Script
This monoline geometric script by MyCreativeLand has 5 weights that remain legible even when used as body copy or as a header.
Download Catfish Monoline Script
23. Monoline Script
Initially based off of Stephen Bradbury's own handwriting, this lovely font is simple yet elegant enough to be used anywhere: from branding, logos, apparel, to wedding invitations, posters, and signage.
24. Signature Script & Sans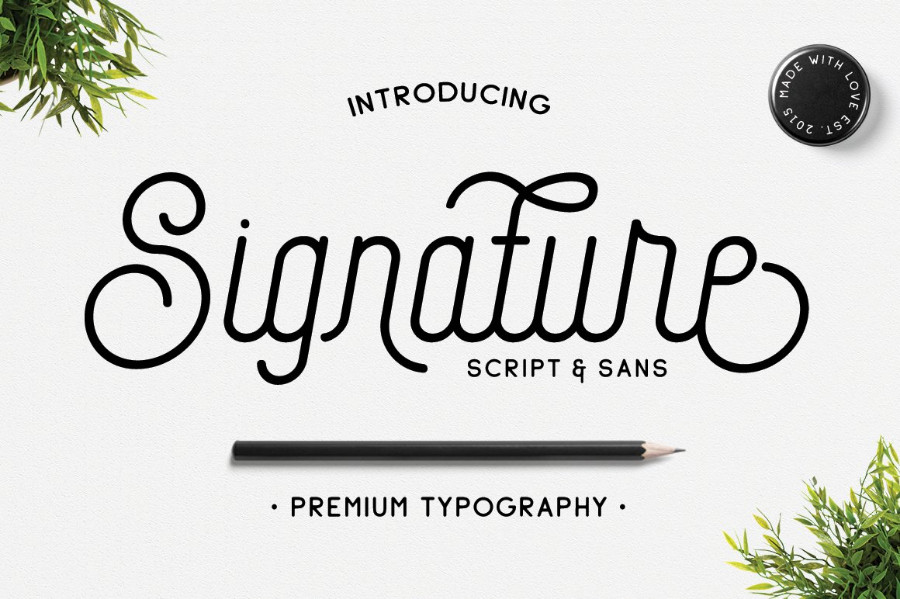 This 3-font family with a mono weight cursive script from Harmony Type Co. includes a complementary subtly rounded sans-serif, plus 240+ glyphs, as well as swashes, stylistic, contextual alternates, and final forms.
Download Signature Script & Sans
25. Honeydew Script
This calligraphic font by Molly Suber Thorpe puts a modern twist on the classic schoolhouse cursive by making it adaptable enough to be applied on almost anything – from branding to social media, stationeries and advertising.