Also known as the 'American frontier', the great Wild West is best remembered today for its host of gunslingers, cowboys, and outlaws. But this golden era has much more to offer than shootouts. It was during this period that historic expeditions took place, treaties were signed, and emancipations were celebrated.
Thus, the design themes of the era were just as wild and free as the years they embodied. From grunge textures, wooden patterns, to bold letters – they symbolize simple, yet adventurous times. Using such themes would definitely make any project stand out.
Not sure if the 'American frontier' is the look you were searching for? Then take a gander at these Wild West fonts and see if they don't give you a 'bee in your bonnet'!
Vintage Wild West Fonts
1. Chester Typeface
Create playful pieces effortlessly with the help of this layered font family by StoricType. Inspired by a combination old postcard stamps and decor from rustic sign paintings, it comes in 6 styles to give your masterpieces a life of their own!
2. CA Coronado Family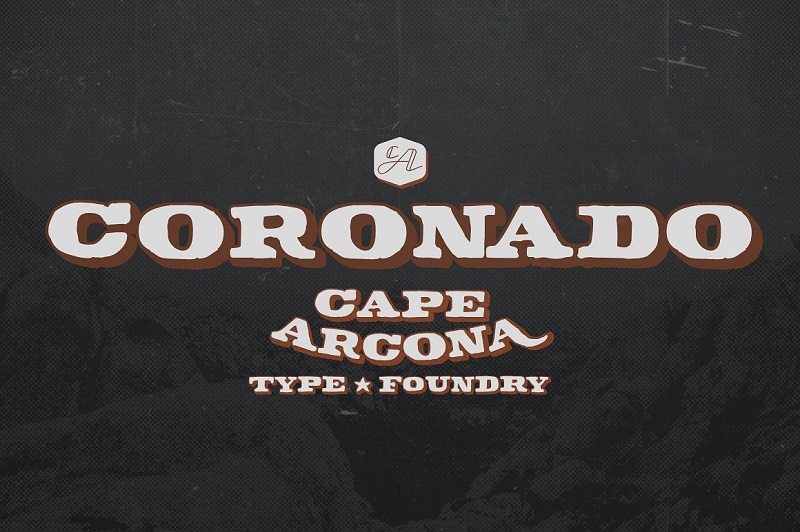 Bold slabs are not only great for grabbing attention, they're also a brilliant way to capture the essence of the Wild West. To get started, grab this offering from Cape Arcona Type Foundry. Featuring two styles (Regular and Shadow) you can combine for a truly authentic look, it comes complete with lower- and uppercase letters, as well as lots of extras.
3. Addison
Think of a modern version of the old cowboy movies with this wild west font, Addison. It features a gritty, rustic texture with thick block serifs.
4. Alitide
Introducing a modern wild west font, Alitide. This detailed typeface features OpenType, stylistic ligatures, and glyphs that are perfect for logos, t-shirts, labels, and letterheads. Bigger is better, as this font has some detail to it that shouldn't be missed!
5. Braton Composer
Braton Composer is a vintage, western font that is plump and strong but still elegant and unique. It's got a firm and sleek notion, perfect for beverage labels and gig posters.
6. Euphoria
Well-crafted wild west font inspired by Victorian and vintage typography. A 12 font family that will look great on vintage posters, websites, logos and more.
7. Northead
Beer label and vintage signage inspired this wild west font, Northead. It's an all caps font that will work well on branding, packaging, posters, headlines, book covers, Flyers, t-shirt design and more.
8. Buckboard Family
Give any project a rough, distressed, old cowboy appeal by using this font family by Aerotype. Featuring 'good ole authentic wood type font with its original patina', this is one rustic slab that's bound to be timeless.
9. Chimera Tail Font
Give audiences an air of mystic with this wide textured typeface by Gleb Guralnyk. Dark, mysterious, and comes in two vintage styles (Clean and Rough), the pack also includes a bonus Chimera illustration to give your artwork an otherworldly feel.
10. Redemption
Redemption is a strong slab serif typeface inspired from cowboys and western style. The font comes in uppercase and lowercase which you can creatively combine in your design project. The font is perfect for logotypes, badges, store front, headlines, sub headlines, and even body text. 
11. True Black Typeface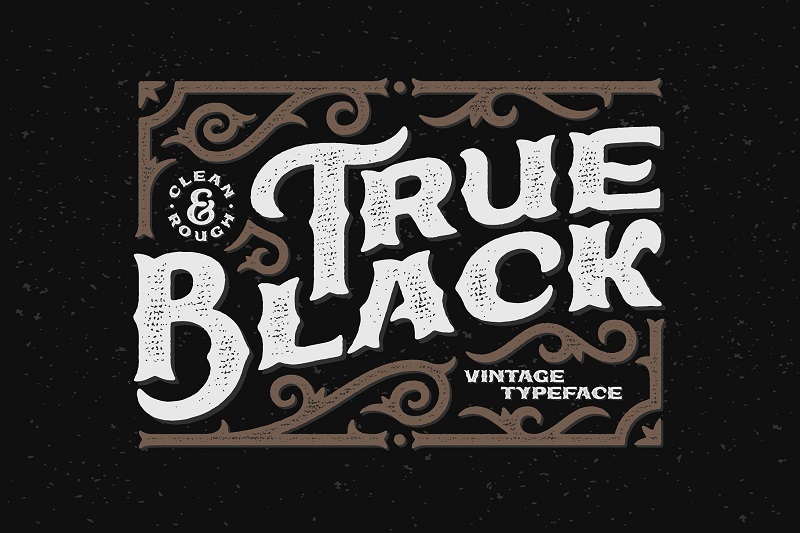 There's nothing like great 19th-century industrial steam-powered innovations to crank up your designs into gear. Achieve that look instantly by using this vintage steam-punk typeface from Gleb Guralnyk.
12. Charles Swarel
This stylish offering from bloomxxvi includes stylistic alternates and ligatures to ensure your cards, quotes, posters, logos, book covers, apparel, or packaging designs are up to discerning Southern tastes.
13. The Northwest Vintage Type Family
The understated beauty of this vintage sans serif family by NEWFLIX.Bro is all about being bold yet simple. Inspired by the Wild West culture, this all-caps typeface comes in Regular, Rounded, Regular Textured, and Rounded Textured, totalling 8 amazing styles to choose from.
Download Northwest Vintage Type Family
14. UN'CHAINED Font Family
Say hola to this all-uppercase font from Vintage Voyage Design Co. Inspired by Morricone music, as well as Tarantino and Leone movies, it's your best bet if you want to survive the untamed West.
Download Un'chained Font Family
15. Dafodil
Imagine Texas during 1866: wild, rambunctious, and home of adventure-loving cowboys. Capture this essence when you use this bold yet gentle typeface by Flavortype. Plus, it comes with a vector pack to help bring this exciting era back to life.
16. Lawless Font
Inspired by 1800's early American wood type, Itsmesimon presents this brash font set that includes four vintage versions: Regular, Grunge, Spur, and Shadow. It's ideal for logos, signage, posters, product labels, and more.
17. Old Spirits Display Font
Vintage Type Co. brings to you this bold, Americana-inspired font that's trendy yet vintage at the same time. The pack also contains 2 BONUS styles with two different degrees of stamp effect you can play around with. Have fun!
Download Old Spirits Display Font
18. Black Heat
The Old West was one of the most romantic periods in history. Capture those moments when you use this gem from Dirtyline Studio. Decorative but legible, brash yet inviting, it's the perfect typeface for invitations, greeting cards, vintage posters, book covers, social media quotes, and more!
19. Blastrick
Make vintage fun again with this layered type system by Graptail. With 8 styles to play around with, plus stylistic alternates, standard ligatures, and swashes, you can effortlessly create realistic 3D effects in seconds!
20. Black Django Typeface
Evoke the old Wild West with this lovely number from Blankids Studio. Inspired by traditional signage and ornamental shapes, you can get plenty of uses with this decorative font.
Download Black Django Typeface
21. Western Exploits
Let this classic typeface from Vincent Avila take you on a typography journey of the old West. With simple lines and rounded edges, it's sure to make a lasting impression no matter how you use it.
22. Roper Font Family
Can't get enough of cowboys and explorers? Then make sure you keep this all-caps font family by Arkitype in your toolkit at all times. Otherwise, you might regret not getting its 12 versions with different letterpress/stamped styles!
23. Northead
Inspired by beer labels and vintage signage, this all caps font will work great for branding, apparel design, and product packaging projects. Created by Blankids Studio, this vintage serif font would look amazing when paired with more decorative typefaces.
24. Black No.7
Interested in purchasing a font for the price of a bottle Tennessee Whiskey? Now you can. This typeface designed by Typocalypse, was inspired by the famous Tennessee whiskey logo from 1866 – and comes in two beautiful styles.
25. Smoking Typeface
Gleb Guralnyk brings the Wild West to you in this vintage western font that comes in three convenient styles (Base, Shadow, Full). Use separately or combine to create interesting effects.
26. Westwood Funny Western Font
Make something timeless today when you use this western style display font from Cruzine. With 8 font files to mix and match, you can come up with at least 16 different styles that will look amazing on any vintage or retro project!
Download Westwood Funny Western Font
27. Drone Ranger Display Font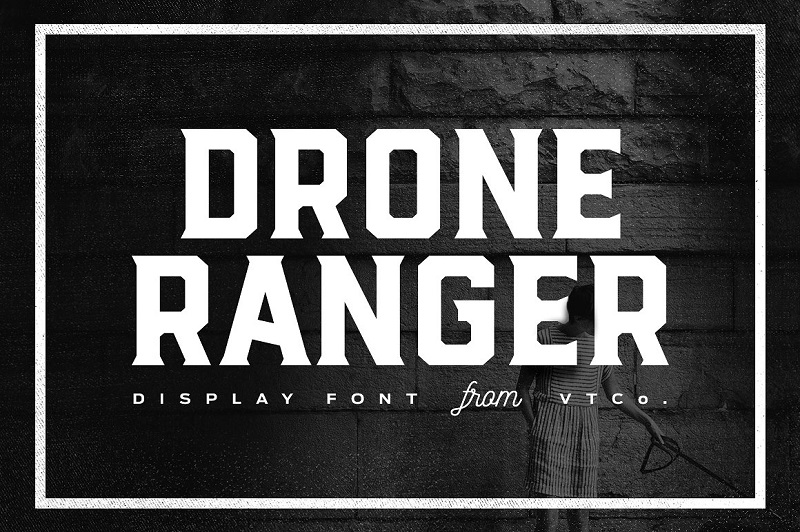 Whether you're working on a retro or modern piece, you can't go wrong with this geometric display font family and its set of 9 various styles! Vintage Type Co. will even throw in a bonus Nomad Icon Pack (that comes in Inked, Spot Color, and Regular) to enhance your works.
Download Drone Ranger Display Font
28. Western Grit Handmade Typeface
Nothing like a 100 percent handmade font to truly make your designs pop! Take this one from Itsmesimon – with an authentic distressed hand-drawn look, plus a total of 323 glyphs, it's an amazing steal!
Download Western Grit Handmade Typeface
29. Rebute
No matter the project, you want something you can always rely on. And that's exactly what the Twicolabs Fontdation offers in this versatile all-caps typeface with a sporty, yet strong vibe. It's ideal for sports or vintage themes.
30. MFC Rodizio
Looking for the perfect font for monograms? Then feast your eyes on this standard all-caps typeface based on an original wood type from Monogram Fonts Co. Meant to be layered with one another to create interesting effects, it will fit retro or modern projects.
31. Aurora Script
The Old West wasn't just a period of lawlessness – it was also a period of passion and romance. Evoke a similar feel to any artwork by using this gem by Andrey Sharonov. Inspired by traditional calligraphy, the pack comes with free vintage frames for a luxurious, elegant look.
32. Vector Font
Fractal is proud to present this uppercase only font that's brimming with personality. Designed to appear and feel like the saloon days of old, it's great for logos, labels, stickers, and branding projects.
33. Chuck Wagon Font
Inspired by the letterpress typefaces and the Wild West, this hand-drawn slab serif by modernmyth is all about going bold or going home. The distressed texture is perfect for that true Western vibe.
34. The Roseberry
Get your buck's worth when you purchase this pack from me55enjah. This handmade serif display typeface has three styles (Solid, Outline, Codet) you can mix and match to achieve your desired classic look in minutes.
35. Vintage OTF and Vector Font
Add the perfect final touches on your products when you use this Cognac label style font from Fractal. This lettering is well suited for liquor and/or bottling projects.
Download Vintage OTF and Vector Font
36. Gunslinger Western Typeface
Re-create the best of the Old West thanks to this pack designed by Von Type Co. This eye-catching bold slab serif comes in two styles – Regular and Spur – but also has sans and Italics versions you can play around with. That gives you a total of 6 different looks for logos, posters, headlines, and more!
37. Vanilla Whale (FREE)
This narrow slab serif with unusual small-caps from Typodermic Fonts is rustic, rugged, yet surprisingly elegant. To create an interesting effect for headlines, labels, and covers, sandwich lowercase letters between two capital letters.
38. Gunslinger (FREE)
Check out one of the most wanted fonts in the world of typography design: this rough font from KC Fonts. For authentic-looking vintage lettering on labels, signs, and posters, toggle upper and lowercase letters. Free for personal use (includes letters only).
39. Maukers (FREE)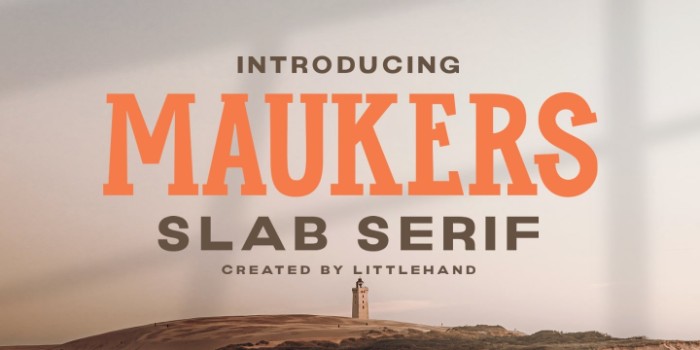 What makes this Wild West-inspired slab serif by Letterhend Studio unique is its versatility. Aside from vintage projects, you can also use it on modern works and concepts such as restaurant posters, architecture portfolios, music album covers, product packaging, social media quotes, and blog headers.
40. El Durango (FREE)
A chunky, reverse contrast, slab-serif by Just The Skills, this typeface has heaps of personality, plenty of open type features, and a whole host of special characters and dingbats. While it's gorgeous on Western-style themes, it will look amazing on posters, editorials, flyers, and apparel designs, too.
41. Blocky Gods Font (FREE)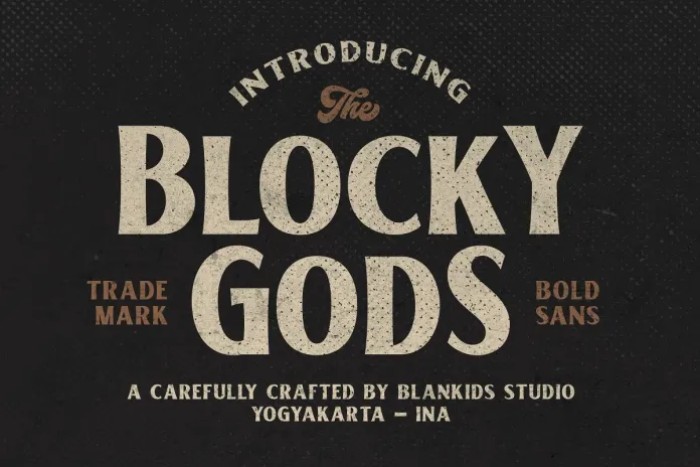 Inspired by the Old West label style and some motorcycle art, Blankids Studio breathes life to this wild display font that's as exquisite as it is practical. Try it on beverage labels, automotive signs, rodeo-themed logos, and vintage apparel.
Can't get enough of these brazen Wild West fonts? Then download your favorites today!