Last Updated on October 9, 2023
From field trips, to building with LEGO bricks, and Show and Tell – most of us have fond memories from kindergarten.
As a preschool educational approach, it lays the groundwork for a child's educational journey through various fun activities such as drawing, singing, and outdoor play. That's why it's important that the classroom and learning materials used are suitably designed for young minds.
When choosing fonts for kindergarteners, decorative and colorful are not always a priority. Instead, consider readability, consistency, and contrast. Pick fonts that are clear, legible, and age-appropriate that can be easily seen and read when placed on posters, books, and cards. Don't forget to include dyslexia-friendly fonts (e.g., OpenDyslexic, Arial, Comic Sans, Lexia Readable, etc.) in your design toolkit.
Ready to spark curiosity, foster learning, and ignite creativity? Whether you're a parent or an educator, you will love our selection of fun, practical kindergarten fonts!
Whimsical Kindergarten Fonts
1. Playful World
StringLabs proudly presents this fun, chunky lettered display font that's perfect for kiddie crafts or school projects. It features upper and lowercase letters, numbers, punctuations, multilingual support, as well as OTF, TTF, and WOFF files.
2. Tuck Shop Font
Handmade with real chalk on a natural slate chalkboard, this detailed typeface from It's Me Simon comes with a childlike, naive personality that's suitable for casual works. You will get 3 styles (Regular, Outline and Decoration) along with 77 ornaments.
3. Soul Daisy
Friendly, rounded, and organic, this gentle font by epdesigns is great for branding, apparel, greeting cards, packaging, signage, merchandise, posters, album covers, ads, menus, flyers, invitations, and even web design.
4. Melon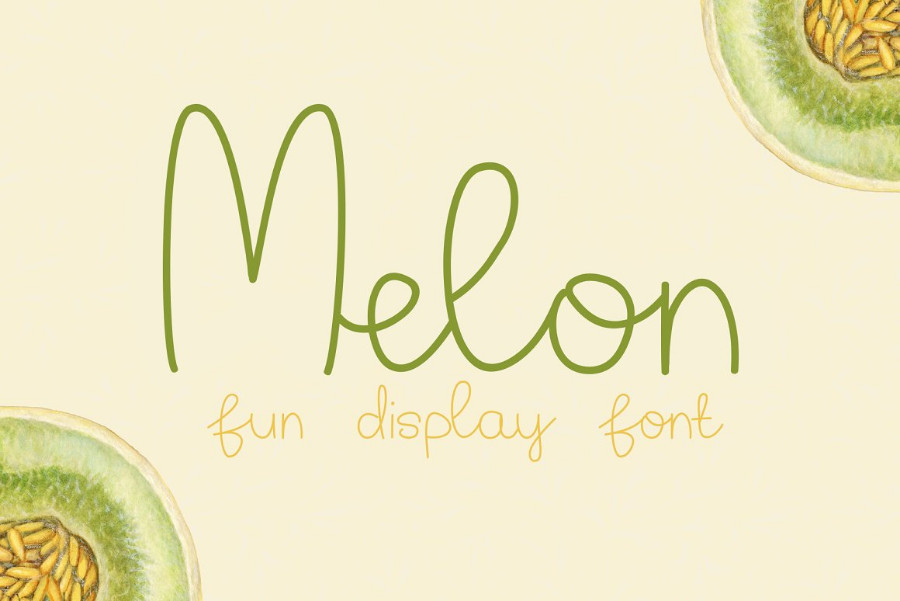 This quirky and light-hearted display font is reminiscent of summer. With its warm vibes, let it bring happiness to your t-shirts, greeting cards, posters, menus, book covers, phone cases, mugs and more!
5. Carrot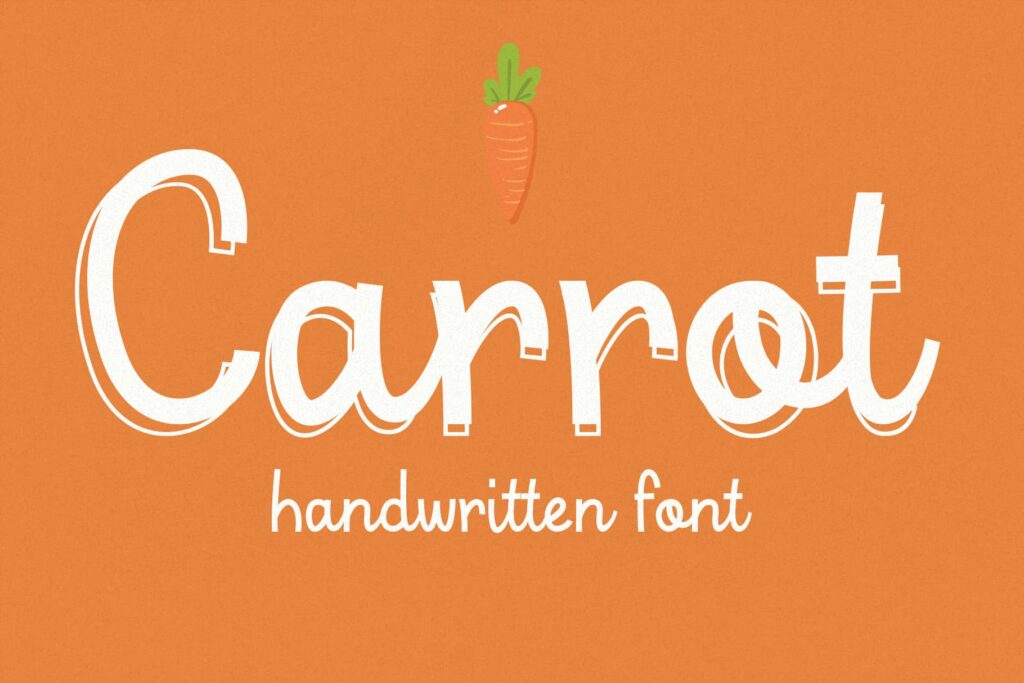 Meet this charming handwritten font available in Outline and Regular styles. With its delightful and natural essence, it's an ideal choice for various creative projects, including children's books, branding, web design, greeting cards, posters – anything that craves a warm and inviting atmosphere.
6. Sasquatch
Introducing: a whimsical display typeface infused with the spirit of the 1960s. Designed with a special focus on projects for children, its welcoming charm makes it suitable for a wide range of creative endeavors, such as magazines, stationeries, flyers, schools labels, badges, packaging, advertising, etc..
7. BerryMerry Typeface
Inspired by mid-century design with a modern twist, this playful, retro serif will look sweet on headers, social media posts, event posters, cards, magazines, packaging, and more. It's ideal for kids' crafts and projects, too!
8. Nelson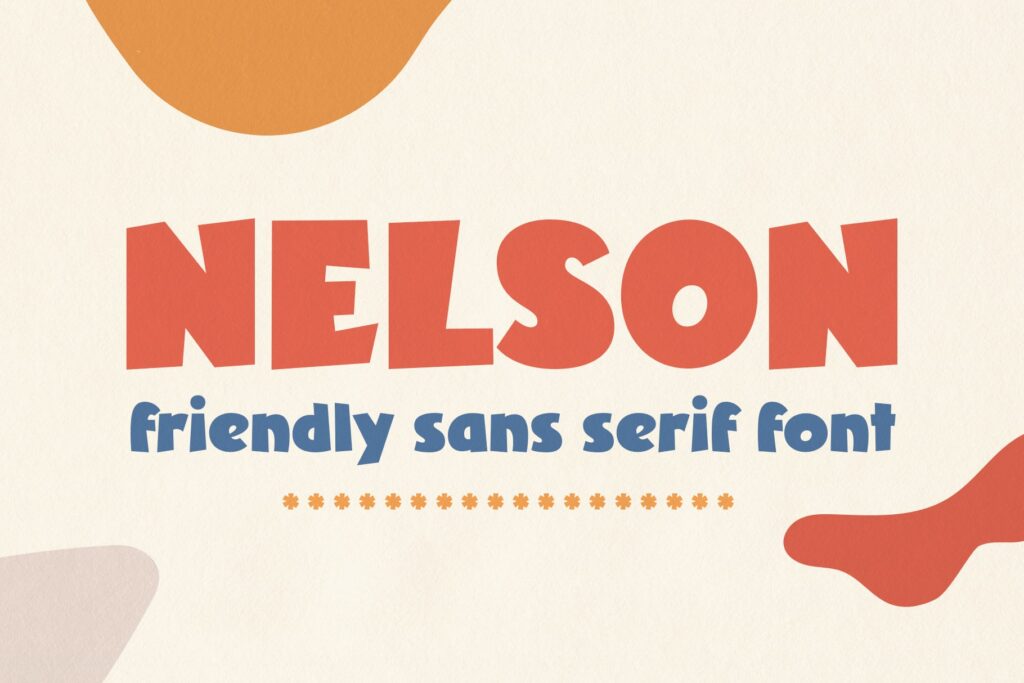 Bold yet laidback, this font is sure to brighten your day with its clean, chubby letters and friendly demeanor. Try it on children's book covers, greeting cards, signage, website UI, package design, and print on demand. Pack contains upper and lowercase letters, punctuations, and numbers.
9. Sunday
Just like our favorite lazy day, this solid typeface is warm and inviting. It's recommended for projects that need a lot of impact, like t-shirts, mugs, headlines, and logos. Its subtle curves make it applicable for both vintage and contemporary designs.
10. Buttercup
Say goodbye to boring and say hello to something quirky! Let your creativity run wild using this offbeat typeface featuring unexpected shapes. Give it a go on modern branding, eccentric posters, or oddball illustrations. Toggle upper and lowercase characters to create interesting results!
11. Citro
With influences from 1920s and 1970s grocery store hand-painted paper signs, this bold typeface features inconsistent baseline and cap heights so your characters appear like they're "dancing"! Use this when you don't want to take life too seriously.
12. Monro
Inspired by the aesthetics of the 80s and 90s, this disruptive typeface is recommended for big, bold projects that require plenty of attention, such as headlines, posters, and logos. Eye-catching and geometric, it will undoubtedly make any project memorable.
13. Sebastian
Always wondered which font would go well with your cartoons and retro illustrations? Then look no further than this fun, cutout typeface. Charming, friendly, and tall, it's the best complement to children's book covers, café posters, kindergarten classrooms, greeting cards, and more.
14. Nestor
Meet this one-of-a-kind retro-inspired display font that's full of character and charm. The perfect choice for eye-catching headlines, ads, posters, branding, social media quotes, and prints, its groovy curves and bold personality will give any creative project a hip vibe.
15. Golden Dragon
Simple and hand-drawn, don't let this vintage serif fool you: it's a hard worker. Whether you're after an Asian flair or you're searching for fonts to pair with beautiful textures, let this typeface give a personal touch to your designs.
16. Kendric
Believe it or not, this retro-style font remains legible for large and small text sizes. This means you can use it on headlines, books, posters, brochures, billboards, and websites. It's a must-have addition to your digital toolkit.
17. Huckleberry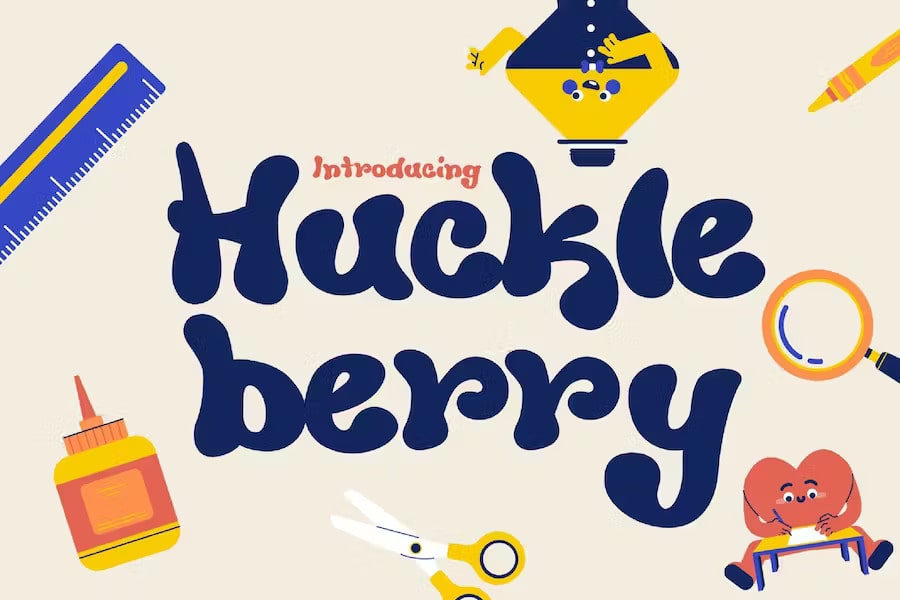 Curvy, quirky, and playful, this lighthearted font surprisingly gives off a peaceful feeling. It's perfect for school-related projects such as presentations, posters, birthday invites, and more. To access the OpenType ligatures, simply use OpenType capable software such as Photoshop, Illustrator, or Indesign.
18. Funzi
Inspired by the idea of spilled ink that spreads and fills the shape of letters, this handwritten font features smooth, rounded corners and a comforting vibe. Pair it with colorful illustrations and you're all set!
19. Explore Magic
This colored SVG typeface from Letterhend Studio is available in two types: a solid version and transparent version with extra doodle dingbats. It's suitable for children's storybooks and other kid-themed designs. To access all glyph variations, be sure to use apps like Adobe and Corel Draw.
20. Chalk World
Formatika brings you this spirited display font that's perfect for school presentations and promotions. The pack contains OTF, TTF, and WOFF files plus web fonts. Works on PC and Mac.
21. Roomeria
This cheerful script from TempCraft includes multilingual support, alternates, numbers, symbols, and ligatures aside from the basic Latin A-Z characters. Have fun using it on greeting cards, posters, merchandise, and social media posts.
22. Larantuka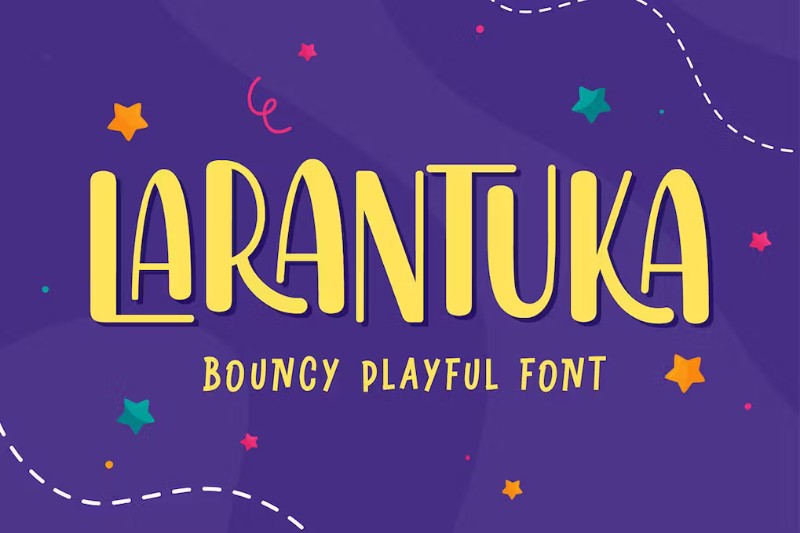 Neat but bouncy, this display typeface by Ramzehhh includes Regular and Outline styles for lovely, practical designs. Combine upper and lowercase letters for amazing results.
23. Meeow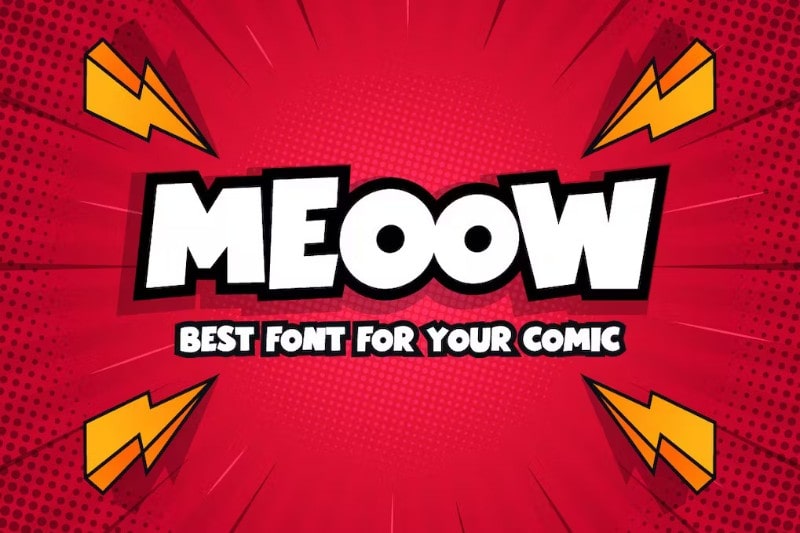 Let this bold decorative font from MightyFire_STD give your comics and graphic novels a fun, dynamic vibe! You will get OTF and TTF files, along with upper and lowercase characters, numbers, and punctuation.
24. Sunspot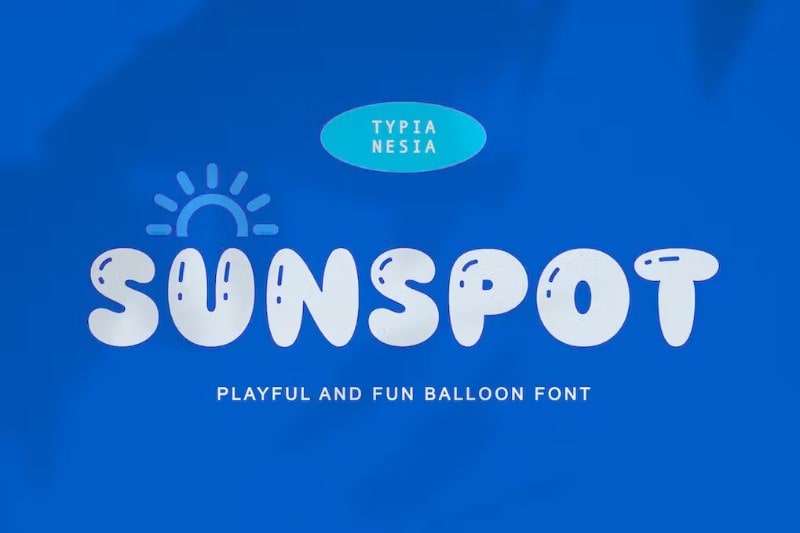 Add some whimsy to your designs using this funky balloon font by Typia Nesia Std. From party invites, posters, quotes, to food packaging, toy labels, and game logos – let it bring it out the kid in you!
25. Cosmo Bones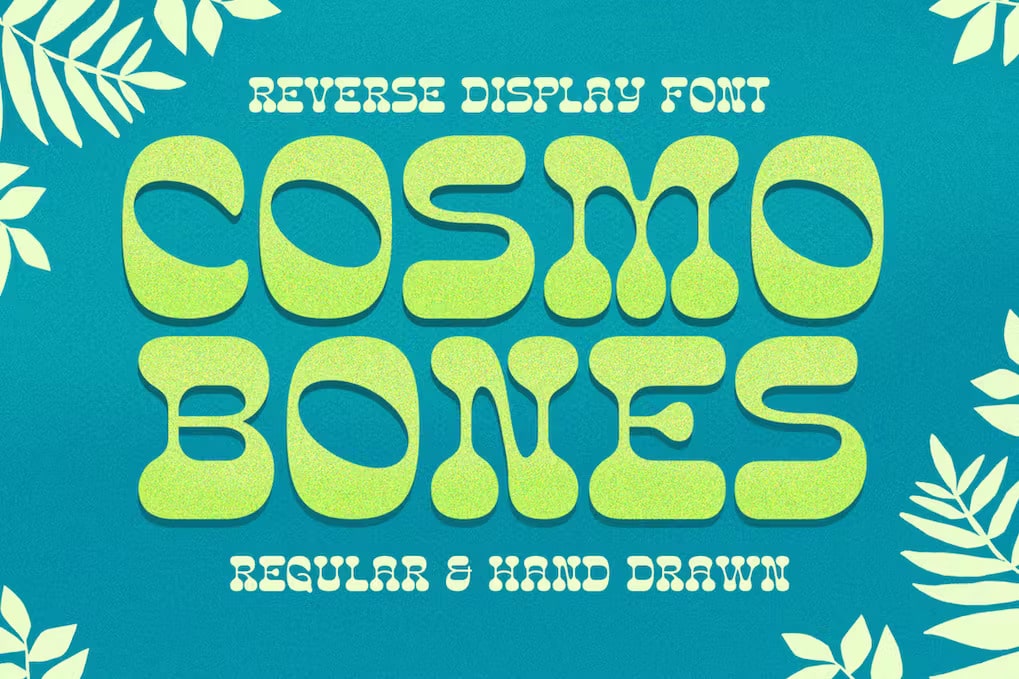 Searching for a standout font for your children's book cover, stickers, and product labels? Look no further than this reverse display font that's PUA Encoded and multilingual. Can also be used for retro and Western themes.
26. Chewies
This chubby sans serif is reminiscent of bubblegum labels and sweet flavors. Play around with it by combining the upper and lowercase letter for awesome effects!
27. Hancoke
Awaken a thirst for exploration and adventure with this fun display font from RahardiCreative. Featuring web fonts, tons of glyphs, and a simple installation, you'll be creating logos, labels, invitations, posters, and stationeries in no time at all!
28. Lolly Popz
Bold, curvy, and sickly sweet, this display typeface by Rautan Studio is anything but ordinary. Ideal for food and beverage concepts, you will get OTF and TTF files, along with multilingual accents to help you freshen up your designs.
29. Blendstripe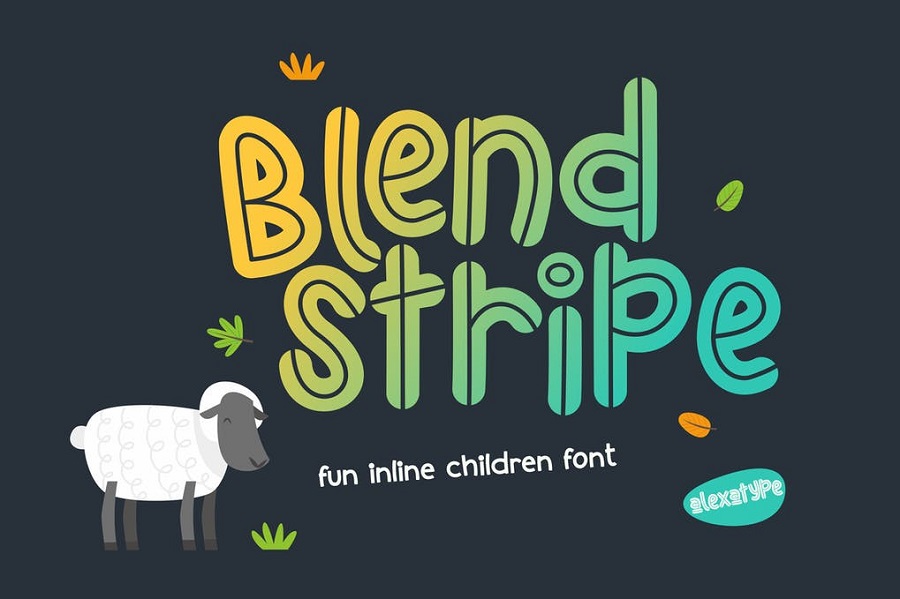 Introducing a hand-drawn inline sans serif that looks as good as it is practical. You can use it by itself to create amazing typographic posters; or pair the font with playful illustrations for kid-friendly results. Brought you by Alexacrib.
30. Sallomae
With influences from jungle cartoons, this display font was designed with a cheerful monoline concept and adjusted legibility. This means it will look great on large sizes like headlines and logos, but also on smaller sizes such as quotes and short captions. Add flair to your works by combining the letterforms with stylistic alternates and ligatures.