Last Updated on August 8, 2023
Depending on when you were born, grunge may or may not have been familiar to you. But those who grew up surrounded by this subculture were the kids and teens who used to listen to Pearl Jam, Alice in Chains, and Nirvana. They probably wore flannel shirts and combat boots. And you probably know them collectively as: Generation X.
What exactly is grunge?
What began as an alternative rock genre quickly became its own culture filled with loud music, nihilistic ideas, and indifferent fashion choices.
The word 'grunge' was a term used for something repugnant or dirty. In the early 80s, a growing number of bands in Seattle were mixing some elements of metal and punk in their sounds. But as they were just beginning, they didn't have money to 'clean' their recording.
Deciding to leave it as is and just turn up the volume during performances, 'grunge' was the term given to their 'unclean' sounds that consisted mostly of distorted electric guitar, heavy bass, and drums. Aside from Nirvana and Pearl Jam, other well-known bands of that time included: Soundgarden, the Melvins, Green River, Screaming Trees, Mudhoney, and The U-Men.
Grunge in today's culture
About 38 years later, the effects of grunge going mainstream can still be felt and seen in music, fashion, fiction, and graphic design.
The deep, anguished lyrics have inspired musicians to remain true and authentic to their sounds. Nowadays, bands and solo artists all take inspiration from the generation that promoted non-conformation, rebellion, and independence. Thanks to grunge, people who feel misunderstood or broken will have something they can relate with.
Fashion was another industry where grunge had plenty of impact. In the 80s and 90s, fans of the bands donned whatever their favorite singers did. Hence, the Mohawks, chains, ripped or cut-off denims, studded belts, and the combat boots.
Graphic design during the grunge generation intentionally used 'lo-fi' (low fidelity) images and elements. For album covers though, this was more of a necessity rather than to make a statement. Still, the 'look' caught on and soon, designers were using distressed lettering along with collages, and murky photos. Pretty much anything that looked intentionally 'disharmonious' or chaotic.
Iconic Grunge Fonts
Whether you grew up in the 80s or not, there's no doubt that the underground culture then produced some of the best music, fashion, and fiction people still enjoy today. And on that note, here are some cool grunge fonts to add to your collection.
1. Alpha Rough
Inspired by vintage styles, this handmade font from Maghrib features rough textures and uneven lines for that effortless hand-drawn effect. Includes 42 silhouette objects to make your finished product unforgettable.
2. Autogate Stamp
Embrace the past in this rustic and rough script by Letterhend. With stylistic alternates, ligatures, and multilingual support, it's a timeless addition to any toolkit.
3. Beats
Hand-drawn using cut Coke cans, this font oozes personality with every letter. Pack contains texture brush pack in PNG for creating badass logos, headers, posters, etc.
4. Black Ground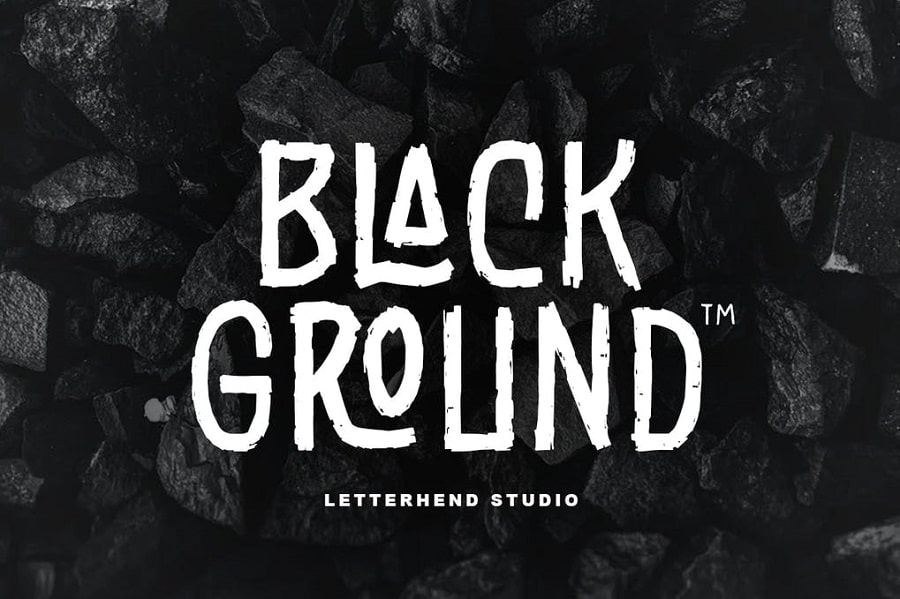 This all-caps font with uneven lines and edges will give a rugged vibe wherever it's applied. Access all Glyph variations using Adobe apps or Corel Draw.
5. Regolith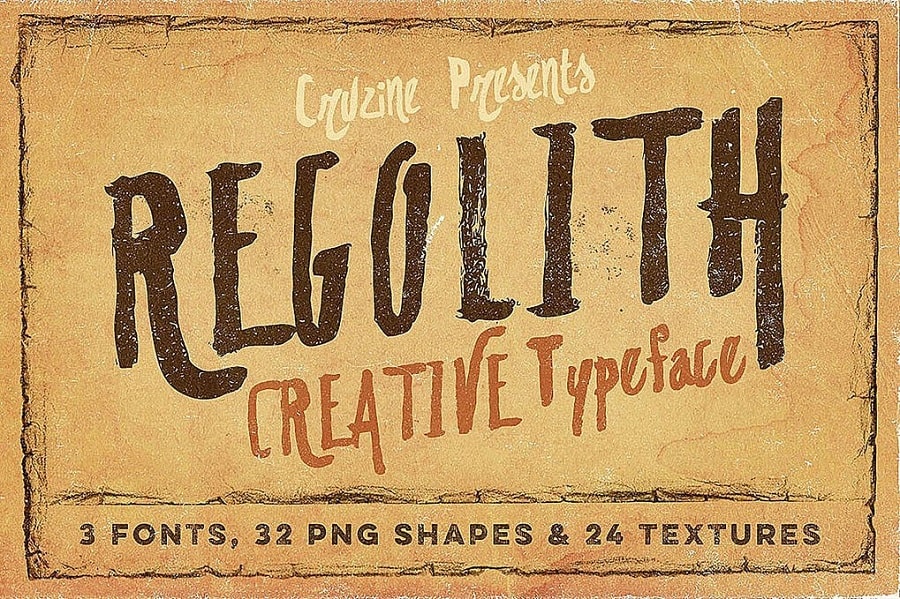 Three fonts (vector lettering in AI), 32 transparent PNG shapes, and 24 hi-res grunge textures: all these brought to you by Cruzine.
6. Ocela Typeface
Featuring 4 vintage styles – Regular, Grunge, Inline, and Inline Grunge – this old-school typeface is what you need to create stunning headers, titles, postcards, posters, and more.
7. New York Font
Evoke the vibe of 50s and 60s urban living in this practical set that contains 4 retro fonts: Regular & Grunge, Line & Line Grunge, Shadow & Shadow Grunge, Shadow Line & Shadow Line Grunge.
8. Quickfox
Whether you're making an image quote or a children's book cover, you will love the style of this modern script by Vuuuds. Includes alternate glyphs and beautiful extras!
9. Blocklyn Font Family
More than a masculine font, this font family by Design Panoply is big, bold, and badass. With 4 styles to choose from plus two 3000 x 2000 pixel PSD mockup templates, you can easily deploy them in industrial, musical, food, or sports themes.
10. Marquee
If you need something big that will quickly draw attention, then you're going to need this set that includes a whopping 18 custom display fonts!
11. Grunge!
Rock to your own rhythm when you use this bold brush typeface by Rahardi Creative. With standard glyphs and ligatures, your posters, t-shirt designs, and invitations will surely stand out from the crowd.
12. Mutiara Vintage
This subtle but gorgeous grunge font is a vintage-inspired typeface with four fonts. The font family includes slab, bold, and rough. Mutiara Vintage also has multilingual support and 54 alternate characters in its package. It is perfect for typography, headlines, and t-shirt designs.
13. Rocknroll Font
This is for those who rock harder than anyone else – introducing Cruzine's custom font in 3 versions: Subtle, Medium, and Hard.
14. Highbinder Display Font
Inspired by prohibitionist era typography, Vintage Type Company gives you a display font perfect for logos, posters, titles, headers, mock-ups, and more. With a BONUS vector object pack, you'll feel like a high roller yourself once you've made the purchase.
Download Highbinder Display Font
15. Quipley Font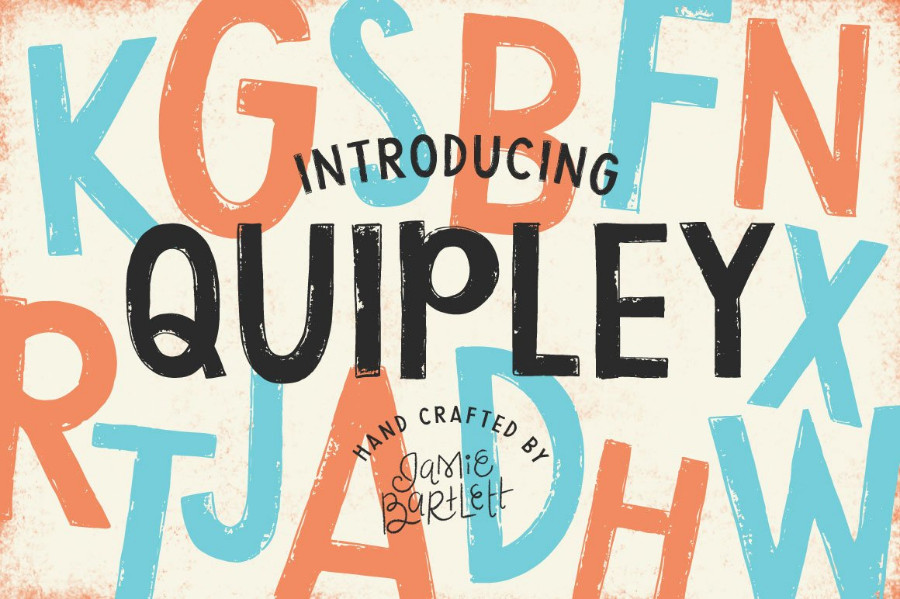 More than a textured typeface for music album covers and band shirts, this all-caps sans from Jamie Bartlett will also look amazing on children's book covers, cafe logos, and motivational posters.
16. Neato Serif Rough Fonts
Quirky, playful, and textured, Adam Ladd brings to you this hand-drawn serif with a charming letterpress style. With stylistic alternates, swash characters, as well as standard and discretionary ligatures, it's going to be great addition in your toolkit.
Download Neato Serif Rough Fonts
17. Atone
Tugcu Design Co. presents this brush font you can use in sports, urban, industrial, and thriller themes. See the alternate versions of some of the characters by toggling the Caps Lock.
18. Oakwood
Create the perfect rustic vibes using this gem from Medialoot. Available in 3 styles – Clean, Rough, and Rough Shadow – its subtle serifs and angled crossbars will blend seamlessly into your works.
19. Bold Riley Font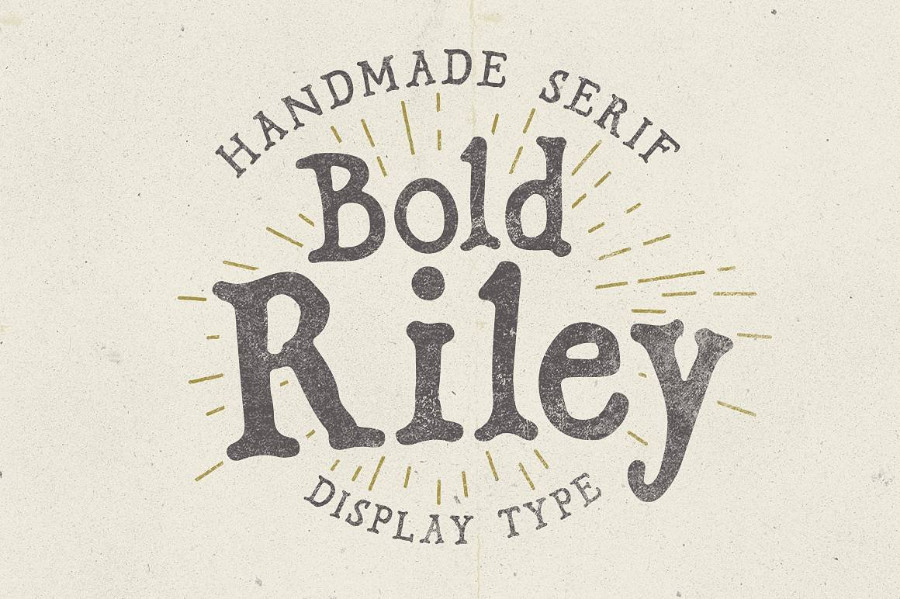 No need for a parley when you've got this handmade serif by Simon Stratford. Drawn by hand for a more human touch, its wobbly, aged appearance will have every pirate and sailor saying 'Ahoy'!
20. Autogate Stamp
Another awesome grunge font from Letterhend Studio, Autogate Stamp, is a rough and edgy script design with a modern spin. Its classic and rustic feel is suitable for anyone looking for a typeface for logotypes, apparel, invitations, branding, packaging, advertising, and so on. 
This typeface includes upper and lowercase letters, punctuations, symbols, numerals, and 09 stylistic set alternates, ligatures, and other features. It is also multilingual, and PUA encoded.
21. The National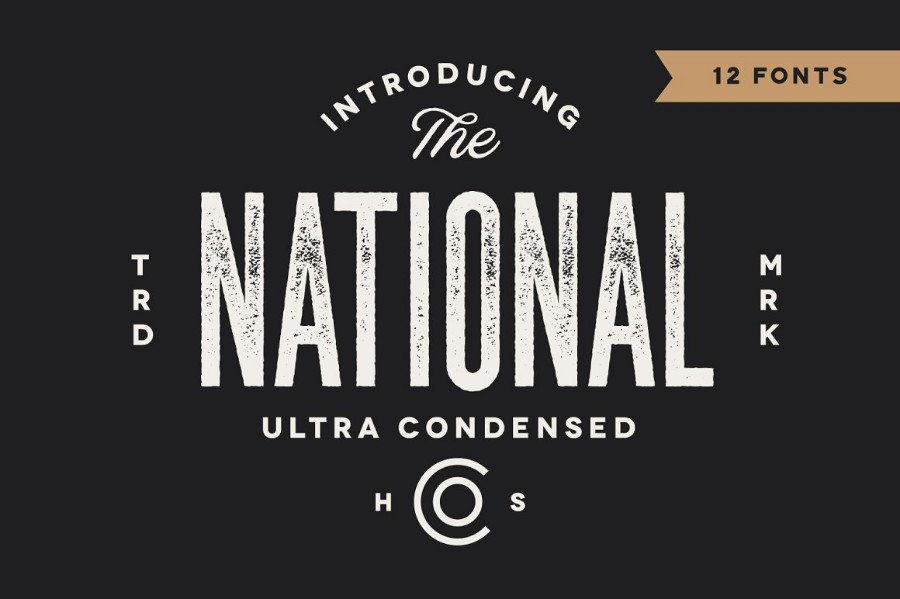 Hustle Supply Co. gives you this ultra condensed type family featuring Clean, Aged, and Oblique styles, for a total of 12 fonts you can show off in branding, advertising, or packaging designs.
22. Heubeul Vintage Typeface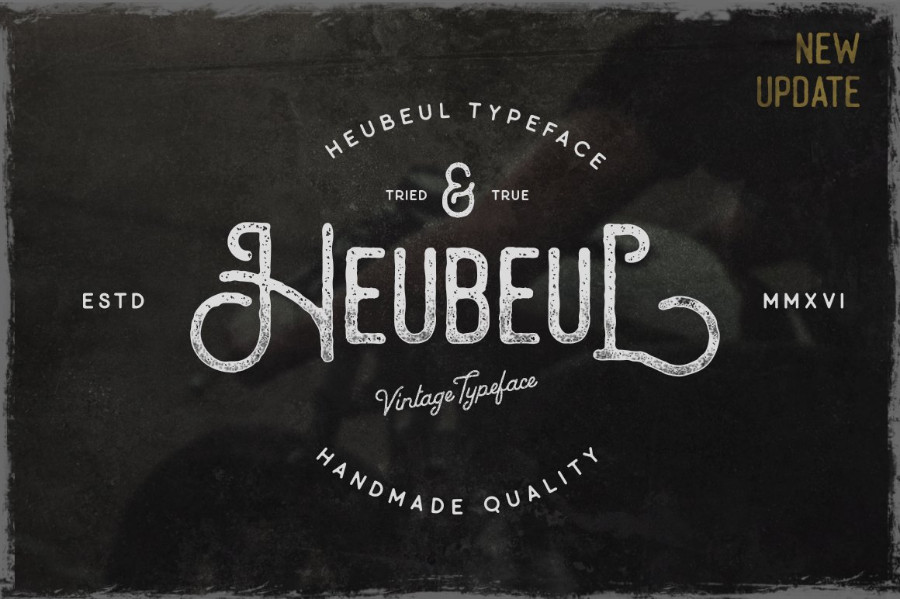 With just the right texture to give off a handcrafted, fresh appeal, this highly detailed font by Wandery Supply contains Rough and Vintage versions for logos, posters, t-shirts, etc.
Download Heubeul Vintage Typeface
23. Kicking Horse
This product from Greg Nicholls features a total of 4 styles you can mix and match, or use on their own. With rounded edges and a classic, weathered look, you'll be using these slab serifs for years to come.
24. Fierce Font SVG
Created with acrylic paint on transparency film for a level of detail you just can't get anywhere else, this brush script caters to the rebellious, punk in you that's been waiting to paint the town red.
25. Stencil Grunge Font
For when you need the perfect badass font for military, industrial, or graffiti purposes, this stencil grunge font by Pashabo would be your new go-to. Pack includes 6 high-resolution grunge textures, plus letters in TTF, EPS, and PNG versions.
26. Harsey Type Toolbox
This rustic typeface from Letterhend Studio includes many styles such as script, sans serif, serif, dingbats, catchwords, and badges, all in font format. 
This font package includes 20 premade badges/labels, all of which are still editable, so you can quickly create your own. This product is even more unique because you can use and combine all of these perfectly matched fonts.
Download Harsey Type Toolbox Font
27. Blocklyn Font Family+Mockups
Blocklyn Font family can be described as a classical rendition of the qualities; big, bold, and badass, but it's not exclusively for stereotypical design.
Four fonts are included: Condensed, Condensed Italic, Grunge, and Grunge Italic, as well as two hardcore, 3,000 x 2,000 pixel PSD mockup templates.
Blocklyn has a variety of numbers and symbols, as well as standard and extended Latin characters. With the inclusion of web fonts, it's easy to incorporate Blocklyn into your website.
28. Ponds Typeface
Ponds Typeface by Cruzine is a flexible display font perfect for grunge, retro, and vintage designs. The font comes in four special styles and provides options for elevating your designs. Because of its versatility, the font can be used for headers, logo design, printing, and other purposes.