There's a lot to love about this timeless drink. From the different labels and flavors, to the ways it can be enjoyed, whiskey is not just for connoisseurs.
Although its origins are debated until today, the amber drink became popular in Scotland and Ireland sometime in the 15th century. It was processed in monasteries for medicinal purposes, but eventually moved to the general public when many of the monks were dispersed by King Henry VIII.
Nowadays, anyone of legal age can find a blend that they like. While some folks would suggest you drink yours neat (with a couple drops of water, no ice), nothing is set in stone. Enjoy your whiskey mixed during a night out with friends. Or pour it over some ice in celebration of a promotion.
No matter how you like your whiskey, it's an enduring drink that goes beyond borders. These whiskey fonts are proof how this classic has seeped into all aspects of our culture – from gastronomy to design.
Vintage Whiskey Fonts
1. Gibsons Regular
If you are looking for an attractive whiskey font Gibson provides 20 fonts in one package. Looks nice on labelling, logos, business cards, and corporate branding.
2. Lansdowne
Lansdowne is a vintage all-caps whiskey font with a classic blend of clean and vintage themes. Featuring 470+ glyphs to give you a strong, sharp, yet clean feel without losing its vintage/classic touch.
3. The Farmer
The Farmer is a Textured ultra condensed whiskey font that includes 3 styles and iconic alternates, giving aesthetic diversity. This modern, yet rugged vibe is great for hipsters, beverages, and coffee shops.
4. The Northwest
Northwest is a vintage Sans-serif whiskey font, Inspired by Vintage Wild west culture and combining with modern vintage touch. An All-Caps Sans Serif pairing with a Clean, Rounded & textured version of each.
5. Savaro
This-all-caps offering from Dikas Studio is available in Regular and Spurs styles, along with swashes and special characters to make your works stand out.
7. Remark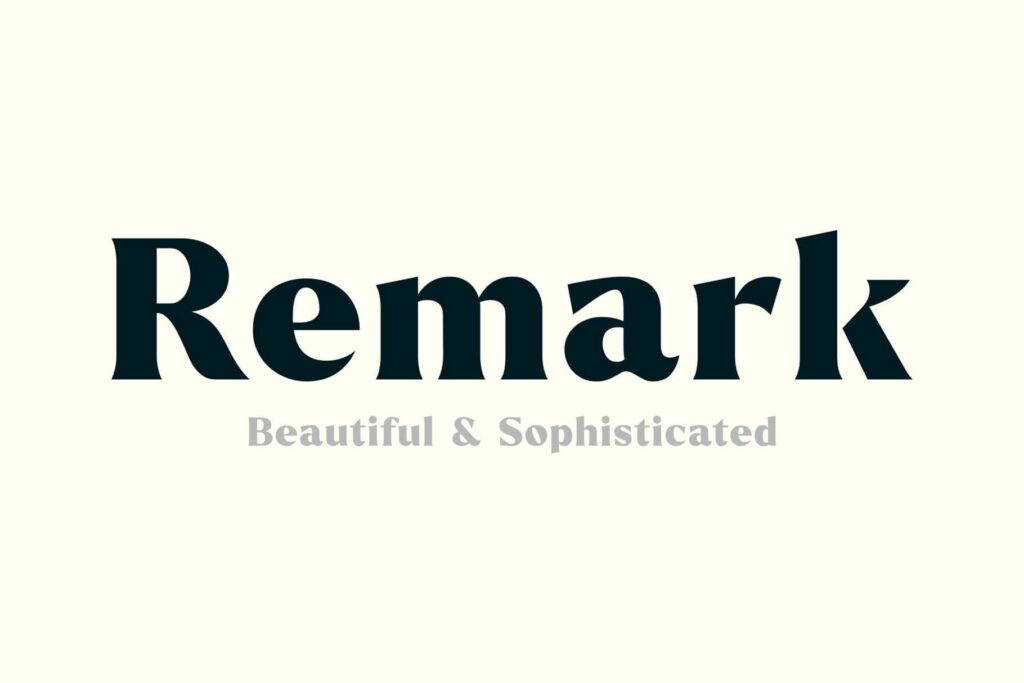 Remark is a beautiful and sophisticated serif typeface inspired by the Ancient Roman Empire. The font's bold and sharp edges demand the reader's attention, which makes it perfect for commanding designs. Remark is best suitable for headings, quotes, posters, tshirts, branding, websites, labels, invitations, packaging, stationery, novels, and much more. If communication is your goal, then this font is perfect for you.
8. Molheim
This commercial art-inspired serif typeface by Bart Wesolek will go great with anything that needs a bold yet clean touch.
9. Civane
Built to last like the creations of our forefathers, this font family from Jeremy Dooley contains everything you could ever ask for in a font pack: 48 strong fonts, over 550 glyphs per font, plus multi-language support.
10. Aurora Script
Andrey Sharonov offers you this calligraphy-inspired vintage typeface that's as alluring as it is functional.
11. VV Typeface Collection
Featuring 18 fonts and 6 premium lettering templates, Vintage Voyage D.S. gives you multiple type families that work harmoniously well together – for a fraction of the cost.
Download VV Typeface Collection
12. TT Octas
A narrowly proportioned font family that comes in octagonal forms, it's an instant classic no matter where you decide to use them. Created by TypeType.
13. Cognac Font
This typeface has been distilled from the best in the business. It's available in 3 styles: Shadow, Regular, and Cognac Effects.
14. Black No.7
Influenced by the famous Tennessee whiskey logo from 1866, Typocalypse brings to you a multipurpose font – for the price of a bottle Tennessee Whiskey.
15. Oatmeal Stout
Hustle Supply Co. presents a versatile product that comes in 5 beautiful styles for all your branding needs.
16. Oak Barrel
Bold, condensed, and vintage, this serif font from Medialoot will surprise you with its versatility that you can use for your labels, logos, posters, invitations, brand merchandise, and more.
17. Höchstadt
Make your works pay a little homage to age-old brands when you use this collection of serif and sans serif fonts with a hint of industrial feel to them.
18. Absinthe Label
Featuring 6 styles you can layer over the other, this set is as strong and as dynamic as the drink it's named after.
19. Bourbon House
These serif all-caps letters will look amazing as big, bold titles and headers, as well as on posters and logos. The pack comes with 4 bonus vector vintage frames that complement the lettering perfectly.
20. Vintage Label Whiskey Style Font
With two lovely styles to pick from – Regular and Textured – your posters, labels, logos, and titles, will never look the same way again.
Download Vintage Label Whiskey Style Font
21. Gibson Script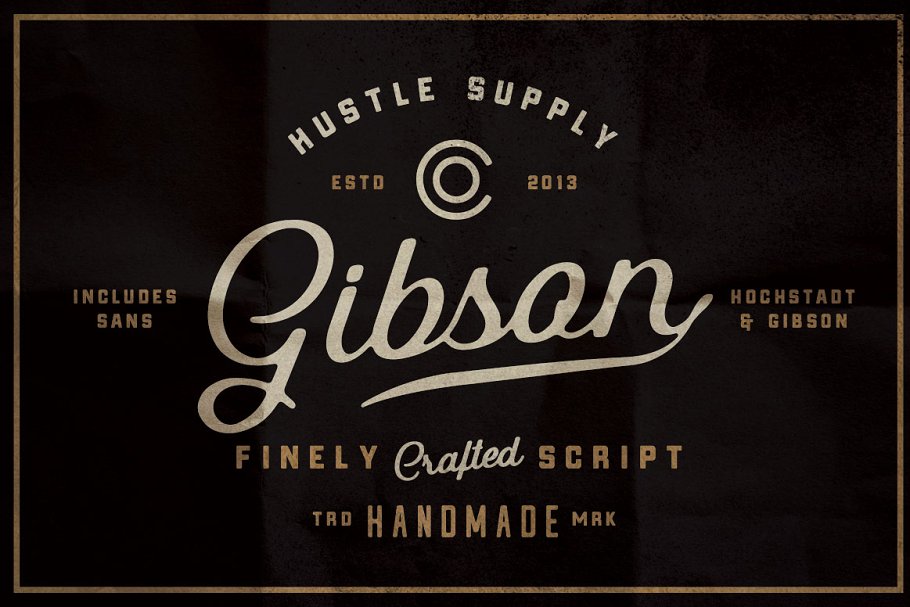 Whether you're gunning for an elegant modern appeal or a rough vintage vibe, you can count on this type collection to have exactly what you're searching for.
22. The Apothecary Collection
Inspired by classic medicine and druggists books, labels and signboards, Bart Wesolek has created a collection that's not only functional, but also gorgeous.
Download The Apothecary Collection
23. Moonshine Font
Clean and classy, this handy sans serif by Josh O. will look amazing on invitations, business cards, corporate logos, presentations, and anything that requires a fresh, minimalist feel.
24. The Bartender Collection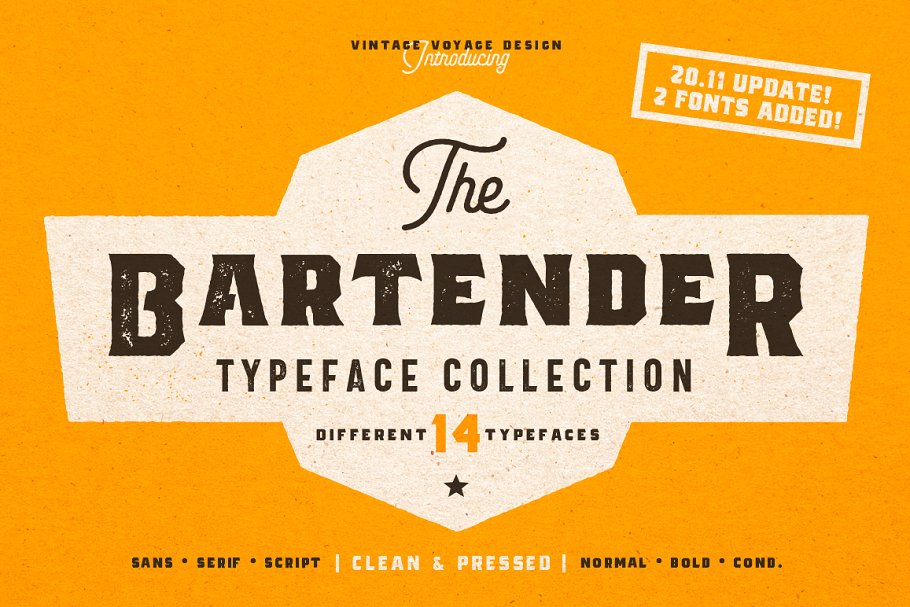 You'll never have to worry about finding the right font again. Vintage Voyage D.S. offers this collection that features beautiful pressed serif style fonts for vintage designs, and sans fonts for modern projects.
Download The Bartender Collection
25. Whisky Trail Font
If you can't wait to get started on your next design projects, let this product from Vozzy Vintage Fonts motivate you with their set of 7 beautiful fonts, plus 10 t-shirt designs as well as a 3D whiskey bottle mockup.
26. Bulges Layered
Be as creative as you like when you use this layered typeface with bonus ornaments from Libertype.
27. Amber Taste
This kit by Gleb Guralnyk has everything you need to begin creating elegant alcohol product designs. It contains fonts, a label, and a brandy bottle mockup!
28. Vhiena Layered Type 2.0
With 8 fonts that you can mix and match, this layered type from Ryan Prasetya and Thirteen Studio will give you endless possibilities in terms of form and function.
Download Vhiena Layered Type 2.0
29. Java Heritages
Inspired by vintage signage, Heybing Supply Co. brings you this gem that contains not only a multi-layered type family, but also bonus ornaments and badges to complete your projects.
30. Whiskey Font
With fonts that were simply made for each other, this set comes with the perfect mix of rough and clean characters that will look dashing on your posters, headlines, web pages, social media posts, and more.
31. Rough Antiqua
Inspired by hand-inked antiqua types from the Renaissance era, this all-caps serif from Vatesdesign comes in two styles: Regular and Distressed.
32. Vitage
Fractal Font Factory proudly presents this elegant sans that includes 4 styles, plus a bottle mockup in .AI format.
33. Rajjah Familia
Don't be put off by this Gothic script from Creativemedialab. With 4 lovely styles that remain legible no matter the size, you can easily use this in anything, from tattoo designs to apparel.
34. Mullingar
Smooth curves and sharp edges describe this display typeface by Twicolabs Fontdation. It may look clean and simple, but you'll be amazed at how versatile it can be.
35. Brooks Vintage
Inspired by vintage alcohol labels, packages, and old signboards, Harry Kasyanov recommends you use this old-fashioned font family for your book covers, product labels, logos, headlines, and more.
36. Grindstone
For those looking for value, then you won't regret purchasing this pack by Vintage Type Co. With three different yet complementary fonts in serif, script, and display serif, you can have fun mixing and matching to suit your needs.