Utilitarian, imposing, bold. These words often describe what is known as brutalist aesthetic. This movement began around the 1950s in the world of architecture, when people craved for something more honest and raw. You can see this in structures that have reinforced concrete and steel, featuring modular elements that have rigid geometry and fortress-like stature.
Nowadays, brutalist aesthetic is also present in interior decor, art, and web design. A website that looks and feels unadorned (i.e. Craigslist) is a good example of this concept. In fashion, it's all about usage rather than color or visual appeal. Loose garments, jackets, and stiff materials characterize this the most.
Not to be confused with anti-design, which is intentionally ugly, disorienting, or complex, being brutalist is stripping down to reveal what is real. The barebones.
If you find yourself bored of the usual clean, present-day typefaces, check out these raw brutalist fonts that are sure to bring something unique to your works.
Weird Brutalist Fonts
1. Collge Serif
Suited for down-to-earth projects, this exotic script from Alcode can be paired with minimalist sans or handmade scripts for a truly interesting effect. Try it on fashion, branding, architecture, or health and beauty concepts.
2. Migaela
Ideal for holidays and special occasions, this optimistic and expressive typeface from Nurron Type is as beautiful as it is inspiring. With 3 styles (Regular, Overlap, and Smooth) to choose from and a total of 6 fonts, you will fall in love with its cheery demeanor.
3. Black Mango
Whether it's a food or fashion project, you'll find that Creative Media Lab's font family will fit in nicely. Featuring 10 fonts and multilingual support, this set will make a great addition to every designer's toolkit.
4. Absolute
Absolute is a memorable, stylish, brutalist font that is a mix between a classic serif and a futuristic sans serif. Exhibiting both masculine and feminine traits, Absolute is a true gem!
5. Valky Classic Modern Typeface
Romantic serifs with beautiful ligatures, special alternative glyphs, and accented characters, make this NEWFLIX.Bro product a surprising gem for editorials, branding, packaging, and apparel designs.
Download Valky Classic Modern Typeface
6. Appears
The Appears display serif letterform is a beautiful brutalist font design that combines stylistic alternates and ligautres to make it even more unique. Features multilingual support.
7. Assox
Inspired by the 70's, this brutalist font style is quirky, groovy, classic-but-not-too-serious, and just works so well as the focal point in any design.
8. Freco
Freco is a bit of a quirky, brutalist font duo with sharp, expressive corners that make it perfectly suided for titles, web design, logos and branding, and much more. Use it alone or mix it up with a clean sans serif font for emphasis.
9. Vaulto
Vaulto is an extended, bold sans serif brutalist font. It's perfect for travel, sports fashion, magazine or book titles, and so much more!
10. Revolve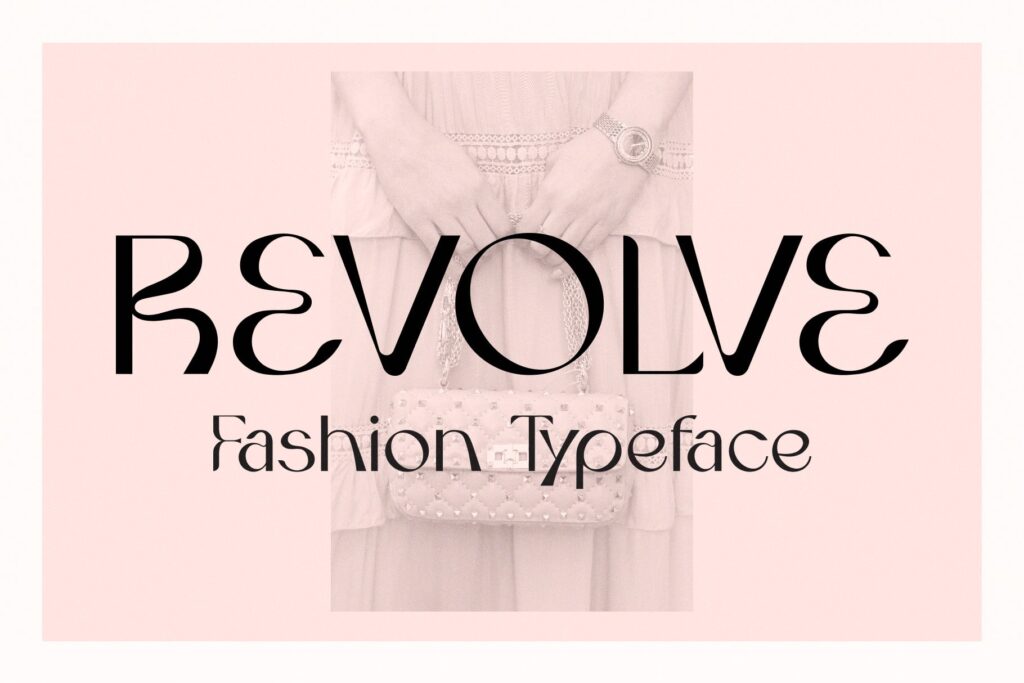 Revolve is a beautiful typeface inspired by fashion magazines. It's thick–thin strokes are perfect for elegant designs.
Revolve will serve well for branding, social media, advertising, mood boards, packaging, editorial design, headlines, titles, and more.
[fontsampler id=56]
11. Aurora 
Aurora is a serif typeface designed to express bold, artistic, and grand projects. This font is pretty versatile in the sense that it can be used normally, but also looks stunning in all caps. Aurora can be used for a host of different projects like social media banners, ads, printed quotes, t-shirt designs, packaging, branding, and much more.
[fontsampler id=38]
Carefully crafted by Agung Sy to make your text look one-of-a-kind, the font comes with an alternate glyph you can access via Font Book for Mac, and Windows Character Map for Windows users.
13. Allright
This fashionable font from 177Studio is a delightful mix between classic sans serif and a futuristic sans. With an italic variant, plus special ligatures and stylistic alternates, you'll want to put this on your packaging, branding, apparel, and website design.
14. Evangelina
Stand out from the crowd with this refreshing ode to 1970s fashion typography from New Tropical Design. Because it's designed to draw the eye in, it's best applied on headlines, titles, posters, and cards.
15. Adyta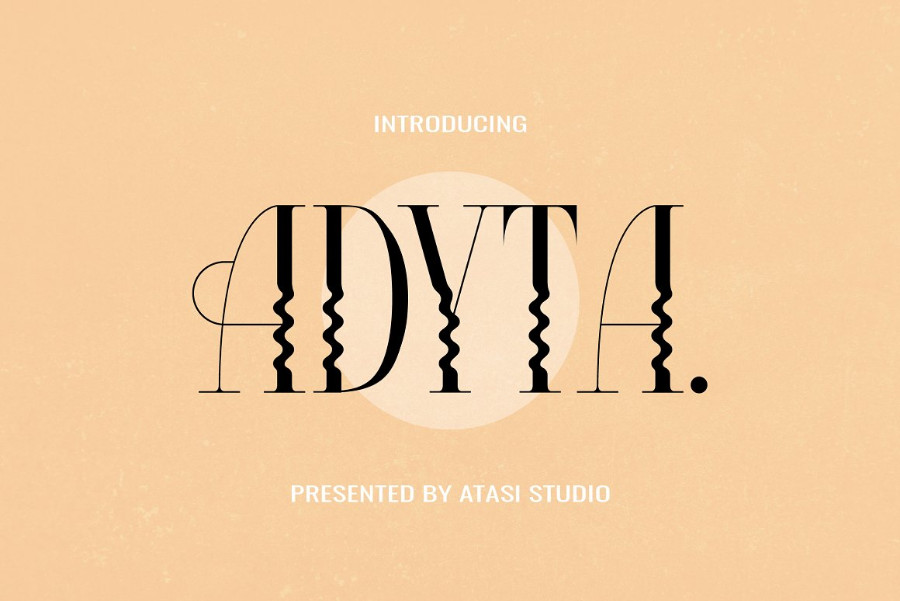 Quirky, with curves that remind you of water ripples, Atasi Studio proudly presents this modern display font that works best on headlines, titles, posters, cards, and labels. Pair it with subdued or minimalist elements for an unforgettable look.
16. TAN PARADISO
With influences from art nouveau, this organic but elegant typeface from TanType will give a dramatic effect when used in posters, titles, and headers. It's the perfect font for fantasy or vintage concepts.
17. TAN ASTORIA
Unlike your conventional sans or serif, this eccentric display font boasts of a psychedelic flair and fun personality. Use it on your fiction, sci-fi, or futuristic works for an out-of-this-world look no one will soon forget!
18. Petale
Give your projects brutalist-feminine touch with this elegant gem from LH Designs. Featuring a total of 18 fonts plus multilingual support, it will look amazing on anything: from handmade illustrations to upscale magazine covers.
19. Eclipse
Perhaps a little surreal, this condensed serif by Studio Aurora is just the typeface you're looking for when you need something a little dreamlike but also grounded. Put it on your ads, packaging, magazines, invitations, and social media posts for a somewhat otherworldly effect.
20. TAN KINDRED
Make anything old new again. This reverse contrast display typeface will help you achieve just that thanks to its fun, atypical character not usually seen in most modern fonts.
21. TAN PEARL
Why not tease your audiences with something unexpected? With this playful yet elegant serif, you can.
22. Bornice Modern Serif
With an almost calligraphy feel to it, this modern serif boasts of vintage curves that will give your works a lovely vintage appeal. Use in large texts such as headlines or titles, then pair with a simple sans as body copy to leave your audiences speechless.
23. Cyrano
This unique serif by Dharmas Studio will help you effortlessly add glamour to your projects thanks to its carefully crafted lines. With a European charm that looks amazing in Filled or Outline styles, this is one font you'll be happy to have.
24. Ethery Modern Serif Font
Looking for something that speaks high fashion? Look no further than this stylish, symmetrical serif from LABFcreations.
Download Ethery Modern Serif Font
25. Hacky
Clean, smooth, but slightly edgy, this luxury serif family from Made Deduk is exactly what you need when creating smart, contemporary designs. And with a total of 18 fonts in 9 variable weights, you won't run out of important details.
26. Cigra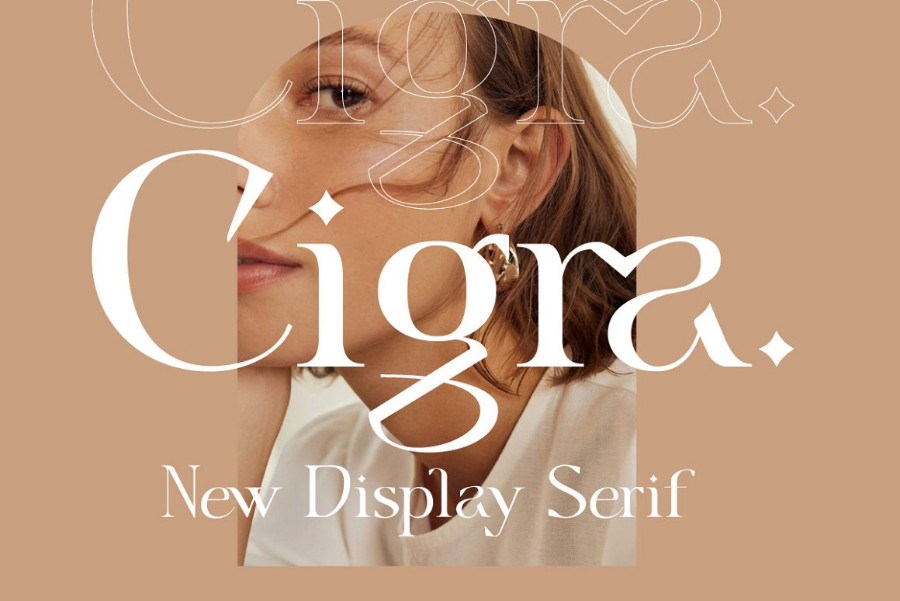 A class of its own, this fashionable typeface by Identitype has elaborate curves that bring out unique shapes. Use this for your wedding invitations, fashion magazines, editorials, and websites for a classy touch that's always pleasing to the eye.
27. Adele Moon
Inspired by the Art Deco Style, Roselyn Carr brings to you this stylish serif with a modern twist. The pack includes 9 pre-made logos and 13 trendy shapes to help you get started on the right note.
28. Beatty Modern Classy Font
With over 100 stylish ligatures, Elvina Gafarova proudly gives you a modern classic that's sure to impress at first sight. Tip: play with letter spacing to explore all kinds of chic variations for your posters, logos, signs, and more.
Download Beatty Modern Classy Font
29. Broger Display
A bit twisted but still retains its classic roots, this font from Damelev is ideal for large sizes, as in headers, banners, titles, posters, packaging, greeting cards, and apparel. Complement your design with antique or vintage visuals for a high-brow feel.
30. Loretto
Versatile, modern, and smart, this beautiful serif by Graphic Dash will add a touch of haute couture to your works in a couple of clicks. The pack also comes with 10 premade logo templates and multilingual support.
31. Bon Foyage
Let your imagination go on a journey with this unique lettering from Dharmas Studio. Vintage yet modern at the same time, you can use it on your magazines, logos, product packaging, or as a tasteful text overlay to any background image.
32. Avantgardist Modern Ligature Font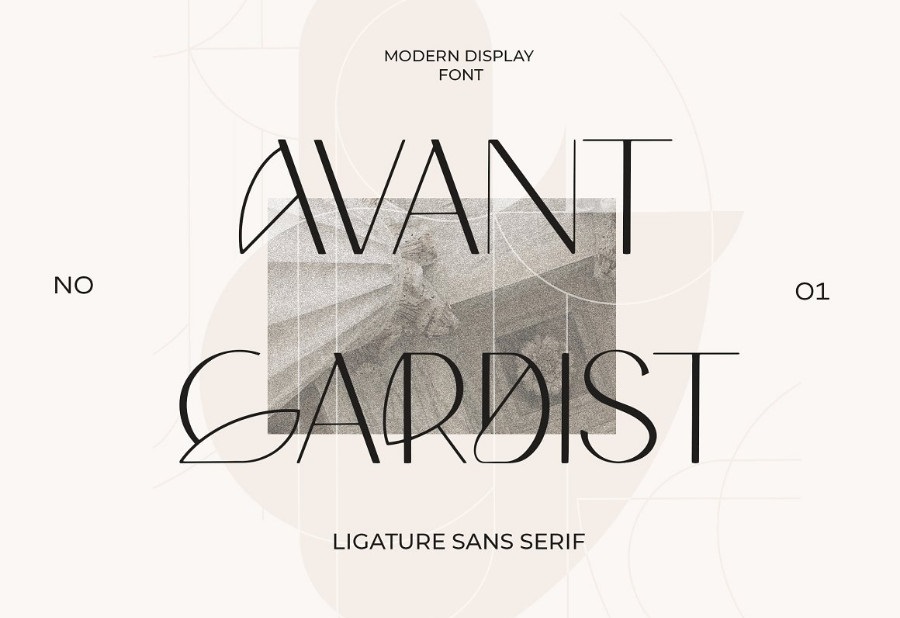 Inspired by modernism and accents of Art Nouveau, Laras Wonderland gives you an all-caps sans serif with clean, sleek lines and a huge attitude. Featuring multiple creative alternates and a set of ligatures, it's a font not to be missed.
Download Avantgardist Modern Ligature Font