Last Updated on October 10, 2023
Vlogging has gained tremendous popularity in the last decade courtesy of video-based social media platforms like YouTube. Vlogs are currently one of the most popular video formats used by influencers to target their audience.
However, creating a compelling vlog requires a lot more than just excellent optics and acoustics. Like regular blogging, you'll need to start by identifying unique content to vlog about.
But what happens when you're grappling with the dreaded creative blocks yet still want to keep your audience endeared to your channel?
Many vloggers would probably regurgitate content from their archives and hope it serves to entertain their fans as they work on getting their creative juices flowing again. Some would probably share content from other social media users just to give their channel a semblance of activity. But for those who've already embraced the innovative power of artificial intelligence, one of the most effective hacks out of this predicament would be to use a text-to-video generator.
Read below for a brief overview of AI text-to-video generators and a detailed review of the 12 most reliable text-to-video AI apps in the market.
What Is A Text-to-Video AI App?
A text-to-video AI app, as the name rightly implies, is an application that utilizes artificial intelligence to convert simple text inputs to videos. Most of these apps are fairly easy to use. All you need to do is feed some words or phrases into the provided fields, then allow for a few seconds as the tool generates a video relevant to the text inputs.
Some text-to-video AI applications are also designed to create videos from images. Depending on the app, the videos generated are normally so realistic that you might think they've just been downloaded from Shutterstock or Pixabay.
Text-to-Video AI Apps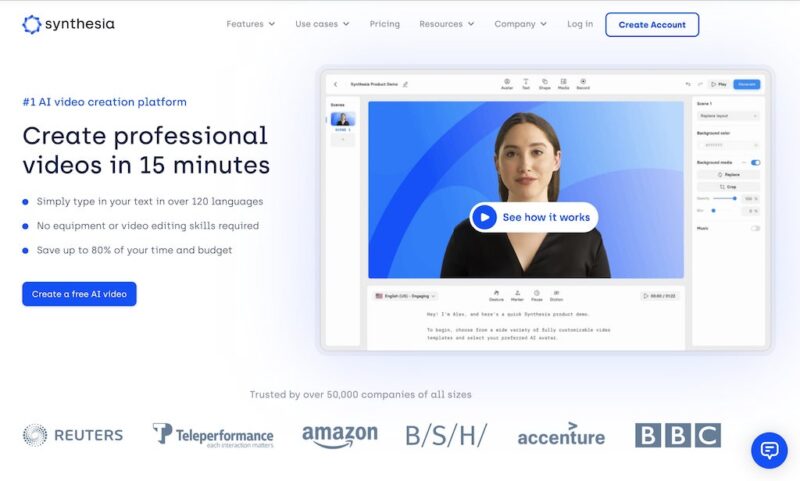 Pricing: Plans start from $30/month
Synthesia is a text-to-video AI application that uses cutting-edge technology based on a deep learning algorithm to generate high-quality video footage from simple words or 2D photos. The algorithm has been adequately trained to master intricate facial details, including the shape of the eyes, nose, and mouth. This ensures all videos created by the software are not only original but also realistic.
Another great feature of Synthesia is that it doesn't just generate unique videos on the subject matter. It takes things a notch higher by creating realistic backgrounds and excellent lighting conditions. Your videos will look like they were captured in a natural environment.
Synthesia supports over 60 different languages and accents, which explains its popularity with companies spread across diverse geographical regions.
Most users have also lauded the Synthesia platform for its superfast speed and user-friendliness. The company strives to add 2 – 3 new avatars per week to ensure every video created is as unique as it can get.
Pricing: Paid plans start from $15/month; a free version also available
InVideo is a close Synthesia competitor in terms of the video quality it generates. The two text-to-video AI applications also share some similarities in terms of speed and user-friendliness. Beginners can pretty much generate any videos in a matter of minutes without undergoing a steep learning curve.
But one area where InVideo stands out is in its flexible plans. The app provides both free and premium packages, with the cheapest paid plan costing $15/month.
InVideo has two options for generating videos. You can either create videos from scratch by feeding relevant commands into the provided fields or upload existing video footage and have the software refine it for you. The application maintains a massive library of over 50 AI-based templates to get you started. You can readily deploy a template if it closely matches what you're looking for.
In addition to the templates, InVideo also maintains a huge collection of music and sound effects. These effects are invaluable when you need to create engaging videos to keep your fans entertained. What's more, all the videos generated using this app are freely sharable.
Pricing: Plans start from about $0.02/video; a free trial option available
Stable Diffusion Videos is a free online artificial intelligence tool that generates videos from simple prompts. Well, the app isn't free in the actual sense of the word. In fact, there are no free plans at all. But when you consider that each video costs a paltry $0.02 (sometimes way less), it's understandable why Stable Diffusion is considered a free text-to-video generator.
Stable Diffusion can generate videos from text prompts or images. The tool also lets you convert existing videos into engaging animated clips.
To use Stable Diffusion Videos, you'll need to start by setting up a Google account. Then, head over to the Stable Diffusion KLMC2 Animation Google Colab notebook and click on the little play button located under the "Check GPU" section. Download and install the application, including all the required dependencies.
The last step is to simply describe the video you wish to generate and allow the tool to get to work. You can export the animation directly to your device in an MP4 format or save it on Google Drive.
Pricing: Quote-based; a free trial option available
Glia Cloud has a text-to-video application known as Glia Studio, which lets you generate animations from various sources. You can create original video footage from social media posts, news articles, live sporting events, and even statistical data.
The video generation process is remarkably quick and easy. After inputting your text prompts, the tool will create original footage relevant to the prompts in a matter of minutes.
Glia Cloud provides two noteworthy text-to-video features. There's the News Video designed to generate popular news footage at a scale and Marketing Video that creates videos with product information.
So, whether you're a news vlogger or an influencer looking for an excellent text-to-video application, you should definitely consider Glia Cloud.
Pricing: Plans start from $399/month
Right off the bat, we should point out that Synths Video is one of the most expensive text-to-video AI applications out there. With plans starting from as high as $399 per month, this tool is certainly unideal for small-time influencers. That said, there are plenty of features that seasoned vloggers and other established marketing teams can enjoy by paying the $399 monthly subscription.
For starters, Synths Video maintains over ten human avatars and voiceovers. The application is also available in over 30 languages, making it suitable for targeting overseas clients.
But perhaps the most outstanding feature of this text-to-video maker is its custom video configurations. After creating unique videos using the app, you can tweak the footage further to your liking.
Synths Video also lets you create footage from your own article content. You simply write a blog post, save it, and then upload the file to the tool's dashboard. The app will convert your blog into an engaging video that you can readily upload on YouTube.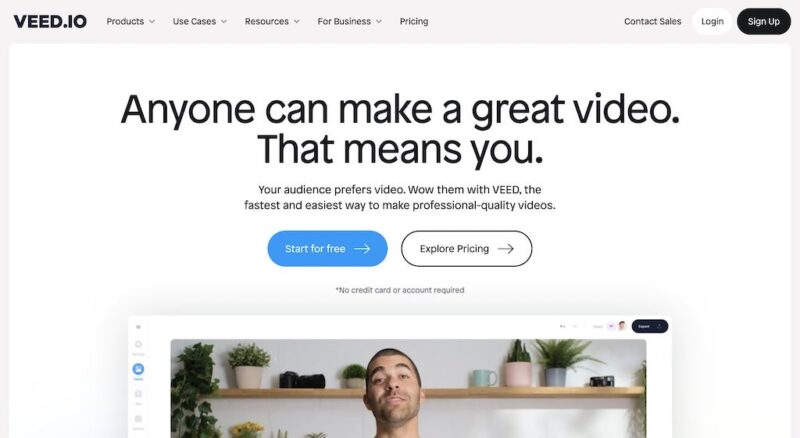 Pricing: Paid plans start from $12/month; a free version also available
Many text-to-video AI apps are basically designed to convert written messages to video footage and that's it. However, platforms live VEED.IO do you one better by offering video editing capabilities.
VEED.IO also checks the boxes in terms of ease of use. That's all thanks to its intuitive interface which anyone can get the hang of without needing prior computer knowledge or video editing skills.
VEED.IO provides tons of customization features. The software lets you apply a range of colors, fonts, and soundtracks to your videos to make them truly engaging and watch-worthy.
There are tons of preselected themes too. You can choose a specific theme from the library depending on the nature of the message that you wish to convey through the videos.
Pricing: Paid plans start from $19/month; a free version also available
The name of this application sounds like it's more of a text-to-image than a text-to-video generator. But while the app can perform both tasks exceedingly well, it especially stands out for its video-generating abilities.
Like VEED.IO, Pictory doesn't just create unique videos from texts. Users also get to experiment with a range of editing features to ensure the final output is exactly as they want it to be.
The editing features are especially useful when you need to fine-tune webinars, Zoom recordings, and podcasts before saving them.
Pictory includes both free and premium plans. All plans come with automatic captioning & subtitling, as well as unhindered access to over three million licensed stock videos and images.
Pricing: Plans start from $29/month; a free trial option available
Just as the name implies, DeepBrain AI is a highly intelligent application that generates realistic videos from basic text. The tool is quick and easy to use.
To get started, you'll need to create a new project. There's the option of inputting your own text or choosing one from the many starter templates available in DeepBrain's library.
Next, you'll need to manually type in or copy-paste the content into the provided fields. Select your preferred language and let the tool get to work. You can edit the output further before exporting it to your device or other storage platforms.
The only noteworthy drawback to this tool is that it's reasonably expensive. That's especially when you consider the limited range of features provided.
Pricing: Plans start from $19/month
Lumen5 is another text-to-video AI platform that needs no introduction. Most reviewers heap praises on this app for its beginner-friendliness.
The tool implements a "click and drag" interface that makes adding text, images, or videos to the platform incredibly easy. Just ensure you're using the correct file formats for image and video uploads.
Lumen5 lets you create original videos from scratch or edit existing footage to come up with something unique. In both cases, the final output looks so realistic that it will easily pass for human-generated footage.
There are plenty of templates to get you started. The tool also provides lots of customization options that make it easy to create videos that match your brand and marketing goals.
Pricing: Plans start from $29/month; a free trial option available
Designs.ai uses proprietary artificial intelligence technologies to provide its users with a wide range of design services, including video generation. Many businesses have used this productivity platform to save time, reduce costs, streamline workflows, and optimize their net productivity.
As with most text-to-video generators on this list, Designs.ai is remarkably fast and easy to use.
Simply sign up and paste your text on the provided field. Then, select the relevant industry, choose your preferred language, and pick a suitable voice if you wish to add voice effects to your footage.
Allow for a few minutes and the tool will whip a compelling video that's so realistic your YouTube followers will never tell it was artificially generated.
Pricing: Tentatively free
Make-A-Video is a new artificial intelligence text-to-video generator released by Meta. The tool's association with Meta already speaks volumes about its efficiency as an AI video maker.
Make-A-Video was originally designed to help its users make short, amusing films based on a few text prompts. The technology is based on recent developments in text-to-image generation. That means it's just as effective for generating unique images as it is for creating original footage from simple text commands.
Make-A-Video has been trained on millions of images with matching descriptions. To generate videos using text commands, the application first trawls its database to understand the kinds of images it would create based on those prompts. It then generates relevant footage that looks and feels like they were captured in real life. As already pointed out, you can use this innovative app to create movies besides generating texts, images, and videos.
It would also interest you to know that Make-A-Video is presently free. So, you may want to take advantage of the app before the developer adds a price tag to it.
Pricing: Plans start from $29/month; a free version also available
Elai.io is run by a global team of artificial intelligence experts with a passion for helping their clients generate all kinds of media content. The app has racked up thousands of positive reviews across numerous platforms for its ability to generate a wide range of videos from simple text.
Elai.io makes it incredibly easy to generate videos at scale. It's yet another tool on this list that can convert an entire article or blog post into engaging video content.
All you need to do is copy and paste a URL or HTML text to the provided field. Then, select one of the templates from the library. You can then review your video and make the necessary changes before downloading it.
While you can use Elai.io to generate all kinds of videos, the platform is especially suitable for creating training videos. Social media influencers and content marketers may also take advantage of the app to whip compelling product videos. You can generate videos in over 60 languages using any of the 25+ avatars. What's more – there's the option of requesting a personal avatar.
Unleash your creativity with FlexClip, the online video editor that effortlessly tailors to your needs, be it for brand promotion, social media engagement, or cherishing family memories​1​. FlexClip's vast template library accelerates your start, while its intuitive AI tools streamline the video creation process, saving you time and effort.
Boasting over 4 million royalty-free stock assets, it's a treasure trove for enriching your content. The collaborative cloud-based platform facilitates team video projects, ensuring seamless sharing across various platforms. With a suite of powerful editing tools at your fingertips, crafting stunning videos has never been more accessible and enjoyable.
Key features of FlexClip:
Online-based platform

.

Background removal.(AI)

Ai Text to Video

AI Video Script

AI Image Generator




Auto subtitles.(AI)




Text to Speech.(AI)

Team collaboration
Wrap Up
Text-to-video AI applications are an invaluable asset for vloggers and social media influencers. However, anyone can use these apps for entertainment purposes or to simply put their creativity to the test.
We hope you can save this list for future reference the next time you'll be looking for an AI text-to-video maker to spice up your vlogging or marketing campaigns.