Last Updated on September 28, 2023
Who doesn't love the warm, countryside appeal of cabins? Cabins are popular vacation rentals, but they can also serve as rustic dwellings.
Plenty of folks love them for their serene, natural setting. Stepping inside one is like taking a break from the fast pace of daily life. As cabins are normally built in forested areas, mountain regions, near lakes or rivers, or in other picturesque settings, staying in one give people the opportunity to disconnect from technology and reconnect with nature.
Small, cozy, and intimate, cabins vary in size, design, and amenities – ranging from simple one-room structures to larger multi-room cabins with modern conveniences. The interior typically features wood paneling or exposed beams, giving off that warm and inviting ambiance. There's often a fireplace or wood-burning stove too. Luxurious cabins come with hot tubs, saunas, or scenic views.
If you've been craving for some inspiration from nature, these cabin fonts are for you. Let them transport you to the relaxing vacation of your dreams.
Captivating Cabin Fonts
1. Volimake
Nothing beats a classic serif – simple, elegant, and versatile, it's a must-have for every digital designer. Volimake font is a great example of a multipurpose serif that can be used for retro projects to modern themes.
You will get upper and lowercase letters, alternates, ligature, numerals, and punctuations. Volimake remains legible in both small and larger sizes. Complement this beautiful font with any sans and you're good to go.
2. Folkner
This old-fashioned sans typeface captures the essence of period aesthetics with a touch of handmade quality. The pack contains 2 styles, Regular and Line Stamp. It's already PUA Encoded and an ideal choice for making craft beer logos, antique-style postcards, t-shirt prints, and camping branding. Pair it with bold cursive fonts for a lovely effect.
3. Farson
Remember the cartoons from the 1920s and 1930s? You can create a similar look and feel with Farson font. Featuring 3 variants – Solid, Solid Round, and Stamp – it also comes with all glyphs, cap styles, numerals, and punctuations.
Plus, it supports 14 languages including Afrikaans, Danish, Estonian, Finnish, French, Italian, Portuguese, and Spanish. Combine this font with 1920s and 1930s illustrations to capture the flamboyant and carefree attitude of the times!
4. Bolandes
This meticulously handcrafted monoline font draws inspiration from the captivating aesthetics of old signage, showcasing a delightful fusion of letterpress charm and modern calligraphy.
Use it on logos, labels, posters, quotes, signage, packaging, etc.. You will get an all-caps character set, plus more than 340 glyphs and a plethora of OpenType features.
Pick from 3 distinct styles: Light, Bold, and Aged. Effortlessly combine and customize each character to achieve a spirited, nostalgic typographic design.
5. Earth Tone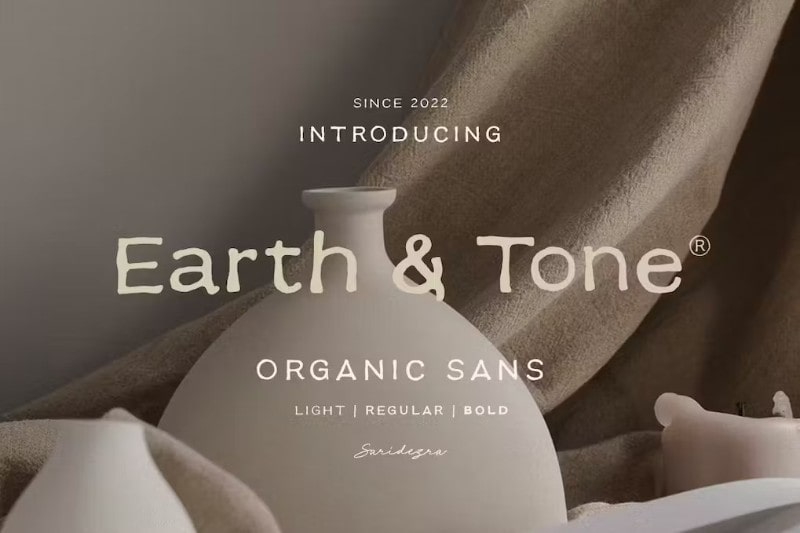 Delicate, organic, and dignified, this organic sans family will surely impress with its fine lettering and down-to-earth vibes. With 3 weights (Light, Regular, Bold) to choose from, it's surprisingly adaptable for a vast number of projects such as logos, posters, social media quotes, t-shirt prints, business cards, invitations, product labels, and more.
The imperfect lines give it a handcrafted look, making it suitable for botanical, minimalist, or outdoor themes.
6. Redemption
Enter the lawless world of the Wild West with Redemption! This robust slab serif draws inspiration from the ruggedness and charm of cowboys and western art.
With both upper and lowercase letters, you have the freedom to get creative in your logotypes, badges, store fronts, headlines, shirt designs, and even body text. It's particularly well-suited for capturing the essence of western style, antiques, vintage vibes, and retro pop art.
7. Caparison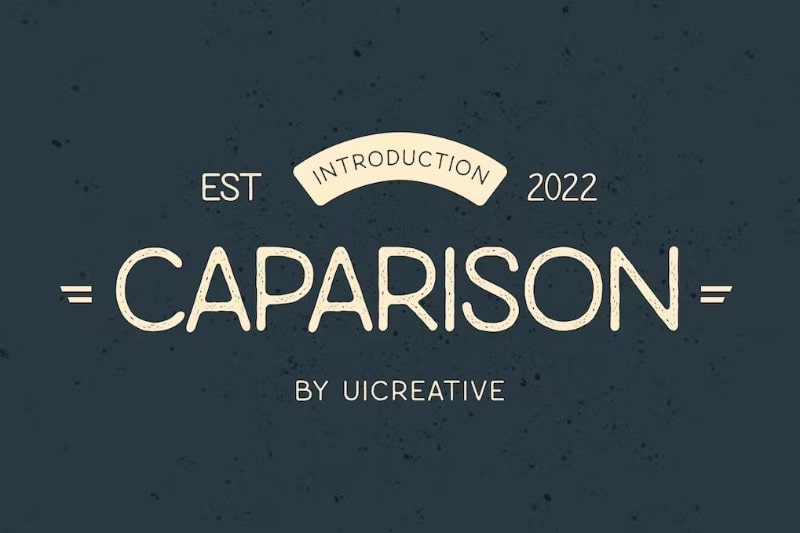 Beautiful and adaptable, Caparison evokes a timeless appeal with a distinct handmade touch.
As it seamlessly displays both masculine and feminine qualities, it's a great option for all kinds of compositions including book covers, website headers, clothing labels, branding, packaging design, and typographic quotes. Try it on nautical, rural, organic, old-fashioned, and casual themes where it will truly shine.
8. Vendeur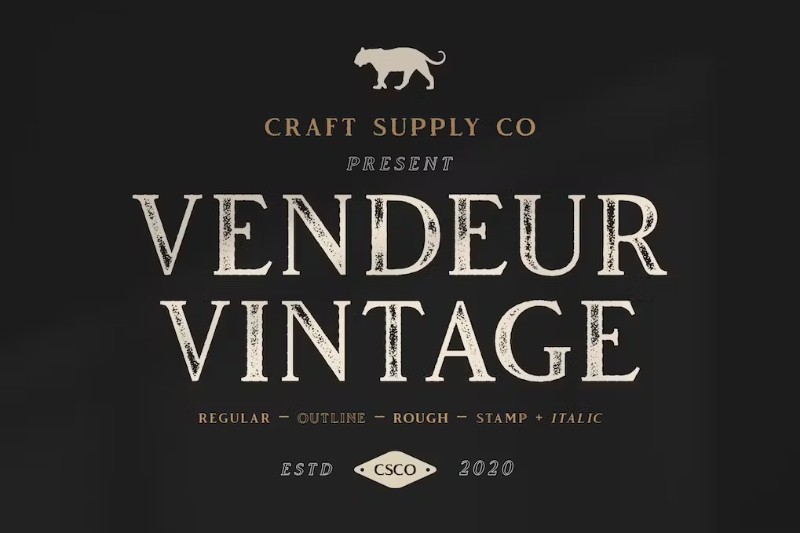 With a whopping 8 styles (Regular, Outline, Rough, Stamp, Italic, Outline Italic, Rough Italic, Stamp Italic) to select from, it's definitely one of the more convenient fonts out in the market.
The classic look also lends itself well to all kinds of concepts, from vintage to automotive, urban to organic, fashion and outdoors. Vendeur will look best in logos, badges, apparel, and branding. You will get the all-caps fonts, standard ligatures, numerals and punctuations (OpenType standard), as well as accents (multilingual characters).
9. SA Woodland Hills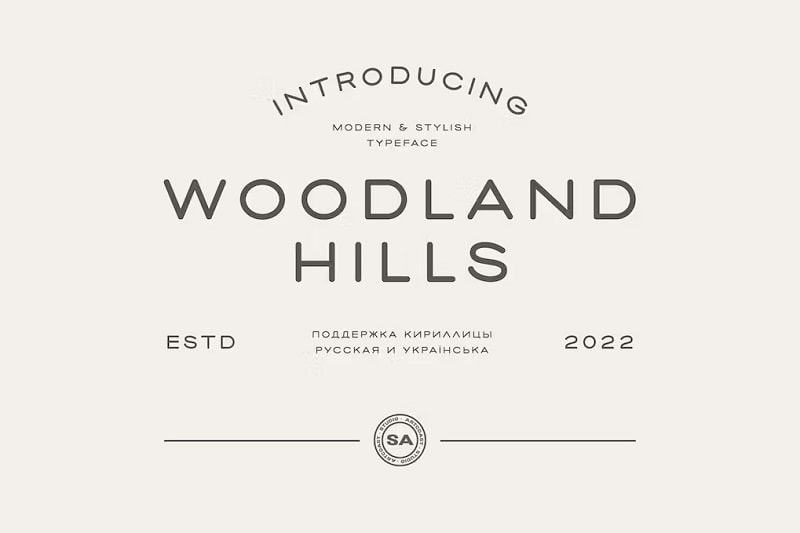 Clean, elegant, modern – SA Woodland Hills is all this and more. This minimalist typeface is perfect for understated, modest designs with plenty of white space and muted colors. Try it out on contemporary branding, product packaging, wedding invitations, business cards, as overlay on flat illustrations and graphics, etc..
You will receive OTF, WOFF files, uppercase characters, contextual alternates, ligatures and multilingual support. Use Adobe Photoshop or Illustrator to access the alternate glyphs.
10. Pine Forest
Introducing the Pine Forest outdoor typeface – a captivating display sans serif font that draws inspiration from the great outdoors. With its charming and hand-drawn character, it brings a playful touch to your works.
It offers 2 distinct font styles: Rough and Press. Whether you're crafting typography designs, developing a brand identity, forming logos, creating product packaging, designing invitations, collecting quotes, printing t-shirts, or making label badges and posters, Pine Forest is the perfect choice.
11. Wood Trap
Let this versatile custom display font help you get more projects done. Featuring a handmade brush style, Wood Trap can be used for numerous concepts, such as Halloween, outdoors, whimsical, and carpentry.
Try it on logos and branding, website design (i.e., accents, blogs, etc.), print projects (i.e., magazines, apparel, flyers), quote graphics for social media, and headers/titles for games, graphic novels, and comics.
12. Norzek
The great thing about slab serifs is that they're highly adaptable and beautiful wherever they are applied on. This retro adventure font is no exemption. With pioneer era vibes, Norzek surprisingly transitions from vintage to contemporary in minutes (all you need are the right elements and accents).
Use it on vintage garage compositions, mountain and hiking branding, rock/hardcore music covers, summer posters, nautical labels, and even space motifs. Let your mind innovate!
13. Melvis
Introducing Melvis, a vintage font family with 5 styles (Regular, Grunge, Outline, Rough, and Stamp). This handy typeface is a great option for a wide range of products, including print materials.
Whether you're making a greeting card, packaging, brand identity, DIY activities, book titles, wedding assets, exploring pop/retro designs, or simply aiming to enhance the appeal of your artworks, Melvis has got you covered.
Feel free to experiment and transform your ideas into something exceptionally beautiful and trendy.
14. Ravager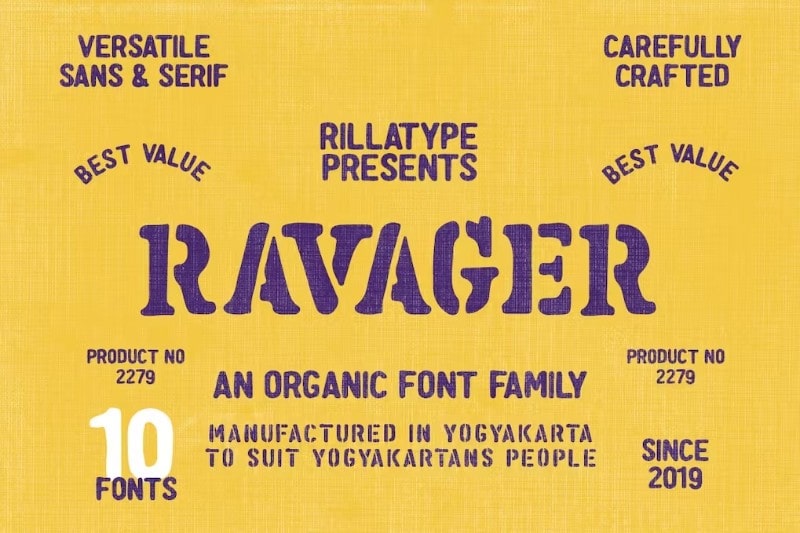 Featuring 10 multipurpose fonts (including serif, outline, and stamp versions), Ravager is one font you won't want to miss. Apply it on rural, organic, retro, travel, kids, and even punk concepts. Pick one or combine two or three variants to create interesting effects.
15. The Greyhound
Font duos, like this one, are always a wonderful addition to any designer's toolkit. They're handy, convenient, and beautiful – helping you achieve a cohesive design in minutes.
The Greyhound boasts of 3 styles (Regular, Stamp, and Block) you can easily mix and match. Use it on sweet and salty nautical designs, travel postcards, restaurant logos and menus, automotive posters, or social media ads.
16. Barter
Yes, minimalist can also be vintage – thanks to Barter. Aside from café logos, product packaging, and graphic posters, you can also successfully apply this retro typeface on travel badges, apparel, and 60s-inspired merchandise. Take advantage of its 5 styles (Regular, Outline, Vintage, Stamp One, and Stamp Two) too.
17. Ganiser Sans
A good type transports you to a different world, a different era. This display typeface is not only nostalgic, it presents a strong character.
When applied appropriately, it will suit all kinds of invitations, labels, magazine and book covers, greeting/wedding cards, packaging, stationery, and digital ads. Plus, it includes a premade logo! Download it today and receive upper and lowercase letters, numbers, punctuation, and stylistic alternates.
18. Duarose
This retro serif includes a bunch of alternates and up to 6 styles for each character that will make your concepts stand out even more!
You will get Rough and Stamp versions to help you create handmade, authentic works. Try it on adventure, travel, gastronomy, camping, antique, and outdoor themes. It has multilingual support and is already PUA Encoded – so it's all ready to go when you are.
19. Marshfield
When it comes to classic approaches, Marshfield wouldn't let you down. In collaboration with Revolfe, this bold typeface has a solid, unique identity that's hard to miss.
It also comes with 2 kinds of fonts: Script and Cursive, with each having 3 different styles, Clean (sharp corner), Round (Rounded Corner), and Rough (Rough Version) for a total of 6 fonts. There are ligatures, stylistic alternates (up to 6), contextual alternates, and terminal alternates as well.
20. Bonfire
Big, bold, and handmade, this adventure-inspired font was handcrafted to suit your outdoors, organic, and wilderness design needs. It's available in Regular and Rough styles. This pack also contains camping and nature related vectors.
21. Wilder
Inspired by an old wooden sign outside Crazy Man Håkan's (Galenpannan-Håkan) cabin, this handwritten condensed sans serif captures the essence of the outdoors while remaining adaptable.
With 4 styles (Regular, Oblique, Bold, and Bold Oblique), web fonts, Latin support, and over 300 glyphs, you will also get free updates and support. Despite being perfect for headlines and titles, it surprisingly does well as body text, too.
22. Northern Passage
Presenting this exquisite handmade font that draws influence from cherished experiences of camping and hiking with family. This font boasts a distinctive weathered look reminiscent of an aged cabin nestled in the heart of a dense forest.
With its all-caps display style, Northern Passage is an ideal choice for designs that crave a rustic, woodsy ambiance. Embrace the enchanting aura of the wilderness and invoke the desired aesthetic with Northern Passage.
23. Backwoods Cabin
Remember old hiking signs? Do you still have old, handwritten letters from years past? Let this rustic all-caps font remind you of what's good and natural. A little rugged and rough around the edges, it lends an reliable hand-brushed feel to any project – from product labels, outdoors posters, printed merchandise, etc..