Last Updated on September 28, 2023
You don't need to be an adventurous person to enjoy camping. One of the most common reasons why people spend overnight in the woods is to connect with nature. There's something about waking up to the sound of chirping birds, stepping on dried leaves, smelling the earth, and cooking sausages over an open fire, that makes you feel alive.
If hiking for hours isn't your thing yet, you can always go camping in your backyard. There are also plenty of nature parks where you can pitch a tent. Ask friends or family if they want to join in. The more, the merrier! Plus, you'll have someone to share the experience with.
Don't feel bummed if you can't go explore the wilderness for now. Instead, use these cool camping fonts to bring the outdoors into your designs.
Outdoor Camping Fonts
1. The Risk
The Risk is an interesting camping sans-serif that has so much edge to it that it would seem that it has been chilselled into material by a sharp rock. Perfect for a wooden sign leading up to a cabin in the woods.
2. Lodge
Lodge is an almost romantic take on the traditional camping font, and thereøs a gorgeous tilt to the angle of the font. Mix it up with a gorgeous sans serif typeface for the ultimate contrast.
3. Northern Passage
If you want a camping font that would be fit for a Lovecraftian horror-movie you can safely pick up Norhtern Passage. It's a gorgeous but somewhat unsettling camping font that appears to be shaking a bit in its stroke. Gorgeous, but a tad scary too.
4. Batoon

Looking for an unparalleled, artisanal, razor-sharp sans-serif? Your search is over with Batoon. Featuring the unrefined splendor of the Rocky Mountains, its uneven edges and prominent strokes are akin to the rugged peaks and gravelly trails of the range itself. This makes it ideal for camping, outdoor, or adventure-themed projects. With this font, your designs will be as bold and unforgettable as the grandeur of nature.
Each letter is meticulously crafted, endowing your designs with an authentic, hand-hewn vibe. Treat every character as a guidepost on a path, escorting you through awe-inspiring panoramas and uncharted wilds. Set your inner adventurer free and motivate your audiences with Batoon!
5. Twinton
Twinton is a special font for modern designs. Its clean and minimal character is ideal for branding, headlines, fashion, thumbnails, social media, posters, covers, and pretty much anything you can think of. Twinton is designed for optimal legibility. Make a statement today with Twinton.
6. Bonfire Typeface
From Tugcu Design Co., this handmade display font comes in Regular and Rough styles, plus camping and nature-related vectors to step up the outdoors vibe.
7. Las Valles Textured Typeface
NEWFLIX.bro made this 4-styled sans serif for projects that demand a strong vintage presence without losing elegance.
Download Las Valles Textured Typeface
8. Marshfield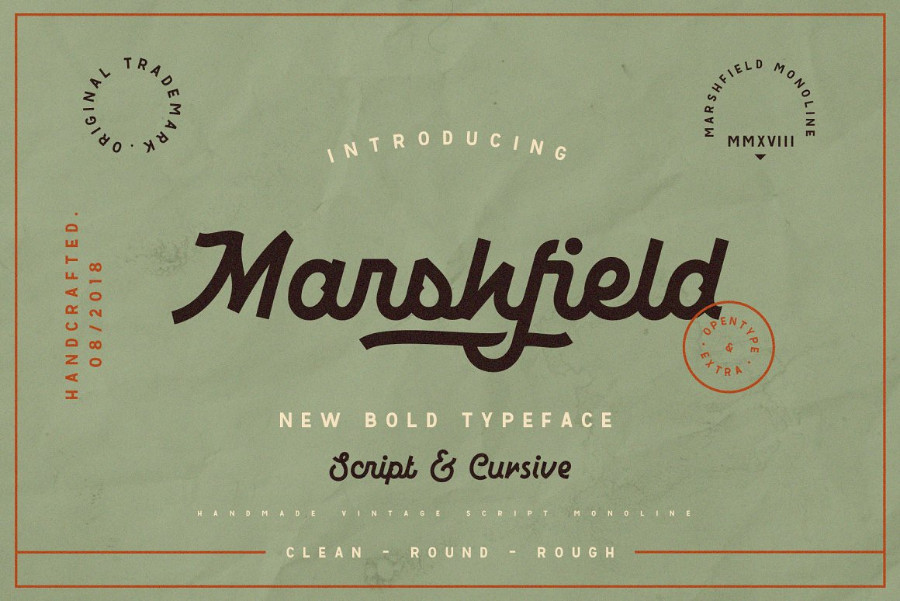 This monoline typeface from AF Studio is centered has outdoor touches and comes in 6 variants: Script and Cursive fonts, each with Clean, Round, and Rough.
9. Stone Age Font
YandiDesigns' hand-made sans serif is great for a variety of projects that centers on survival, holiday, children, and camping themes.
10. Thirdlone Font Duo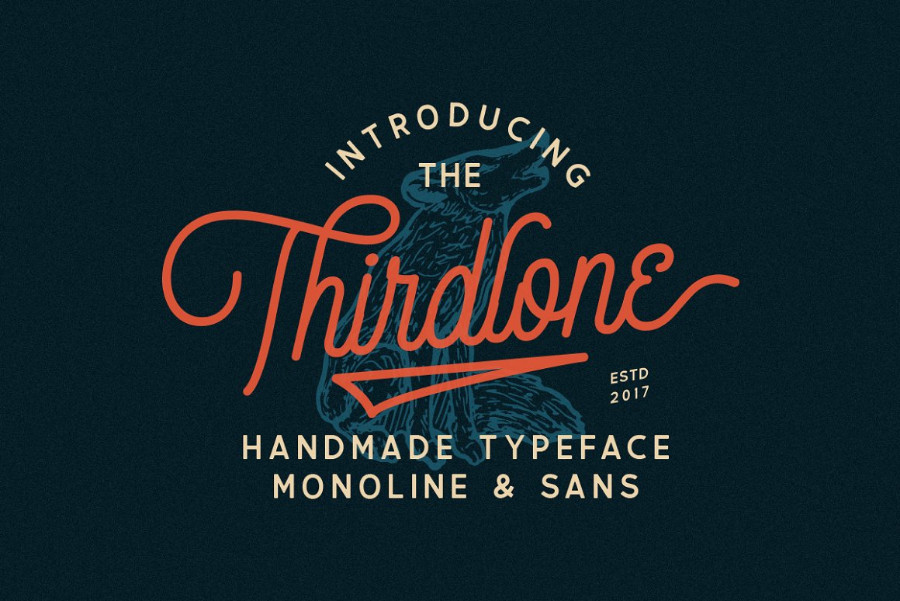 Letterhend Studio's monoline sans features over 100 bonus illustrations that can be mixed and matched with the letters for a wide variety of vibes, from holidays to outdoors.
11. Aloha March
This quirky script from DM studio will give your projects a hint of the summer and tropics – perfect for adding a sense of adventure.
12. Forest Vibes Font Family
Moolesya's hand-drawn, forest-inspired display typeface comes in three fonts: Decorative, Polka-Dot, and Hand Stroke.
Download Forest Vibes Font Family
13. Rusted Orlando
For vintage-themed projects that require a degree of variety, you can't go wrong with this 13-font typeface made by Runsell Studio.
14. Into the Wild
No two letters will ever be the same by mixing and matching 26 alphabet letters and 30 hand-drawn objects using this one-of-a-kind gem from Cosmic Store.
15. Sideline 1905
Jeffry MacPherson Visuals captures a simply alluring visual through this typeface inspired by old architectural correspondence course books.
16. Handsons Typeface
Posters, labels, book titles, and other works that need large letters and few words will benefit a lot from this 7-font package from Paperwitch.
17. CAMP
Your visuals will surely grab attention when using this clean and natural-looking display font from Type Cargo.
18. Colorado Script
Look no further than this typeface from Noe Araujo for vintage aesthetics merged with clean script for presentations that look classy yet very readable.
19. Trailhead
Letters shaped by sticks will invoke a truly nature-inspired feel, and this product from Rowlison Creative will deliver that to your projects.
20. Roestica Vintage Sans
Rounded edges and a rough, inked look will promote classical flair using this 2-styled, hand-drawn font from Wandery Supply.
Download Roestica Vintage Sans
21. Canoe Trip Sans MC
The equal width of horizontal and vertical strokes makes this McLetters product ideal for projects that need a traditional and clean style.
22. Baheula Vintage
For quick and easy classic-looking projects while keeping a natural, handwritten feel, this Wandery Supply product will meet those expectations quite nicely.
23. JA Jayagiri
A blend of old-world oriental and modern typeface attributes makes this Juru Asakura product perfect for a wide range of outdoors-styled projects.
24. Forest Camp Font
Uppercase script letters and lowercase sans letters will give your presentation a distinctively retro look, while the free vector pack will add a nature-themed kick to those projects.
25. Hurston Type
Wawawsrynn's typeface, plus bonus vectors and catchwords, gives you all you need to create classical or outdoors-themed labels, logos, posters, and more.
26. Imprimo
Imprimo is a gorgeously tall sans serif typeface font and has an almost Bebas Neue feeling to it. Another cool thing about this camping font is that is is so slim that you can easily beef up the size a lot without taking up a lot of width. Ideal movie font too.