Last Updated on June 22, 2022
The heat of the sun, the smell of the sea, and the sounds of laughter in the air – you know it's officially summer. Lots of people look forward to this time of the year. And that's mostly because they can't wait to go to the beach.
The sand, sea, and salt make up an unforgettable summer. Throw in refreshing lemonade, a bunch of friends, and the possibility of summer romance, and you get one memorable season. And the beach is the perfect setting for all this.
Just imagine chilling with your friends by the shore: sitting around a bonfire watching a golden sunset. Or waking up to the morning breeze, smelling of saltwater and sea shells, your toes curled up on the soft sand. Indeed, the beach is a magical place where sweet memories are made.
Want to conjure similar feelings and images on your works? Then try these beach fonts just for kicks.
Carefree Beach Fonts
1. Noma
NOMA is a super strong but playful, bold beach font family. It is great for any branding, header, logos, magazine film, typography project, book, and cover with a smooth curve side.
2. Nomads
The Farmer is an ultra condensed beach font that includes 3 styles and iconic alternates that can give a diverse set of aesthetics for just about anything that begs for a beachy vibe.
3. Ocean
Ocean is a beach font full of those good Summer vibes. Use it on a flyer, greeting card, poster, quotes, postcard, photography, branding, editorial, and signatures.
4. Splish Splash!
Splish Splash! is a handmade beach font that is 100% fun – with both outline and solid options, numbers, punctuation, and a stack of coordinating illustrations.
5. Mollysh Calligraphy Font
Your designs get that handcrafted feel using this typeface from Maulana Creative.
Download Mollysh Calligraphy Font
6. California Jackpot Font
For expressive messages with a real, marker-like appeal, make use of this typeface from LeoSupply Co..
Download California Jackpot Font
7. Tahiti – Tropical Font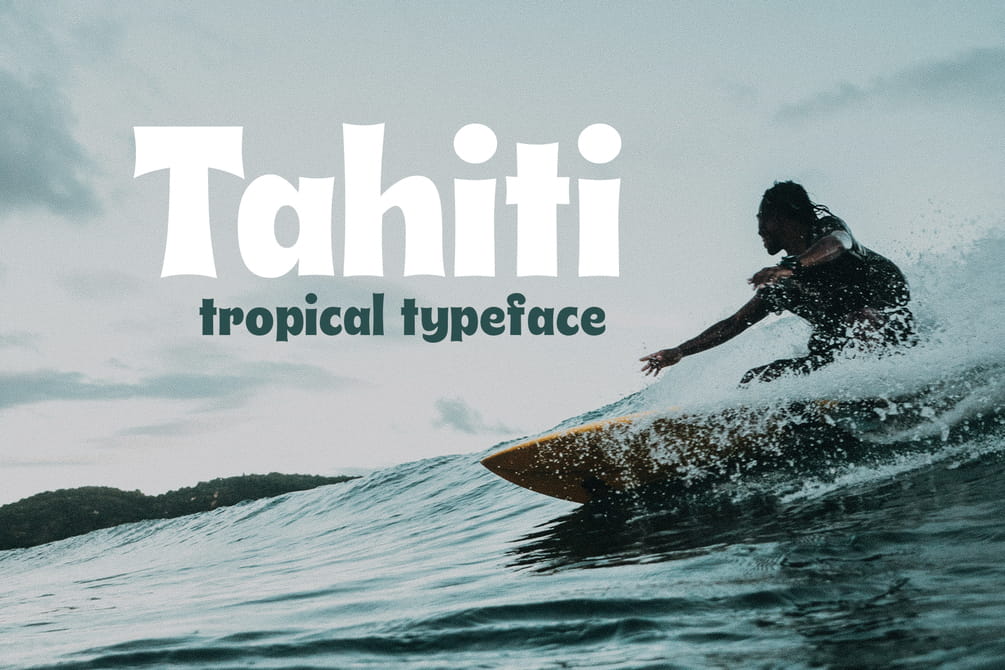 Tahiti is a fun display typeface perfect for your Summer and Spring projects. If you're looking to add some tropical vibes to your work then this font is for you!
8. Citro
Citro is a bold typeface based on retro hand-painted paper signs primarily seen in grocery stores from the 1920s through the 1970s. It features inconsistent baseline and cap heights so as you type the characters seem to dance.
Citro is fun and not too serious. It's perfect for both vintage-inspired and contemporary branding, marketing, packaging, and much more. If you're looking to create a bold impact with a retro flare, then Citro is for you!
Test this font by typing here
9. Pasadena Typeface
Vozzy Vintage Fonts' color typeface is available in four styles to give your presentation or logo an old-school feel.
10. Ocovilla AOE
Astigmatic's vintage magazine-inspired font gives a logo or visual that eye-catching appeal you need.
11. Hamor Island
KA Designs' creation gives your visual project a carefree, handwritten, and Bohemian vibe rolled into this typeface.
12. Survivor Wood Font
If you're looking for a font with nature-inspired lines while keeping a modern vibe, Ramey Type Foundry's product will deliver.
13. San Diego Font Set
For a classic style font aimed at making retro-line style logos and other visuals, this Jen Wagner Co. product is up to the task.
14. Original Surfer Pro
Stiggy & Sands' creation is a sans serif inspired by a vintage advertisement.
15. Alinka Brush Font
From Magpie Paper Works, this typeface was made with a watercolor and brush stroke effect for digital presentations.
16. Maui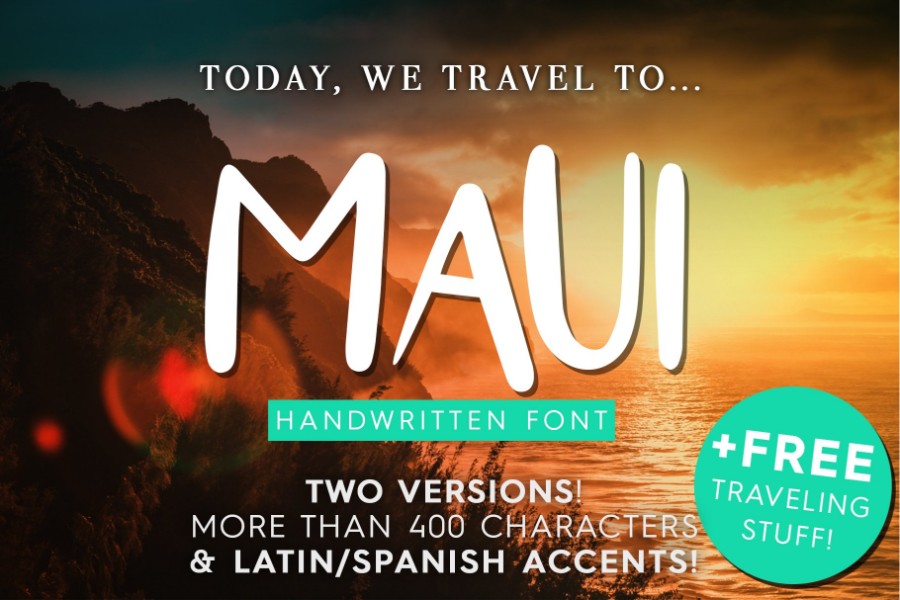 Traveling fonts gets you a two-style handwritten font, plus an assortment of add-ons to give your projects that moving vibe.
17. Chalofa
Realtype Co.'s typeface gives a taste of classy sophistication with modern handwriting.
18. California Palms Fonts and Graphics
Nicky Laatz packages script, watercolor, and marker fonts with a helping of summer doodles to get that creativity flowing.
Download California Palms Fonts and Graphics
19. Mahalo
For presentations that need a Hawaiian feel to go along with a soft, all-caps style, Mark Richardson's product is a wonderful go-to.
20. CA Negroni
Cape Arcona Type Foundry's product takes on an all-caps style based on early 20th Century signage.
21. Aloha Paradise Serif Font Family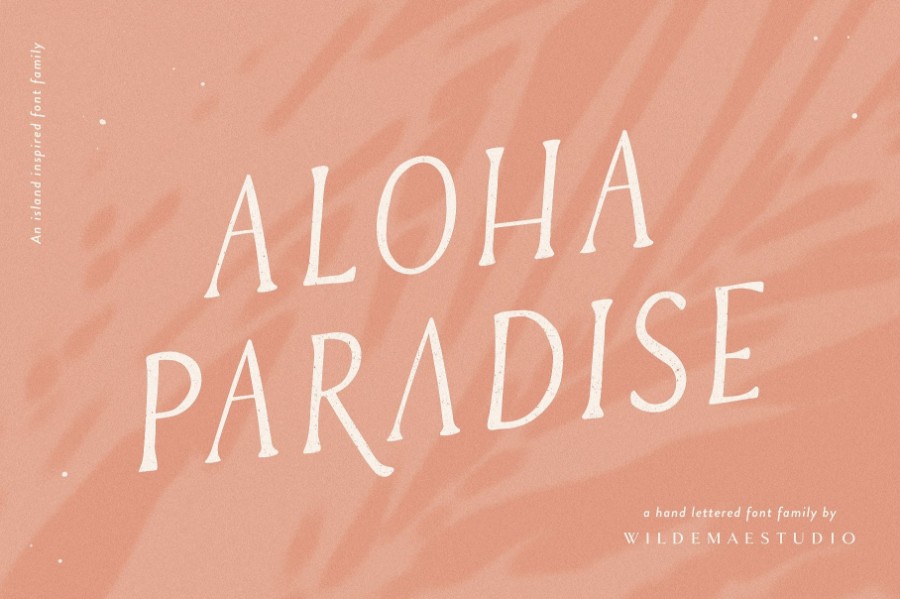 Wilde Mae Studio packages this handcrafted, island-inspired font in 6 styles.
Download Aloha Paradise Serif Font Family
22. Halau Family
Available in sans and serif, your summer projects get a classic, cartoony look with this typeface from Vintage Voyage D.S.
23. Wakiki
The textured, Hawaiian look makes this font from Drizy a solid choice.
24. Desert Island
From BusyPort, this display typeface adds an island mystique through a blend of concaves and covexes.
25. Tikiland Typeface
 PutraCetol Studio provides you a font that is uniquely Hawaiian at first glance.
26. Forbidden Isle Tropical Font
Spring Bleak Jake brings a sans serif that is clean, yet delivers the tropical feel on your presentation.
Download Forbidden Isle Tropical Font
27. South African
This typeface from Mans Greback brings a handcrafted, brushed feel that works great with slogans and logos.
28. Tide Sans Font Family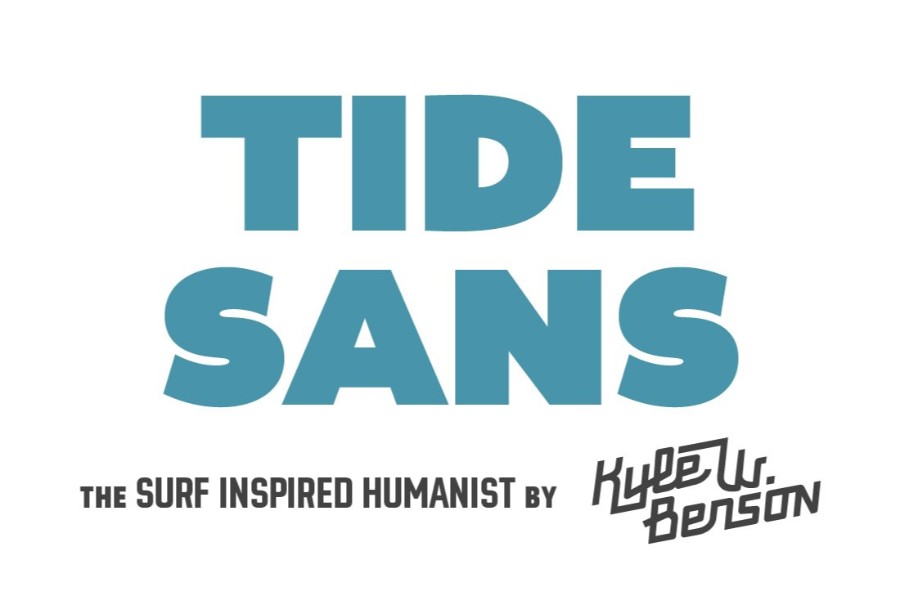 This typeface from Very Cool Studio comes with 9 weights, italic fonts, fine-tuned small caps, as well as stylistic fonts.
Download Tide Sans Font Family
29. Pool Riders
For summer presentations that want to deviate from the usual tropical themes, this punk and skateboarding culture font from Guerillacraft helps you stand out
30. Paradise Thoughts
This font from Mars Peter-Forss is what you would want for that handwritten, fresh appeal.
31. Neskowin
Neskowin is a chic yet casual handmade beach font that includes over 75 handwritten ligatures that help create a natural look that is super popular right now in both big commercial and small personal designs.
32. California Sunshine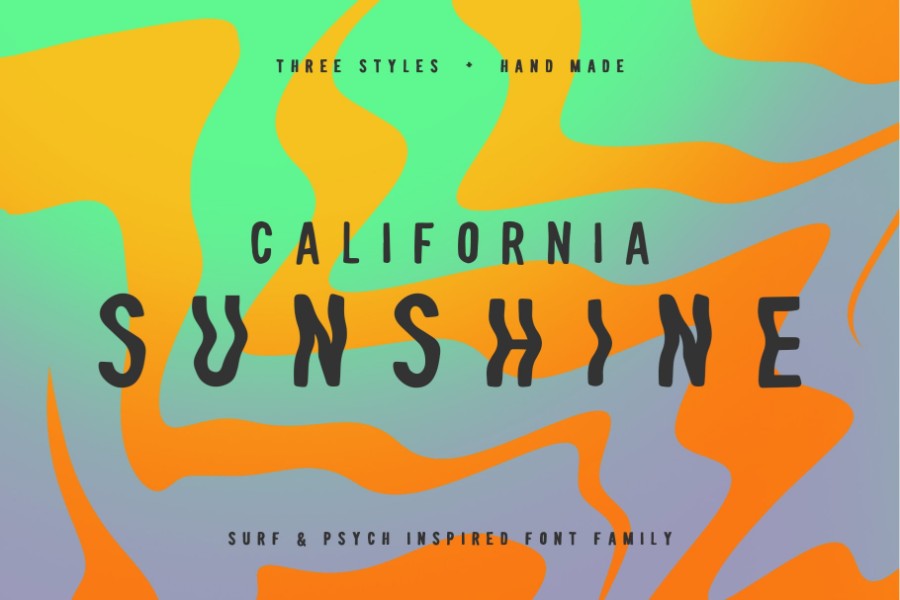 Waves from the creative minds at Think Make Design will no doubt give your presentation an exciting mix of surf and zest.
33. Ruthyne
Get that cursive, feminine feel by using this DM Studio typeface for your project or presentation.
34. Sealife Font Family
With patterns of various sea creatures, this Struvictory.art font delivers the needed oceanic feel to your visuals.
35. Summer Lemonade Font Trio
Hart Foundry's font trio with doodles get you a variety of handwritten effects to mix and match with your presentation or project.
Download Summer Lemonade Font Trio
36. Palm Canyon Drive
To get a Mid-Century California touch with your projects, this RetroSupply Co. creation has the means for it.