Last Updated on March 14, 2023
If you are a part of a business looking to market itself as being more relatable to its userbase, then the cursive font is perfect for promotional material. Most cursive fonts mimic the unique penmanship of different handwriting styles and are often warmer and more welcoming than regular sans serif fonts.
Beautiful Cursive Fonts
This article will give you 30 super-unique cursive fonts that you can download and use to do the writing on your business card, an invitation, or promotional poster stand out!
1. Milford Script
A Versatile Typeface with elegant curves, Milford consists of many unique characters, lovely ligatures, initial-final forms, and multi-language support. Suitable for digital lettering, prints, logo, poster, t-shirt, packaging and applicable for some graphic design, its variety of alphabets work within a range of programs.
2. Greybridge
A classic and easy to read font, Greybridge is perfectly made to be applied, especially in logo and the other various formal forms such as invitations, labels, logos, magazines, books, greeting/wedding cards, packaging, fashion, makeup, stationery, novels, labels, or any advertising purpose. It excels on programs that use OpenType features like Corel and Adobe, so keep that in mind!
3. Rashany
Designed to convey elegance and style, Rashany is slender, feminine, and friendly. Rashany is perfect for fashion, e-commerce brands, trend blogs, or any business that wants to appear classy and chic. One thing to note is that to access its many alternate glyphs; you need a program that supports OpenType features such as Adobe Illustrator CS, Adobe Photoshop CC, Adobe InDesign and Corel Draw.
4. Captivate Script
Captivate Script is a beautiful modern calligraphy script based on manual handwriting. Captivate Script is a perfect addition to any wedding invitation, business letter, business card, or flyer. It contains uppercase and lowercase letters, multilingual support, and ligatures. The natural swashes make the font look truly stunning.
Download Captivate Script Here
5. Kanatala
Kanatala has an authentic handwriting style that will take your projects to another level. It's perfect for logos, products packaging, and wedding invitations.
Features:
• Uppercase
• Lowercase
• Symbols & Punctuation
• Numeral
• Ligature
• Alternate
• Multilingual Support
6. Kasturi
Another luxury handwritten font, Kasturi, is a beautiful choice that will add an element of class and sophistication to any business project.
7. Aberatta
Perfect for businesses looking to add a personal touch of class to their work, this handwritten font will look great as a signature or poster on a business card.
8. Benfield
With 175 total glyphs, Benfield is an elegant typeface that looks great on invitations, emails, media posts, posters, or flyers. A solid choice for any business.
9. Watermelon
Don't let the funky name fool you; this brush script font is an excellent choice for any business. This font is ideally suited for a wide variety of projects, as to signature, stationery, logo, wedding, typography quotes, magazine or book cover, website header, branding and more—also, fashion-related branding or editorial design. In addition, it displays both masculine and feminine qualities.
10. Karlberg Script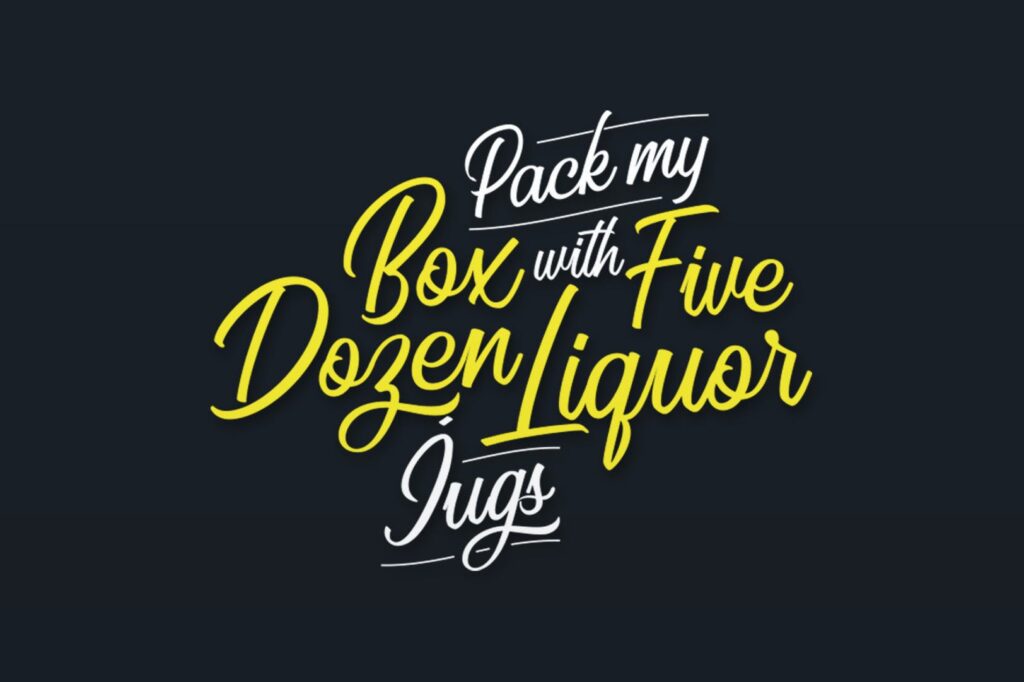 Modern, elegant, and clean, Karlberg is created with a 45º brush to keep the stroke consistent. Some characters have alternative characters, especially on the ascender, descender, and uppercase. These fonts are great for Logotypes, Posters, Digital Lettering Arts, Clean design, Branding Design, signs, etc.
11. Harmonie Script
Harmonie Script is a new handwritten stylish copperplate calligraphy font, combines copperplate to contemporary typeface, classic and elegant touch. Harmonie Script features 239 glyphs with OpenType features. It is suitable for apparel brands, greeting cards, Painting design style, or any design that needs a natural and personal touch. Mix and match the alternate characters to add an attractive message to your design.
12. Clarkson Script
With over 550 glyphs available, Clarkson script is one of the most versatile fonts that you can use for your business, regardless of the project type!
13. Glitterino
With two different styles (regular and hairline), Glitterino font is an elegant sans serif font that is great for any business. It also contains multilingual support, web font formats, and upper and lowercase options.
14. Alishader
Stylish, out-of-the-box, and sleek, the Alishader font adds a lot to any project that it is a part of. Look to use it for posters and flyers, as it will help any promotional piece stand out.
15. Zelda
Zelda is a script font with precise characteristics: Feminism & elegant. It is a classy typeface for multipurpose usage: a greeting card, editorial, branding, wedding invitation, etc. Zelda is the ideal typeface to make an attractive message or add instant beauty to your design by using many of its ornamental characters.
16. Larizo
This font has a unique character and flow, perfect for use in edgier projects or less formal promotions. It has various OpenType features, too like ligature, stylistic alternate, contextual alternate, swash, etc, and they support multi-language capabilities.
17. Ralyne
The Ralyne font offers beautiful typographic harmony for various design projects, including logos & branding, wedding designs, social media posts, advertisements & product designs. It is elegant, and with a set of upper and lowercase letters, as well as multilingual symbols to choose from, it is a stellar choice for any business.
18. Skywave
Skywave is a display cursive typeface. It was inspired by waves on the ocean. This typeface is great for logos, titles, headlines, taglines, t-shirt, handwritten quotes, product packaging, poster, merchandise, social media, labels, branding, greeting cards, etc.
19. Quenyland
This gorgeous calligraphic font is ideal for a variety of business settings. Quenyland is inspired by beautiful and eye-catching handwriting, and that is precisely what it looks to promote. It is perfect for greeting cards, branding materials, business cards, quotes and posters.
20. Cursive Brush Script
Cursive Script has a perfectly paired complimentary marker font and a beautiful swash with authentic dry brush imperfections and a very bouncy baseline. It is ideal for logos, handwritten quotes, product packaging, header, poster, merchandise, social media and greeting cards.
Download Cursive Brush Script Here
21. Gentlysoftly Signature Script
Gentlysoftly is a characteristic signature font of Maulana creative, with a clean monoline stroke and fun character. It has OpenType features, like ligatures, which allow for extra creativity. Gentlysoftly signature font also supports more than 100+ languages; this font is suitable for logo design, social media, movie titles, book titles, and short or long texts.
22. Hellow Script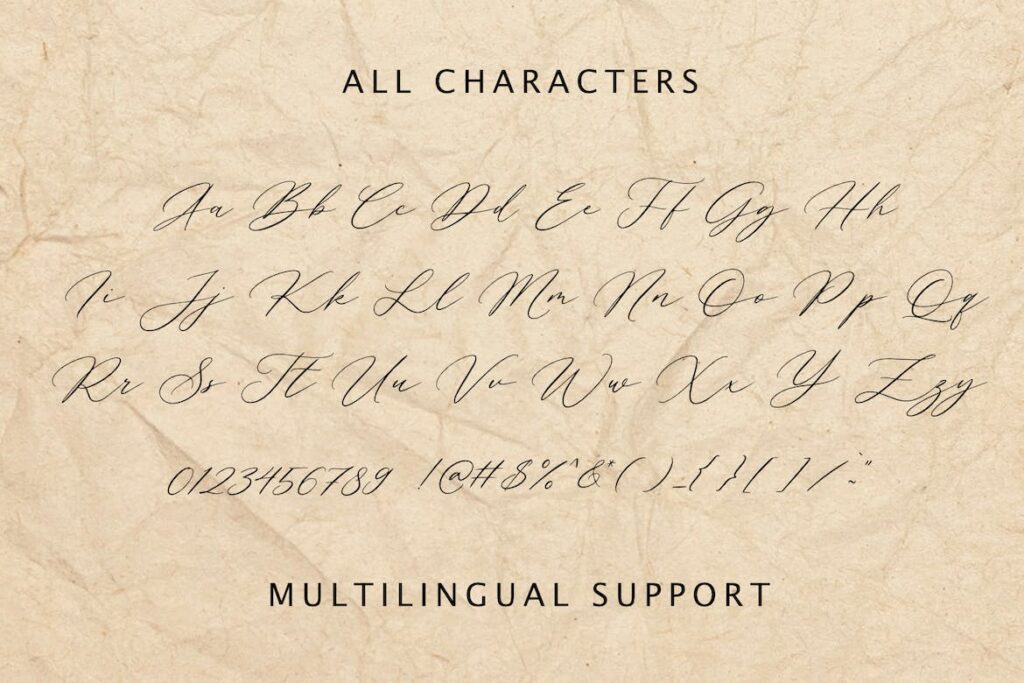 This font is very suitable to be applied mainly to logos, labels, magazines, books, greeting/wedding cards, packaging, fashion, book covers, and many more that you can explore with this font. It is pretty feminine and looks elegant, ideal for various business projects.
23. Incredible Holiday
A Christmassy handwritten font with sharp and beautiful letters creates modern, trendy, and elegant fonts. It comes with OpenType features such as stylistic alternates, stylistic sets & ligatures good for logotype, poster, badge, book cover, t-shirt design, and packaging.
Download Incredible Holiday Here
24. Maleryan Script
Maleryan is a beautiful modern calligraphy script based on manual handwriting. The natural flow with the swashes makes this font look even prettier. This type of font is perfect for various business or personal purposes, such as invitations, labels, logos, magazines, books, greeting/wedding cards, packaging, fashion, makeup, stationery, novels, etc.
25. Cultured Handwriting
The clue is in the name. This classic and refined typeface is beautifully presented and allows businesses to create something elegant and memorable. Use it to create beautiful wedding invitations, beautiful stationary art, eye-catching social media posts and more! This font is PUA encoded, which means you can easily access all the great glyphs and ligatures.
Download Cultured Handwriting Here
26. Melarrat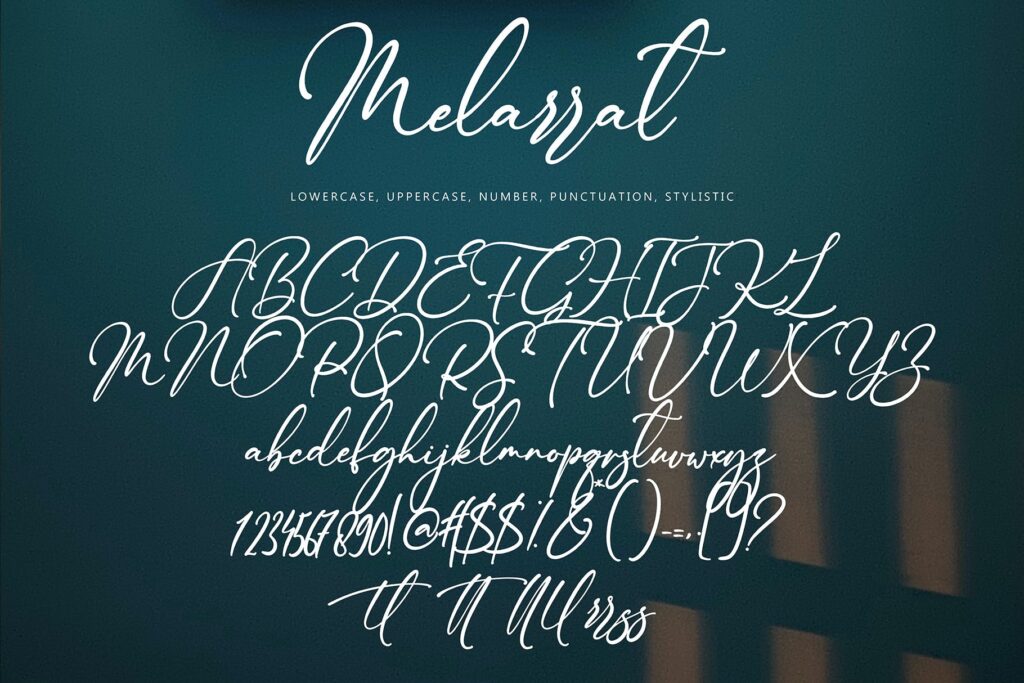 This modern handwritten typeface is great for signatures and suitable for a poster or a flyer. It is an elegant font that will make you and your business seem refined and organized.
27. Encrypt
One of the most feature-packed handwritten fonts on the market, downloading the Encrypt font gives you:
• Encrypt | Handcrafted Brush Script Font OTF & TTF
• Tons of glyphs
• Alternates and Ligatures
• PC & Mac capabilities
• PUA Encoded Characters that are fully accessible without additional design software.
• Simple installations
• Accessibility in Adobe Illustrator, Adobe Photoshop, and Adobe InDesign. It even works on Microsoft Word.
• Multilingual Support
28. Salzburg
Inspired by Retro Vintage typeface styles and combined with Brush Hand Lettering, Salzburg was created to add a personal touch to each curve. This personal touch will easily make your business projects, cards, letters, or flyers stand out.
29. Skylounge
Skylounge is a slanted cursive script font. With light contrast stroke, fun character with a bit of ligature. The font is designed to be easily read and look unique at the same time. It will help you stand out from the crowd, that's for sure!
30. Acoustic
Acoustic is a lovely and delicate script font that exudes elegance and class. This font was particularly crafted for those who need a beautiful and refreshing look to their designs. This makes it a great choice for companies or professionals looking to give their brand a bold, new look!
FAQs
What font is cursive?
Cursive font is a type of font that is curbed in nature and presents are stable and cool feel. It has become a super-popular font to use on social media, and a range of businesses and companies are starting to use it in a bid to become more laid back in their social media approach.
How do I get the cursive font on my iPhone?
There is a range of ways to get nice fonts on your iPhone. The easiest way is to download an app with stylish fonts on it. From there, you should be able to go into keyboard settings and change fonts from there. If that does not work, you should be able to go into settings, then Genera, and then Fonts, and from there you should be good to go with your new cursive font!
How do I get a cursive font on an Instagram Post?
Having different fonts on Instagram has become all the rage lately. So getting a cursive font should be a top priority. The best first move is to download a font changing app. From there, copy your chosen text into the app and change your font to cursive. After that, simply copy and paste back to Instagram, and voila!
How do I get a cursive font on Microsoft Word?
Cursive scripts are quite easy to find on Microsoft Word believe it or not. Typically, most cursive fonts are handwritten in nature, and there are a host of fonts like Edwardian Script, or Bradley Hand ITC to choose from.
How can I write in Cursive font?
Writing in a cursive font using a pen requires great detail, however, using a cursive font on your phone or laptop is as easy as downloading an app or a program from the web. It all depends on what you want to do.