Did you know that flowering plants only began taking root in our world 130 million years ago? That's fairly new, considering ferns and trees have been around far longer than that. Still, the way they have changed our surroundings and the effect they have brought in our lives have been immense.
Walk into any park, roadside, or backyard and the first things that will catch your eye would be the vibrant sunflowers, the blooming Begonias, the petite Buttercups, and the wild Chrysanthemums. You can easily cheer up a loved one by showing up with their favorite daffodils or roses. Want your landscape to be the envy of the neighborhood? Plant some hibiscus, Hydrangeas, irises, or marigolds to complete the look.
Wondering how to make your designs effortlessly dainty, delicate, or exquisite? Try these pretty flower fonts and see how they quickly transform your works from blah to beautiful!
Pretty Flower Fonts
1. Spring Melody – Humanist Typeface
Spring Melody is an elegant humanist typeface. Spring Melody has elegant curves, beautiful kerning, and sharp edges. The font is perfectly suitable for creating elegant, clean, retro design such as branding, packaging, social media, wedding invitation, advertising, editorials, and much more. If you're looking to create a sense of luxury in your designs, then Spring Melody is exactly what you've been looking for.
2. Natalia Script
Natalia Script is a hand-painted flower font designed to help you create the look of stunning custom hand-lettering. It features upper and lowercase letters with alternates and swashes.
3. Rainy Day
Rainy Day is a modern calligraphy flower font that combines elements from copperplate to contemporary typefaces. It boasts a classic beauty and elegant feel with 256 glyphs and 79 alternates.
4. Santoy
Santoy is a hand-lettered flower font with a calligraphy style that's beautiful on invitations, branding materials, and more. Features sets, alternates, swashes, and ligatures for hundreds of combinations.
5. Aloa
Mint Pixels' decorative uppercase floral typeface adds a touch of nature to your projects, which is great with headers, logos, posters, and many more.
6. Fiora Monograms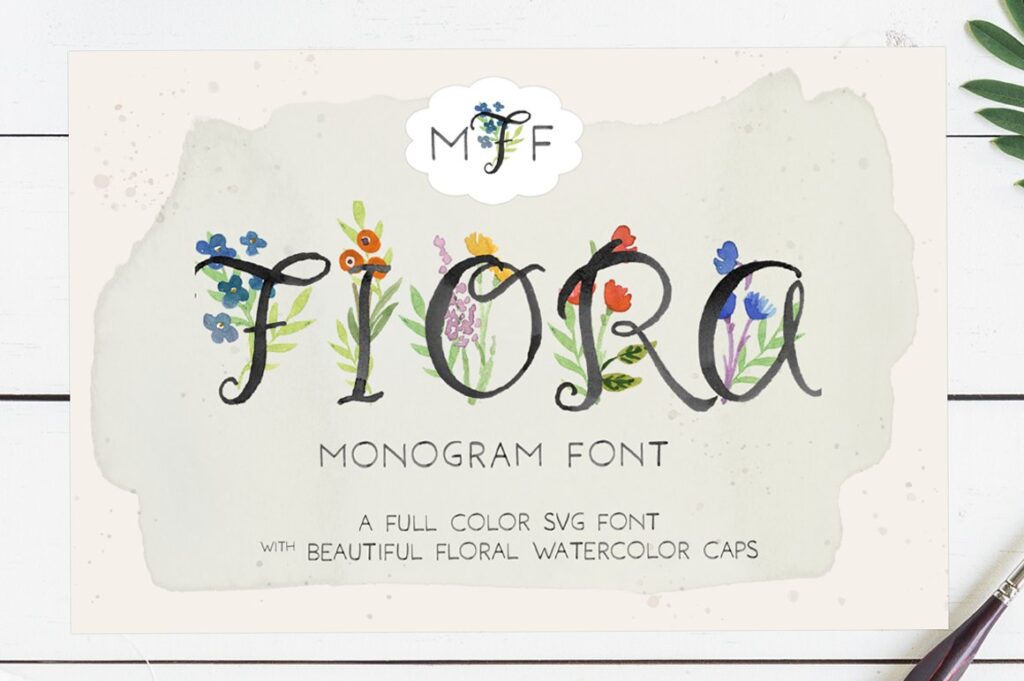 Colorful botanical designs for your lettering are made possible through the use of this colored SVG font from KLUGE+GRAN.
7. Avery Font
Euonia Meraki present her pretty typeface based on her "Lovely Monogram Twins" vector-based monogram.
8. Bahor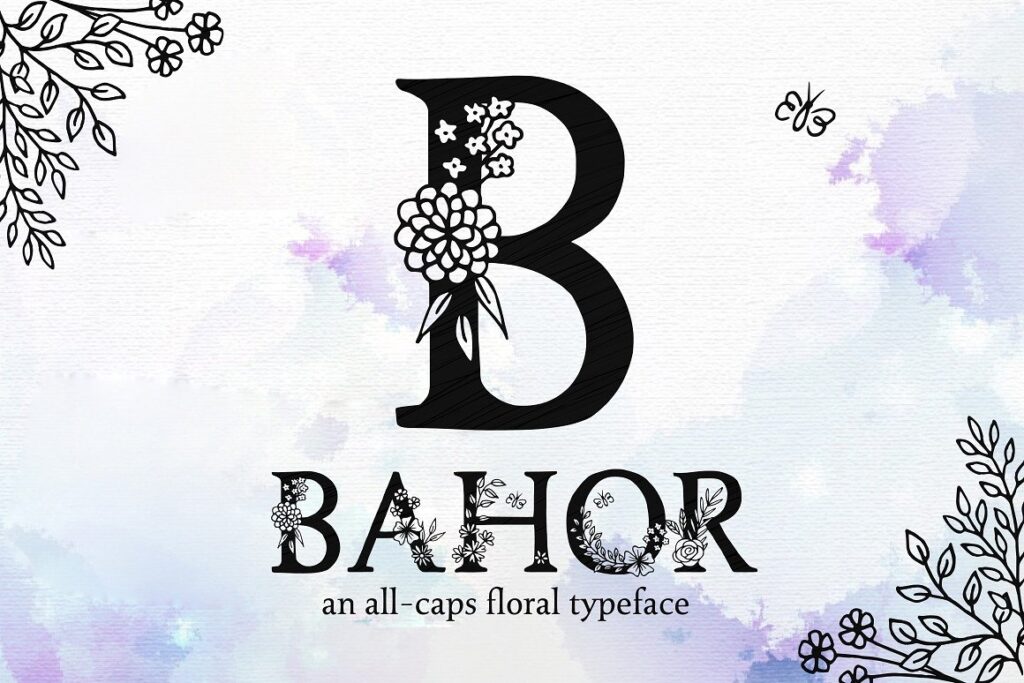 Franzi designed this typeface with black ink serifs and beautiful black flowers that are placed differently depending if you're using uppercase or lowercase letters.
9. Gardenia
This decorated floral pattern typeface comes in Decorative and Black versions, with 42 bonus decorative elements to further accent wedding designs, posters, article titles, and other craft projects.
10. Plumeria
Inspired by Hawaiian flowers, this color-customizable font from Poison Type Supply can be used for logos, branding, titles, headers, posters, and banners.
11. Picanto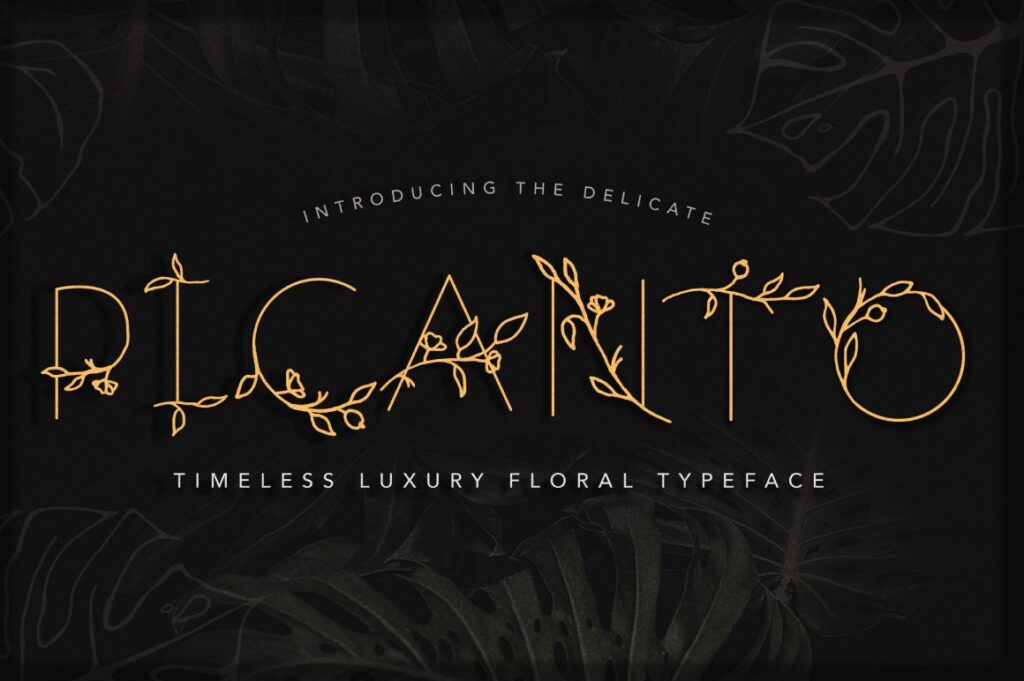 This all-caps from Digital Hustler includes the font in regular and bold styles, plus handmade corner frames and flourishes to enhance the floral theme in your works.
12. Everbloom
Add more accent to botanical-themed projects using this product from Anna Ivanir that comes in Clean and Regular versions.
13. EVA
Create your work of art – or add an artistic render to your presentations using this vector font and flower graphics package made by MoodyPapers.
14. Flora Color Display Font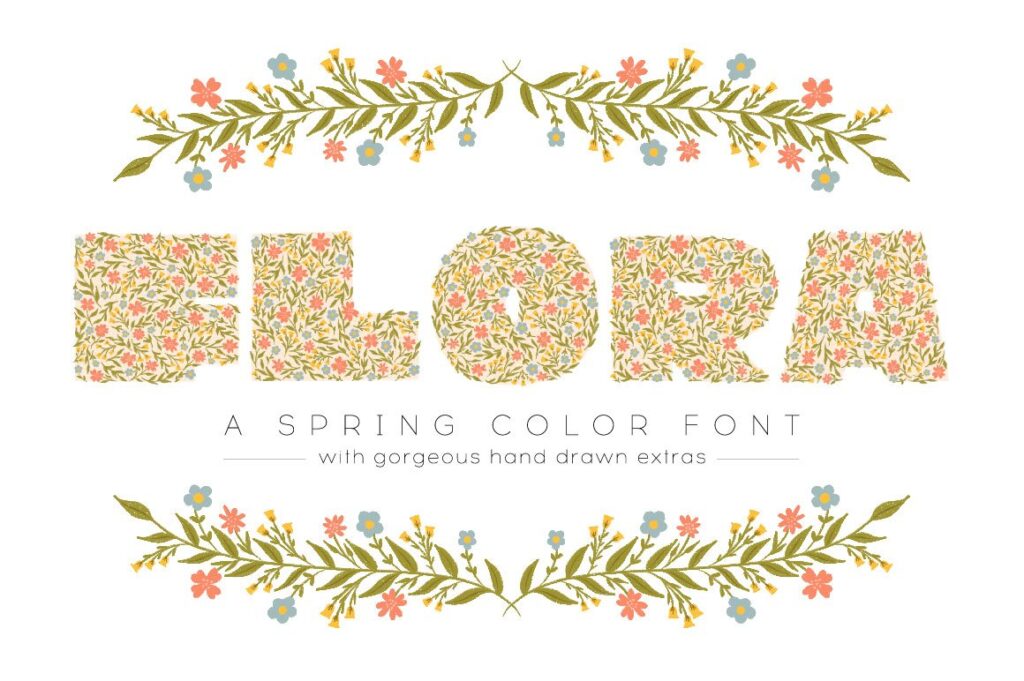 Everyone loves flowers; and that love can be further expressed through this floral-designed typeface from On the Mark Designs.
Download Flora Color Display Font
15. Beatrice
This hand-drawn floral font from La Petite Prune comes with floral elements to step up your visuals.
16. Flóra
This elegant and feminine typeface decorated with flowers and leaves is suitable for headlines and other decorative text.
17. Amelie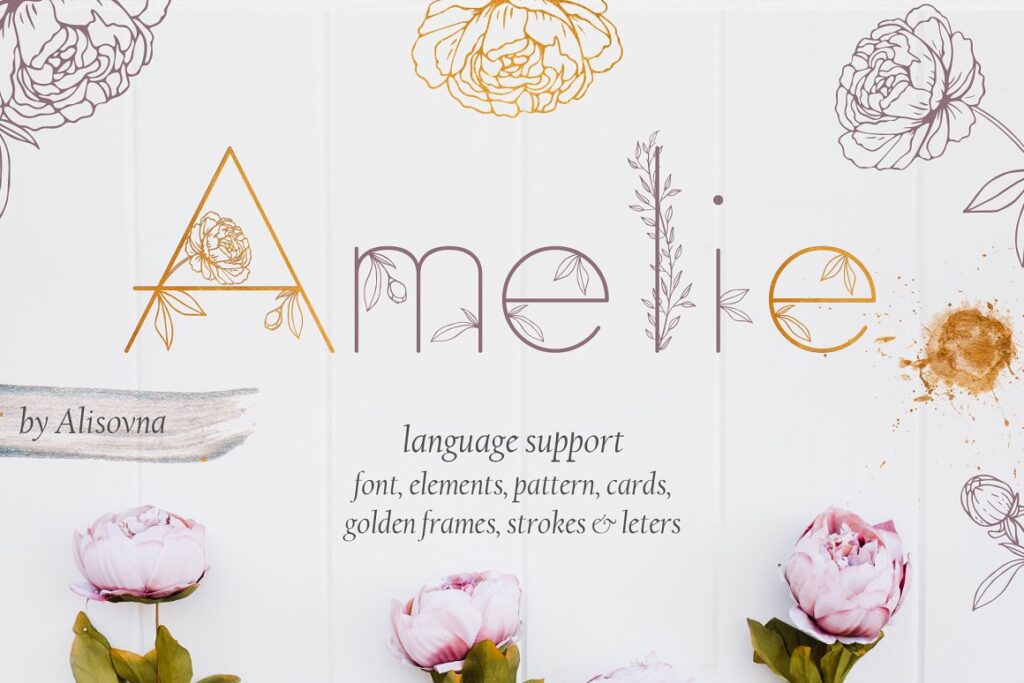 Get all that you need for great wedding invitations and other dreamy-themed projects through this package from Alisovna that includes a romantic display font, gold and silver strokes, frames and letters, and pre-made wedding cards designs.
18. Flor Font
This enchanting typeface offers a great deal of variety through six carefully-designed fonts and floral ornaments for beautiful and one-of-a-kind visuals.
19. ALICE
Add a touch of glamor to your illustrations and other digital works through this exquisite, hand-drawn gold floral alphabet typeface with free exclusive designs made by La Petite Prune.
20. Snowy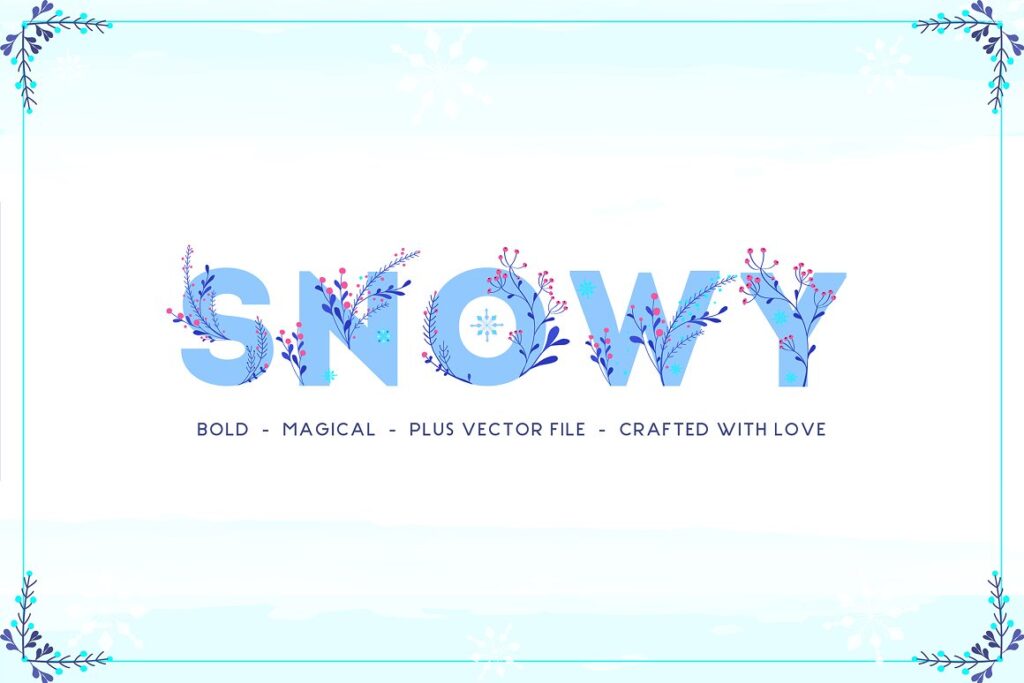 This bold uppercase font not only shows a dazzling floral theme, but the snowy aspect is also perfect for holiday-themed greetings, posters, logos, banners, and presentations.
21. Wisteria
Check out this display uppercase serif from Tugcu Design Co. with leaf ornaments and alternates that can be toggled using caps lock.
22. Flola
If you're after a font that has flowers and leaves shaped as letters, this freeject.net creation is definitely one to consider taking advantage of.
23. Gentle Whisper Font
AnMark proudly presents an elegant and feminine uppercase font that comes in Floral and Regular styles that are great for wedding invitations, magazines, monograms, and logos.
24. Ciera Watercolor
This Angèle Kamp package will get you four styles of her watercolor texture font, 23 illustrations vectors, and 6 pre-made logos with instructions on how to edit them when needed.
25. Floral Secret Island
This hand-made font from Drifter Studio is made to be filled with color, offering it a flexible degree of display personalization.
26. Autumn Embrace
AnMark's season-themed typeface includes the decorative Autumn Embrace Floral style, the Autumn Embrace Regular calligraphy font, and Autumn Embrace Extras symbol font, plus 2 hand-drawn elements.
27. Apothecary
Create the Cut's hand-crafted font is a stylish display of capital letters with botanical effects that magnifies the harmony of science and nature.
28. Aronia
The floral-designed uppercase font from Struvictory.art achieves an elegantly unique design by combining letters with the set-included elements.
29. Fleuro Color Font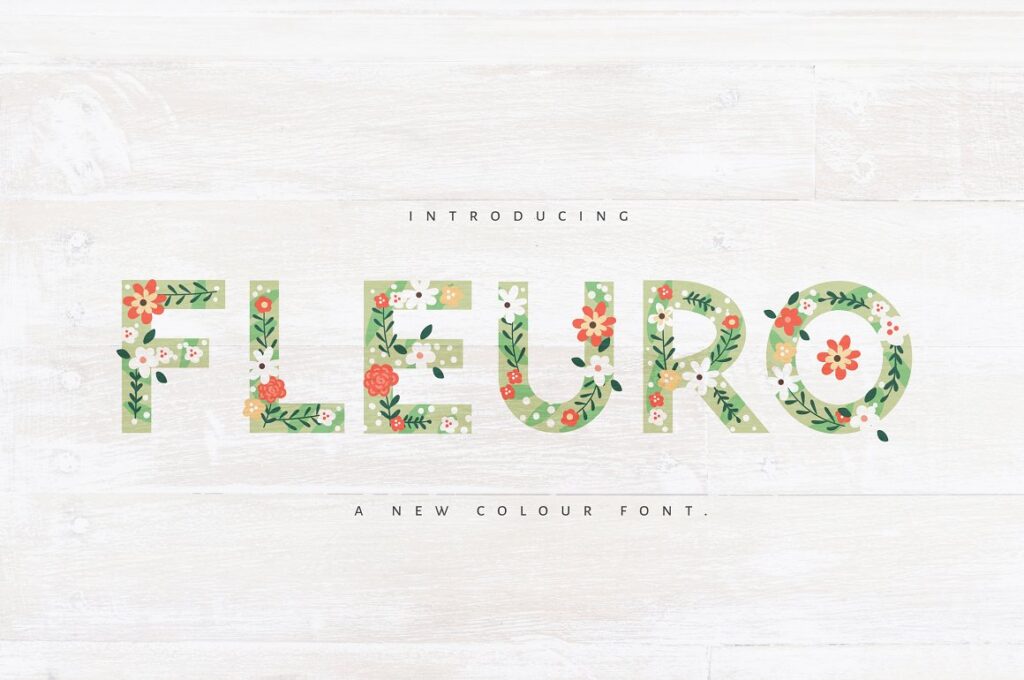 Nicky Laatz is proud to present one of her personal creations – a color font that adds a flowery appeal to brands, logos, and other projects that achieve the best effect using a bit of nature.
30. Botanica Watercolor Font
A clean, slim typeface decorated with a series of hand-painted watercolors that induce a warm floral vibe – just like the way some people love wearing flowers on their hair.
Download Botanica Watercolor Font
31. Flower Bouquet SVG Font
Stop and smell the flowers in this charming typography by Bloom XXVI featuring hand-drawn petals and leaves.
Download Flower Bouquet SVG Font
32. Frida Typeface
Latin American artists have expressed their imaginative depth through their paintings and stories – these elements are captured in this font from Macaroni Mayhem.
33. Garden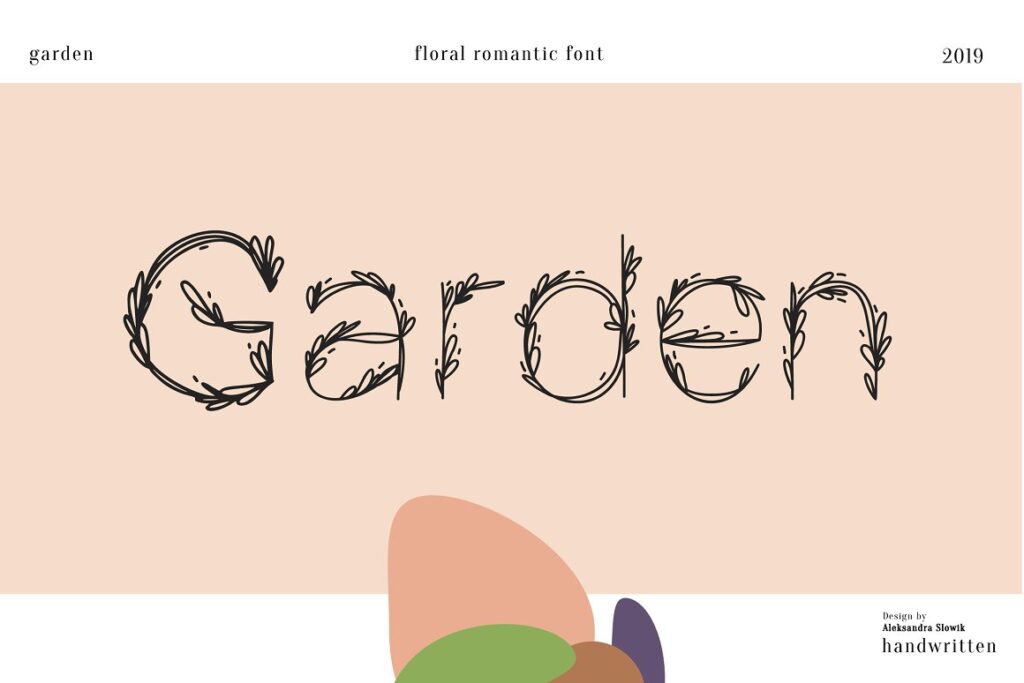 Large and small letters are accompanied by leaflets and twigs, making this font from Aleksandra Slownik great for presentations that benefit from sporting a romantic style.
34. Bunga Font
Bangun Studio's decorative font comes in uppercase and lowercase letters for a truly unique touch to your logos, cards, invitations, and other related presentations.
35. Blooming Season
Blooming season is a beautiful font design with a range of ligatures that are carefully crafted to look amazing. There are uppercase and lowercase styles available, and there is also support available for a range of languages. A fantastic choice.
Download Blooming Season here!
36. Flower Hand Drawn Display Font
The Flower Hand Drawn Display Font includes unique letters with flourish monoline hearts, spring flowers and a swirls insert. It's fine for wedding or Valentines' ornament greeting cards, logos, invitations, etc. Its elegant ethnic calligraphic lines give romantic freshness to your handmade design. Well worth a try!
37. Camelia Sans Unique Florist Typeface 
Camelia Sans is an Elegant font with beautiful ligatures, tons of special alternative glyphs, ornament and multilingual support. It's a very versatile font that works great in large and small sizes. Camelia Sans is perfect for branding projects, Logo design, Clothing Branding, product packaging, magazine headers, or simply as a stylish text overlay to any background image.
38. Balian Typeface 
The BALIAN font is inspired by Balinese style carvings because it is made in Bali and the Balinese also make it. The unique and beautiful engraving forms create a display font with character. The Balian font is perfect for classic and unique themed designs, besides that this font is perfect for t-shirt designs, poster titles, text headers or logotype designs.
39. Herb Floral Ligature Font
The Herb – is a unique ligature serif font inspired by nature and the autumn mood. It is perfect for logos (especially to word-mark logos), branding, invitation card, and much more; and well to emphasize your unique style, eco concept, or something else. 75 ligatures and 14 swashes will help create individual writing, thereby expanding the scope for creative expression.
40. Verdant Botanical Display Font
Introducing Verdant – a Botanical Font with Minimal Leaf and Flower Illustrations. Verdant is extremely versatile and looks great as an accent alongside any regular sans-serif or serif font. Use it to create elegant packaging designs, luxury logos, branding collateral, print designs and more!
41. Adenium
Perfect for monograms, wedding invitations, and more, this frangipani flower font, Adenium, is simply stunning. Featuring a serif typeface and a hand-drawn floral element to each letter, this modern floral is just beautiful.