Last Updated on September 28, 2023
Picture this. You're dressed casually, surrounded by nothing but clear sand, crystal blue waters, and the sweet smell of the summer breeze as the warm sun caresses your skin beneath clear blue skies. It's a typical day in the Caribbean, and you're finally away from the rush and bustle of your average overcrowded region. 
Interestingly, the Caribbean region is mostly ocean, with four major island groups; only about 2% of the islands are inhabited. But it's not all sun, sand, and sea. You can enjoy the islands, coral reefs, tropical forests, mountains, and waterfalls and even learn about the region's rich history and cultural attractions.
The best part? Caribbean fonts blend these fantastic elements into your design to create a tropical and peaceful atmosphere. They can adopt various styles, including modern, retro, old-school vintage, sophisticated, and playful styles, almost like a one-size-fits-all typeface for different purposes.
Feel free to spice things up and add a little something extra to your creative projects with these summer-themed Caribbean fonts.
Summer-Themed Caribbean Fonts 
1. Sojourn
Layered, type-driven design inspired by 1980s advertising is on the rise. Sojourn will help your creative projects come alive and create eye-catching designs. Just like the famous 1980s advertisements by Apple, which pioneered the look with its launch campaign for the 1984 Macintosh.
2. Bahama Nights
Bahama Nights is a graceful script typeface made with love. Its beautiful cursive style can be used to create gorgeous wedding invitations, elegant packaging, advertising, eye-catching social media posts, stationary art, fabulous logos, and much more!
3. Tahiti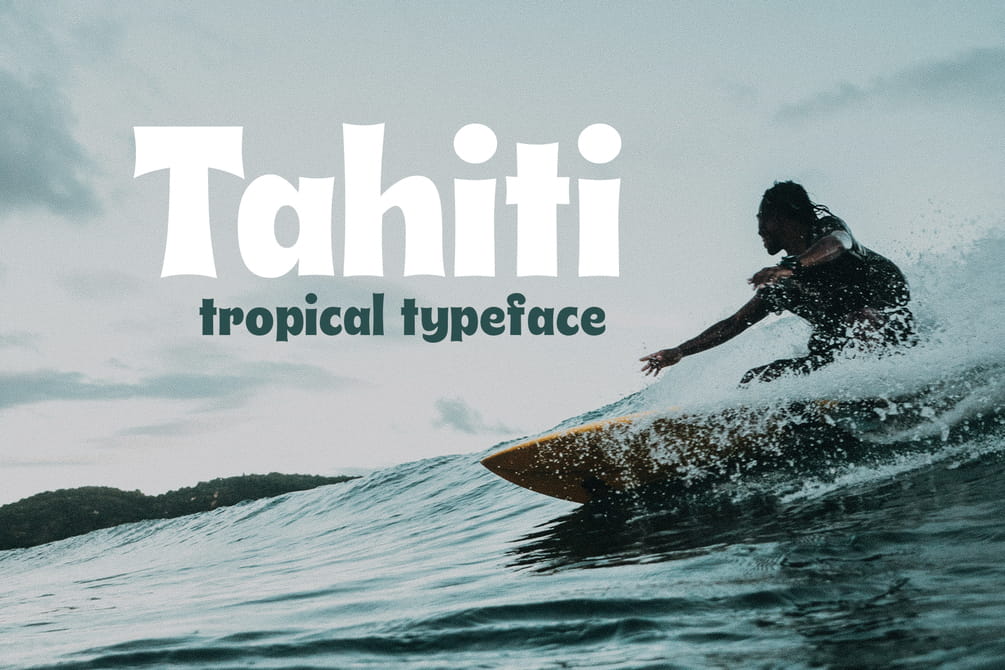 Tahiti is a fun display typeface perfect for your Summer and Spring projects. If you're looking to add some tropical vibes to your work then this font is for you!
4. Antigua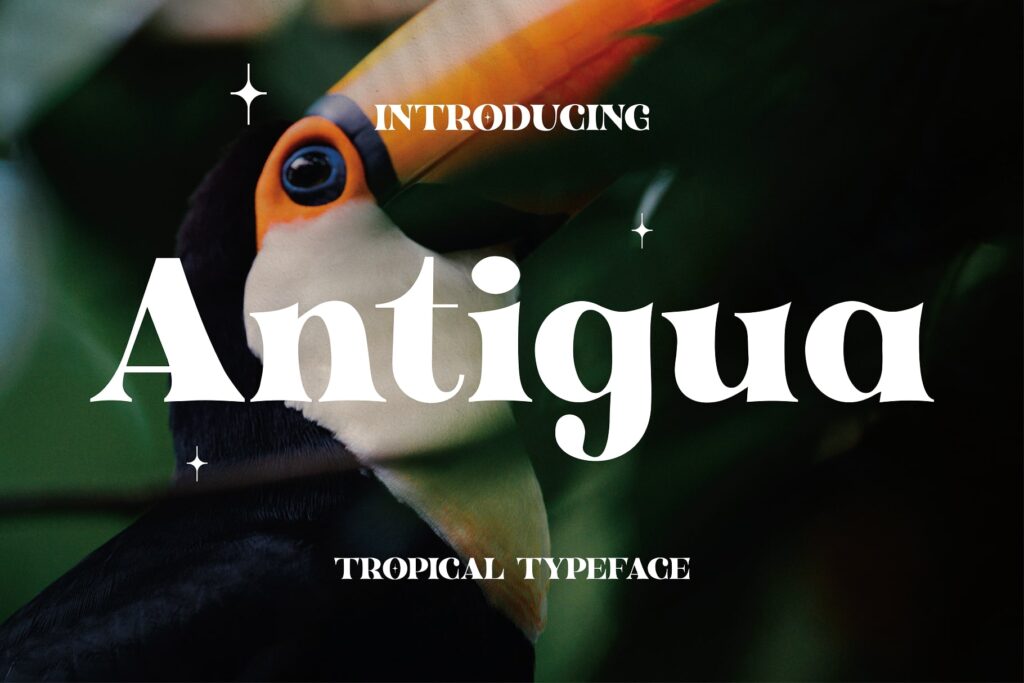 Antigua is a bold serif font family that comes in two gorgeous styles: Regular and Outline. Simple, elegant, yet memorable, it also comes with bonus ligatures to add flair to your designs. You can apply Antigua for branding, packaging, posters, social media, and magazines. This font is a joy to use and read – you might end up using it more than usual!
5. Elegant Karin
Karin is a stylish all-caps typeface with light, regular, medium, and bold weights. It offers stylish alternates, ligatures, accented characters, numerals, and punctuation, making it an excellent fit for creating classy designs, branding projects, and fashion-related designs.
6. Caligna
Everything about Caligna screams confidence and luxury. From its modern style to its elegant characters, Caligna should be in every designer's toolbox. It features uppercase and lowercase characters, including numbers and ligatures. A few applications for this typeface include fashion design, logos, magazines, restaurant branding, and the food industry.
7. Avalar
If you're looking for a bold and attention-grabbing font, check out Avalar. It's not like those other fonts that try to blend in – this one is lively, extroverted, and really stands out. You can use it for all sorts of projects like wedding invitations, magazines, books, packaging designs, websites, mobile apps, and logos.
And the best part? Avalar comes in Bold and Regular styles, so you can mix and match them with cursive or sans serif fonts to create some seriously cool effects. Plus, this font is timeless – it'll look just as amazing today as it will tomorrow. So go ahead and play around with different sizes – you won't be disappointed!
8. Tropical Orange Font YH
Tropical Orange Font is an all-caps modern hand-drawn font with a thick weight that mimics handwriting. The construction of each letter gives off a fun and youthful vigor essential in any youth-inclined project. It comprises alphabets, numerics and extras, and accent characters.
This typeface is perfect for social media posts, quotes, product branding, and magazine headers.
Download Tropical Orange Font YH
9. Tropical Serif Font
With the Tropical serif font, it's super easy to pull off a stunning design. There are regular characters, spaced characters, and alternate characters in the character set. As such, it is suitable for weddings, quotes, and logo designs.  
10. CABO BLANCCO
Cabo Blancco by Inumocca Type is a tropical display font that appears to be chipped at the top and bottom as if carved out of wood. This typeface comes with ligatures, stylistic alternates alongside Multilingual support, and is excellent for expressing a tropical theme with its bold and distinct look.
11. Trenton
Trenton is a stencil serif typeface. This display font is beautiful and legible in small or large sizes. You can use it for logos, editorials, fashion, sports, blogs, advertising, invitations, posters, quotes, book covers, stationery, and more. If your goal is to create a unique and versatile stencil based design, then Trenton is for you.
12. Cameo Sans
Cameo Sans is an all-caps typeface that simply adds a sense of calm to your design, similar to the tranquility associated with the island and tropical forest. This typeface comes in 2 weights: regular and thin. It is perfect for magazine designs, glamorous logo designs, and basically anything that exudes class.
13. Cherione
Sometimes, you need a fun font to liven up your design, and Cherione does just that! It is a playful font with an elegant appearance that will take your design game from zero to a hundred. It is available in 3 weights: light, normal, and bold. 
Its character set is vast, including uppercase, lowercase, numbers, punctuation, ligatures, swashes, stylistic alternates, and accents. It is great for product packaging, fashion, business cards, and quotes.
14. Vacelyn
Vacelyn – Natural Beauty Small Caps Serif by Typia Nesia embodies fashion and class. At first sight, a fashion or beauty brand design comes to mind. And so, it is perfect for fashion promotions, art gallery promotions, boutique branding, cosmetic branding, and so much more. It also supports uppercase, lowercase, numerals, punctuations, and ten lowercase ligatures. 
15. Powerfulm Samara Modern Script Font
The Powerfulm Samara Modern Script by Endeavour Studio is a simple brush script lettering. It is cursive, and so it has a lot of ligatures. In addition, it is elegant, lively, and animated. The brush-inspired typeface comes with a 14 flower vector pack, which, together with the letters, can be used for creative designs like logos, cloth prints, web designs, and posters.
16. Tropical Harmony Script Font
Balpirick Studio's Tropical Harmony is a lovely modern calligraphy font. The fluid strokes resemble handwriting, giving it a dynamic feel that's perfect for your summer-themed designs. It includes uppercase and lowercase letters, numeric and punctuation, accent characters, and swashes, making it ideal for design projects.
Download Tropical Harmony Script Font
17. Hello Malike
Hello Malike's distinctively round appearance makes it a designer's dream font. It exudes a visually appealing elegance with its combination of regular characters, alternates, and ligatures. This typeface is perfectly suited for corporate, personal, and creative projects.
18. Verdant
Verdant is a floral-patterned display font that breathes life into any project. With uppercase letters that have flowers embedded in each character, it has the perfect tropical aesthetic.
Other features include lowercase letters, special glyphs, numbers, and multilingual support. This typeface is ideal for product packaging, branding, and anything else that requires a touch of life in the form of flowers.
19. Emirose
Ergibi Studio's sweet and elegant sans font is a knockout. It comes in four weights: thin, light, regular, and bold. It only has lowercase ligatures and stylistic alternates. It's ideal for logos, quotes, branding packaging, and much more!
20. Kawai Craft
Kawai Craft is a Fantasy Vintage Bold Font – Classic Retro Display Serif designed by Typia Nesia. This typeface embodies the Caribbean design style as well as the groovy summer feeling. It consists of ligatures connecting some of the letters and supports uppercase, lowercase, numerals, and punctuations. 
21. Naluka 
Nothing quite says ethnic and tropical like Naluka. The wooden textures of the font alongside tribal effects hint at its traditional heritage. It's entertaining, creative, and tropical. It has custom ligatures, alternates, and open-type features. 
It is especially suitable for themed cultural, summer, beach, and tropical events, to name a few.
22. Richey
Richey is a great place to start if you want to incorporate some retro elements into your design. It is a unique retro font with uppercase, lowercase, numeric, function, and multilingual support. It is appropriate for any classic design, such as wedding designs, branding, logotype, and summer-themed creatives.
23. Summer Winter
Summer Winter exudes elegance and femininity. From its smooth texture to cursive lettering, this handwritten typeface is sophisticated. The gentle curves and strokes will help create beautiful fashion designs, wedding invites, and anything feminine and luxurious.
24. Nigante
Nigante Display Serif Font by Handpik is a stunning, graceful, and feminine typeface. It is stylish with its connective ligatures, producing a decorative font. You can use this gorgeous font for multiple purposes or projects, such as wedding designs, magazine designs, social media posts, and even decorative quotes. 
25. Canggu
A handwriting font is sometimes all you need to add a personal and authentic touch to your design. Canggu clearly understands the assignment with its monoline script font, which suggests a variety of uses. This font will undoubtedly add a personal touch to your project, making it easy for people to connect with it.
26. Fruitloose
Fruitloose is not your typical summer font. It's different; it's urban, and it's exciting. It comes in two types: regular and enclosed, featuring chunky characters with a hipster vibe. This font is all about being playful, casual, and letting loose!
27. Summer Break Font
Summer Break is a stylish signature font that reaffirms the popular opinion that everything good and magical happens during the summer. It evokes a familiar sense of relaxation while remaining fashionable. In addition, it has a complete alternate set of characters and international language support.
28. Surfnik
New school meets old school in this handcrafted font. Surfnik, influenced by vintage surf and Beatnik culture, recreates the 1950s and 1960s life in a fun and nostalgic way. It is an all-caps font loaded with numerals, punctuation, language support, and symbols. It's for retro designs, movie titles, magazines, posters, and anything else that attempts to bring vintage life into the modern world.
29. Sunburned Tropic

This summer brush font contains everything you need to give your design project a relaxed vibe. It is intended to give off a dry ink brush texture that screams summer and tropicality. It has uppercase, lowercase, numerals, symbols, punctuation, alternates, and ligatures.
30. Hilow Display Typeface

Designsation's Hilow Display Typeface is a rough typeface with regular upper and lowercase characters, all caps characters, and swashes extending off the letters. It works well for posters, flyers, magazine covers, and even large displays.
Download Hilow Display Typeface
31. Ocean

With its wavy characters that appear to be caused by a ripple in the water, the Ocean Handwriting Summer Font perfectly depicts the setting of summer vibes at the beach. As such, this typeface is suitable for creating anything that needs a relaxed and casual feel.
32. Salty Bash Handwriting Script
Salty Bash is a fun display script that will brighten your summer-themed design. It includes open-type features, stylistic alternates, and ligatures. In addition, it is ideal for branding, social media, websites, fashion, and thank you cards.
Download Salty Bash Handwriting Script
33. Florancia Serif Font
Florancia is a classy, lightweight wedding-style serif typeface created by Salt & Pepper Designs. It is available in two weights: regular and bold. Though perfect for wedding designs, it is not restricted to that. It is also appropriate for creating classy logos, artistic concepts, and anything else that calls for a touch of class.
34. Missy Voya
Miss Voya is a fashionable font from a modern font family. It offers eight weight textures, including thin, extra light, light, regular, medium, semibold, bold, and black. This versatility lends flexibility to your design and gives it a sense of uniqueness and individuality. 
As such, it is excellent for movie covers, photography, modern logo design, magazine posters, and website landing page design.
35. Larosa Sans Elegant Typeface
A touch of elegance and style in any design is never a bad idea. Why opt for something loud when you could go for Larosa Sans and its minimalistic features?
This typeface comes in three weights: light, thin and thinnest. The character set is in capital letters, and it features stylistic alternates. Consequently, it is perfect for fashion-related branding, minimalist logo, and wedding designs. 
Download Larosa Sans Elegant Typeface