Last Updated on September 28, 2023
Roads, bridges, airports, and buildings: these are just some of the significant advancements created through engineering. Apart from infrastructure development, it also enhanced connectivity and helped nations achieve commercial growth. Additionally, engineering played a crucial role during the Industrial Revolution, leading to mass production and modern industries that transformed economies globally.
Transportation and communication have been revolutionized by engineers as well. They have introduced groundbreaking innovations like automobiles, airplanes, trains, and ships, facilitating faster and more efficient travel. Moreover, communication technologies such as the telegraph, telephone, radio, and internet have connected people worldwide, easing the seamless exchange of information and knowledge.
Beyond these achievements, engineering has paved the way for medical breakthroughs, clean energy solutions, environmental protection, and space exploration. The progress of information technology (IT) owes much to engineering, with the advent of computers, software, and the Web transforming how people work, learn, and interact.
The impact of engineering on the world has been vast and diverse, shaping modern society and fostering progress in various fields – including digital design. Just look at these inspired typefaces. You don't need to make an engineering marvel to use these amazing engineering fonts.
High-Quality Engineering Fonts
1. Megalith
This bold, powerful display typeface from epdesign was inspired by Arizona's vast deserts and massive rocks. It effortlessly imitates the appearance of rocks, stones, concrete, and coal, to offer legibility and captivating beauty at any size.
It's ideal for branding, illustrations, headlines, YouTube thumbnails, billboards, advertising campaigns, nature magazines, social media, and packaging. And its versatility blends robustness with elegance, making it a perfect choice to leave a lasting impact on various design projects.
2. Stardock
With this minimalist futuristic typeface, your designs can transcend the boundaries of imagination and venture into the realm of the extraordinary! Embrace the future with Stardock as an essential addition to your design toolkit. Try it on projects related to futuristic themes, sci-fi concepts, space exploration, tech advancements, and artificial intelligence (AI).
3. Obsidian
Who says minimalist designs can't make a huge statement? With this sci-fi sans, you can. Clean, thin, and wide, it's ideal for editorials, branding, web design, apparel, packaging, labels, social media, and more. Ready to be used out of the box, all you need to do is download and go.
4. Hacker
Reminiscent of 1980s typography, this rounded display font can be bold and playful – depending on how and where you use it. Try it on projects with cyber, security, tech, communication, coding, data, electronics, math, and commerce themes.
5. Masifer
Create fun, cutting-edge designs effortlessly with this bold contemporary typeface by Konstantine Studio. Featuring a unique style for its uppercase characters, you can mix and match to make interesting results that's suitable for modern, casual, or even retro concepts.
6. Astronomus
P4tcreativa proudly presents this modern sans serif that's as versatile as it is gorgeous. Let its clean lines and sharp angles give you the flexibility for tech, construction, automotive, and even space-inspired works. Available in four (4) styles: regular, italic, outline, and outline italic.
7. Bifftron
Want a slightly pixelated, digital feel while remaining legible? Then this ultramodern sans serif from Ridwanfil has got you covered. With standard and discretionary ligatures, as well as alternates, you won't have problems creating logos, badges, titles, headlines, and body text.
8. Robonauts
Large and in-charge, this bold and blocky typeface by Coastaltype is ideal for making mecha or tech-related projects. You will receive OTF, TTF, WOFF, and WOFF2 files, including upper and lowercase characters, punctuations, and numbers.
9. Proxon
This futuristic but friendly sans serif from UI Creativenet will give your movie posters, museum flyers, business cards, blog headlines, and magazine covers the playful, (slightly) edgy vibe it needs to get ahead. It also works well for short texts such as on social media quotes, invitations, and retail promotions.
10. Livemono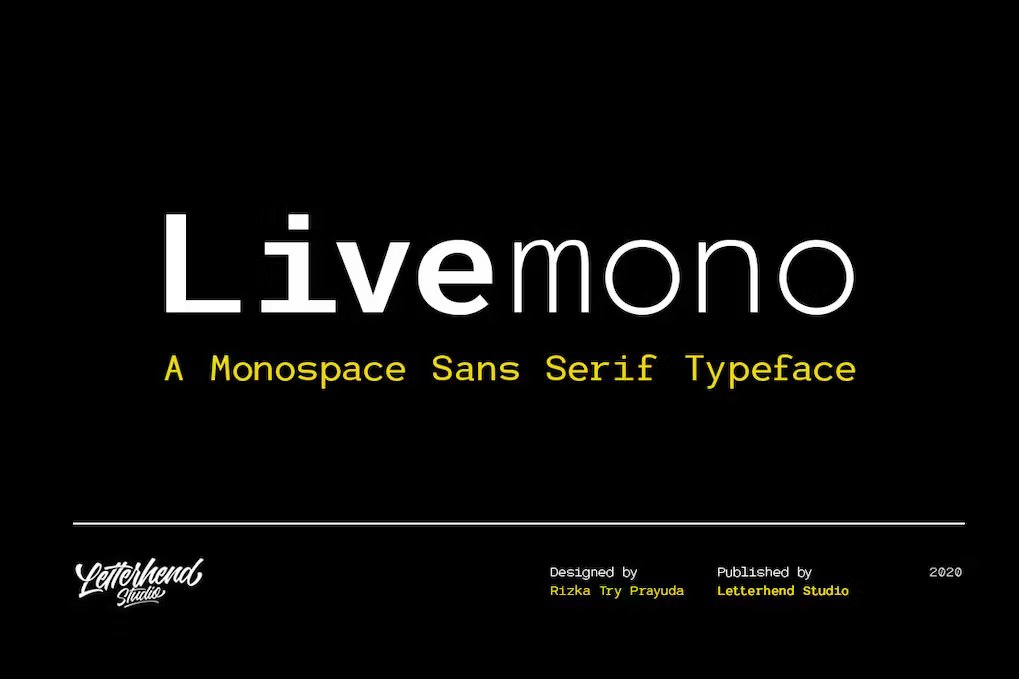 Letterhend Studio presents this clean, monospaced sans serif in six (6) weights: ranging from Bold, Light, Medium, Regular, Semibold, to Thin. It's suitable for professional ventures like coding, UI/UX design, publishing, and branding. Use one style or mix and match with the others to product fascinating outcomes. Try it and see for yourself!
11. Neckle Typeface
You might be wondering how to use this unique typeface from Holismjd; but it's surprisingly functional. Aside from sci-fi concepts, fee free to use it on fashion, cyberpunk, automotive, industrial, engineering, or even surreal works. Complement it with a minimalist sans serif for a fresh look. The pack contains upper and lowercase letters, numerals, alternates, punctuations, and multilingual support.
12. Aeion
Designed with tech in mind, this condensed monospaced font by ThatThatCreative boasts of seven (7) weights and a variable font. A bit retro but still contemporary, it will look just as good on print as it does on screen. If you'll be working with tech, AI, robot, or sci-fi themes, you need to have this in your toolkit. The best part: all future updates are free!
13. Denominary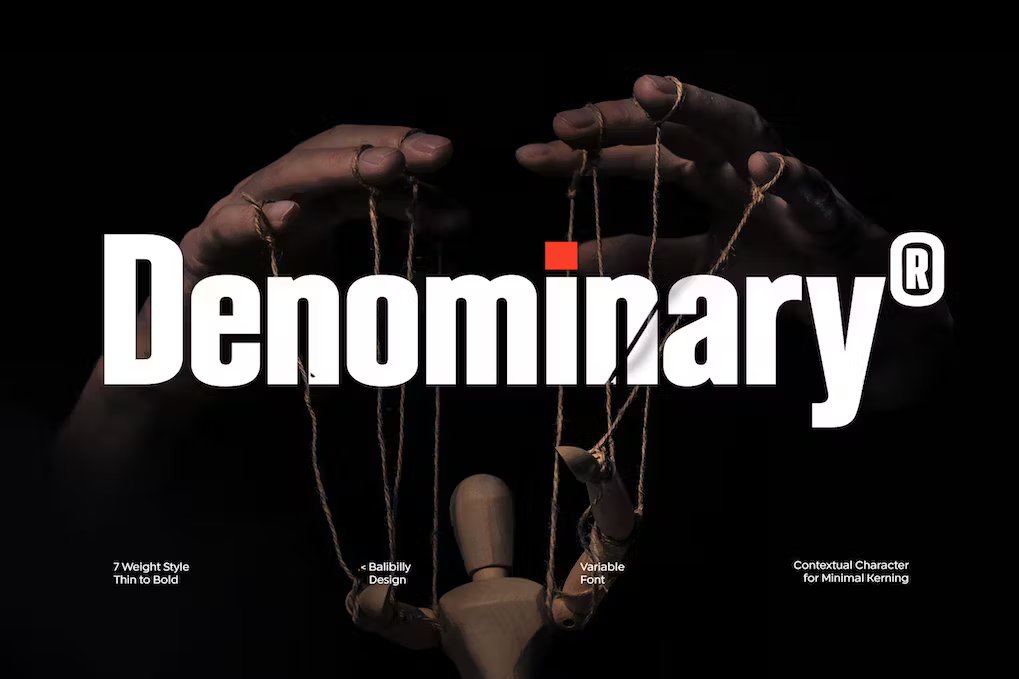 Simple, professional, and precise, this condensed font by Balibilly_Design will ensure all your projects are balanced and beautiful. With auto-active contextual alternates to automatically minimize kerning between characters, you'll be free to focus on style and overall design.
14. Flyhead
Crafted for the forward-thinking designer, this geometric typeface from Mihis_Design is perfect for any theme, from tech, sci-fi, to nature, and fashion. You'll have everything you need for dynamic projects with three (3) weights to choose from plus highly legible glyphs.
15. MADENZ
Looking for cutting-edge font for your photography, blog, tech projects? You can't go wrong with this digital display font from Pinisiart. Ideal for headlines, titles, and logos, this wide typeface is sure to catch attention. But don't be fooled – it looks great as short body text, too.
16. Cyberpunk Style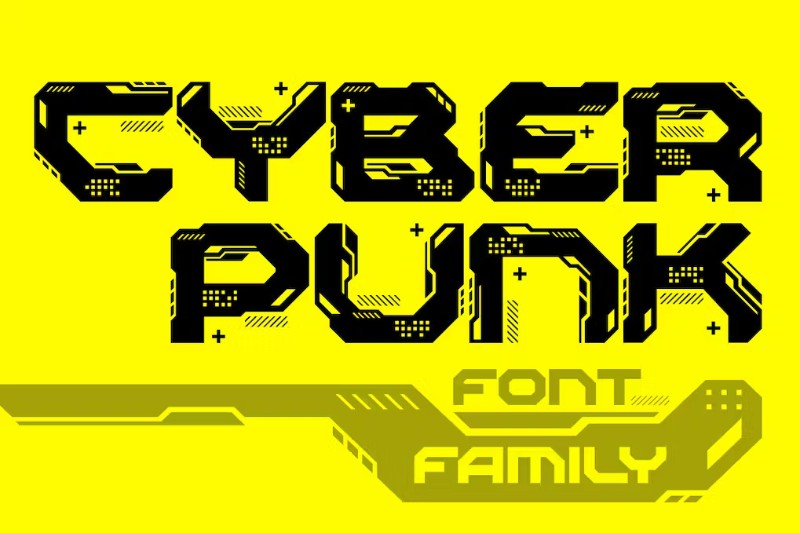 Step into the hi-tech cyberpunk realm using this futuristic font family from Sentavio. Featuring two enigmatic styles (Regular and Light), it will light up your space-age landscapes and startup products. Try this font on military, gaming, virtual reality, cyberpunk, and mecha themes.
17. Cyber
With each character made to look like it's made up of tiny pixels, this decorative digital font from Andrew Timothy is exactly what you want for creating sci-fi, tech, AI, mecha, and cyberpunk projects. Whether it's a company logo, movie poster, or social media banner, the limit is only your imagination.
18. Techead Typeface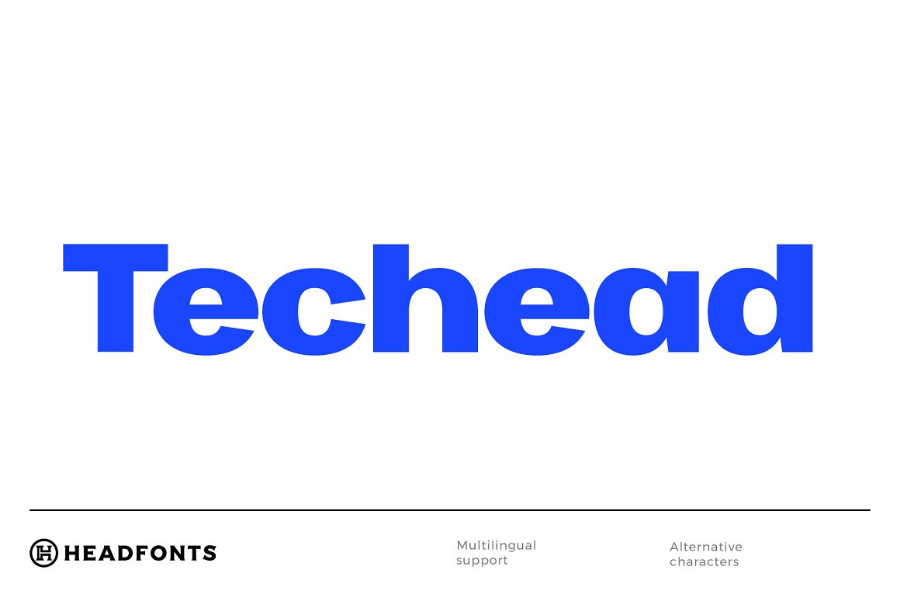 Grab this innovative sans serif font family and make your work more convenient than before. Featuring high X height, large counters, high contrast between vertical and horizontal lines, and narrow strokes, this typeface commands attention while remaining crisp, clean, and readable. It also contains 386 glyphs and five (5) weights. It's a definite mainstay in any designer's arsenal.
19. Technica
Explore the future without fear using this modern geometric font. Check out the sleek lines and smooth angles that will surely enhance your game titles, music covers, headlines, movie posters, branding, social media ads, and space-themed projects.
20. LineTech
Stand out with this futuristic and creative web font. Available in three (3) versions (Bold, Regular, and Light), it will help you make ingenious monograms, titles, and headlines with a hi-tech feel.
21. Ropames
Achieve that spartan space-age look with this fontype from Butirmantra. Add it as overlay or text over photos, images, or graphics, and let the white space speak for itself. It's an awesome choice for sci-fi movie posters, book covers, game titles, blog headers, and product branding.
22. Polygon
You'll be connecting the dots in this beautiful abstract grid technology font. Let the unique design of this modern lettering enthrall you and your audiences. The pack includes OTF, TTF, and WOFF files for your convenience.
23. Cyberiada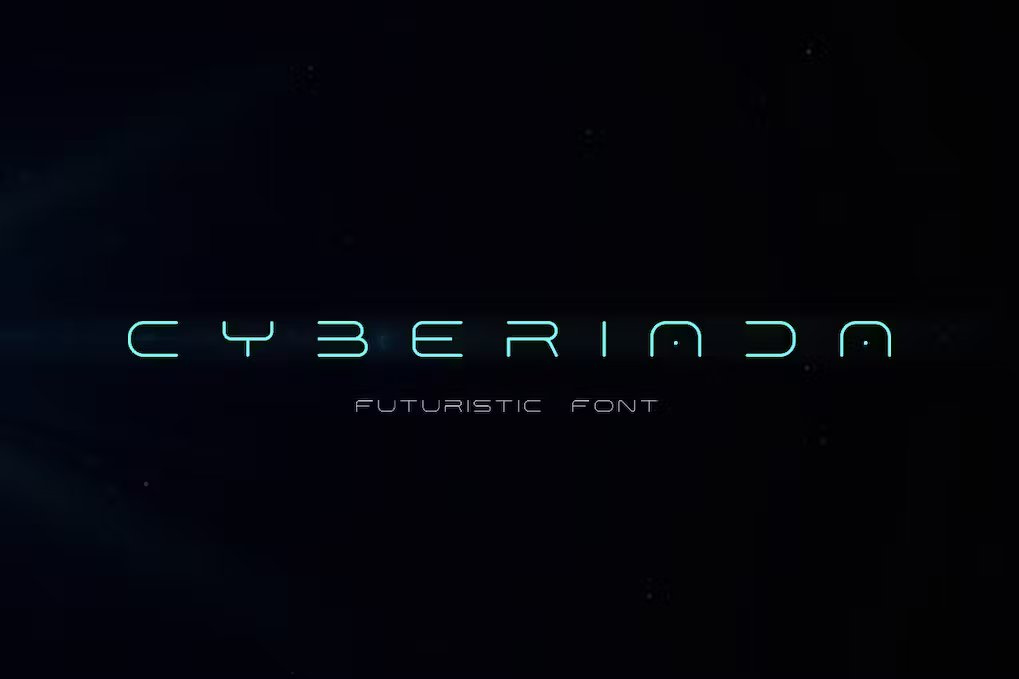 This minimalist, ultra-thin typeface will take you to a realm where mankind has transcended space and time. Boundaries are non-existent as you create titles, headlines, logos, and banners that future-proof.
24. Arcline
Inspired by engineering drawings, Aarley Kaiven brings you these multifaceted fonts. Similar to typography you would see in many engineering blueprints, it was created with only slight modifications to preserve their organic forms. Available in TTF file format.
25. Neo Kyra
The slanted lines and boxy appearance of this display font from Nauli Creative makes it perfect for science, futuristic, and modern projects. You will get OTF, TTF, and  WOFF files, basic Latin A-Z characters, numbers, and punctuation.
26. Robofor
Playful and cartoonish, this decorative font from wowomnom comes with drawn tech details that will look amazing on game app titles, comic books, graphic novels, children's book covers, and more. Pair it with plain, regular fonts so it stands out in your design. Includes uppercase letters in OTF format. Give it a try today!