Last Updated on October 5, 2023
Do you remember your dreams? Until today, scientists are still baffled by the purpose of dreams. While there's evidence and research that suggest dreams help in processing memories and improving recall; there are those who say that dreaming is a pathway to other dimensions and experiences.
Our dreams can sometimes feel too real. Maybe this explains why some individuals twitch a lot in their sleep. There are also people who "act out" their dreams (i.e., sleepwalking and sleep talking). If dreams are significant to you, it's best to keep a dream journal by your bed so you can quickly jot them down the minute you wake up.
Looking for beautiful, unique fonts for the cover of your dream journal? Or maybe you just want new, delightful typography to add to your collection. Then these gorgeous dream fonts are just what you need. Soft and ethereal, they feature decorative elements like swashes, loops, and unique ligatures that will surely evoke a sense of whimsy and imagination.
Captivating Dream Fonts
1. Castilla Script
Make waves every time you create content using this dynamic script from joelmaker. From logos, invitations, to cards, headers, and product packaging – its soft, classic look can go from elegant to active in minutes.
To access its 390 glyphs, stylistic alternates, swashes, and ligatures, make sure you're using OpenType capable software, like Adobe apps. You can also use this font in Silhouette Studio or Cricut.
2. Bella Script
This original handwritten typeface can be used for making sophisticated signatures, product labels, business logos, and more. You will get OTF and TTF files, plus web fonts. PUA Encoded, multilingual, and includes OpenType features, you won't regret adding this in your design toolkit.
3. Mustache Brush Script
Bring a touch of romance to your projects with this handmade font family. It contains 3 styles: Script, Brush, and Rounded that you can mix and match to achieve your desired results. It's ideal for dreamy logos, quotes, cards, headers, and social media posts.
Download Mustache Brush Script
4. HouseBay Logo Script
Maulana Creative presents this charming logo script that's reminiscent of blue seas, salty air, and warm afternoons. Crafted to give your works an authentic, handcrafted feel, it's playful loops and smooth edges are best paired with photos and watercolors. Pack contains OTF and TTF files for your convenience.
5. Night Dreamer Font Duo
Cute, child-like, but super legible, this font duo by Salt and Pepper Designs is as adorable as they come. With 2 styles (Regular and Filled versions) to choose from, you will have fun designing slumber party invites, children's book covers, and social media quotes. The pack includes OTF and TTF formats, commercial licensing, and free updates!
Download Night Dreamer Font Duo
6. Holly Jolly
Design with beautiful flourishes using this modern display font from Timonko. Featuring alternative lowercases, alternative uppercases, and ligatures, it's the perfect lettering for greeting cards, photo overlays, short phrases, gift shops tags, and holiday concepts. You will receive TTF, OTF and WOFF formats.
7. Ciera Watercolor SVG Font
Looking for a typeface to complement your floral or organic motifs? Look no further than this delightful font with plenty of character. Designed by Angele Kamp, it includes an SVG font in watercolor style, plus a traditional solid vector version that requires no special software.
You will also get 23 illustrations in vector EPS, as well as 6 premade logos for Illustrator EPS and Photoshop PSD.
Download Ciera Watercolor SVG Font
8. Fantasya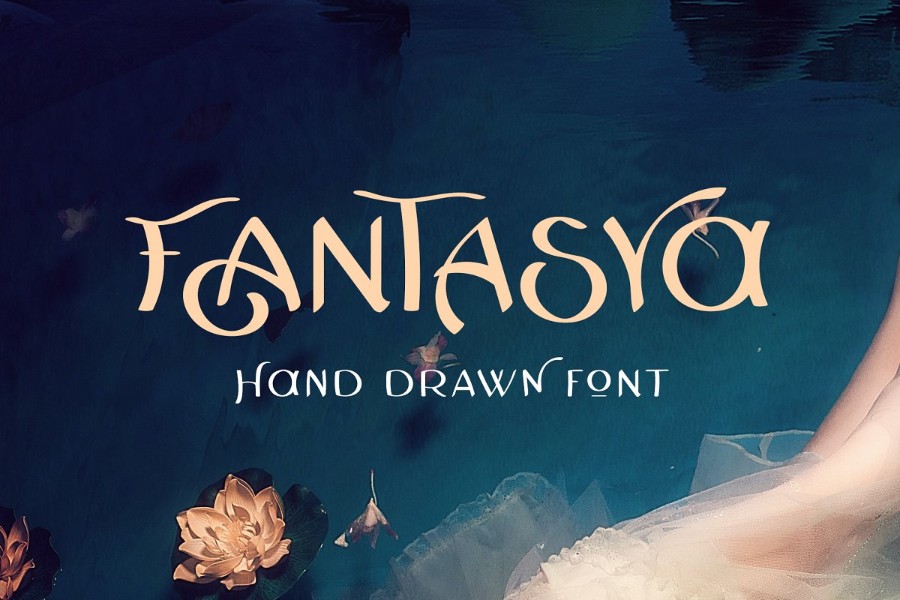 Create new worlds and explore the depths of your imagination using this fun display font from Zeppelin_Graphics. Designed for the fantasy genre, it has 2 fonts (Regular and Bold), with each uppercase letter having at least 3 other alternatives to select from.
This allows for flexible letter combinations and various design opportunities! Ideal for Illustrator or Photoshop software to access all alternates and ligatures.
9. Bright Sunset
Stop dreaming of the perfect handwritten typeface and just get this handwritten script by Nathatype. Easy-to-read with a touch of modernity, it combines vintage vibes with contemporary flair. Put it on printed materials such as t-shirts, mugs, packaging, or cards and watch your vision come to life. This pack includes ligatures, stylistic sets, numerals, and punctuation.
10. Child Dream
Big, bold, and blocky this adorable sans serif from Tokokoo will emphasize your words in the most beautiful way imaginable. Try it on children's book covers, game titles, fast food menus, YouTube thumbnails, and more! PUA Encoded characters, works on PC and Mac, and easy to install, too.
11. Wildfire Dreams
Granz Creative proudly presents this versatile monoline calligraphy that will look amazing on all kinds of projects – from business logos to wedding invites. Let its smooth lines and understated sophistication leave a lasting impression. Pack includes TTF and OTF files, plus multilingual support.
12. Dream To Berich
With 2 styles (Regular and Italic) to choose from, Zeenesia gives you the freedom to design clear, bold looks with just one vintage serif. Thanks to its graceful ligatures, alternates, and ending swashes, you'll have fun making postcards, headlines, quotes, etc.. It's recommended for larger sizes for maximum impact.
13. Mango Dream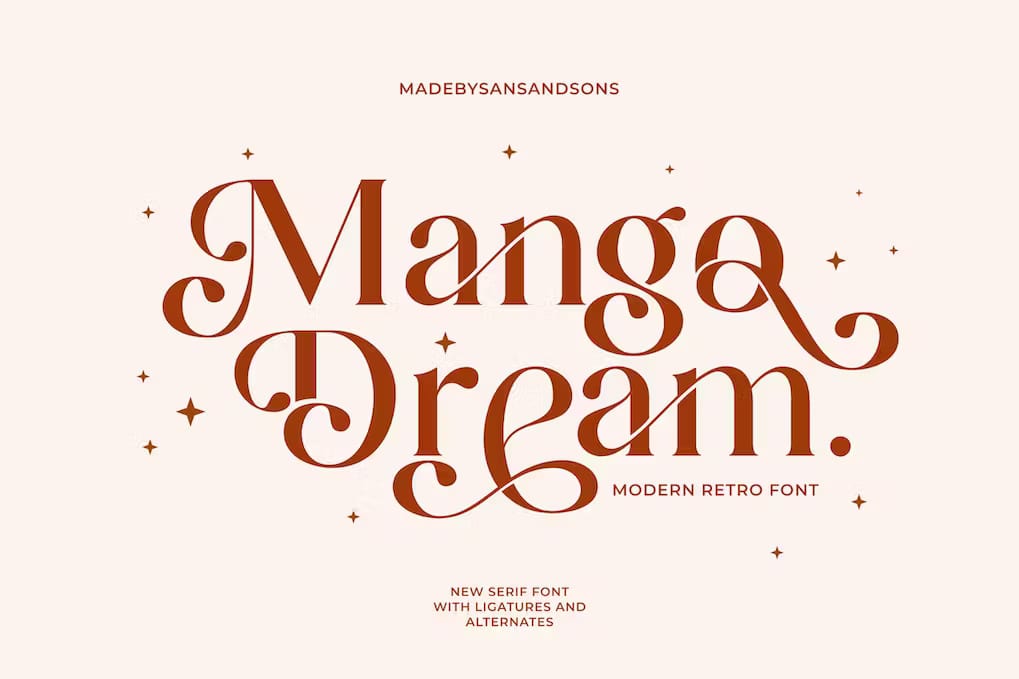 Sans and Sons brings you this fancy serif that contains practical ligatures and alternates for whimsical, retro works. Includes OTF, TTF, and WOFF formats to have you creating in no time.
14. Dream Peaches
Give your projects a bit of child-like wonder and charm using this handwritten sans. Thin, irregular, and playful, it looks good by itself or paired with illustrations and cartoons. You'll be getting upper and lowercase letters, numerals, punctuation, and accent characters.
15. Billion Dreams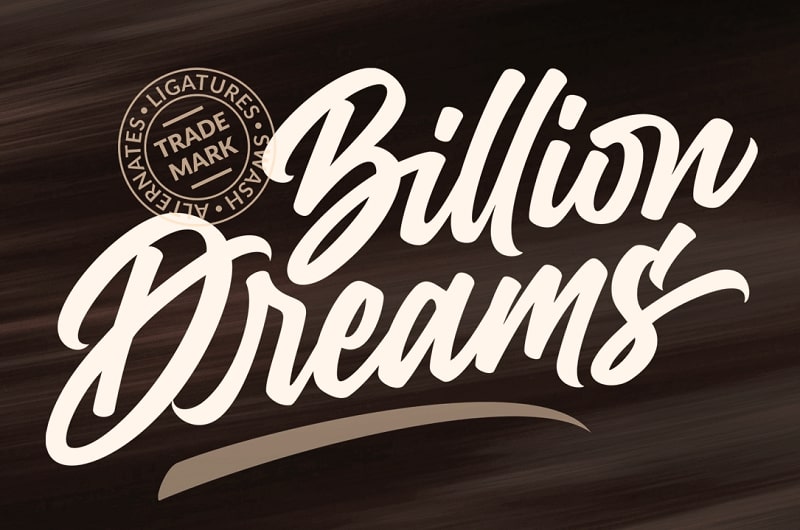 Specifically created for logotype and branding, this energetic font from Subectype Studio is suitable for badges, t-shirts, posters, headlines, packaging, titles, and more. Strong, confident, and readable, let it help you craft the perfect branding for yourself or for clients.
16. Sweet Dreams
Let this bedtime-themed font whisk you away into surreal worlds only found in your sleep. Featuring silhouettes of clouds, stars, and sheep, you will love using this for slumber parties, typography posters, and event posters. It's compatible with Photoshop, InDesign, Illustrator, and Microsoft Word, among other programs.
17. Dream Meadow
Fun, fresh, and modern, Khurasan gives you this hardworking script with 2 styles (Regular and Clean). Combine both to receive interesting results, or simply use one and complement it with photos, graphics, or illustrations.
18. High Dreaming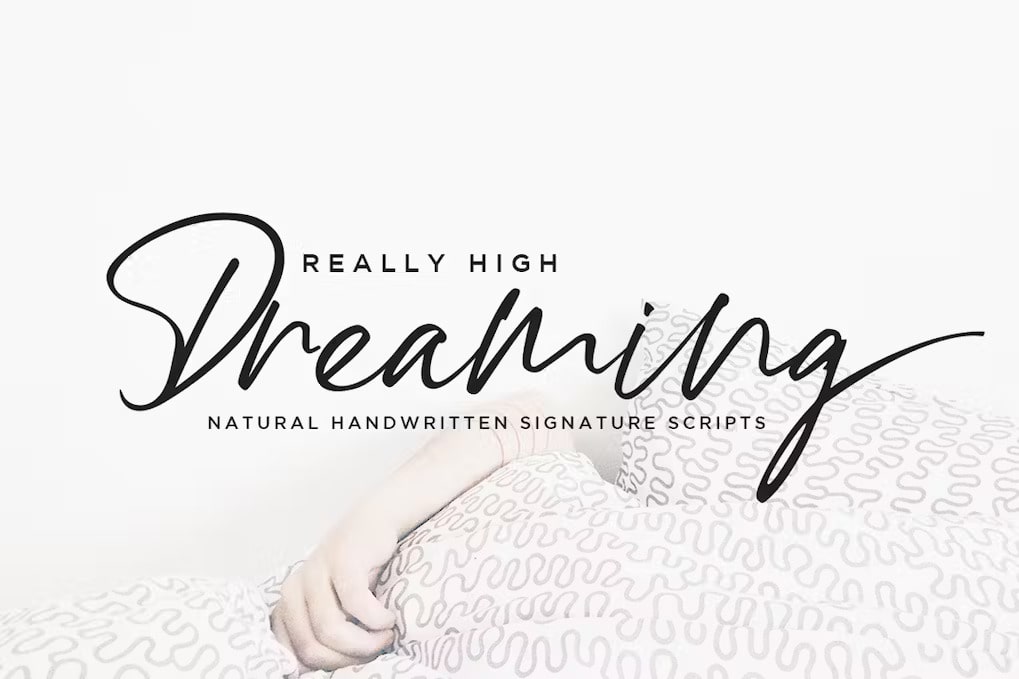 Are you in need of an elegant, handwritten script that looks authentic yet stylish? Then this script font from Haksen is for you. Try it on wedding invitations, wine labels, social media quotes, and real estate branding. With its effortlessly chic style and modern vibe, you can dream high and design it, too.
19. Dream Believer
Simple doesn't mean boring – and this delightful handwritten font from Creativeqube Design is proof of that. Thin, dainty, and tiny, it's perfect for creating feminine, cute concepts for blogs, branding, and labels.
Pair it with pastel or neutral colors to bring out its organic vibe. Pack contains Italic and Bold versions, plus numerals, punctuations, and international language support.
20. Magic Dreams
Re-create childhood mementos, comics, and posters with this comic-inspired bold typeface. Large enough to look amazing on apparel, it's also applicable on comic books, advertising, announcements, and birthday invitations. Designed by figuree.