Last Updated on July 19, 2021
Just like pictures, typography can evoke certain feelings or call to mind images. Narrow condensed fonts for instance, can remind you of serious notes. Meanwhile, chubby, irregular characters can convey playfulness, warmth, or the essence of childhood. It all depends on how the designer or artist combines the rest of the elements.
If you're working on children's books or kiddie projects, then these playful fonts will fit those concepts beautifully.
Playful Fonts for Kids
1. Melon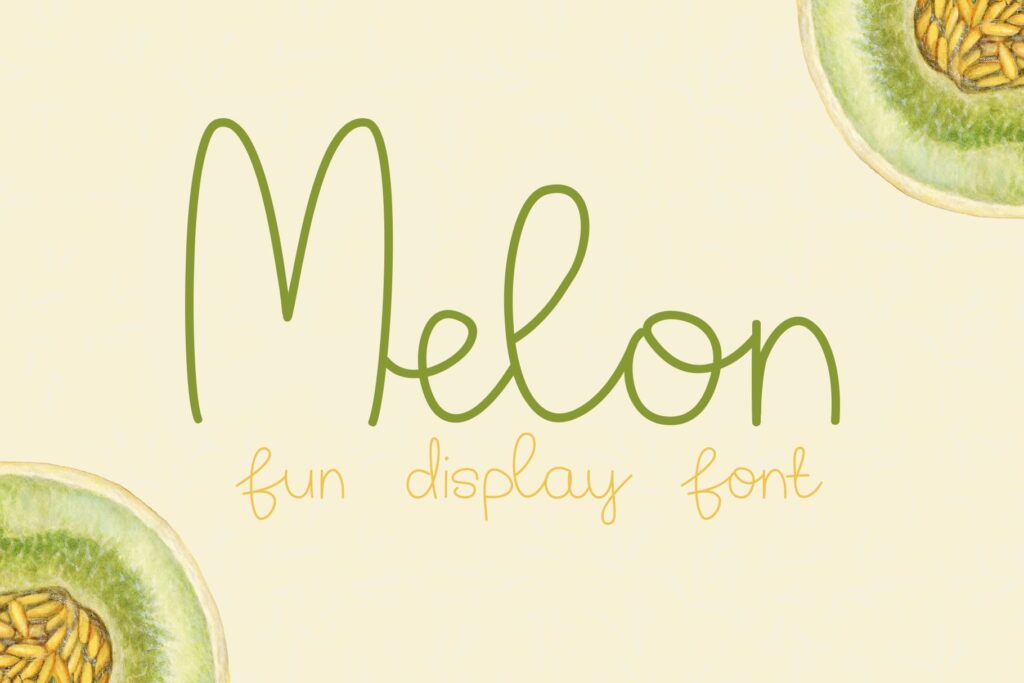 Melon is a fun and quirky display font. The light hearted vibe of this typeface is perfect t-shirt designs, phone cases, kids books, greeting cards, invitations, mugs and so much more. If your project requires a fun/happiness look, then this font is for you. Get creative!
2. Ronaldo
Ronaldo is a quirky display typeface ready to give your designs a playful vibe. This typeface was handmade using thick paint brushes. The laidback feel of Ronaldo can be felt just by looking at it.
Features:
Can be used for personal or commercial projects.
Standard upper and lowercase English characters are included.
Perfect for logos, posters, headlines, books, album covers and other branding materials. Web fonts included for use online or in an app.
3. Dragonfly – Joyful Handwritten Font
Dragonfly is a smooth and playful handmade typeface. The font is not only beautiful, but also legible. Even at small sizes it's fun and joyful to read. You can confidently use it for logos, quotes, invitations, blog posts, business cards, presentations and more!
4. Nelson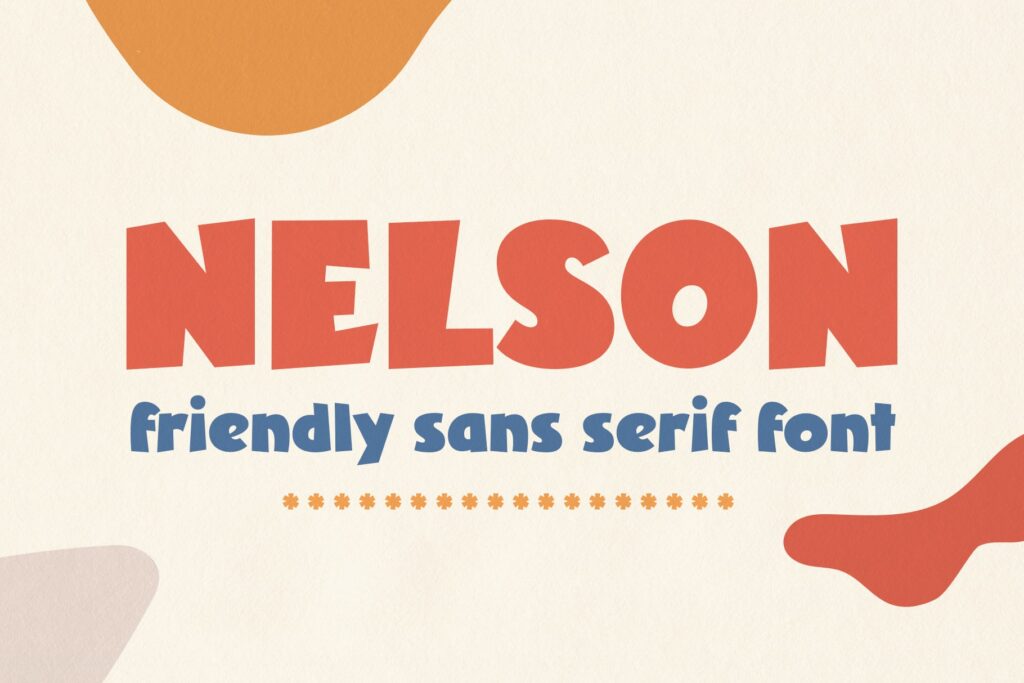 A bold typeface that is fun, playful, and laidback. Nelson will bring a smile to your face every time you use it. Nelson is perfect for children books, greeting cards, signage, user interfaces, package design, branding, and much more. Its chubby clean letters looks simple, modern, and expressive. A must have for your digital asset toolkit.
Give your projects that handcrafted feel in an instant with help from this massive typographic pack from Vintage Voyage D.S.. With 25 fonts, 248 hand-drawn graphics, and 124 catchwords, you won't want to miss this collection.
Download BIMBO Hand Lettering Collection
11. Jonesy
Retro yet very modern, this script from Ksenia Belobrova is available in two styles – Script and Capitals – to help you go from funny to future in minutes.
12. Endless Sorrow
This all-caps versatile display font by artimasa includes bonus catchwords to help you create hauntingly beautiful works like posters, invitations, cards, posters, book covers, labels, and more!
13. Sketchy Story Font
Things are more fun when it's handmade. That's why Denise Chandler brings to you this narrow, hand-drawn typeface that's available in two styles – Outline and Filled – to use separately, or on top of one another.
14. Bjola Sans Serif
These chubby characters are sure to bring a smile to your face! Brought to you by Andrey Sharonov, this font is bold but friendly, simple yet highly versatile.
15. Garlic Butter
This mixed-case font from Missy Meyer is a tasty alternative to make your projects tastier than ever. Use along with its accompanying Doodads file for plenty of swirls, swashes, icons, arrowheads, catchwords, and other decorative items.
16. Beebzz
Instantly add variety to whatever it is you're working on with this geometric font family by popskraft. Ready for the Web, it comes with 12 styles from Light to Ultra Bold, to bring light-hearted fun to your projects.
17. Jumbuck Sans
This sans/script font by Missy Meyer comes with smooth curves and clean lines to ensure smooth-sailing creativity for you. With over 200 accented characters for language support, it definitely has your back.
18. Sugar Hut
Got a sweet tooth? Then get a load of this typeface from clipick. Sweet, simple, yet adorable, it's best used on posters, headlines, cards, invitations, and prints.
19. Comichate
Olexstudio brings to you this display font that's playful and beautiful. Ideal for kid-friendly artworks like posters, labels, invitations, frames, or cards, it's guaranteed to be a hit wherever you use it on!
20. Herald Bouncy
This geometric serif with a bouncy baseline from Flavortype is all you need to create a fun, lively vibe for any and all projects. And with a bonus vector pack, you can go from spooky to serious in minutes.
21. Milkman Family
Just because it's simple, doesn't mean it has to be limiting. A great example would be this jolly typeface from Haäfe & Haph. Available in 3 weights – Light, Regular, and Bold – with a web font, it's a matter of imagination.
22. Highflier Font
Add depth and playfulness to your works in this cheerful font from Denise Chandler. With 4 styles – Slice, Scribble, Shadow, and Block – that you can layer on top of the Regular font, you can make endless possible combinations bursting with life!
23. Neato Serif Font Family
Adam Ladd presents to you this sophisticated and adaptable typeface, perfect for professional projects or kid-approved personal use.
Download Neato Serif Font Family
24. Jackerton Font
Like an ever-changing puzzle, this typeface by noggindoodle was inspired by actual doodles. Discover what you can create by simply changing font sizes in Adobe Creative Suite.
25. Childish Reverie Font
Explore your creative side in this fun offering from Denise Chandler. Mix lower and uppercase letters together, or throw in the bonus doodles and see where your mind takes you.
Download Childish Reverie Font
26. One Nine Nine Four
Inspired by posters and covers of west coast punk–rock stage bands as well as early skateboard graphics, Vintage Voyage D.S. brings to you this cool typeface that comes in 3 distinct styles – Normal, Halftone, and Outline.
27. Knicknack
Tumbling down to meet you is this delightfully round sans serif from Great Scott. This typeface comes with variable font support so you can control its weight. It also has a fuzzy style so you can make loveable cozy creations with ease!
28. Yeti
Add a Scandinavian flair to your works using this gem from JuliyArt. Featuring 2 styles – Regular and Bold – along with FREE Scandinavian elements, seamless patterns, and posters, this is everything you need for a truly fun Nordic concept.
29. Les Paul
This font family from Vintage Voyage D.S. has 7 styles that can be layered on top of one another. Don't forget to complement your works with their free retro extras to make your designs out of this world!
30. Totally Tubular Font
Be totally unique when you use this hand-drawn retro font from Denise Chandler. With its cut-out style and Outline version, you can mix it up to produce seriously cool posters, ads, labels, cards, prints, and logos!
31. Lolapeluza Family
Rodrigo Typo proudly presents this fun, kid-friendly typeface that's available in 4 styles – Regular, Black, Line, and Shadow. Use each as a standalone font, or combine two for a truly special outcome.
32. Bedtime Stories Font
Make every project magical when you use this storytelling font from LovePowerDesigns. A casual script typeface but with an accompanying clean sans for its uppercase characters, it's perfect for book covers, posters, frames, prints, and branding.
33. Monstahh Layered Typeface
Inspired by cute monsters from Sesame Street, this playful font from Drizy will look amazing on kiddie projects such as birthday invitations, book covers, colorful posters, flyers, as well as labels.
Download Monstahh Layered Typeface
34. Sweet & Silly Font
This cute and adorable font is brought to you by Denise Chandler. The pack includes a bonus typeface that's narrower and taller, making it the perfect pair to this bubbly gem for all your posters, cards, logos, prints, and more.