Last Updated on June 27, 2022
Just like pictures, typography can evoke certain feelings or call to mind images. Narrow condensed fonts for instance, can remind you of serious notes. Meanwhile, chubby, irregular characters can convey playfulness, warmth, or the essence of childhood. It all depends on how the designer or artist combines the rest of the elements.
If you're working on children's books or kiddie projects, then these playful fonts will fit those concepts beautifully.
Playful Fonts for Kids
1. Nestor – Quirky Typeface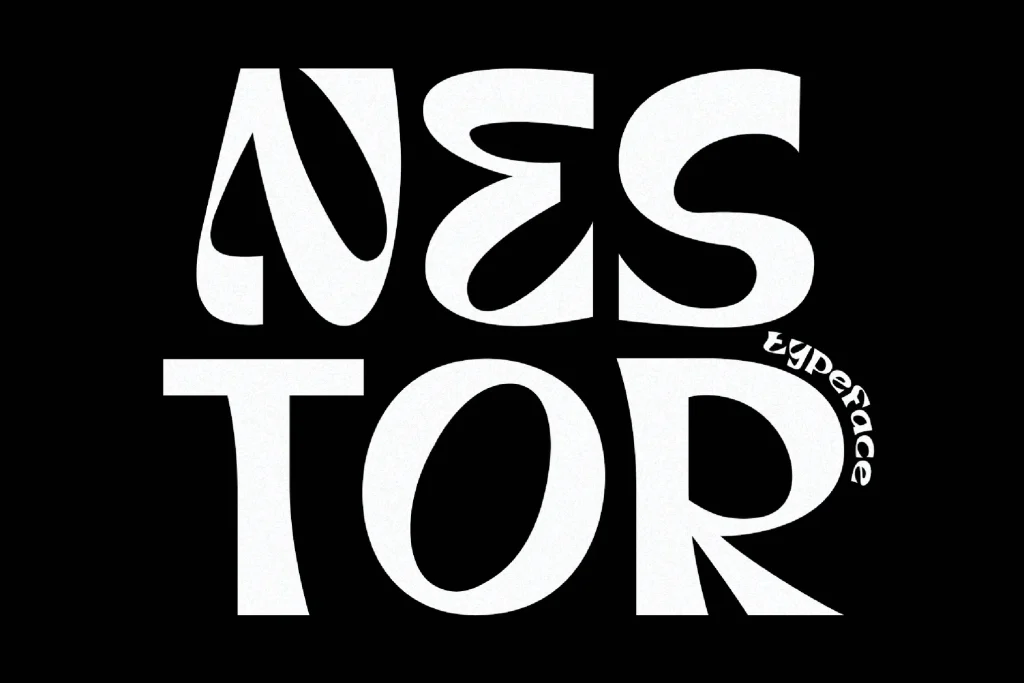 Nestor is a retro inspired display typeface that's unique, lovable, and quirky. It's perfect for headlines, advertising, posters, branding, social media, quotes, prints, and much more. If you're in need of a typeface that has groovy curves with a bold personality, then Nestor is for you.
10. Windsor
Windsor is a groovy typeface ideal for gig posters, magazines, bucket hats, enormous stickers, bachelor parties, postcards, taco joints, fishing charters, dive bars, shell shops, and business retreats. With Windsor you can effortlessly create eye catching designs. Enjoy!
Kool Beans is a 1960-70s inspired type that embraces the groovy psychedelia era. This font is perfect for any project that requires an authentic retro feel. Kool Beans can be used for magazine covers, social media posts, quote posters, book covers, merchandise, websites, advertising, branding, and more. Kool Beans comes in 2 unique styles, solid and outline. You can use both of the fonts to make your designs come to life by giving them a 3d feeling.
12. Sebastian
Sebastian is a playful cutout font created for quotes, greeting cards, social media posts, branding, headers, posters, merchandise, and much more. If your project or design requires a light-hearted cutout typeface, then Sebastian is for you! 
13. Jassin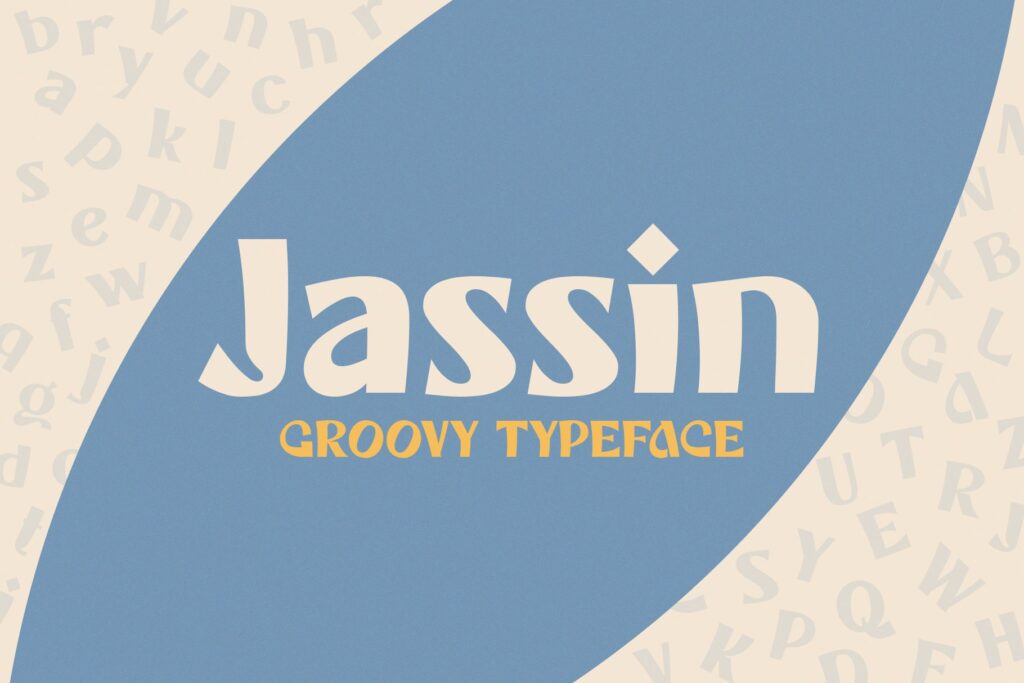 Jassin is a fun and groovy typeface with a bold personality. Perfect for branding, headlines, social media, advertising, packaging, posters, t-shirts, editorials and much more. Its vintage feel evokes the carefree and whimsical vibe of the psychedelic era, allowing you to craft impressive looking designs.
14. Monro
Introducing Monro, a disruptive typeface with shapes inspired by the aesthetics of the 80s and 90s. Monro is an ideal typeface for large size display texts and wordmarks, its eye-catching quirky letters grab the readers attention and makes them notice the message being sent across. If you're searching for a geometric typeface that offers versatility as well as a clean/sleek build, then Monro is for you!
15. Melon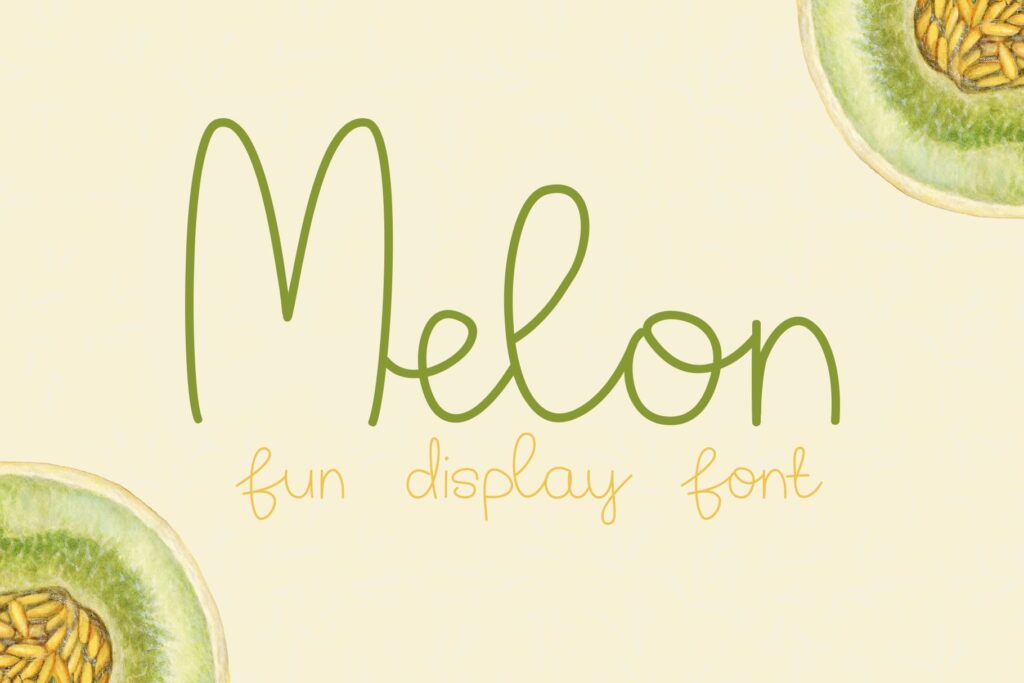 Melon is a fun and quirky display font. The light hearted vibe of this typeface is perfect t-shirt designs, phone cases, kids books, greeting cards, invitations, mugs and so much more. If your project requires a fun/happiness look, then this font is for you. Get creative!
16. Ronaldo
Ronaldo is a quirky display typeface ready to give your designs a playful vibe. This typeface was handmade using thick paint brushes. The laidback feel of Ronaldo can be felt just by looking at it.
Features:
Can be used for personal or commercial projects.
Standard upper and lowercase English characters are included.
Perfect for logos, posters, headlines, books, album covers and other branding materials. Web fonts included for use online or in an app.
17. Dragonfly – Joyful Handwritten Font
Dragonfly is a smooth and playful handmade typeface. The font is not only beautiful, but also legible. Even at small sizes it's fun and joyful to read. You can confidently use it for logos, quotes, invitations, blog posts, business cards, presentations and more!
18. Nelson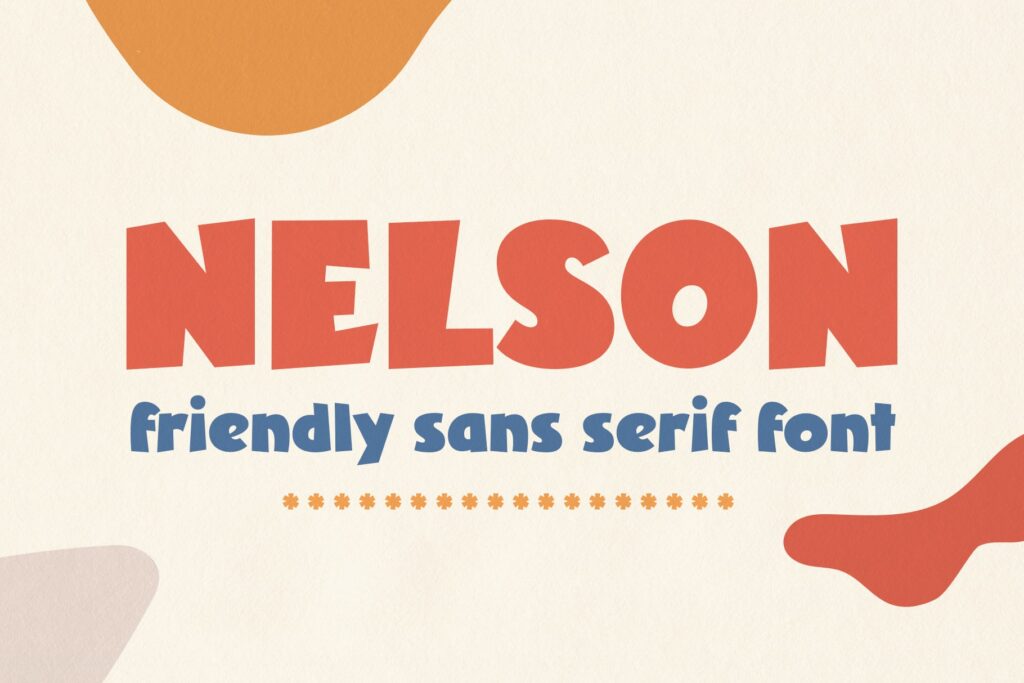 A bold typeface that is fun, playful, and laidback. Nelson will bring a smile to your face every time you use it. Nelson is perfect for children books, greeting cards, signage, user interfaces, package design, branding, and much more. Its chubby clean letters looks simple, modern, and expressive. A must have for your digital asset toolkit.
19. Sunday
Sunday is warm and inviting typeface designed for impact. Whether you want to make a headline, logo, print, t-shirt, phone case, mug or simply a rad design, Sunday delivers. Thanks to its playful nature, this font can be used for modern and vintage designs. I hope you will enjoy using it as much as I had fun making the previews for it.
20. Beebzz
Instantly add variety to whatever it is you're working on with this geometric font family by popskraft. Ready for the Web, it comes with 12 styles from Light to Ultra Bold, to bring light-hearted fun to your projects.
21. Jumbuck Sans
This sans/script font by Missy Meyer comes with smooth curves and clean lines to ensure smooth-sailing creativity for you. With over 200 accented characters for language support, it definitely has your back.
22. Sugar Hut
Got a sweet tooth? Then get a load of this typeface from clipick. Sweet, simple, yet adorable, it's best used on posters, headlines, cards, invitations, and prints.
23. Milkman Family
Just because it's simple, doesn't mean it has to be limiting. A great example would be this jolly typeface from Haäfe & Haph. Available in 3 weights – Light, Regular, and Bold – with a web font, it's a matter of imagination.
24. Highflier Font
Add depth and playfulness to your works in this cheerful font from Denise Chandler. With 4 styles – Slice, Scribble, Shadow, and Block – that you can layer on top of the Regular font, you can make endless possible combinations bursting with life!
25. Jackerton Font
Like an ever-changing puzzle, this typeface by noggindoodle was inspired by actual doodles. Discover what you can create by simply changing font sizes in Adobe Creative Suite.
26. Childish Reverie Font
Explore your creative side in this fun offering from Denise Chandler. Mix lower and uppercase letters together, or throw in the bonus doodles and see where your mind takes you.
Download Childish Reverie Font
27. One Nine Nine Four
Inspired by posters and covers of west coast punk–rock stage bands as well as early skateboard graphics, Vintage Voyage D.S. brings to you this cool typeface that comes in 3 distinct styles – Normal, Halftone, and Outline.
28. Yeti
Add a Scandinavian flair to your works using this gem from JuliyArt. Featuring 2 styles – Regular and Bold – along with FREE Scandinavian elements, seamless patterns, and posters, this is everything you need for a truly fun Nordic concept.
29. Les Paul
This font family from Vintage Voyage D.S. has 7 styles that can be layered on top of one another. Don't forget to complement your works with their free retro extras to make your designs out of this world!
30. Totally Tubular Font
Be totally unique when you use this hand-drawn retro font from Denise Chandler. With its cut-out style and Outline version, you can mix it up to produce seriously cool posters, ads, labels, cards, prints, and logos!
31. Lolapeluza Family
Rodrigo Typo proudly presents this fun, kid-friendly typeface that's available in 4 styles – Regular, Black, Line, and Shadow. Use each as a standalone font, or combine two for a truly special outcome.
32. Bedtime Stories Font
Make every project magical when you use this storytelling font from LovePowerDesigns. A casual script typeface but with an accompanying clean sans for its uppercase characters, it's perfect for book covers, posters, frames, prints, and branding.
33. Monstahh Layered Typeface
Inspired by cute monsters from Sesame Street, this playful font from Drizy will look amazing on kiddie projects such as birthday invitations, book covers, colorful posters, flyers, as well as labels.
Download Monstahh Layered Typeface
34. Sweet & Silly Font
This cute and adorable font is brought to you by Denise Chandler. The pack includes a bonus typeface that's narrower and taller, making it the perfect pair to this bubbly gem for all your posters, cards, logos, prints, and more.
35. Herald Bouncy
This geometric serif with a bouncy baseline from Flavortype is all you need to create a fun, lively vibe for any and all projects. And with a bonus vector pack, you can go from spooky to serious in minutes.
36. Garlic Butter
This mixed-case font from Missy Meyer is a tasty alternative to make your projects tastier than ever. Use along with its accompanying Doodads file for plenty of swirls, swashes, icons, arrowheads, catchwords, and other decorative items.
37. Maverick
Maverick is a playful childish fonts for the youthful souls looking to pick up something comfortable and delightful to assist their brand, kid's room, t-shirts or even tattoos!
Give your projects that handcrafted feel in an instant with help from this massive typographic pack from Vintage Voyage D.S.. With 25 fonts, 248 hand-drawn graphics, and 124 catchwords, you won't want to miss this collection.
Download BIMBO Hand Lettering Collection
39. Jonesy
Retro yet very modern, this script from Ksenia Belobrova is available in two styles – Script and Capitals – to help you go from funny to future in minutes.
40. Sketchy Story Font
Things are more fun when it's handmade. That's why Denise Chandler brings to you this narrow, hand-drawn typeface that's available in two styles – Outline and Filled – to use separately, or on top of one another.
41. Bjola Sans Serif
These chubby characters are sure to bring a smile to your face! Brought to you by Andrey Sharonov, this font is bold but friendly, simple yet highly versatile.
42. Smoothberry Playful Retro Font 
Introducing Smoothberry, a playful retro font. It's inspired by a fabulous mid-century design, but also can be easily used in a modern context. This font is a great fit for beautiful headers, cozy event posters, and especially Holiday greetings cards. Also, it works really well if you are designing any kind of product for kids. 
Download Smoothberry Right Here!
43. Polka Collecta Bold Playful Font 
Polka Collecta is a playful display font with alternate cuts. A bold and fun Sans Serif typeface, available in two styles: Regular and Playful. Using the playful version, you can create unique compositions because of the informal grid.
Opentype fonts feature stylistic alternate characters to give the composition a unique personality.
Download the Polka Collecta Font Set Here!
44. Baby Roar Quirky Playful Fonts 
Perfectly fit for your logo, branding, story book cover, kids branding, apparel, toys, game, anytime you need a fun touch to the visual, Baby Roar is the answer. The font strikes a balance between cute and contemporary, which we think is the best combination. Well worth a try. 
45. Tjoekil Kajoe Vernacular Type 
Tjoekil Kajoe is a linocut typography shape adapted to Indonesian vernacular culture with many decorative glyphs. You can play with sizes, alternatives and styles to get the style of typographic character just the way you want it. This typeface is perfect for a vintage poster, vintage product, linocut design, books cover, packaging design, magazine header, poster, quotes, and so much more.
46. Finybar Fun Bold Display Font 
Finybar is a bold display typeface with fun and playful looks. Available in two types, regular version and extrude. This type of font is perfectly made to be applied especially in fun or child theme which needs a standout font, and the other various formal forms such as invitations, labels, logos, along with kids magazines and books,