Whether you're just bored with regular typefaces, or you've been on the prowl for Western or foreign-inspired fonts, these Mexican fonts should hit the spot. Aside from their handcrafted feel, they also boast of unique designs that will level up your projects.
Add them on commissioned tasks such as menus, labels, signage, or ads. Or maybe just use them for personal crafts like party invitations or your own business logo.
No matter how you apply them, you can't go wrong with these insanely functional and beautiful Mexican fonts.
Mexican Fonts
1. Buckaroo
Buckaroo is a handmade font inspired by American Southwest & Mexico. It draws influence from old western-typefaces that still feel functional in a contemporary world. This versatile display font includes a full set of uppercase letters, lowercase letters, numbers, and special characters.
Buckaroo is perfect for headlines, logos, badges, signage, packaging, posters, t-shirts, and much more. If you're looking for a font that will give your projects a friendly/inviting desert vibe, then Buckaroo is for you.
[fontsampler id=49]
2. Santiago
Santiago is a gorgeous handmade typeface. Each letter was decorated by hand. It took weeks to get everything right and looking beautiful.
You can use Santiago for Mexican themed logos, restaurants, menus, business cards, posters, flyers, invitations, greeting card, advertising, apparel, magazines, etc. The possibilities are endless.
3. Locobeans
Locobeans is a Mexican font duo that takes a new look at a comic book font. Far from boring as we basically took a classic sans style, threw it on a fun bus, and drove it around until it announced it was cool enough to be available!
4. Viva La Fiesta
Viva La Fiesta is a Mexican font trio with layers, that create dozens of combination options alone, but even more so when you customize the colors! A fun, party atmosphere or even a childrens' book would be great with this font!
5. Cucciolo Typeface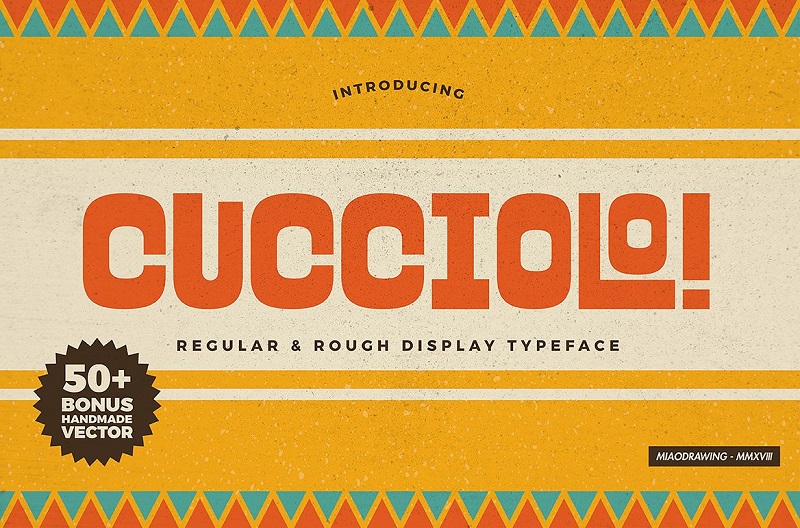 Give your works that Wild West atmosphere by using this font from MIAODRAWING. Inspired by Mexican culture, the pack comes with handmade extras like badges and vector illustrations to help you achieve that vintage vibe in no time.
6. Hand Crafted Font Duo
Available in 6 styles, this font was influenced by old vintage denim labels, the Old West, Mexican desert, and motorcycle art. Brought to you by OpusNigrum, it also comes with 15 premade badges and an illustration pack to help you make quality goods in half the time.
Download Hand Crafted Font Duo
7. La Tequila Typeface
Let your font do the talking in this fun and exuberant offering from LeoSupply.co. With 2 styles and a carefree attitude, people know it's time to party when they see you using this typeface.
8. Huge Font
Inspired by Mexican urban lettering, eldelentes brings to you this charming irregular font that will look solid on posters, logos, ads, and headlines.
9. Mexican Grape Display Font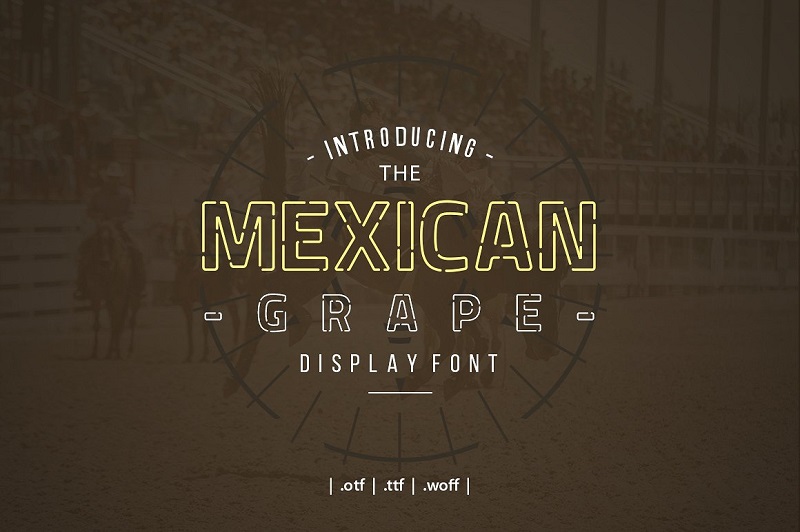 Truly modern but with a Western feel, this typeface from yantodesign is as versatile as it's beautiful. It's ideal for posters, flyers, ads, labels, shirts, and other branding projects.
Download Mexican Grape Display Font
10. Mexico Font Family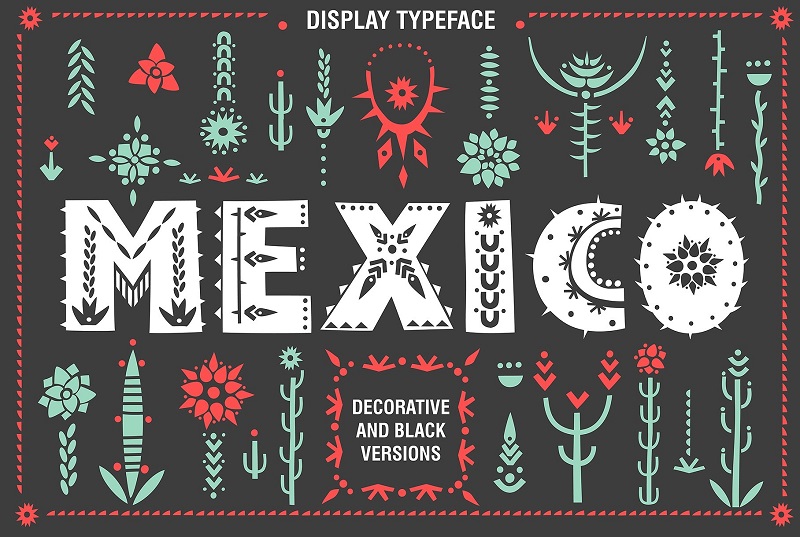 Want to make something totally unique using only letters? Then use this decorative font from Struvictory.art! Available in 2 styles, the pack also includes 25 decor elements plus 2 seamless patterns with geometric desert plants. Definitely a worthwhile investment for any designer!
11. Muertos Typeface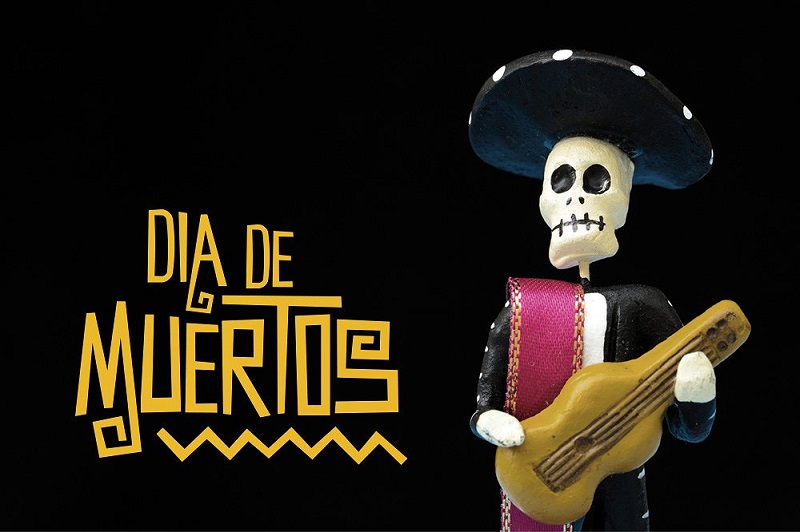 Honor one of Mexico's famed celebrations in this lovely dark font from Tugcu Design Co.. This strange typeface is recommended for projects requiring a mysterious but festive vibe.
12. Gandul Family Pack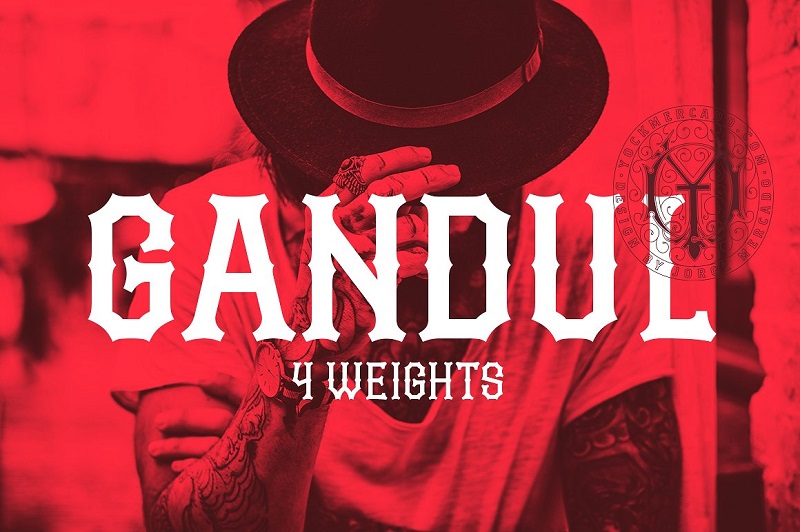 'Gandul', which is Spanish for 'slacker', has inspired this one-of-a-kind typeface from yockmercado. A quiet rebel but also rather chill, this font comes in 4 weights to add a vintage letterpress feel to your works.
13. Taco and Tequila
Thinking of opening up your own Mexican deli or restaurant? Spice up your menu right away with this gem from Design Surplus. Featuring 2 styles as well as hand-drawn icons, you'll be saying 'muy delicioso' before even tasting it.
14. Mexican City a Slab Serif Display Font 
Mexican City is a slab serif font with a western feel. With its neat and beautiful arrangement of letters, this typeface will look outstanding in both formal and non-formal designs. Perfect for headlines or logos, Porter finds its inspiration in the style of mid-19th century typefaces using generous slab serifs and a hard-working appearance.
15. El Mariachi Libre Type 
El Mariachi is a unique typeface inspired by a Mexican vibe. A simple, bold sans serif typeface combined with attractive ligatures gives this font a strong character. This font is perfect to create layouts for vintage designs, Mexican brand products, movie posters, food packaging, fashion product, and other fun projects to a have unique or vintage look.
Download El Mariachi right here!
16. Chimpo Typeface 
Chimpo Typeface is a fun typeface inspired by paper-cutting and vintage posters. It has a bit of a festive vibe but still looks simple. You can use bonuses inside to create many possible fancy designs. Made to fit some seasonal events like Horror, Mexican, Retro, and even Birthday parties.
Chimpo Typeface is 100% perfect for headings, logotype, quotes, apparel design, invitations, flyers, posters, greeting cards, product packaging, book cover, printed quotes, cover albums, movies, or any design requirements that you need.
17. Tacunos 
Tacunos is an awesome font design that is fit for a range of purposes. Perfect for Mexican-themed logo branding, invitations, blog design, artistic advertising, home decor, and special events or posters, you will easily be able to find a way for this font to fit into your project. 
18. Luchador
Great Scott proudly presents this serif display typeface with layered elements to help you create uniquely authentic goods. The pack also comes with a bonus font – Gunnar – that will complement this typeface magnificently.
19. Taco Box (FREE)
This cool typeface by Chloe5972 can be applied to signs, logos, product packaging, headlines, and banners. Alternate upper- and lowercase letters to make interesting effects!
20. Burrito (FREE)
Bold, quirky, and maybe eccentric, this decorative sans will spice up your restaurant menus, children's book covers, or blog titles.
21. Cactus Love (FREE)
Don't be put off by this prickly offering from Spork Thug Typography. It can cheer up not only plant lovers, but also headlines, web pages, signage, and social media ads.
22. Mexican Fiesta (FREE)
Unique celebrations require unique typography. Use this offbeat font by Qkila on photo overlays or headlines. Free for personal use only.
23. Gringo Nights Font (FREE)
Obsessed with all things Western? Easily re-create that good ol' saloon look using this decorative font from Pizzadude.