As humans have always been visual creatures, it's no surprise that babies have a natural inclination towards it early on. Experts say that young ones develop recognition for movement and color within 10 to 12 weeks after birth. One of the first hues they will be familiar with is red. By five months, they would be able to see the full spectrum.
That's why it's important to have babies surrounded by bright colors. It helps to stimulate their brains, as their eyes take in the wonderful world around them. Once they grow into toddlers, hues take on a more crucial role of activating kids' imaginations. Make sure to add drawings or paintings in their nursery. That way, they can learn to appreciate art at an early age.
Re-introduce a similar fun and playful atmosphere to your works when you use any of these adorable baby fonts.
Cute Baby Fonts
1. Rain or Shine Font
This bold and whimsical typeface from Denise Chandler comes with over 80 fun doodles in vector format as well as transparent background PNG for expanding creativity elements with projects.
2. Daisy Girl
Daisy Girl is a flowing handwritten baby font, described by an elegant touch, perfect for your favorite projects. Fall in love with its incredibly distinct and timeless style and use it to create spectacular designs!
3. Nityan
Nityan – The Cutes baby font has every single letter that has been carefully crafted to make your text looks beautiful. It's perfect for logos, name cards, magazine layouts, invitations, headers, or even large-scale artwork.
4. Sugar Donut
We made Sugar Donuts to bring you happiness. It's a bold, handwritten baby font with inner decoration to give uniqueness. It comes in 4 styles of font, and you can combine them or even make it stand alone in your crafting projects!
5. Brownie Yogurt
Brownie Yogurt is a fun, clean, and expressive serif baby font; useful for a wide variety of charming will make your scrapbooks and other nursery crafts stand out as something special.
6. Funkids
PutraCetol Studio's fun and comical display font comes with several alternate characters that add more depth and variety to your projects.
7. Melon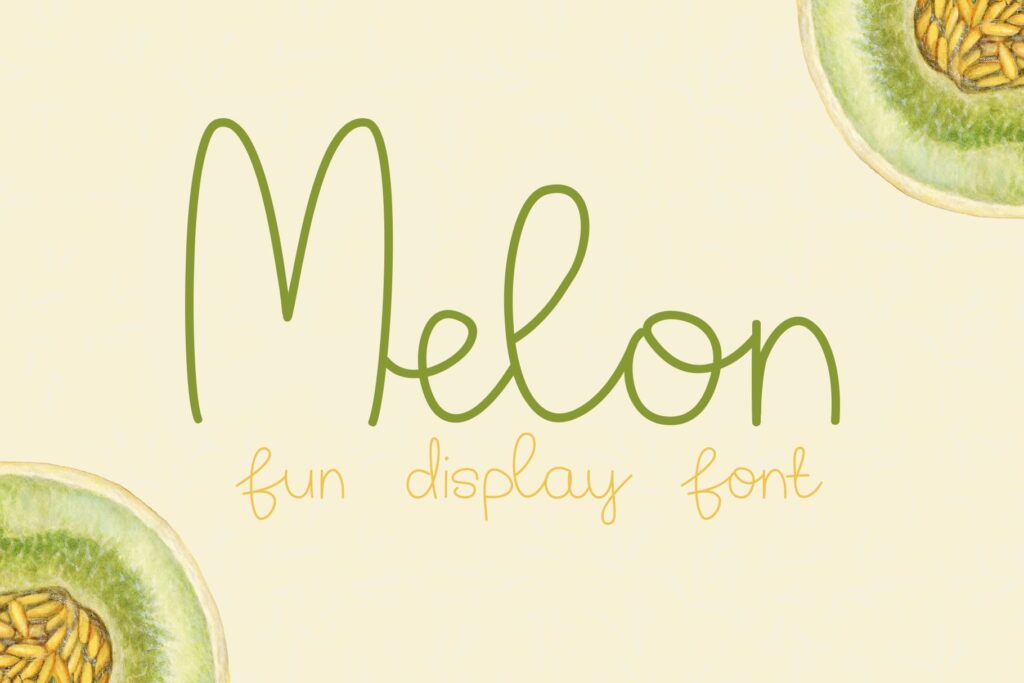 Melon is a fun and quirky display font. The light hearted vibe of this typeface is perfect t-shirt designs, phone cases, kids books, greeting cards, invitations, mugs and so much more. If your project requires a fun/happiness look, then this font is for you.
8. Baby World
Add a joyful touch to your designs using this beautiful, cute, and quirky display font from StringLabs.
9. Quirky Spring Playful Font Family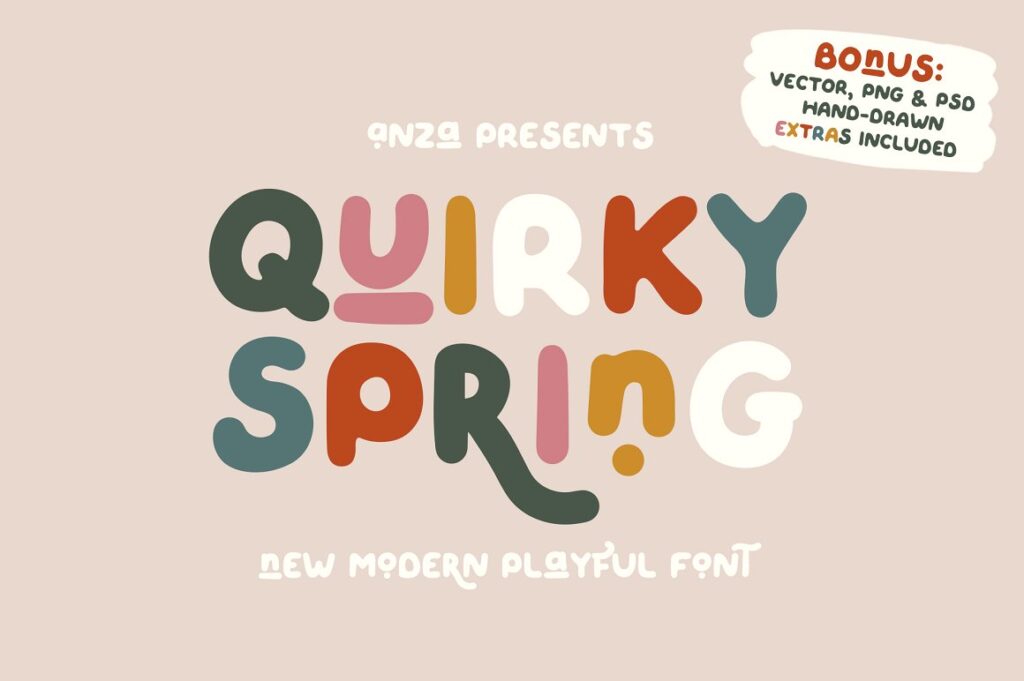 This 3-styled typeface puts a cheery feel when used on headings, flyers, greeting cards, product packaging, book covers, and more.
Download Quirky Spring Playful Font Family
10. Carson
This fun and easy-on-the-eyes font from Andr35 adds a cool and playful element to a wide range of presentations and projects.
11. Simplicity
Catchy designs are easy to make when using this modern, chic, and stylish handwritten font from Dm Studio.
12. Dino Kids
This BearyType typeface is carefully crafted to project a playful side to hand lettering, making it great for both physical and digital craft projects.
13. Blacks Roobin
Cartoon culture makes a pop with Garisman Std's bold and fun display font with a set of stylistic alternates to enhance the sense of joy and happiness with every presentation.
14. Kid's Planet
Lyth Creative's modern kid font is set to make your branding, logos, headers, t-shirt designs, and other projects exciting and childlike.
15. Kiddie Land
Say hello to this Figuree Studio typeface that adds a big, cute, fun, and colorful vibe to your design concept or craft.
16. La Petite
This soft and friendly typeface from Peterdraw fits perfectly with product packaging, brands, logos, book or magazine cover, and any craft or project that needs a kiddie or an informal theme.
17. Young Love
Evoke the tender and cute sides of your visuals using this modern handwritten font brought to you by none other than Kang1993.
18. Bubble Mint
Dm Studio's typeface is surely made to bring out the bubbly and fun side of your craft or project, with free 26 hand-drawn doodles to enhance the experience.
19. Childwood
This Artefak Project typeface takes on a childish approach to wooden shapes – recommended for a wide range of child-themed crafts and presentations.
20. The Baby Monster
A bold display typeface, made by khurasan to apply cheerful themes to your logos, greeting cards, posters and any design that needs a happy approach.
21. Maybug
This Scandinavian-themed typeface from Redcollegiya Design adds a touch of diversity to children or child-themed design projects through its four styles: Regular, Decorative, Handwritten, and Black.
22. Sweet and Silly
Bring a smile to your face – as well as to others – using this adorable font from Denise Chandler that comes with bonus English Alphabet letters.
23. Little Noo-Noo
Lisa Glanz assures a touch of cuteness blended with a rustic feel through this lowercase sans serif font perfect for wall art, branding projects, children's books, and everything whimsical!
24. Tangerine
Party invitations, baby showers, birthday cards, and other cutesy and child-centered presentations will benefit using this cute and simple hand-made typeface from Minna May Design.
25. Kids Watercolor Font
This display serif typeface from ElviNova comes with cute illustrations ranging from pre-made logos, 22 other images, and a separate paper texture file.
26. Oh My Child Font
Birthday cards, baby albums, baby shower invitations, and other child-themed events and activities are never made easier using this Anna Zakharchenko typeface.
27. Breaking Rules
Get this uneven, random and playful typeface that comes in Regular and Outline styles, plus abstract symbols that can be used for a variety of projects and presentations.
28. Kids Story
Olexstudio's comic typeface will surely look gorgeous on book designs, branding, children's reading materials, t-shirts, comics, and many other projects.
29. Harum Display Font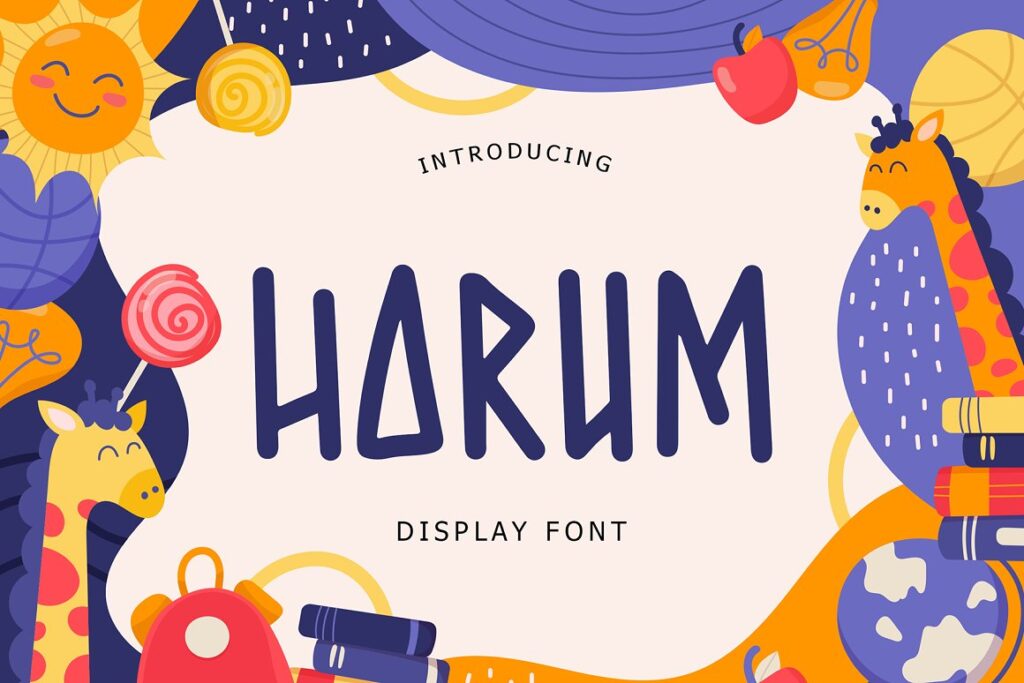 Child-themed designs will stand out using this cute display font from Formatika Studio.